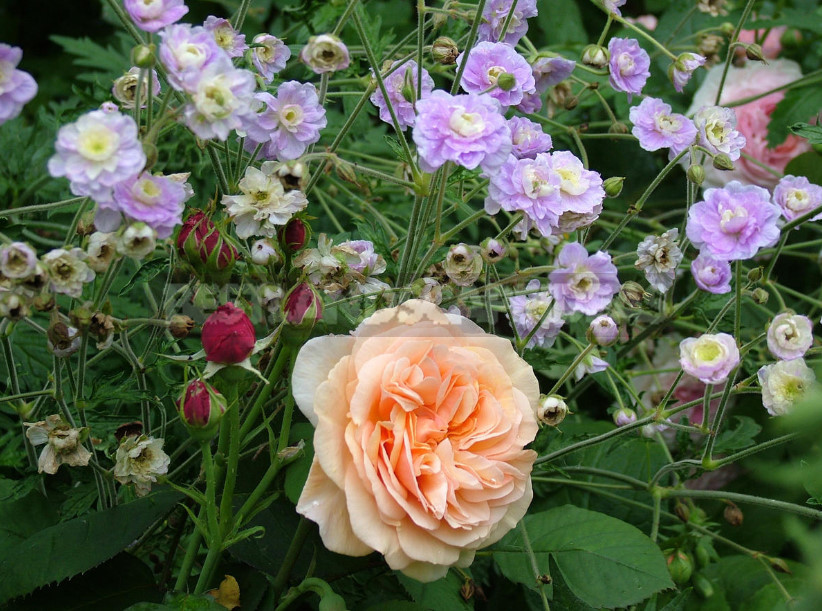 Rose – a favorite flower of all, seeing that one day, we can not give it up. But in an effort to invite her to the garden and looking around their — most often not Royal-possession, each time we wonder what to offer her, how to submit a luxurious flower? Indeed, how to find this beautiful place in the garden, how to choose a decent frame?
Without going into a variety of varieties and life forms, without discussing the problem of "spots on the leaves" and ways of winter shelters, we will try to answer the question of how to "submit" a rose in the garden.
In classic rose gardens rose always soloed, nothing was to distract from the Royal flower or compete with him. The collection of roses was presented in regular compositions with a geometric layout, framed by trimmed borders. Regular planning was emphasized by arches, trellises, vases, stamp forms of plants.
Classic style, which has not lost its relevance today, "to face" the houses of the manor type, with the front parterre flower beds. Only it should be remembered that the classical composition is better to withstand the old colors-white, pink, red.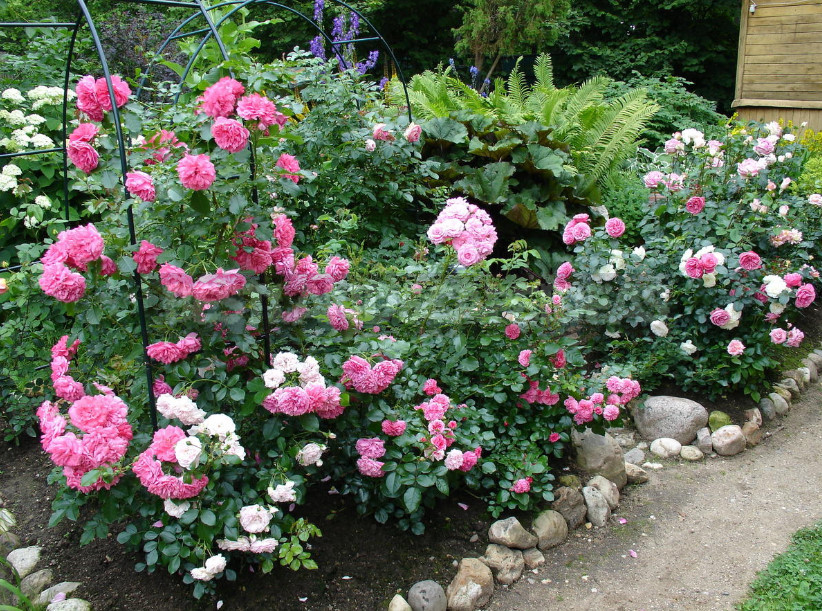 It is desirable to plant roses in large groups, as in our conditions they do not give a dense color spot. Rose bushes will look best against the background of mulch from black peat or decorative bark of small fraction. I will Express the opinion that large-flowered tea-hybrid varieties are primarily good in classical compositions.
The concept of "Suite of the roses", i.e. the selection of the floral environment, are able to set off all the advantages of the Queen of flowers, also is not new in the landscape design. The most interesting contribution to the creation of compositions of roses with companions has made the English writer and gardener Vita Sequel West. In her now-classic garden roses Sissinghurst cast all the main roles. But the most famous garden room is the "rose Garden".
Because Vita preferred the old varieties of roses, blooming once (especially lucky for those who will visit the garden in June), then to the rest of the time "rose Garden" didn't look bored, she would combine roses with perennials, shading of a rose in bloom and prolonging the beauty of the garden after him. Plants chosen for color around the roses in the topiary squares.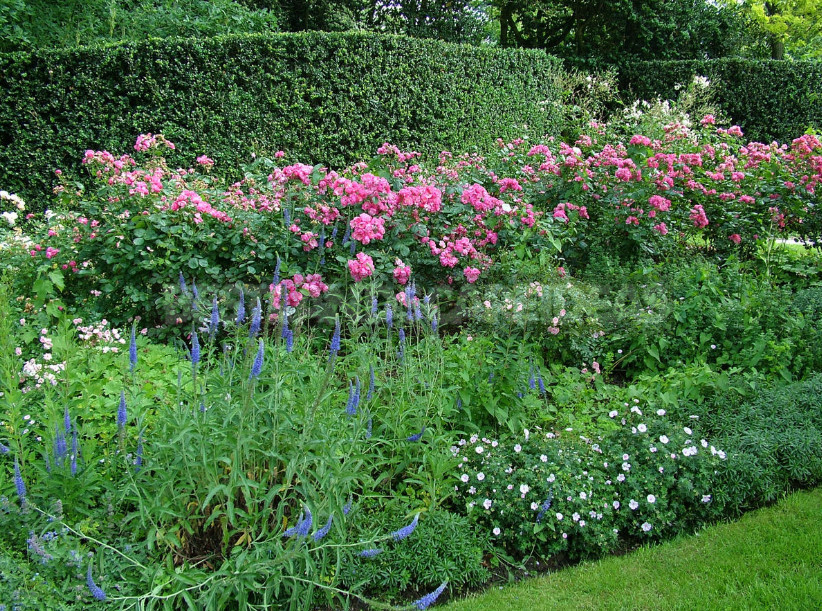 This approach has had a significant impact on modern compositions — the creation of mixborders with roses, in which the rose acts on an equal footing with other plants. After all, the main task of mixborders-long seasonal decoration. It is possible to achieve it by competent selection of plants.
Before flowering roses beauty flower garden will add spring bulbs and perennials. At the same time, you can not be afraid how these flowers will be combined with a rose, as they will not meet in bloom. Their place in mixborders can also find and plants, blooming with rose and perennials with a strong autumn decorative. Do not forget to add and decorative deciduous species.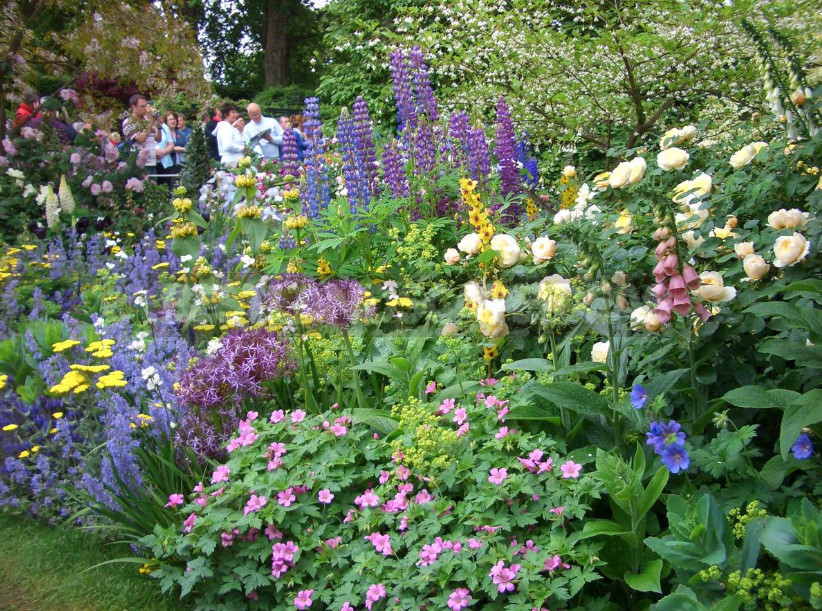 It should be noted that for modern compositions with roses and perennials are good varieties of multicolored species. And the color scheme of roses may include, in addition to the classic colors, and varieties with yellow, orange and salmon flowers.
What are the plants appropriate in the role of partners and roses are classic companions? Choosing them, you should proceed from the principle of contrast, nuance or harmony with the flowers of roses — both in color and in shape and size of flowers or inflorescences. Roses typically have a rounded shape of the flower and the contrast well with the vertical inflorescence of Delphinium, Digitalis, Salvia, Aconitum. Proper placement of verticals can give the flower garden and additional structure.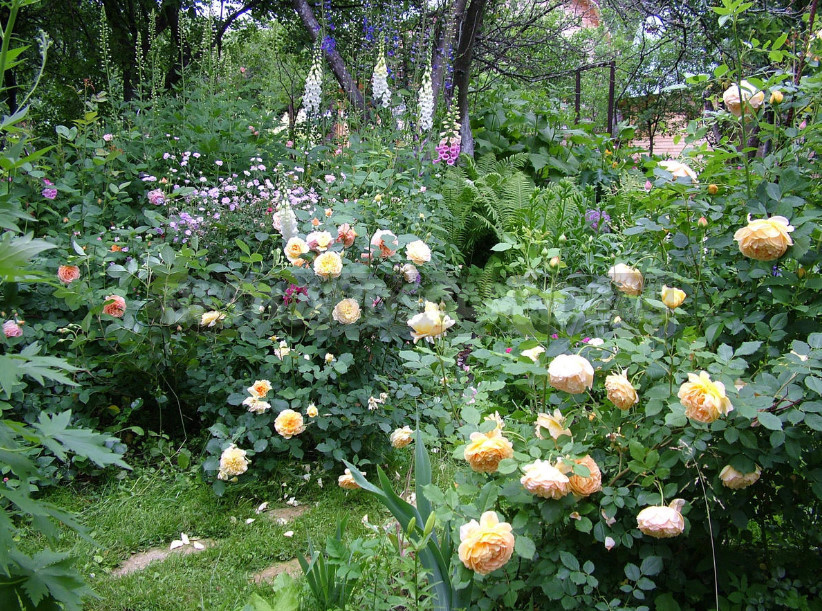 Plants with delicate inflorescences and small flowers also perfectly set off usually a large rose flower.
Definitely unsuccessful combination of roses with large self-sufficient flowers: Dahlia, large Lilium, garden Hydrangea. Such combinations, which could be collectively called "July flower garden", are often found in Amateur gardens. Such a composition may be justified initially given the theme of "lush, exotic flower garden", but roses in this flower garden, in my opinion, should play a subordinate role as "filling" plants, therefore, it is better to choose varieties with smaller flowers.
From plants with large inflorescences a good pair will turn out with Lilium, better Asian, tubular and curly; Hemerocallis with an elongated flower shape; Clematis, which can be repeatedly placed on vertical supports. An interesting contrast between large and small and creates a combination of roses with large and small inflorescences, matched in tone or contrast. From annual and biennial plants it is better to choose dekorativnolistvennye and melkotsvetkovye kinds.
In color with roses well combined plants blue-blue and purple. Since these shades are not represented in the color palette of the "Queen of colors", they are good with almost any color of roses. With varieties of pink shades, get a nuanced cold colors, contrast-with warm yellow-salmon varieties, the combination of "tone in tone" — with lilac.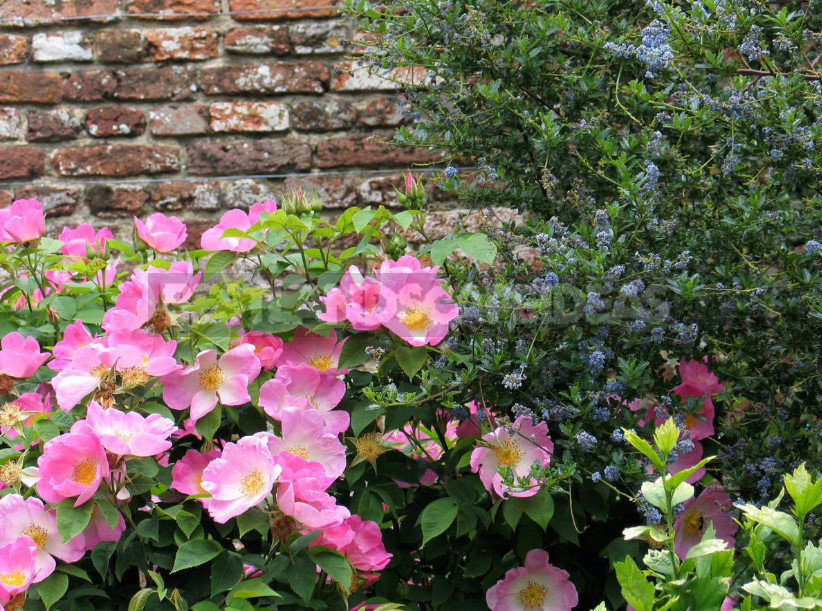 Wonderful shade inflorescences of roses and plants of silver tones: Stachys byzantina, Artemisia, Anaphalis. Perennials with white and pink flowers – such as species and varieties Geranium, Astrantia, Origanum vulgare, Monarda, Betonica grandiflora-create a harmonious combination, especially with varieties of white-pink and crimson colors.
Picking up partners for roses, you can play at the height of the plants. Placed in the curb – cover the roses bare stems. Perennials of the background of the flower garden will create a background and volume, will help to place accents. Blooming at the same height with roses-wonderful complement them.
In some combinations of plants and read a certain image. For example, in the composition of roses, Lavandula and Alchemilla guess the classic image of the English cottage garden. A combination of pink-silver and white-blue shades conveys the image of a romantic flower garden.
In the modern garden roses are combined not only with classical garden flowers, but also with plants of natural appearance, first of all — cereals. It should be noted that modern compositions generally gravitate to contrasts and unexpected combinations. Indeed,what could be more contrast than the usual combination of aristocratic roses with herbs or perennials is not a classic look.
In such a rosary, the role of the vertical can be performed, for example, Miscanthus sinensis, Calamagrostis acutiflora, Physostegia virginiana, Astilbe or Phytolacca. In contrast to the forms of pink flowers, you can plant plants with flat or spherical inflorescences. In such "natural" compositions will be appropriate as mentioned multicolored roses and roses with a simple and semi-double flower shape.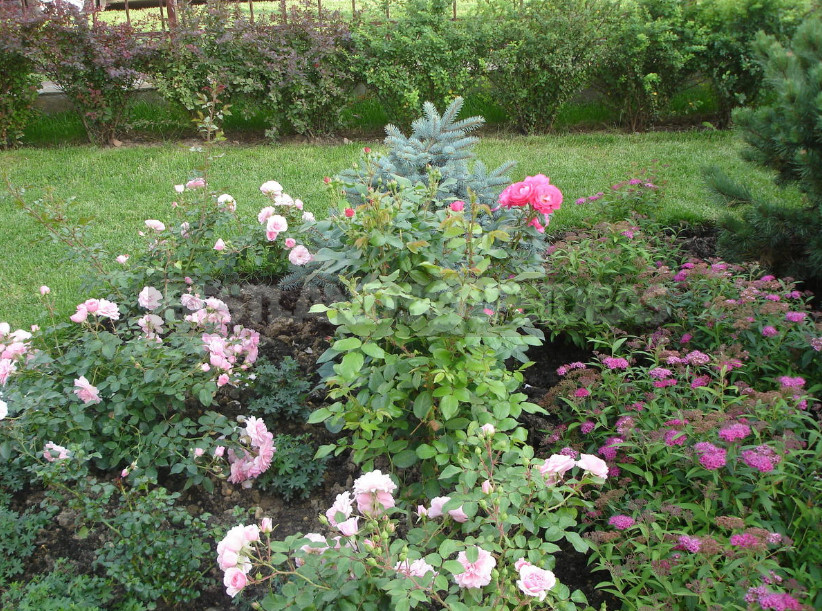 A good background and at the same time a structural element in the rose garden will be shrubs. Color spots will give low flowering varieties Spiraea japonica and Dasiphora fruticosa, and purple foliage Berberis thunbergii effectively set off both pink and purple and orange varieties of roses.
Very modern look roses in the composition with conifers. Based on the similarity of environmental requirements, dwarf forms of pine and juniper are preferred.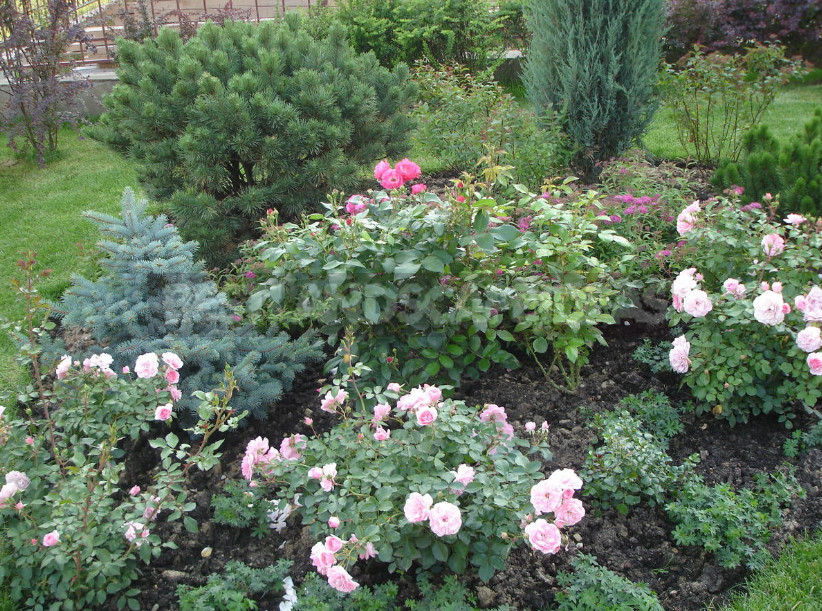 As suddenly and looks so true planting of roses with a dwarf species of willow. This contrast of garden and natural will enhance the planting of cereals, flowering perennials and plants with contrasting foliage.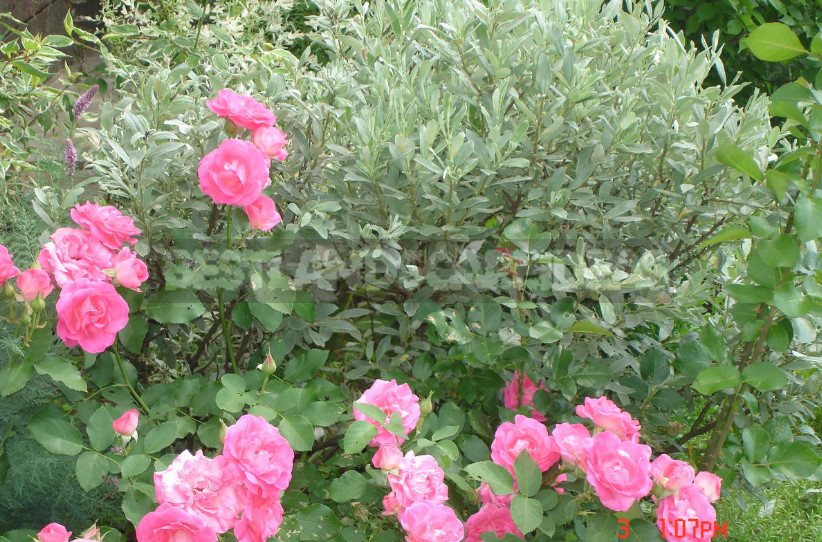 It is interesting to solve the rose garden as a coloristic flower garden, consisting of several monochrome color blocks, where roses will set the color. The structure and repetition will give varieties of coniferous or vertical coniferous, supports with vines, large cereals. A color-matched consistently flowering perennials will serve as filling.
In conclusion, you need to repeat that to create a color spot roses better planted in groups. Only a Bush of large varieties of roses can be planted singly. Medium-sized and small-flowered varieties should represent a group of at least 3-5 bushes. Miniature roses for the same color effect will require at least a dozen bushes, preferably the same color.
As for color combinations, it is better not to combine in one composition warm and cold shades of roses, separating white-pink, pink-crimson and purple colors from varieties with yellow, apricot, orange and scarlet inflorescences. After all, the combination of yellow and pink can hardly be called harmonious. Quite rare shades of lilac roses are universal, as they are suitable for" warm "and" cold " varieties and can be transitional.
Of course, even on one site, you can create several different flower beds with roses, depending on their preferences for certain varieties, style of your home or the location of the composition. I am sure that deciding to invite a rose to your garden and showing a little creative imagination, you will be able to create flower beds, where there is not only the Queen of flowers, but also beauty and harmony.