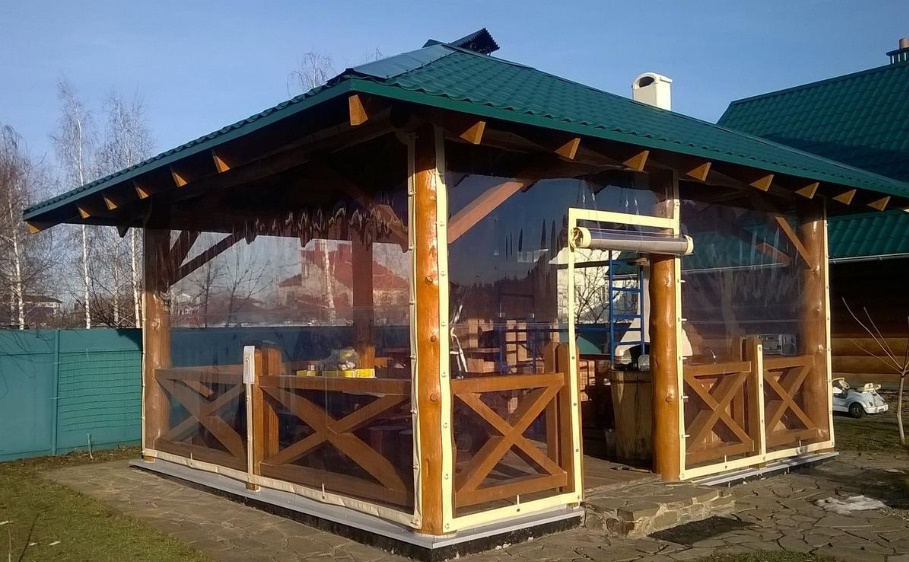 Soft windows can be an excellent solution to protect a gazebo or veranda from wind and rain. But this kind of "glazing" by summer residents is still poorly studied. You will not meet him at every second site, you will not touch him, you will not appreciate him personally. So is it worth trusting windows that have PVC film instead of the usual glass?
Why not glass?
As a rule, we put open gazebos on our suburban areas. To protect from the wind, we use curtains or let climbing plants on the walls. But when you need to protect yourself from the rain, such techniques are not very effective, and you want to sit in a cozy company in any weather. That's when we think about glazing. But not every gazebo can be glazed, because the frames must be attached somewhere. And if you have an openwork welded gazebo?
What other options are there? Blinds? They will block the entire view and instantly get dirty. As a result, those who have already experimented pay attention to soft windows. These are transparent protective cloths that can completely protect the opening from wind or precipitation.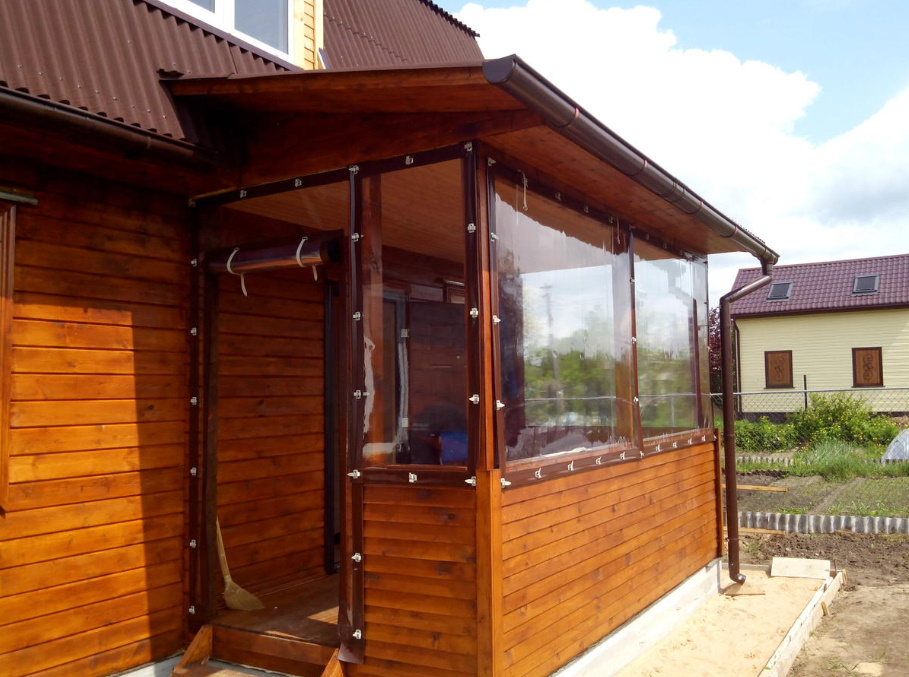 Soft windows are made of PVC or polyurethane (these are more expensive options). It is reasonable to use PVC for the cottage, but if you need to "strengthen" individual places, for example, the entrance, materials can be combined within one system. But reasonable questions arise: what to do with such "glazing" in winter, is it convenient to use it and how long will it please you? Let's figure it out.
How to determine a quality canvas
A lot depends on the quality of the source material. It is important here that the manufacturer treats the work responsibly and checks each batch of canvas that arrives for compliance with the standards. Only then can we talk about the durability of soft windows.
High-quality soft PVC windows retain their characteristics at temperatures from -30 ° C to +75 ° C. Polyurethane windows can withstand up to -70°C. This means that the canvas will not become hard and will not break when opened in cold weather. And at high temperatures, it will not melt and will not change shape. This is possible thanks to special frost-resistant additives in the composition of the material. Therefore, before buying, ask the seller for information about the temperature range for which the film is intended.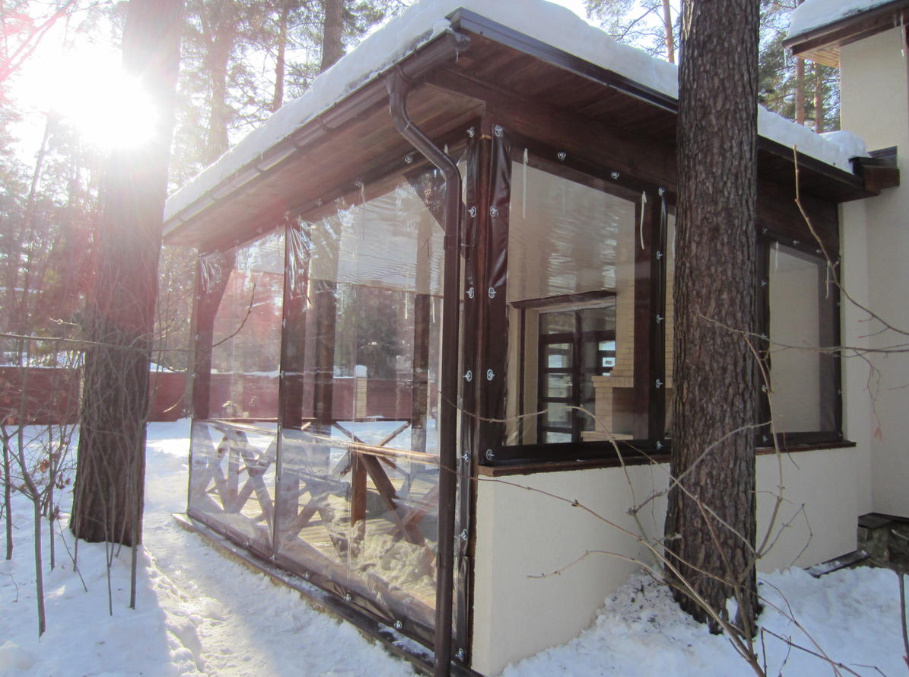 The thickness of the canvas also plays a role. It usually ranges from 500 to 2000 microns. The thicker the material, the longer it will last, but it will also cost more.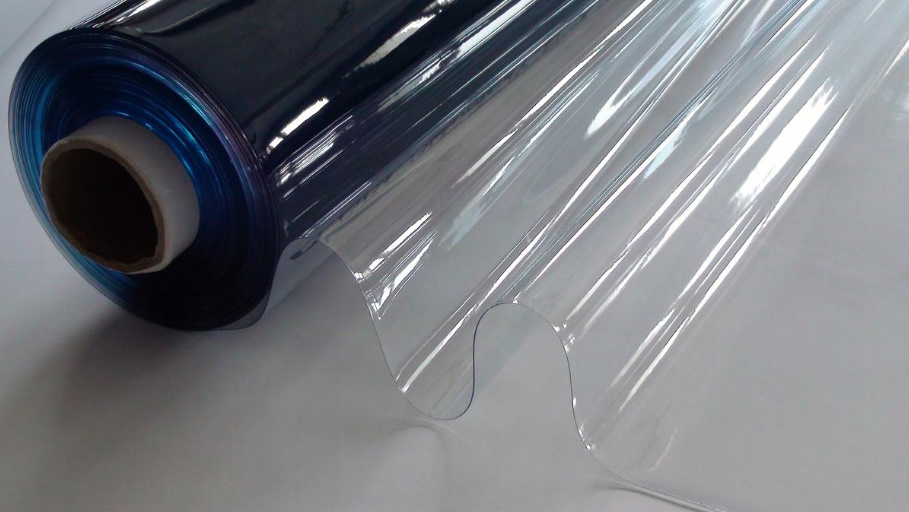 "Frames" for soft windows
But in addition to the film, soft windows also have edging, and it also happens to be different. For example, made of high—density PVC fabric. It is a waterproof material that is easy to maintain and reliable in operation. Such soft windows are usually installed in cafes and other places of high traffic. The "frame" is connected to the canvas by thermal welding.
Another option is oxford cloth. This material is not inferior in terms of ease of use to PVC edging. It is perfectly washable, resistant to wear and tear, almost does not get wet. In this case, the film is sewn to the "frame". The edging can be almost any color, which is convenient when the system of soft windows needs to be harmoniously integrated into the already existing appearance of the structure.
Fittings and fasteners
It is important to choose the right type of attachment. The most affordable are silicone straps. They securely hold the windows, and they can be tightened tighter, there is no backlash at the attachment point.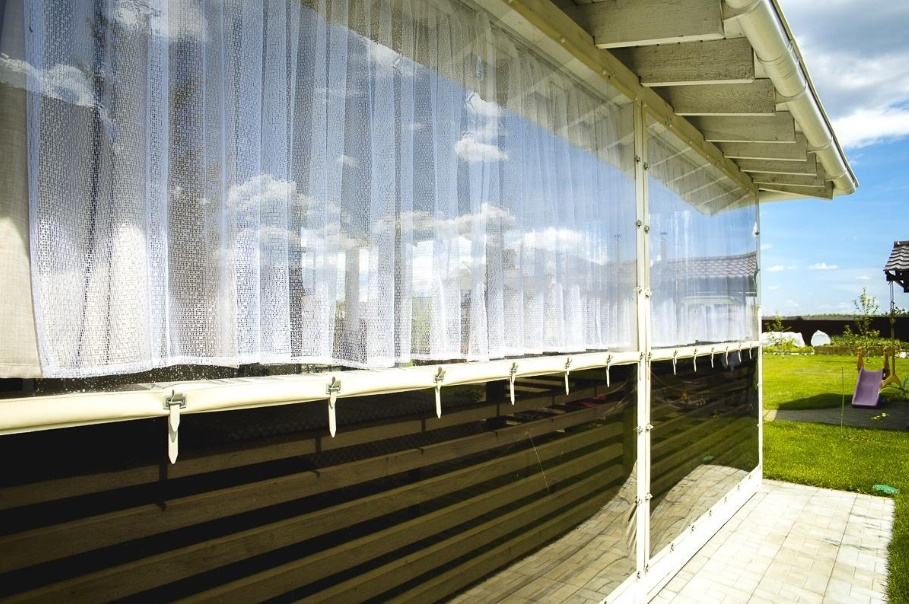 If you want to open and close windows quickly, you will have to pay more and buy a swivel bracket. Just throw a loop and fix the bracket perpendicular to the hole.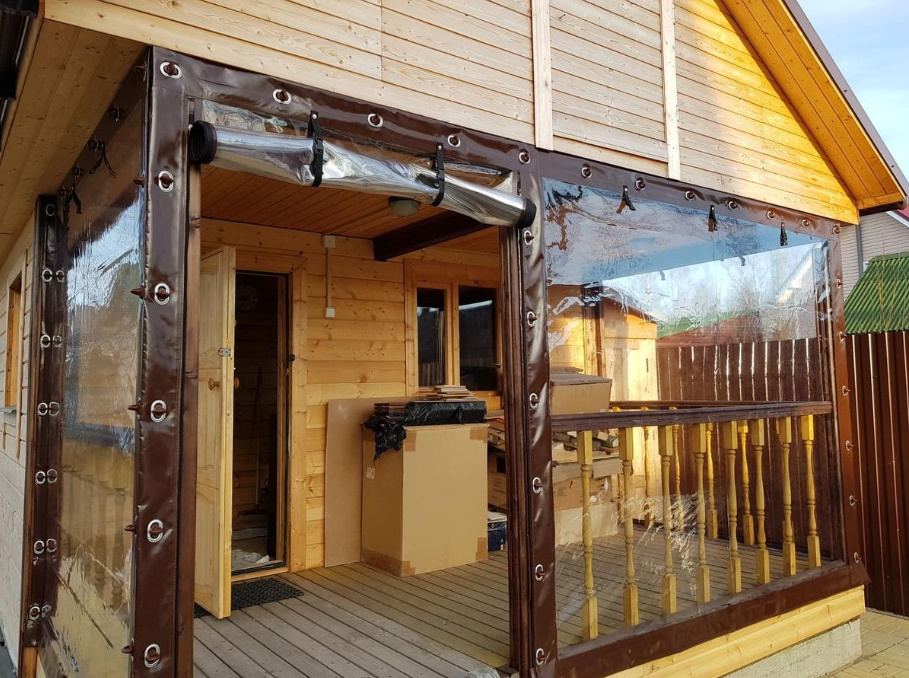 There is another fastening option — a French bracket. It works on the same principle as the rotary one, only it looks more presentable, but, accordingly, it will cost more.
Special zippers are provided for the doors, which allow you to close the opening tightly and securely.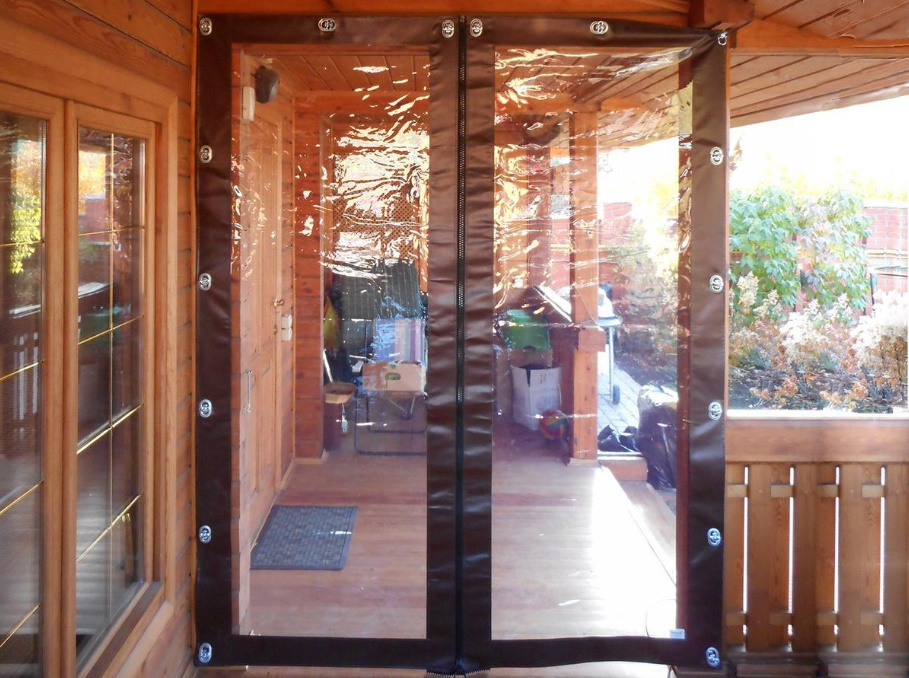 Important! Some sellers indicate the price for 1 m2 without taking into account the edging and fittings, thus attracting attention to their product. Be careful: in this case, the final price may be an unpleasant surprise for you.
About the pros and cons
Soft windows are high—quality protection from wind and rain. No rust, mold, or fungi will appear on them. The film is easy to wash: water and a mild detergent are enough to remove dirt. Unlike glass, they are safe — this is especially important for families with young children. Another advantage is the stability of geometry. The film does not sag over time, it is not afraid of humidity. There may be changes in its tension, but this is a normal reaction of the material to temperature conditions. Naturally, these qualities are preserved only under the condition of competent production and installation.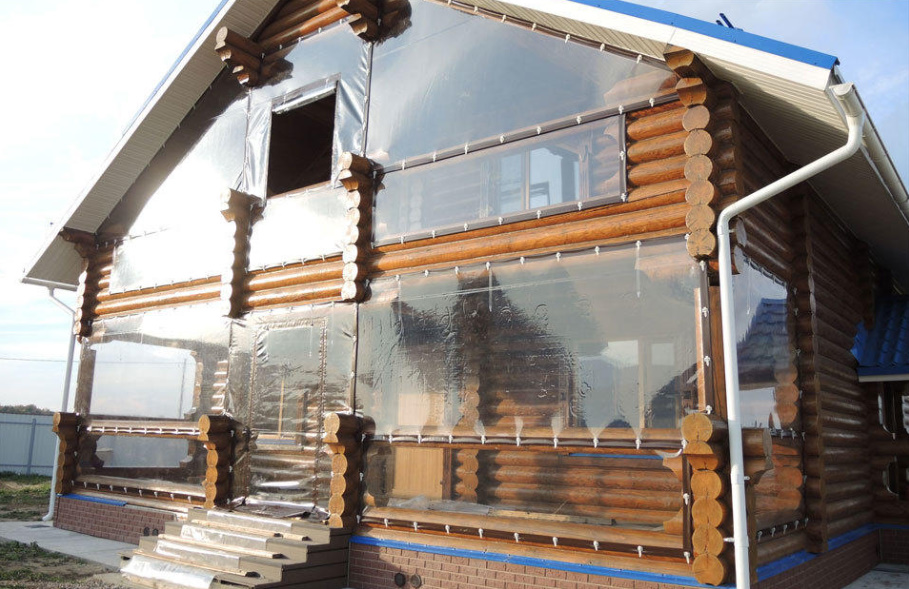 What are the disadvantages of flexible glazing? It does not create shadows, and on a hot day it will be very hot in a closed gazebo. The problem is solved by opening several "shutters".
Soft windows have a tangible price. Of course, compared to conventional glazing, they are more profitable. But their canvas is much easier to damage with sharp objects, and it will not work to put a patch. Therefore, you will have to change the window completely. In addition, condensation may form on soft windows. This does not harm the PVC fabric itself, but it can affect the materials used to decorate the gazebo or terrace. The final cost of soft glazing increases the need to call a measurer and installers.
How to mount?
Soft windows are ordered for a specific size. To do this, you need to call a specialist or take measurements yourself, making drawings of the openings of your building. It is very important to take measurements correctly! If you make mistakes, then in the cold the canvas can narrow and break away from the edging.
When the windows are ready, the installers will install the system on the gazebo. The cost of the work is usually 50% of the cost of materials. You can try to save money and do the work yourself.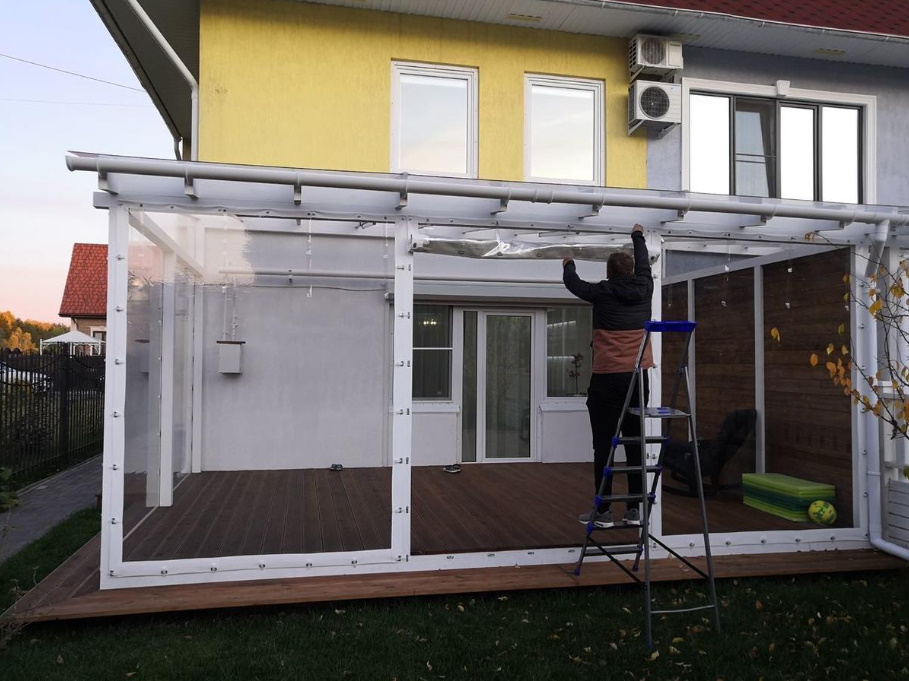 How to care for?
As with any windows, soft ones need to be taken care of — and it needs to be done correctly. First — wipe off dust and dirt. You can not use abrasives for this, as the windows may become cloudy.
Secondly, they must be protected from direct contact with gasoline and similar aggressive compounds. If you suddenly decide to wipe off a stain of paint on the canvas with gasoline, leave this idea (or you will be left without windows).
Soft windows can be removed and stored indoors in winter. This will extend their service life. But of course, before preserving the canvases, they must be cleaned and dried. If the windows remain in their place for the winter, they must be unfolded.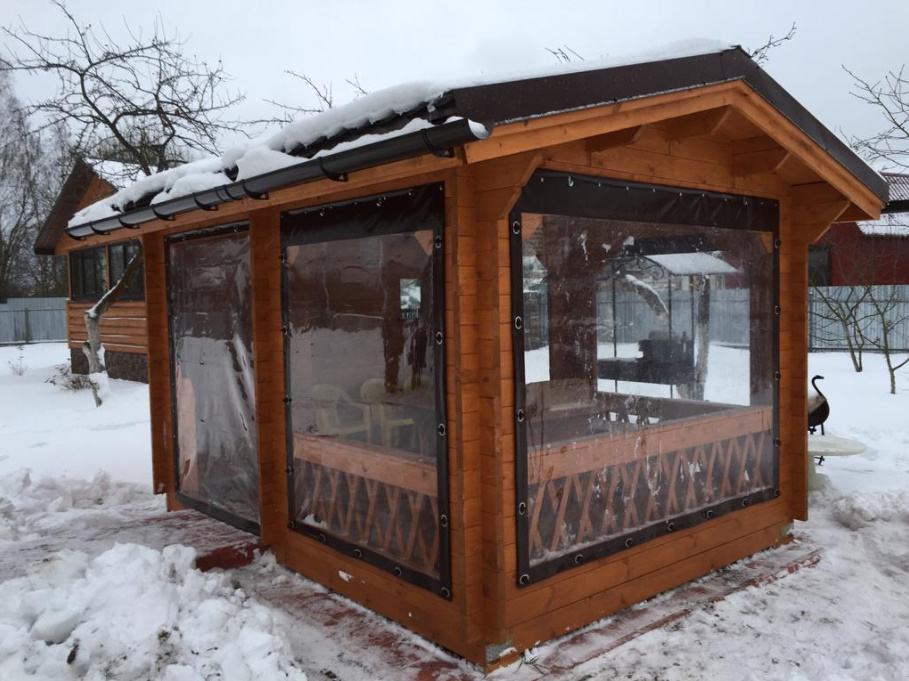 How long do they serve?
According to the manufacturers, soft windows serve at least 8-10 years, but this is about quality products. How do I find her? Buy soft windows from a direct supplier, that is, from the company that produces them. This is some guarantee of quality and that in case of problems during operation, you will have someone to complain to. Reseller companies that do not make windows do not live long, and therefore they watch the quality through their fingers. The only problem is that they skillfully disguise themselves as manufacturers, exposing photos of their allegedly productions. So be careful, and you will succeed!