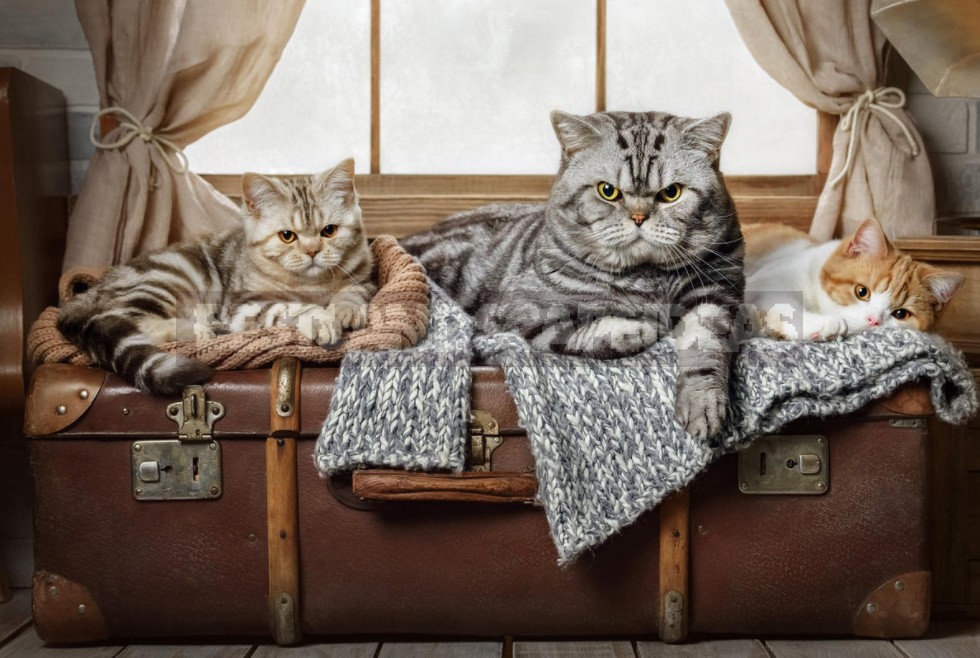 Well, will we continue to give a second life to things that have served their time? I must say that we are doing quite well: we have already found a worthy use for old jeans, sweaters, T-shirts and other clothing. We have added wooden boxes, sawn-offs and plastic bottles to the business, and in the failed refrigerators we smoke fish and grow seedlings. What's next for us? I suggest you take up old suitcases: a little effort, and they will turn into practical things or stylish home decor.
The simplest solution is to use them as a bedside table. Of course, if life is pretty shabby suitcase, first you need to refine its appearance a little. At least clean it properly or paint it. And then just put it on the stool. Done. Just in case, you can fill it with something weighty — books, magazines, pebbles brought from the sea, or stocks of cereals-whatever you want. Then the probability that he will fall off the stool will be minimal. To be sure, you can attach the suitcase to the stool with screws, bolts, or glue it.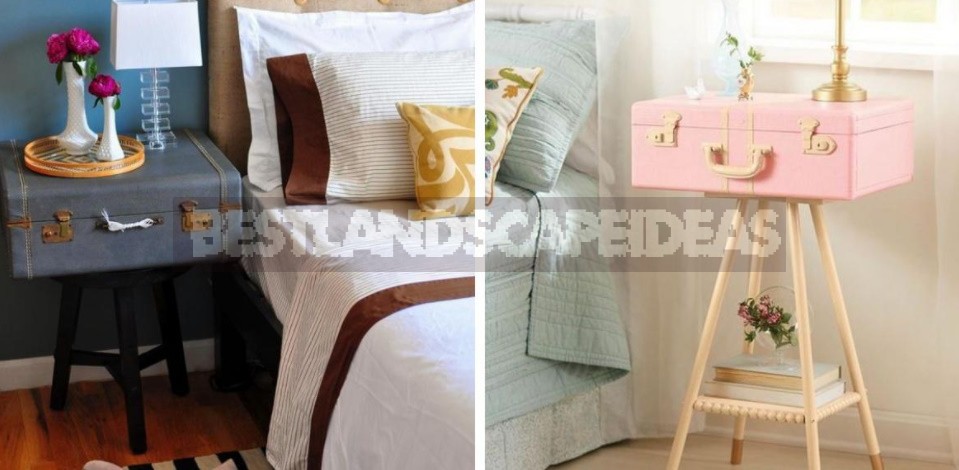 Don't want to clutter up the bedroom? Well, don't! Put a suitcase on legs in the hallway — you will get a practical coffee table for all sorts of small things.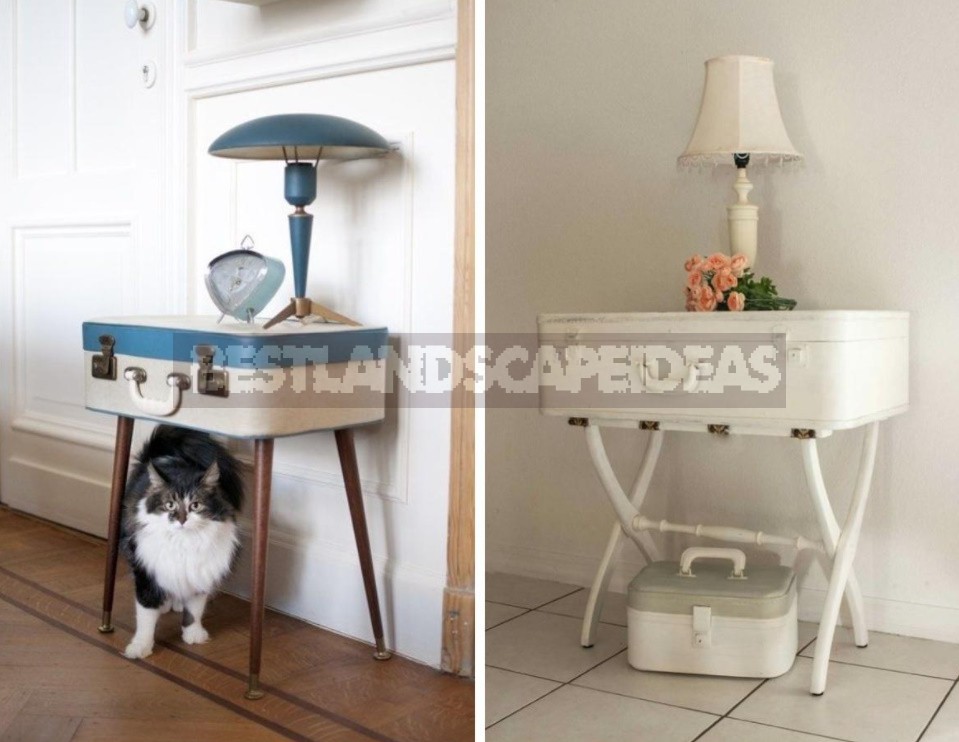 It does not matter what kind of suitcase you have: a solid wooden master or an elegant case-if you want, any will become practical country furniture. And if you provide it with beautiful legs, then you can decorate your home.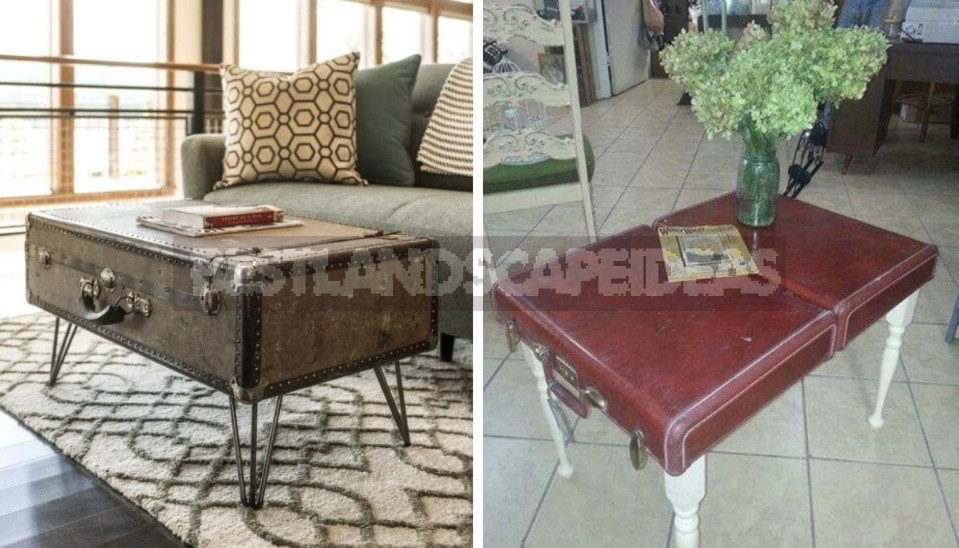 Speaking of legs. Summer residents are thrifty people, and they will not just send a good thing to the landfill. Tell me, is it possible to throw away an accidentally acquired carved leg from an ancient table? Or an intricate metal structure, designed for no one knows what, but in which the suitcase fits perfectly?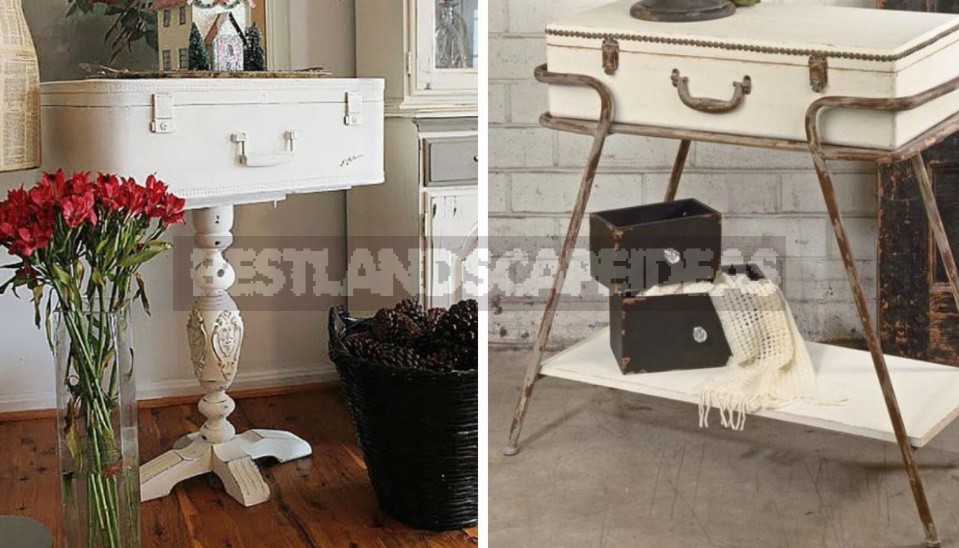 And if you suddenly have a one-legged TV stand — this is fabulous luck! She and the old suitcase seem to be made for each other, this is clear at the first glance at the finished product. So now let someone say that you can't enter the barn because of all the junk!
I know that many summer residents carefully keep the frames from old sewing machines. It is clear that it is a crime to throw away cast — iron splendor, but it is not worth it to gather dust without doing anything. Maybe this idea will inspire you, and the elegant cast legs will finally move from the barn to the house as a support for the tables?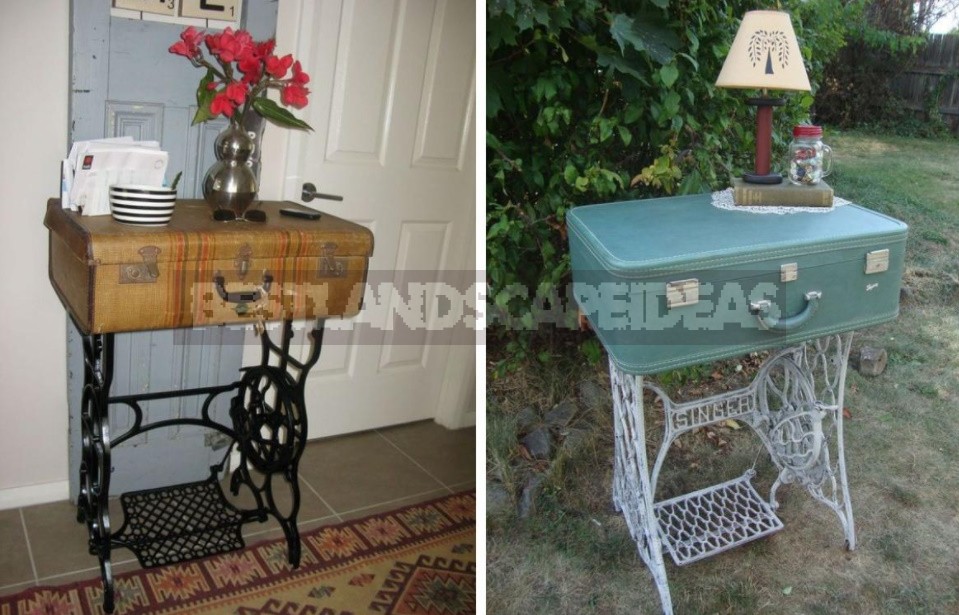 If nothing suitable was found in the stocks (it also happens), make the legs yourself. For sure, there will be scraps of timber or slats on the farm. The work will not require special skill, and the improvised table looks very original.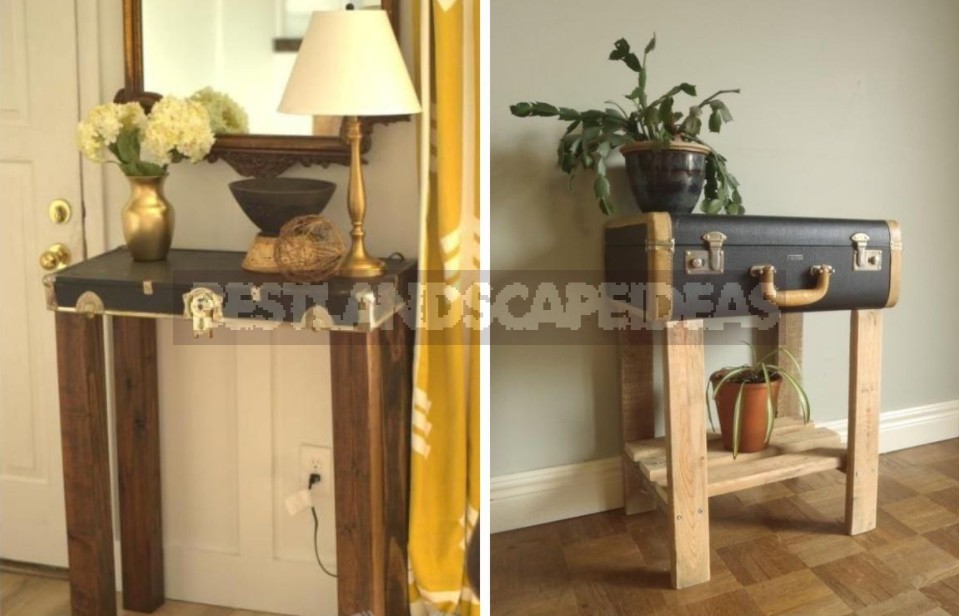 But let's get back to the ideas, because I got too carried away with the legs.
Dear ladies, pay attention to this practical idea-a dressing table. I like it for several reasons. First, it is very convenient — everything is at hand. Secondly, it is easier to maintain order: if you bring beauty near the dressing table, then you have to remove creams, powder and lipstick. With a suitcase, this item can be excluded altogether — slammed the lid, and that's it! And most importantly-no one will look closely at the tubes, jars and bottles, sighing heavily and calculating in their minds what they could buy for the car with this money.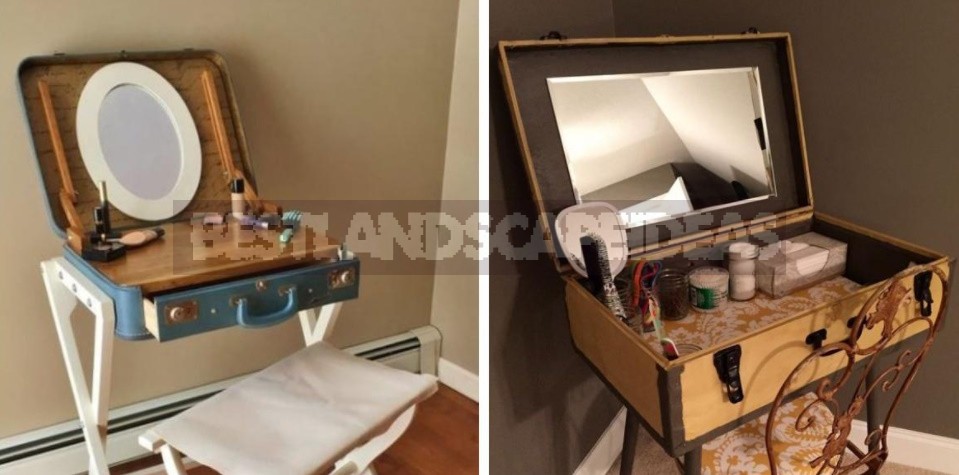 There are variations on the theme: a practical compact desk or a table with a glass lid — how do you like such ideas?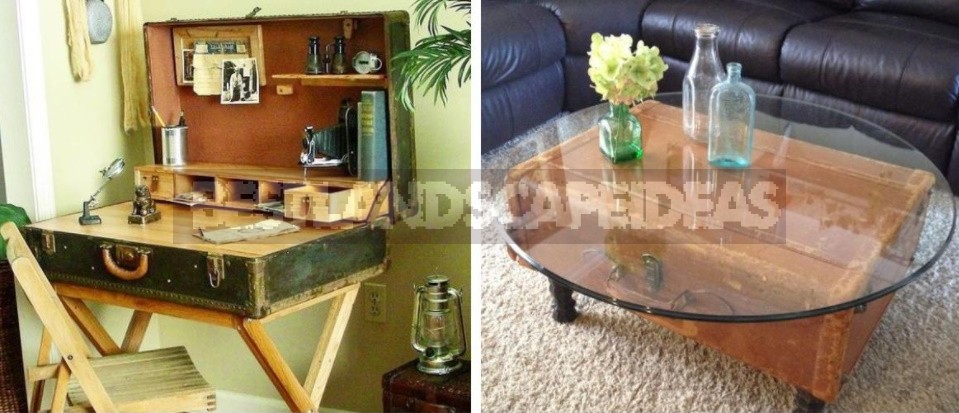 If you put a suitcase on the wall and provide it with shelves, it will perfectly cope with the role of a home first-aid kit. It would be useful to have a similar cabinet in the bathroom — shampoos and shaving products should also be stored somewhere.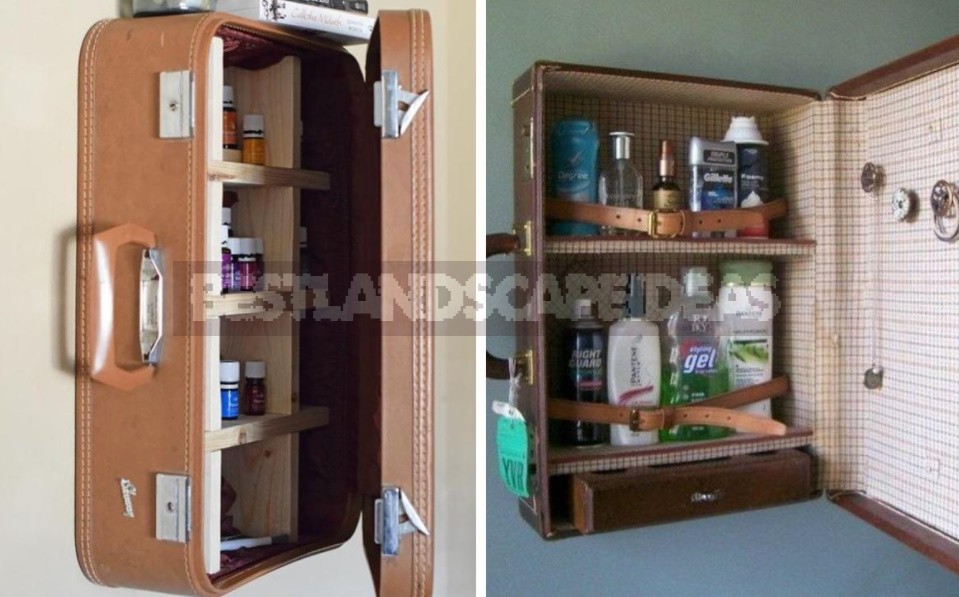 And if you cover the inside with a cloth (washable wallpaper, film) or equip the cabinet with lighting and drawers, it will turn out quite well.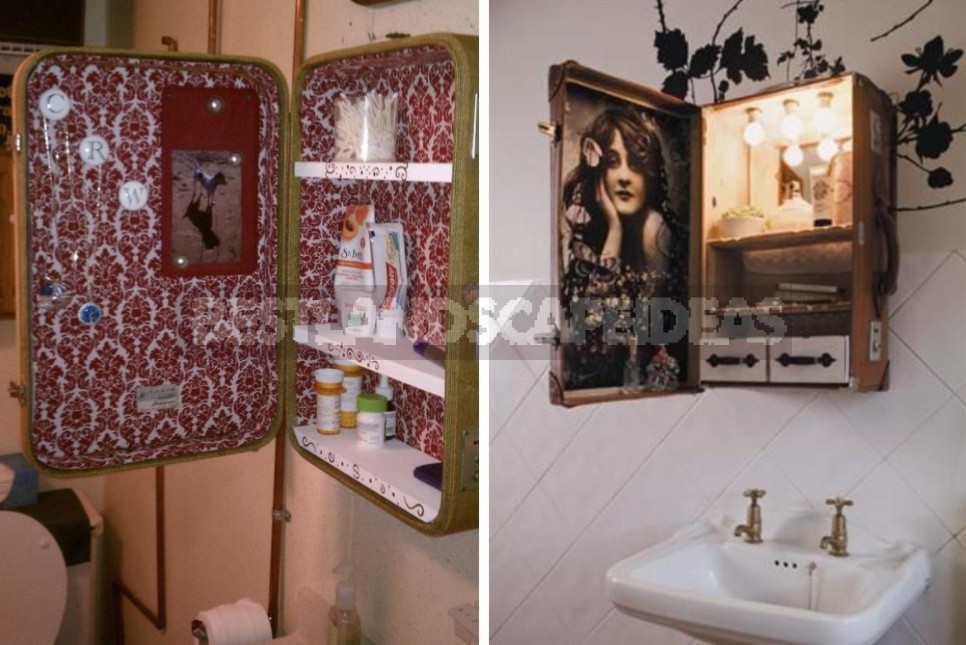 You can also put it in the kitchen — there is always something to put in a secluded place. And if your ancestors left you an impressive suitcase, it will easily cope with the role of an open kitchen cabinet.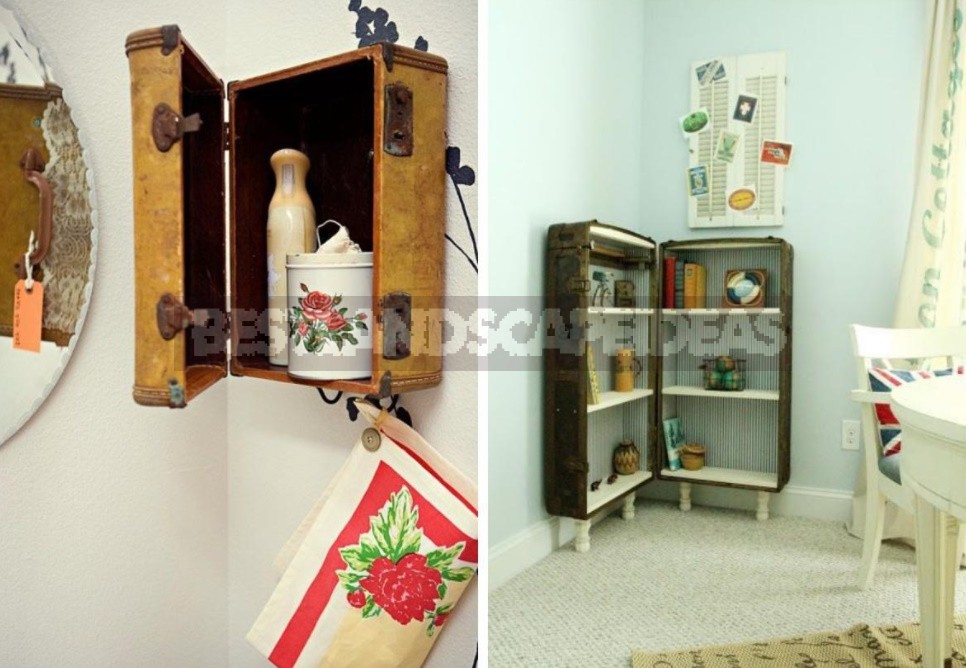 And you can also arrange a mini-bar in it: open, so that beautiful bottles are visible.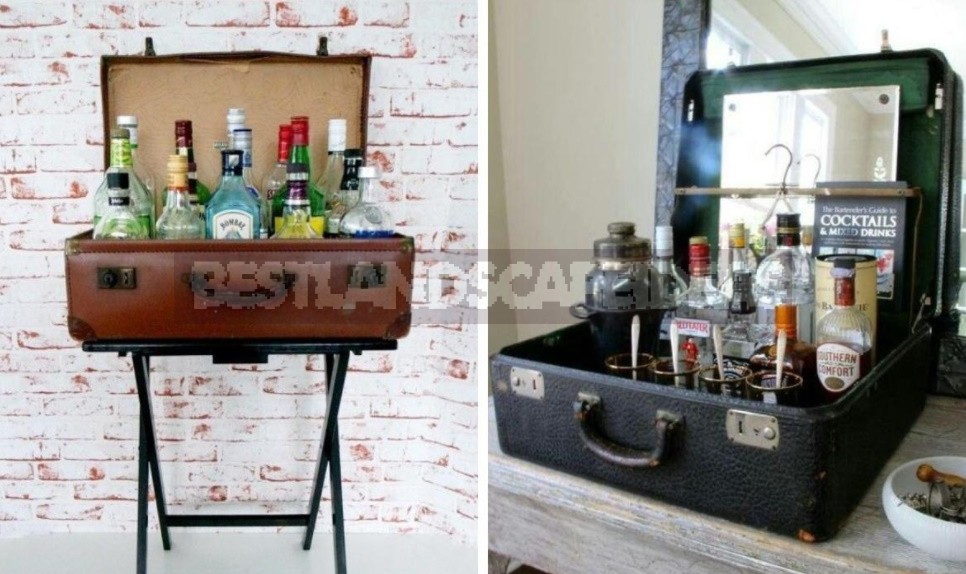 Or closed, if the size of the suitcase allows. If you can fit the glass on the lid, you will get a designer thing in a retro style.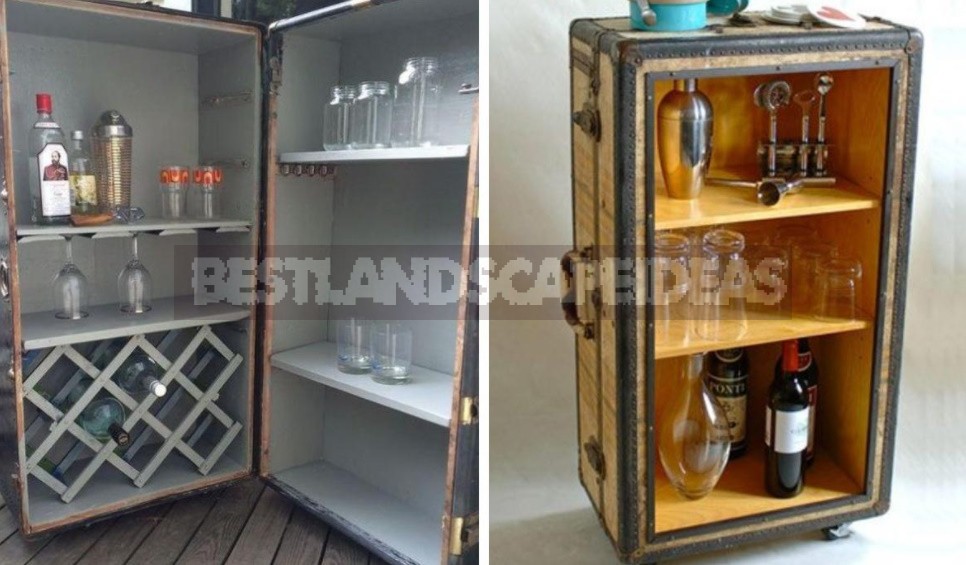 I like the way books look in an old suitcase — so cozy, so homey. Of course, the library can not be placed in it, but a small selection is quite enough. For some reason, I remember the heroes of Soviet films who went to explore the virgin land and brought with them the main wealth-books.
Even better, it will look like a collection of vinyl records in worn covers. And if you still have a well-deserved record player, put it next to you! It will turn out an interesting composition in the style of "back to the sixties". And what, nostalgia for the past is normal, why not set aside a corner of the room for memorabilia?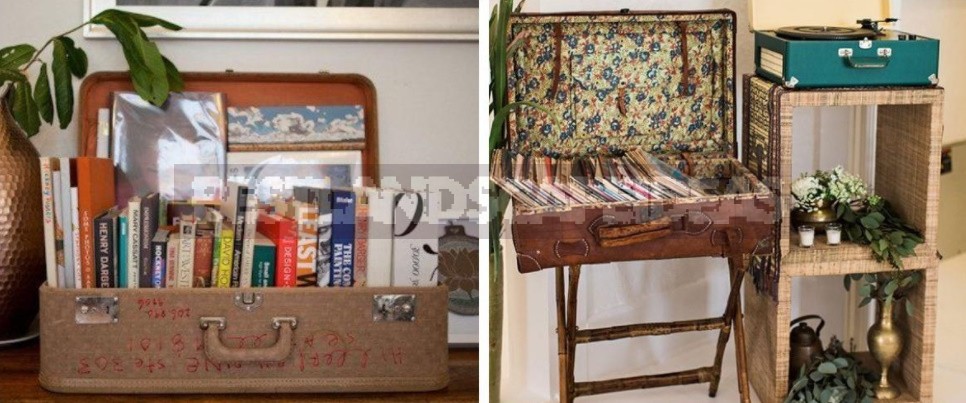 But I wouldn't cut the suitcase to pieces — it's a pity. Glue, screw, paint — this I allow. Apparently, not everyone shares my reverent attitude to family heirlooms… However, everyone is free to dispose of their suitcases as they please.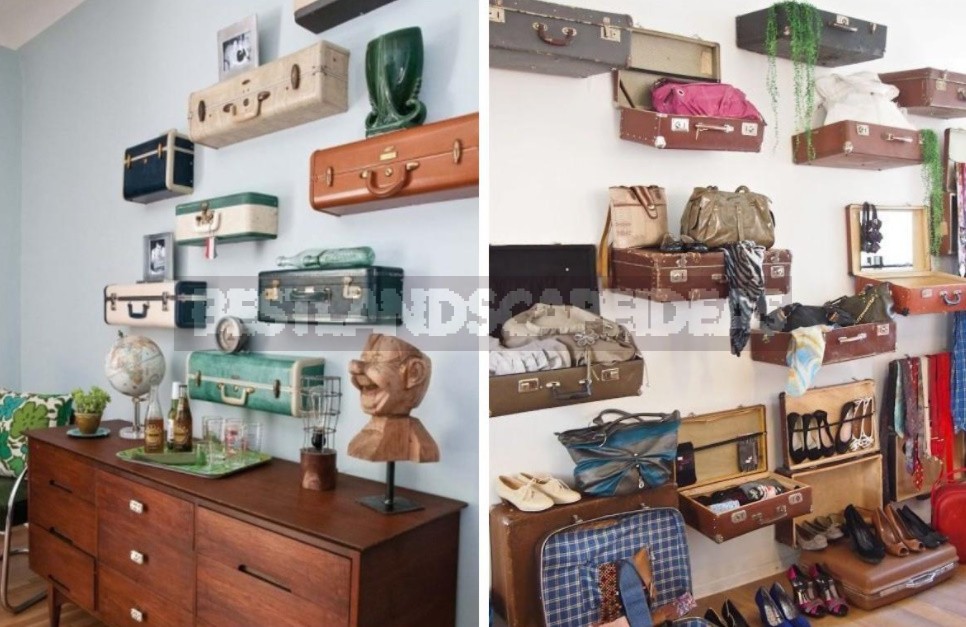 Quite a few ideas to use it as a storage space. Sewing supplies, paints and pencils, Christmas toys or costume jewelry — everything in the suitcase will be in one piece, safe and in perfect order.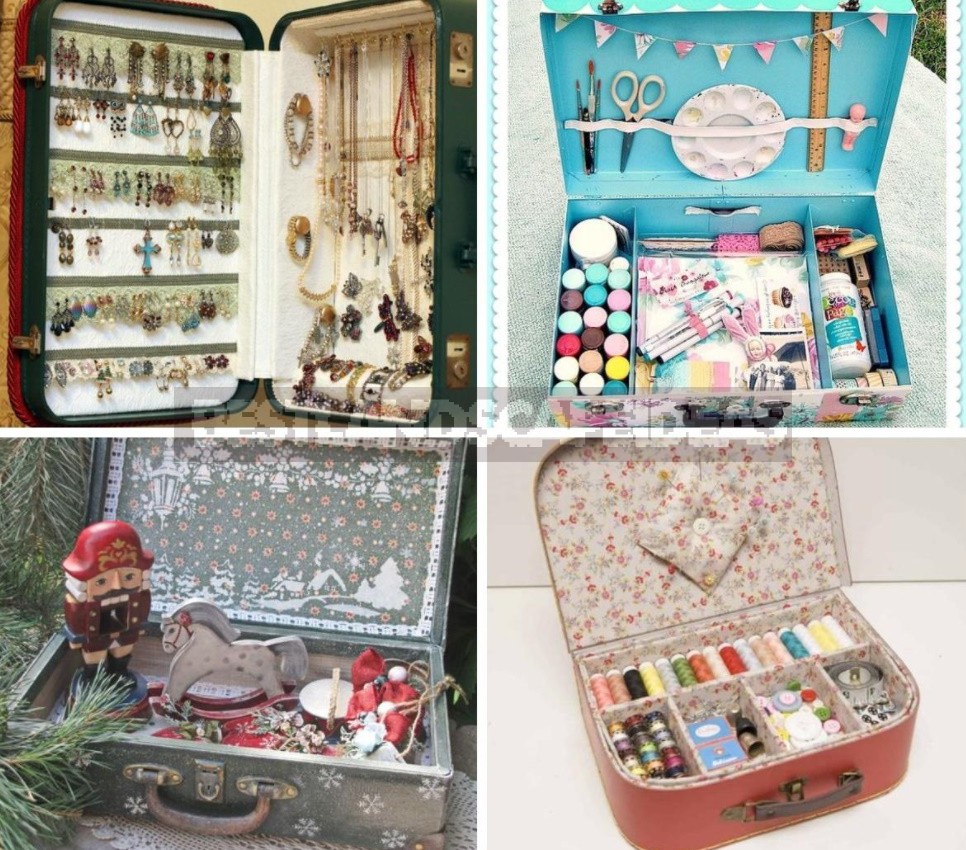 Furniture is not cheap now, and you can't do without it in the country. But there are some things we can do with our own hands. For example, here is a combined chest of drawers. Suitcases will perfectly cope with the role of drawers, they even have handles already!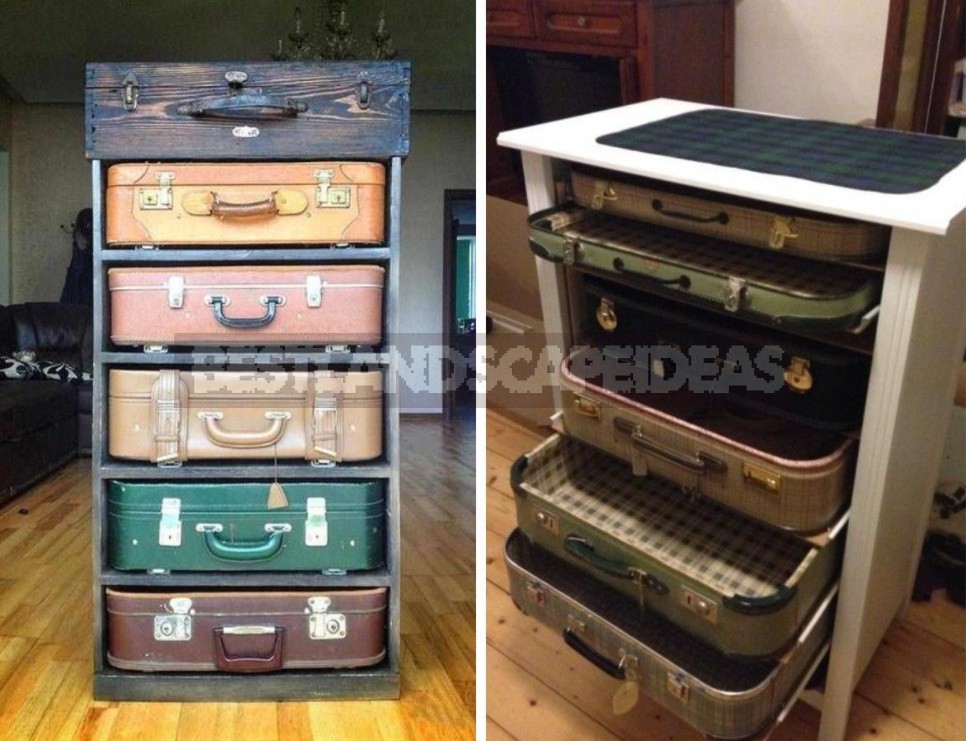 Some people transform them into poufs — very original and practical. The chair in the photo on the right looks very nice and soft, but I would not dare to lean on the back — not for long and to tip over.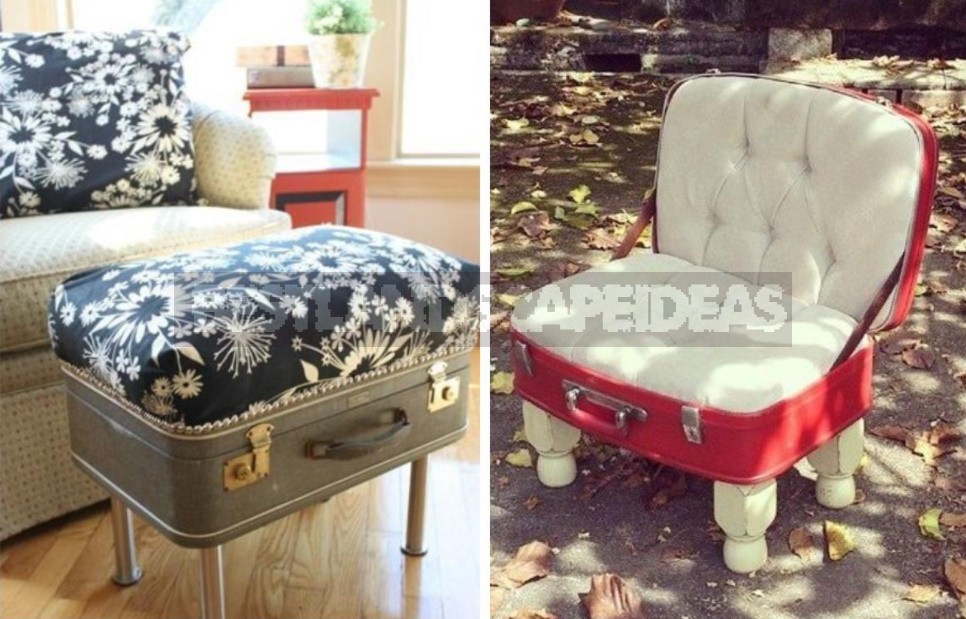 Strong large suitcases are quite realistic to convert into good-quality sofas. I think they would be appropriate in a city apartment, in the hallway, for example. The main thing — do not forget to lean the back against the wall, otherwise sitting on them will be really dangerous for your health.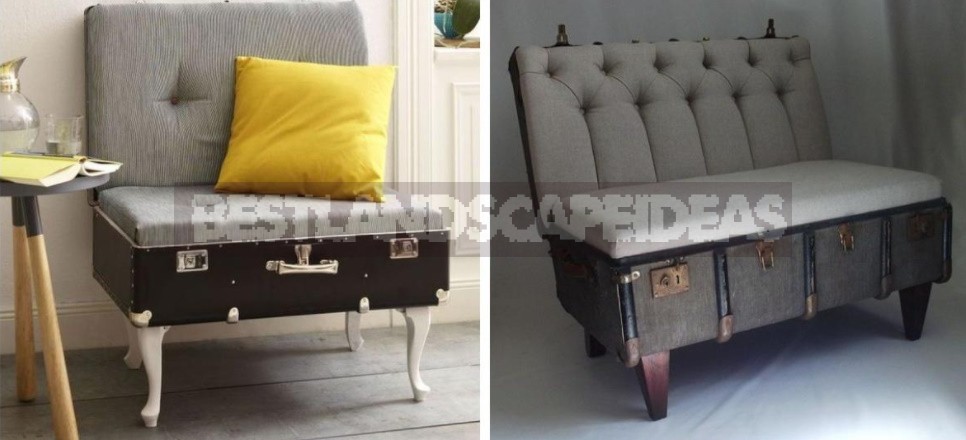 If there is no urgent need for additional seating, a vintage suitcase can be used as a decorative item. What beautiful compositions are obtained with them-a sight to behold! It is advisable to include indoor plants with beautiful foliage — ivy, cyperus, tradescantia and others. However, the blooming ones will also not spoil the picture: modest pelargoniums, delicate cyclamens, and luxurious azaleas will be in place. In general, experiment until you find your perfect image of the composition.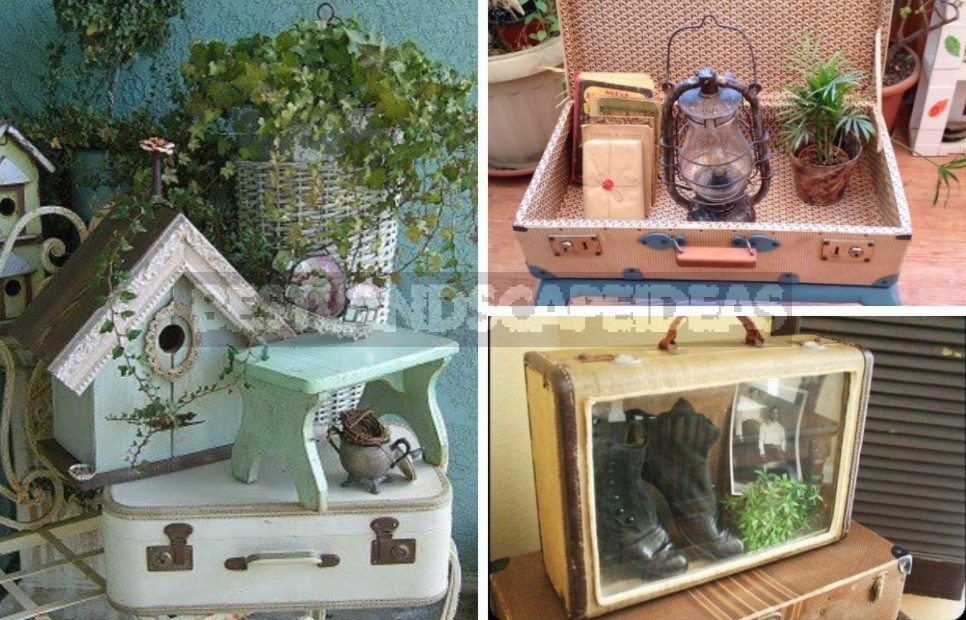 If the suitcase looks unpresentable, do not worry. There are several ways to give it a decent look. The simplest in execution and inexpensive — decoupage. Want to get even cooler? And stick a voluminous furniture decor on it! A nondescript PVC overlay after painting will look expensive-rich, you can even gild it.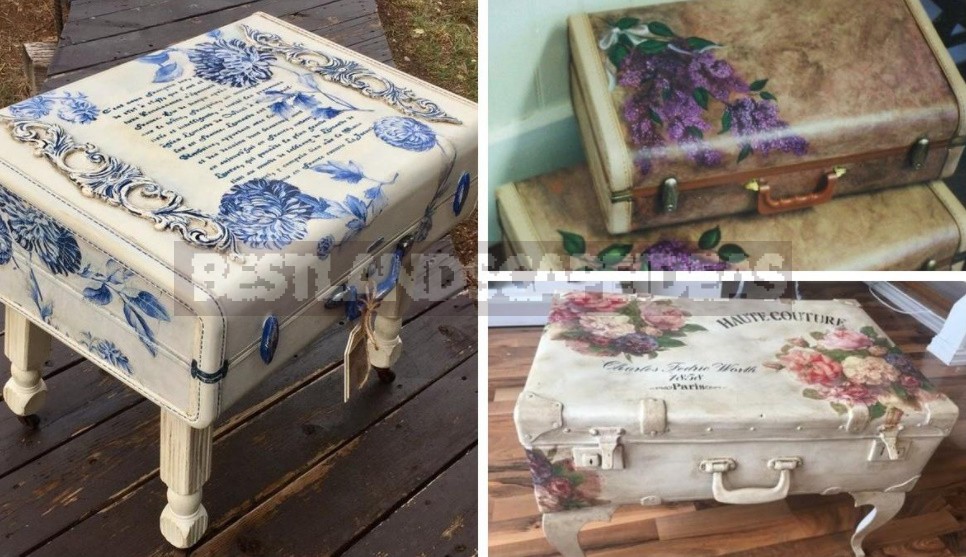 And these ideas are in my taste — I really like patchwork in any form, even if it is an imitation. Still nice, isn't it?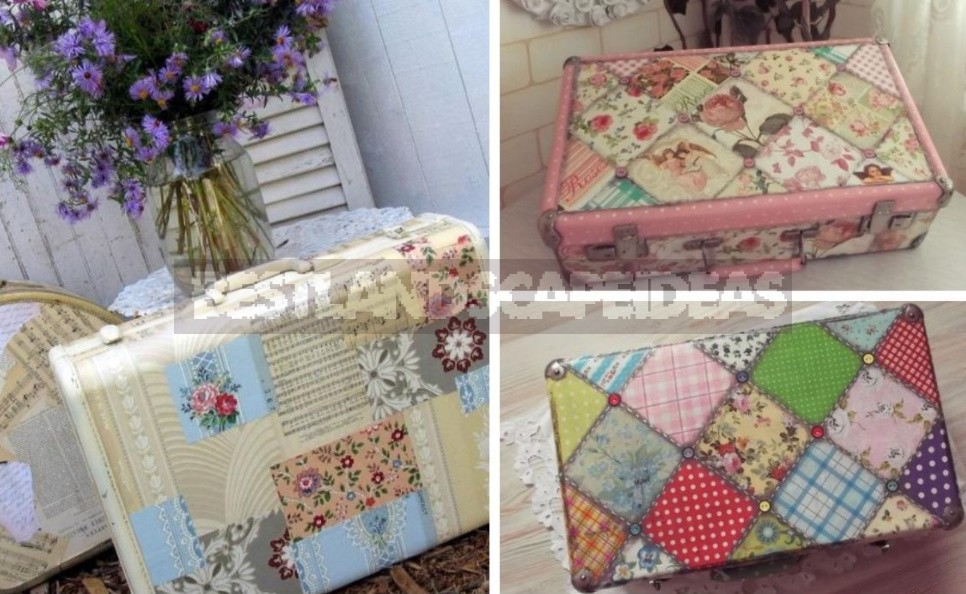 Well, and a few more original ideas, so that there is something to choose from for the decoration of your suitcase.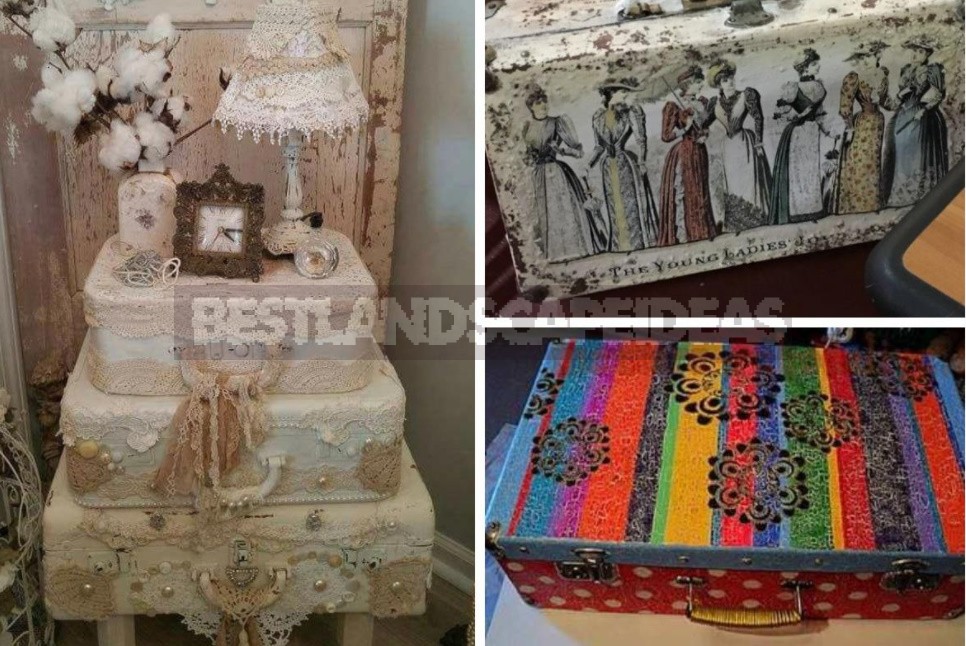 You can arrange a cozy bed for your pet in your suitcase. And the cat is good, and the eye is pleasant.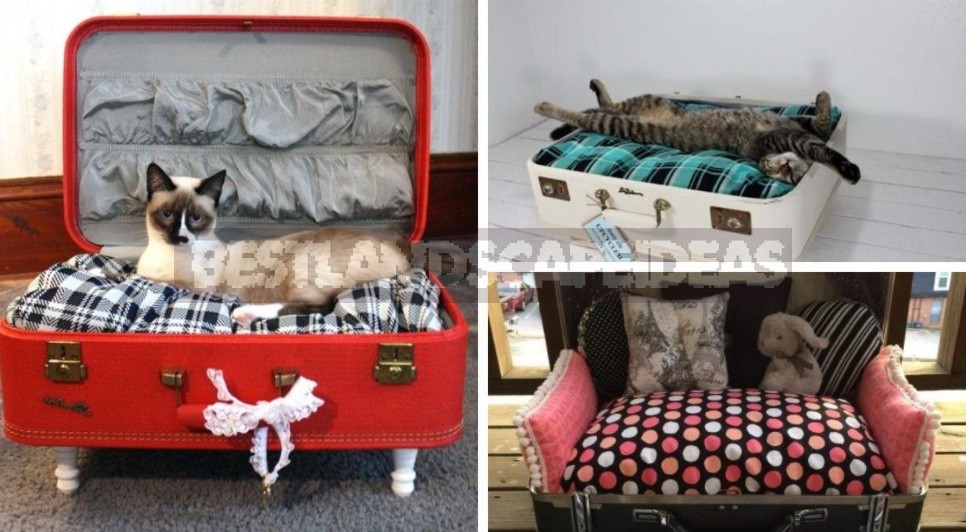 I think the dogs will also not refuse to bask on a soft mattress. I wonder why animals are so drawn to settle in a confined space? Our Nanny will not fail to nestle in a cardboard box. Even if it is hopelessly small, it will still try to fit. And cats sleeping in pots and flower pots in the most unimaginable poses?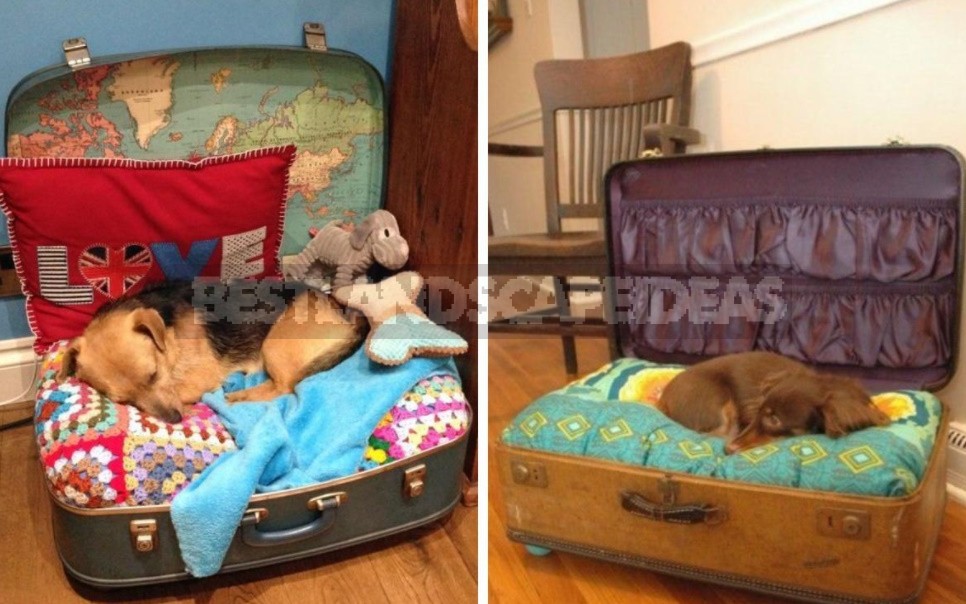 And here's another interesting idea. Surely many pet owners will mentally thank its author more than once for the idea of using a travel accessory as a stand for feeders-drinkers. Agree, sometimes our pets do not eat very carefully. It is especially difficult with small stupid puppies: to overturn a bowl for them is a sacred thing.
Do you remember the epic with the found puppies? They were not weak and helpless for long: after a week or two, a lively flock easily overturned an unaffordable cast-iron pan with porridge! By that time, there was no talk of a bowl at all: so that it would not get in the way of the little dogs, it was easier to spread the porridge immediately on the floor.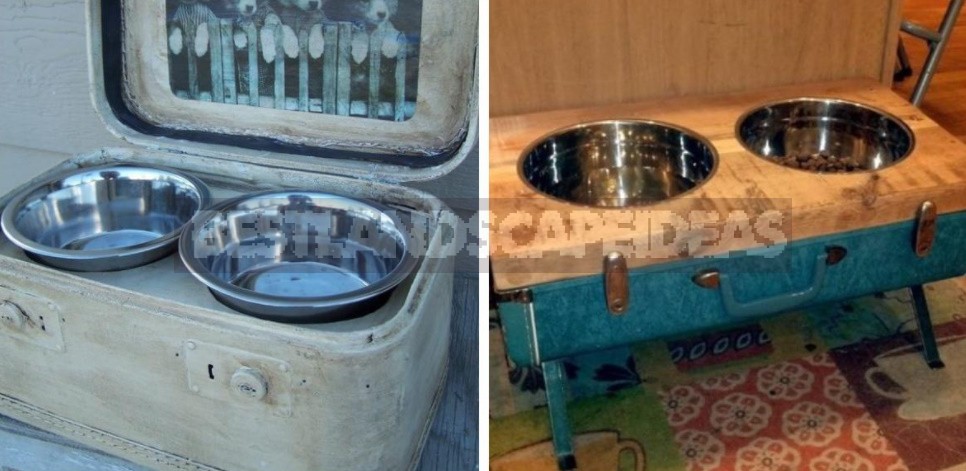 Of course, we will not ignore the ideas for the garden — I specifically saved them for the final. There aren't many of them, but they're so cute!
The suitcase will successfully replace the container for compositions of potted plants. There are many layout options, and you can add natural materials — cones, needles, pebbles, and so on. If you plan to use the suitcase for more than one season, cover the bottom with a strong plastic film and do not put it in the open air. The flowers will be happy to rain, and the "container" they are unlikely to benefit.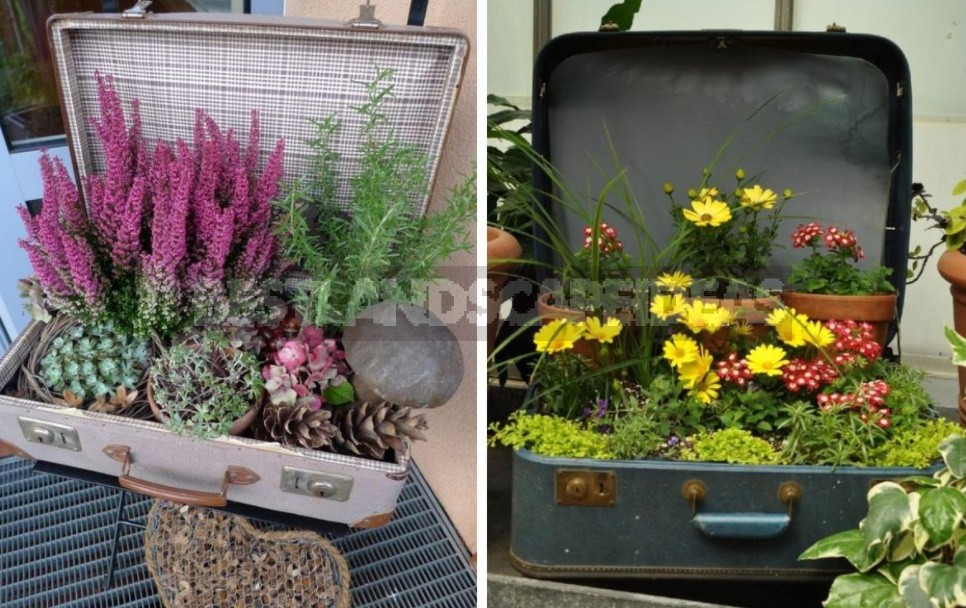 You can do without pots: in a small amount of soil, it will be good for plants with a compact root system. Of course, subject to timely watering and regular fertilizing. A great option for both a small cottage (if the place for flowers is not cut out), and for the original vertical landscaping.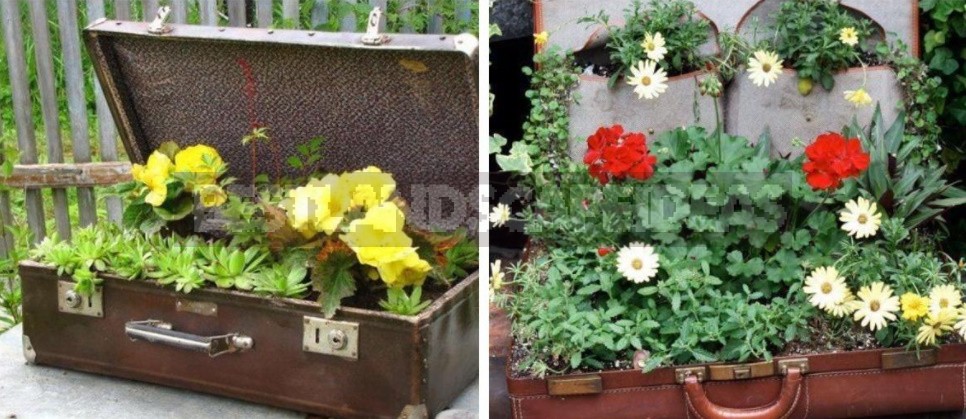 The ideas came to an end. I hope the review was not tedious, and you will have the strength to share your impressions of what you saw. Stories and photos about the magical transformation of your suitcases are expected with great interest!