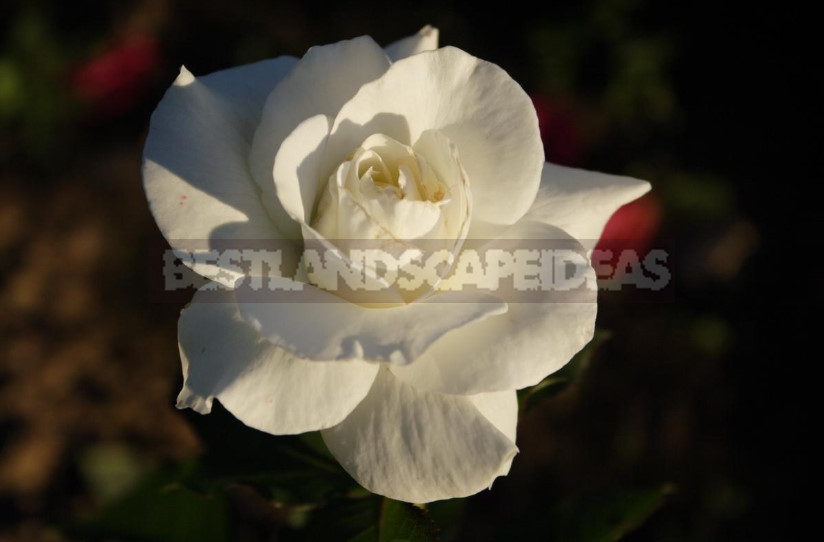 Good and reliable white roses – with the apparent abundance and diversity of the modern range — not so much. And if the use of hybrid tea roses your main criterion-dazzling white (especially in the stage of half-open Bud), the search for varieties can be delayed.
One of my friends — a great connoisseur and lover of roses for 20 years of searching and have not found your ideal. I hope that not everyone is so demanding and will be able to come to terms with shades of light blush, cream or pearl pink. If you notice greenish shades in the Bud, expect a dazzling white. In addition, even pure white flowers in a different summer (and often in autumn) can be browned-so they react to the lack of sun and heat.
Main selection criteria
If I had to Supplement your white gardens with roses, I would have accepted their health as the main requirement. Many white roses, including titled ones, are prone to fungal diseases, and it is not a secret either for rose lovers or for originators.
The next important requirement should be their optimal matching to your subjects. For example, not every variety is suitable for hedges or will be appropriate on the retaining wall. I am sure that you have already thought about the main compositions and only want to add them with roses. You do not have the opportunity to play on the contrasts and harmony of colors, but your option is successful because the white color is easily in harmony with the landscape of any garden. Simple flowers (I am roses) on background of foliage an incredibly soft and plush – refinement of form.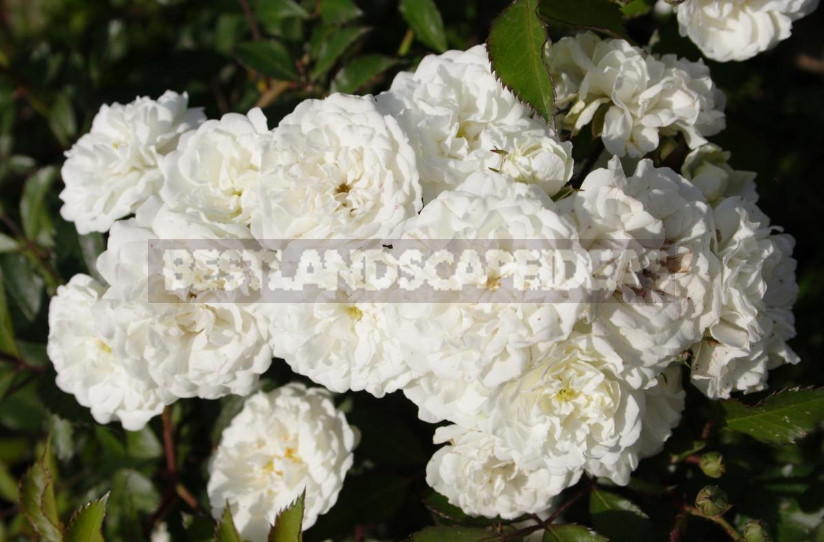 With an abundance of double flowers, you need to consider some more details. Here are important nuances such as the slow opening of the flower and its decorative in the final phase of flowering. If the flower quickly opens and shows an unsightly center, then instead of the expected purity there is an impression of untidiness. Of course, this is a garden, not an operating room, but you need to know what to expect. Even the most unpretentious and healthy varieties sometimes do not meet this requirement ('Petticoat', F., W. Kordes'Sohne, 2004).
Reliable varieties of white roses
I want to offer several varieties with which you can solve any problem of landscape design. For vertical gardening recommend 'Schneewalzer' (Rosen Tantau, 1987) and a climbing mutation (Clayming) of the famous floribund rose 'Schneewittchen' (not to be confused with the original variety!). The first will please the large flowers of perfect shape and good health, and the second will give a fantastic abundance of fragrant flowers and decorate the pergola, column or even a fence in any romantic garden.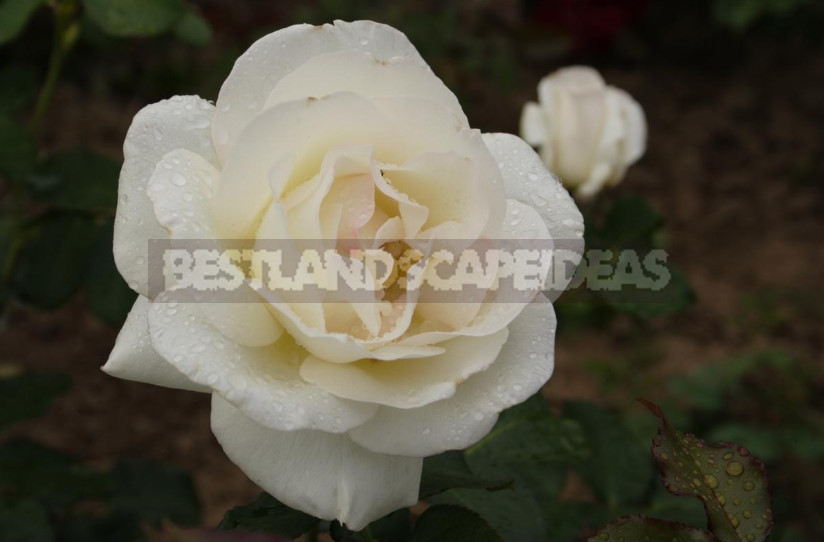 From shrabs for monosort groups and mixed borders suitable varieties: 'Gletscherfee' (W. Kordes 'Sohne, 1993),'Weisse Wolke'(W. Kordes' Sohne,1993) and 'Clos Fleuri blanc' (Delbard, 1989). Optimal for hedges believe 'Clos Fleuri blanc' – a powerful (up to 1.5 m) plant from the series "roses without worries", very resistant to disease and growing well even in partial shade.
Can be used as srabe and the above-mentioned Rosa floribunda 'Schneewittchen' provided easy trimming. This rose is General-purpose to use; from a group of landing it is possible to form the pyramids, cascades, applying individual approach to pruning of each plant. In a damp or cool summer mushroom diseases are inevitable, but in General they do not have too noticeable consequences. Such beauty deserves careful care.
For curbs along the paths, mixed groups and arrays, choose roses from the floribund group — such landings will make even boring gardens Shine. The choice is not so great — especially, go to him seriously, not to get instead of an array of flowers a lot of problems.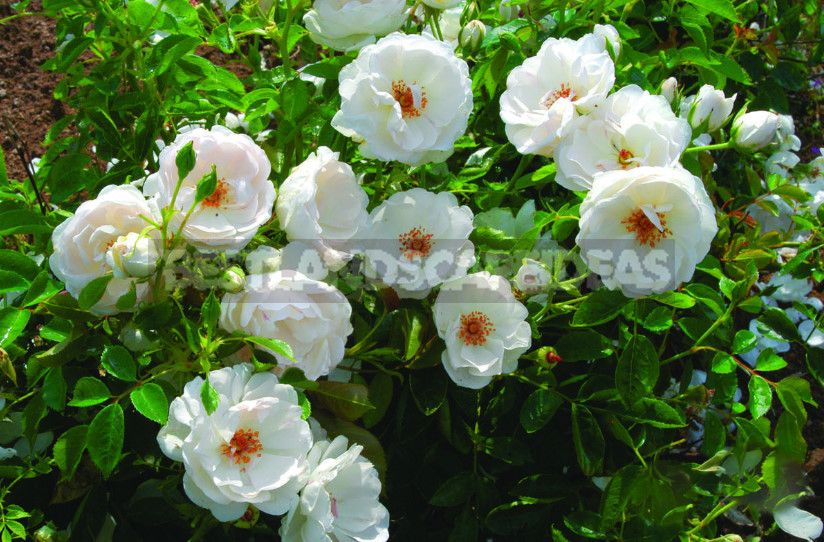 For a low border I would use only two varieties- 'Border blanche'(Delbard, 1997) and 'Aspirin – Rose' (Rosen Tantau, 1997). I do not call in this list a beautiful rose 'Carte Blanche' (Meilland, 1999) only because of its growth (1 m): for the border it is tall, and to this hedge has not grown. You will find her a place in other landings.
On health, quality of a flower and profusion of flowering both recommended grades are magnificent, but in the first case a border will have more accurate borders and will reach 80 cm in height, and a border from too spreading bushes 'Aspirin-Rose' will be a little lower. But with easy pruning, this variety has no equal in arrays and carpet plantings.
In single landings the finished plot (in my opinion) will give only one variety known to me – it's 'Perle Meillandecor' (Meilland, 1990) with amazing beauty flowers. It can also be the best decoration of the retaining wall. In the latter case, it is only a competition grade 'Alba Meillandecor' (Meilland, 1989), which has more shoots and leaves, as well as an amazing resistance to flowering.
And at last rose, put to the total delight of my flowers on display. I will name only three varieties. 'Cosmos' (Meilland, 1994) may not seem Terry enough (32 petals), but it has a flower of good shape, noticeable aroma and fine healthy foliage. In search of the ideal lovers came to the beautiful rose dazzling white – 'Teneke'. I do not know the originator of this variety for protected soil, but after many years of introduction, I consider it a garden variety.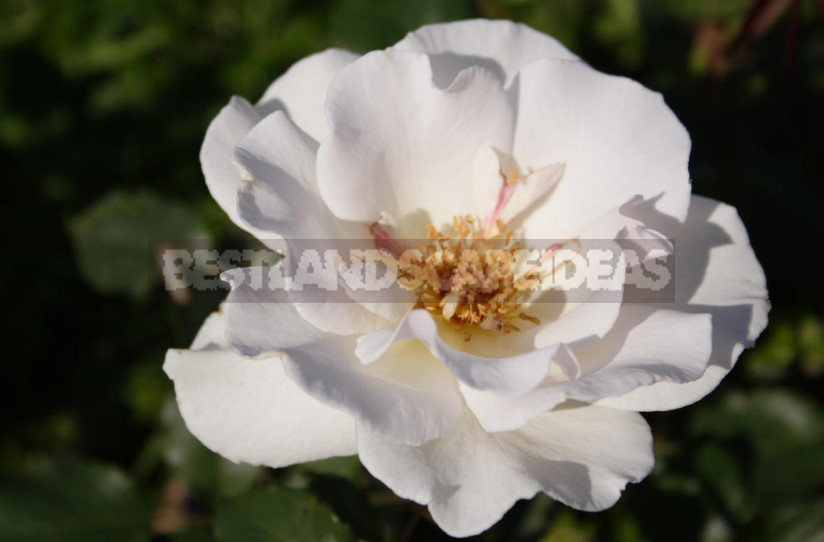 Finally, no garden will look complete without the brilliant and incomparable 'Margaret Merril' (Harkness, 1977). This rose has conquered more than one generation of lovers and you will take a rare pleasure in the exquisite beauty of the flower and rich pink aroma.