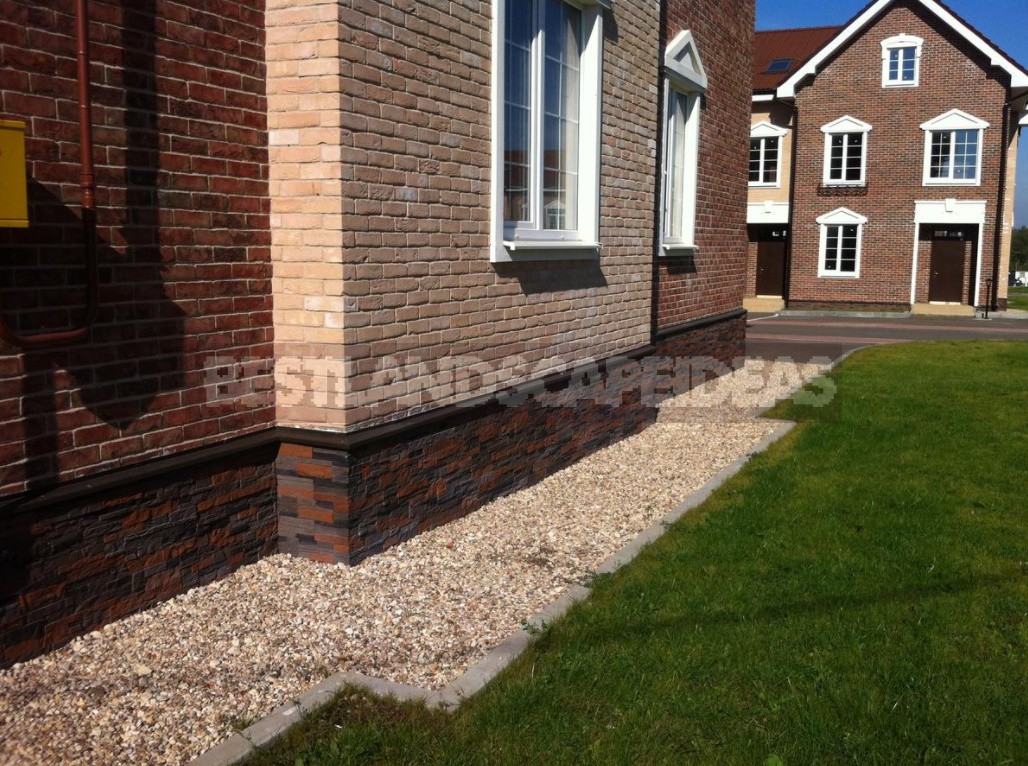 What will the blind area of your house be made of? Most, of course, will answer: made of concrete. That is, we are initially ready to accept its fragility and unpresentability simply because we do not see any alternatives. In fact, they are. Working, proven, worthy of attention. A soft blind area is a reliable drainage system that will protect the foundation, help save money and will not require repair for many years.
Take a walk through any village. And you will certainly make sure that concrete blind spots are our yesterday, today, and for some, probably, tomorrow. But you must agree that the concrete perimeter of a country house does not fit harmoniously into every landscape. In addition, cracks form on it over time, and it happens that it moves away from the base of the foundation, treacherously opening access to water. We have to constantly restore the tightness of the coating. That is, to waste time and money again. But you can't do it without a blind spot. This is a mandatory element necessary to protect the foundation of the house from moisture. And despite the fact that the concrete version of this very protection is the cheapest, in fact it remains quite expensive.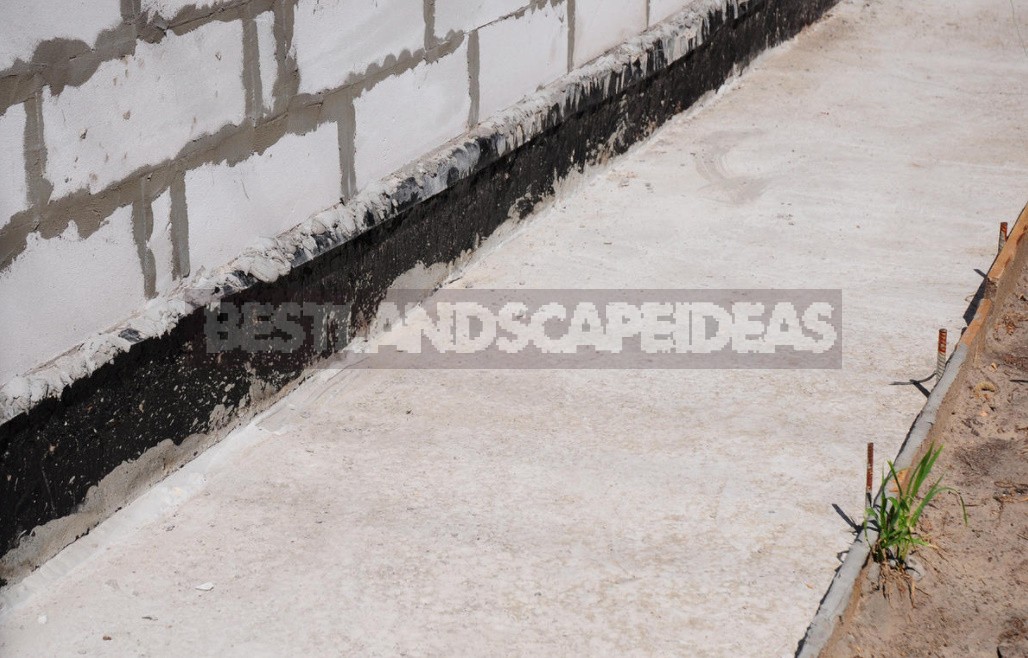 As a result of all the comments, the question arises: what are the alternatives to-long-lasting, effective, beautiful and less expensive? The alternative is simple — to abandon concrete and use aesthetically pleasing design options for the blind area, for example, paving slabs or gravel. It's beautiful, but not effective. Water passes through such coatings without problems, so it is impossible to talk about protecting the foundation, you will object and you will be one hundred percent right! In order to divert water from the foundation, it is necessary to use a special material.
We are talking about a profiled PLANTER membrane, and specifically about a membrane for a PLANTER Geo soft blind, supplemented with geotextile. Well, now that there are even more questions, let's figure it out: what is it, is it possible to replace the geomembrane with some cheaper film, and is it even worth trusting another innovation?
What is a profiled membrane and why it is impossible without geotextile
The profiled membrane is an elastic cloth made of high-density polyethylene (HDPE). Its thickness is 0.6 mm. It has zero water absorption and high tensile strength, which makes it resistant to various kinds of influences.
In fact, this is a ready-made drainage system. Rounded projections with a height of 8.5 mm are located along the entire surface of the canvas, which provide a gap for the unhindered removal of moisture from the foundation of the building. Unlike conventional membranes, the profiled membrane has an additional layer of geotextile. It is necessary because it performs a filtering function. If you use a membrane without geotextile for the blind area, the gap formed by the protrusions will quickly become clogged, and the drainage system will lose efficiency.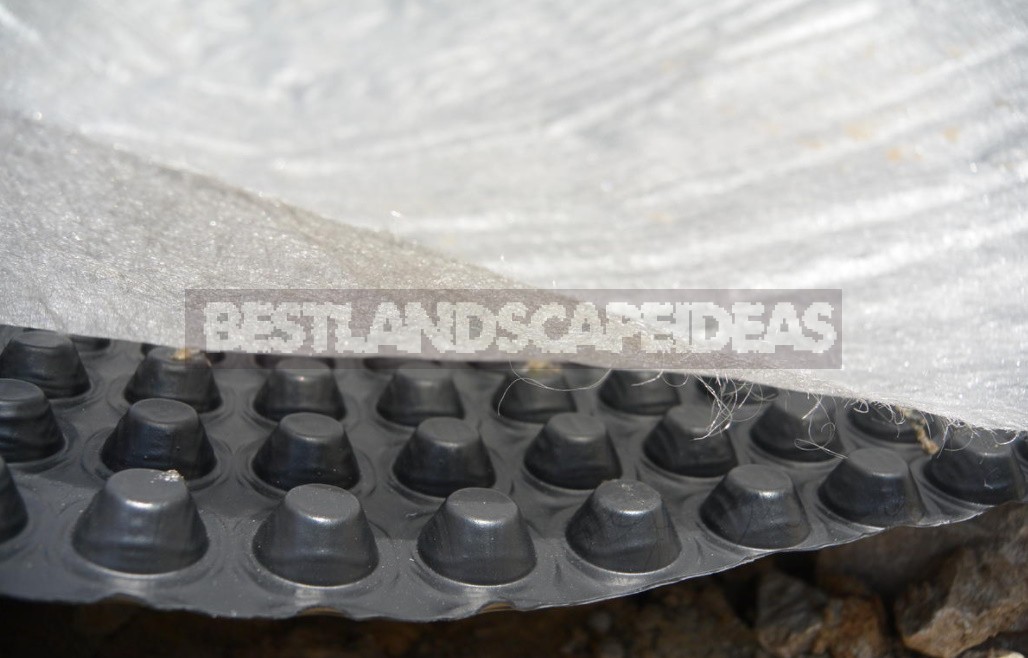 It is obvious that the quality of geotextile in this case is no less important than the quality of the drainage membrane. The PLANTER Geo drainage system uses TYPAR geotextile from DuPont. But what exactly is behind these names? It's simple — it's quality.
Increased service life in comparison with analogues.
High resistance to mechanical loads, which guarantees the preservation of the filtering ability of the PLANTER Geo throughout the entire service life.
The uniformity of the distribution of raw materials over the entire area of the material provides TYPAR with high resistance to silting.
Why is a profiled membrane more profitable?
In the case of PLANTER Geo, one of the most expensive items — concrete-disappears from the list of necessary materials. If we take the average prices for building materials, the savings can be up to 45%. Given the considerable cost of the blind area as a whole, this is a very good indicator. For those who plan to build a house on their own, including a blind area, a nice bonus — the work will be much easier, easier and faster. You do not need any equipment or special tools, which is also very important for saving money. An exception is the tools for laying the finishing coating, if, for example, you decided to lay paving slabs.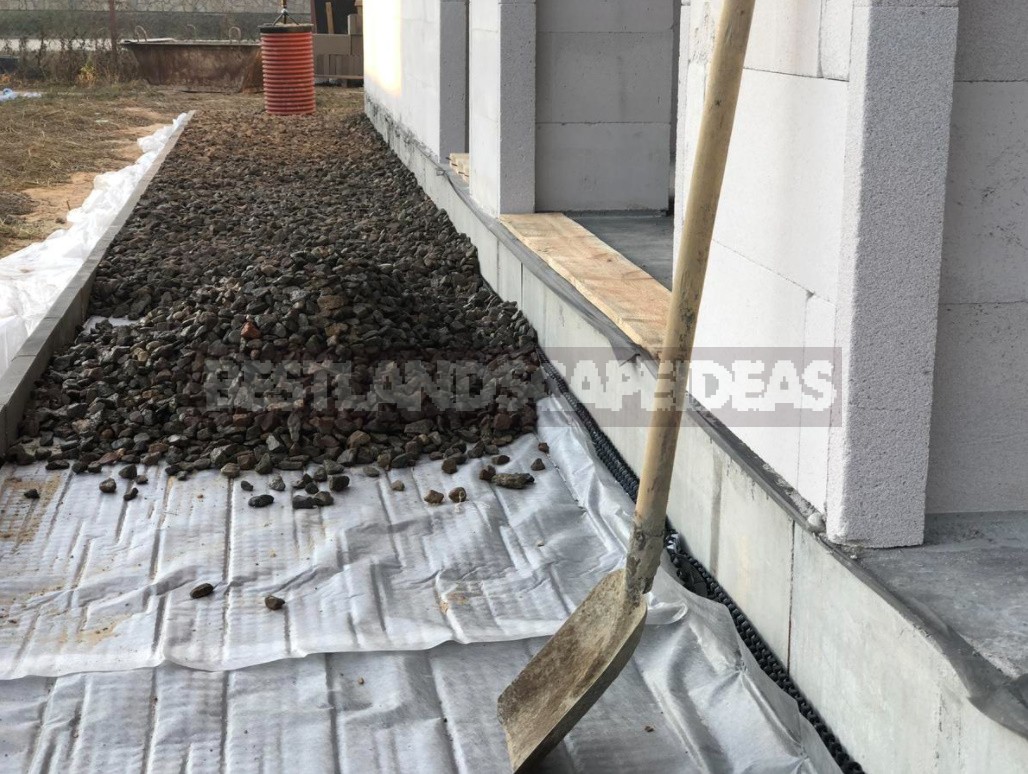 How reliable and durable is a soft blind area
Of course, to answer these questions, you need to try the material yourself in the case. But none of us wants to put experiments in construction. And this is correct. Here we can cite one fact that will dispel our doubts.
We all know how clearly large developers calculate all the subtleties. We do not take into account those whose goal is to save on everything, and then come what may. We are talking about those who make long-term plans and are not going to spend money on permanent repairs. Before applying any material, they clearly assess its capabilities, efficiency, reliability and their own benefits. There are no small things here. It is such responsible developers who have been using PLANTER Geo membranes for more than one year. It would seem that this is the material that can be replaced with any cheap one. But a large responsible business knows the consequences of such savings and, preferring not to take risks, uses our profiled membrane.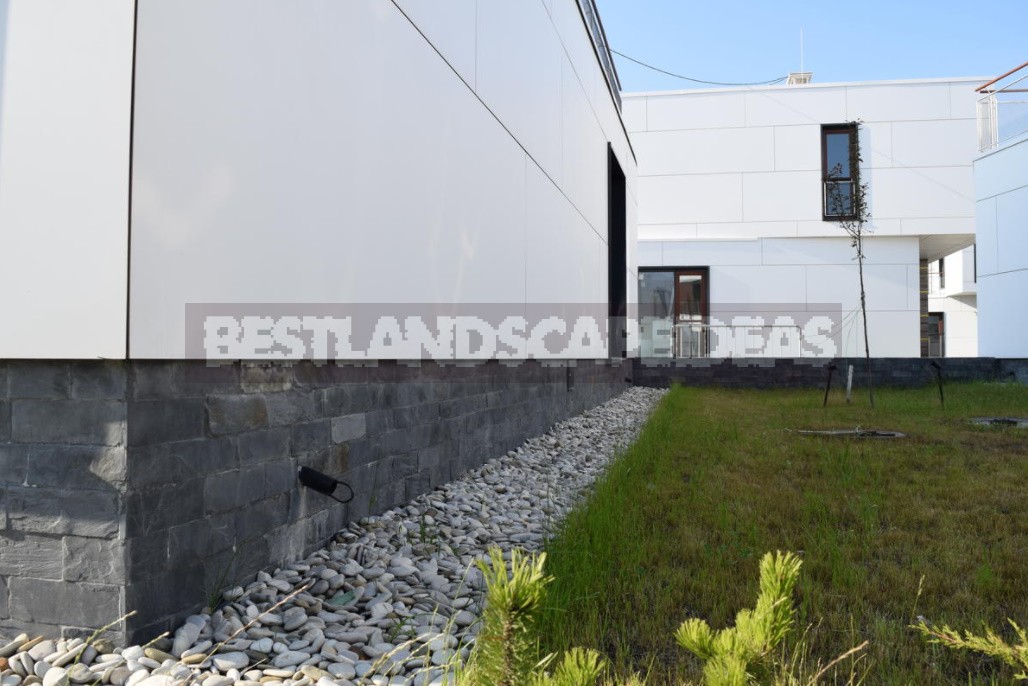 New technologies may be alarming, but after all, concrete has not existed for centuries, but appeared relatively recently. Its use made it possible to make a huge step forward in construction. So is it worth neglecting the latest technologies that are already being successfully used?
Does it look unreliable? Yes, indeed, the concrete blind area looks much more impressive. Probably, this is its main drawback-its monumentality does not allow it to adapt to changes that cannot be avoided. For example, the mobility of soils. And then it becomes clear that it is the profiled membrane that is much better suited for the blind area. And a well-thought-out elastic drainage system is an ideal solution.
The membrane does not decompose and has a high resistance to the action of chemical reagents (acids, alkalis, salts) contained in the soil.
It resists the germination of roots, the impact of the products of the vital activity of microorganisms.
It reacts absolutely painlessly to temperature changes.
Prevents frost heaving, which leads to the formation of cracks in the concrete structure.
It is made of high-density polyethylene without the addition of chemical elements that negatively affect the environment.
Therefore, the blind area with PLANTER Geo will last more than 60 years. Now at least ask your neighbor: how long and how well does the concrete version protect the foundation?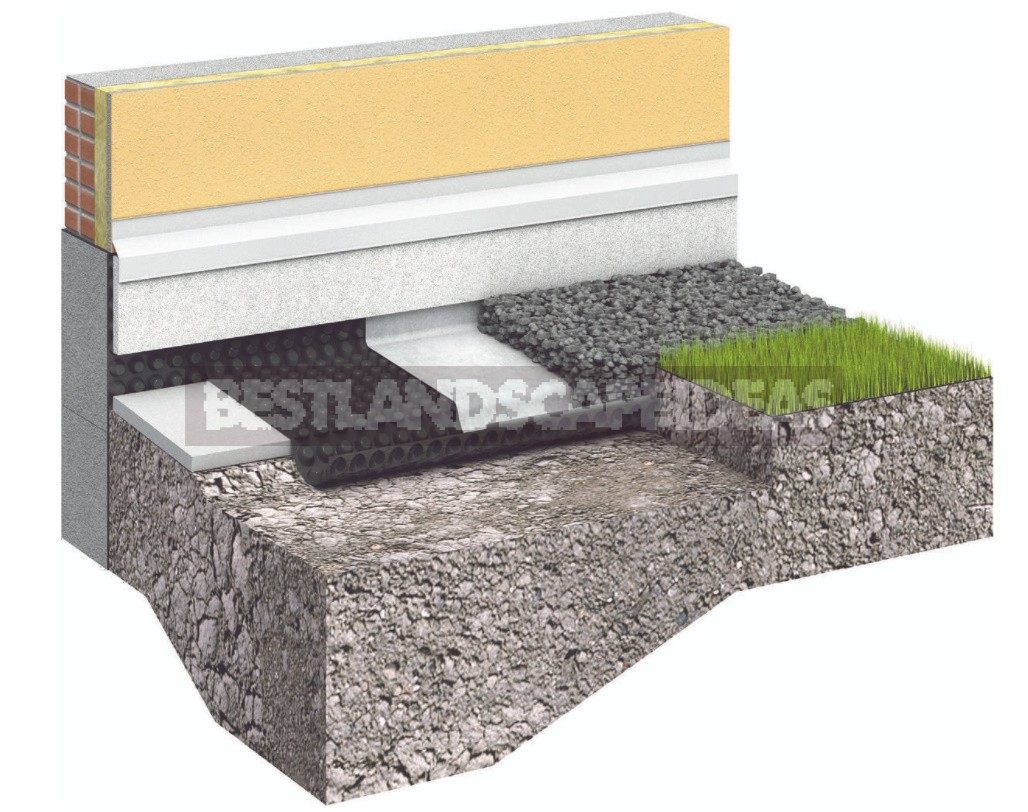 We mount the profiled membrane with our own hands in just 5 steps
Creating a blind area with a profiled membrane is reduced to 5 steps and does not involve any complex installation work.
Step 1. Dig a trench.
Step 2. We make a filling with construction sand with a slope of approximately 5% from the walls of the house.
Step 3. Roll the geotextile membrane up. We lay a roll of a meter wide (along the filling) with a "call" on the wall for 10-15 cm. To fix the ledge on the wall, it is convenient to use special mechanical clamps.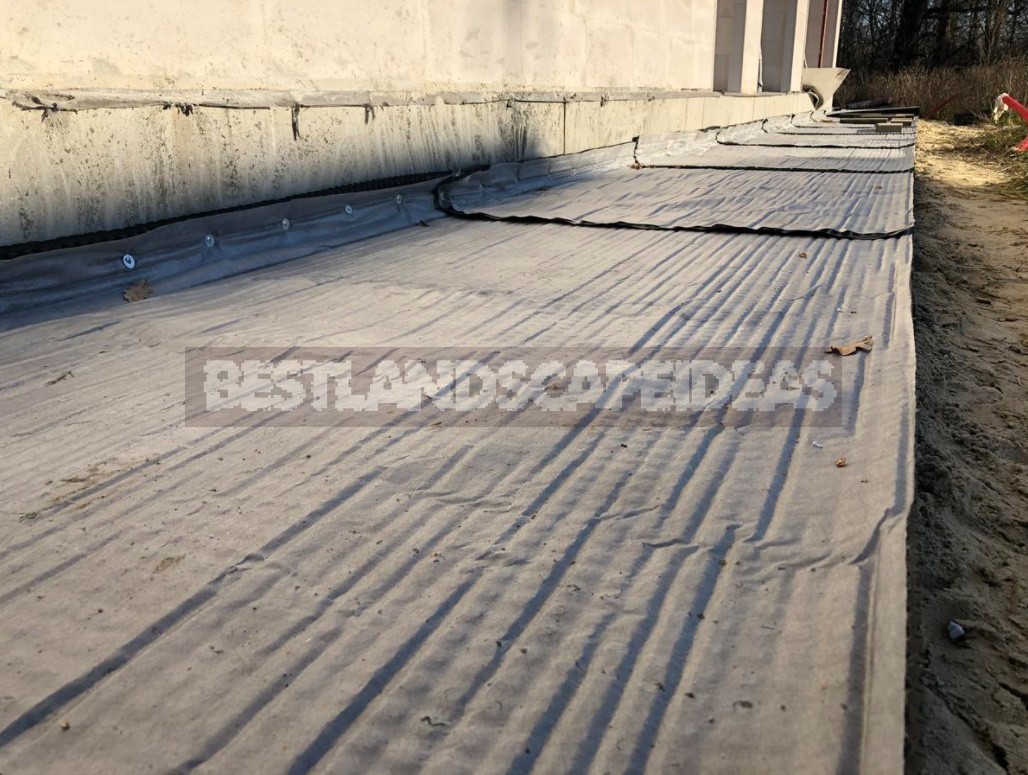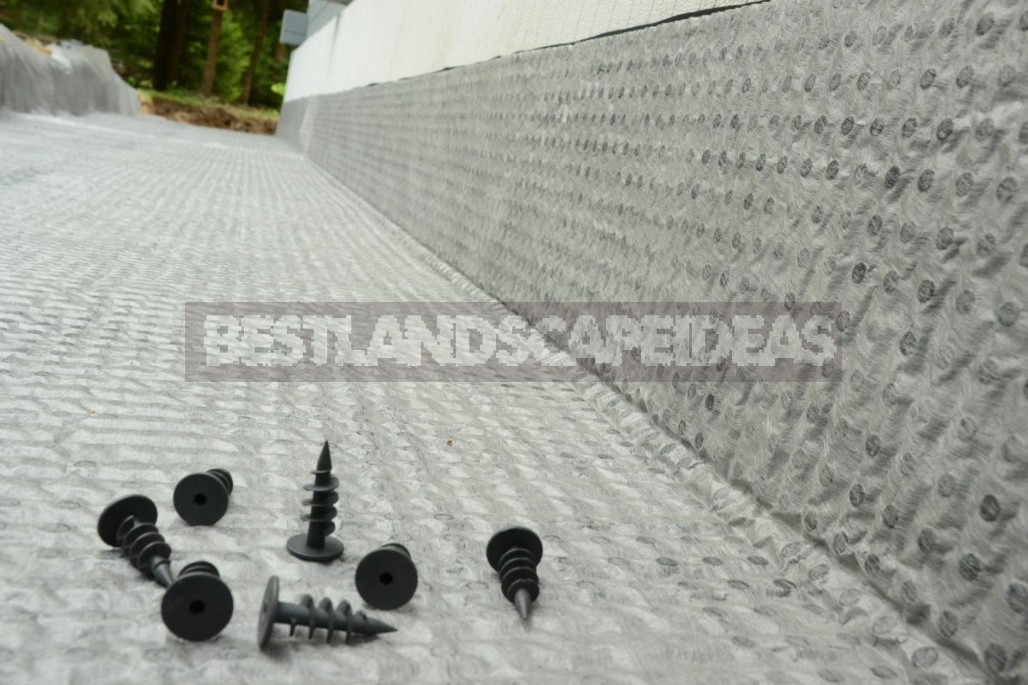 Step 4. If the length of the membrane roll is not enough to cover the entire area, you need to roll out another roll overlap by at least 4 protrusions or 10 cm. To fasten the membrane webs, use a special PLANTERBAND tape.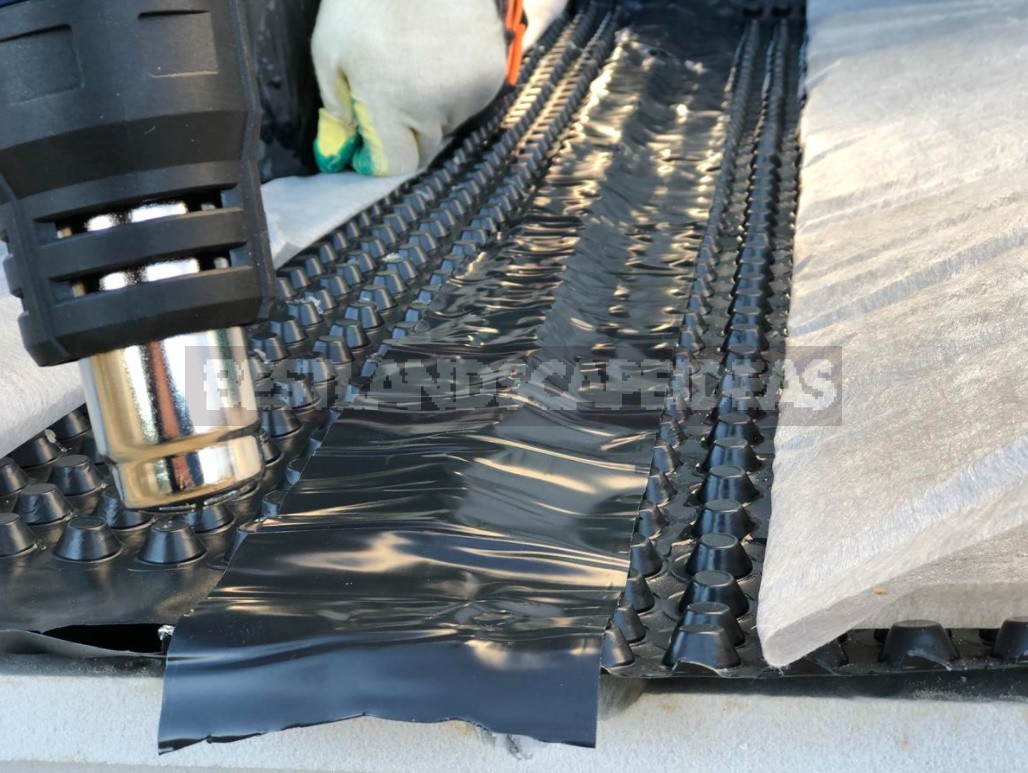 Double-sided adhesive tape is used to attach the geotextile.
Step 5. We lay the finishing coating. It can be tiles, gravel, paving stones or lawn grass.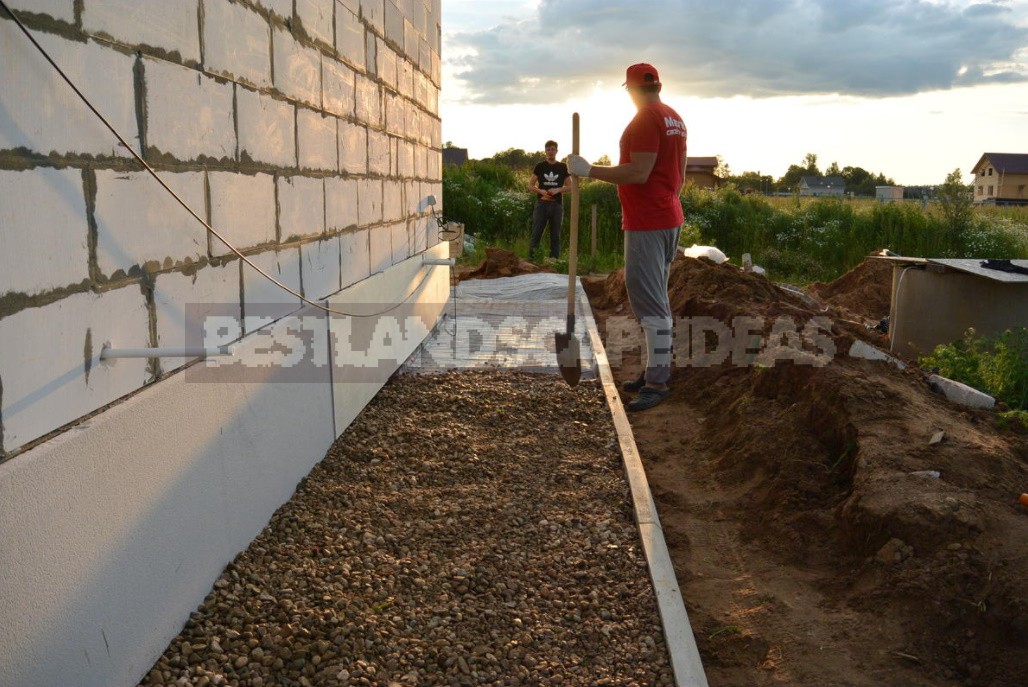 Beautiful design of the blind area
A blind area with a profiled membrane can become part of the landscape design.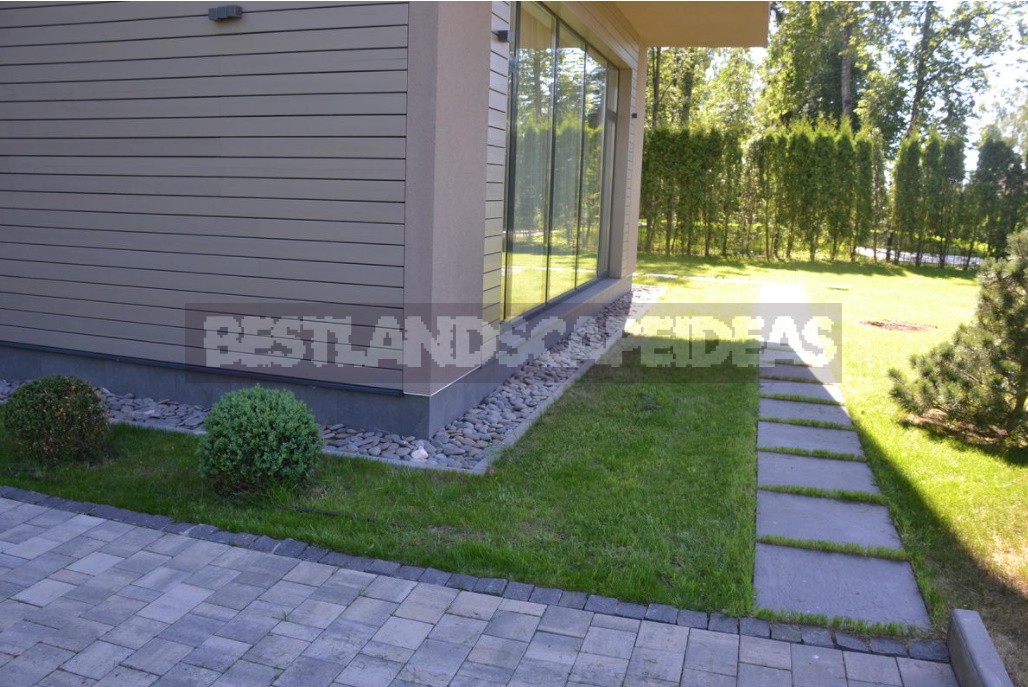 Such a drainage system allows you to use gravel, paving slabs and even a lawn as a finishing coating for complete fusion with nature. At the same time, the type of material does not affect the efficiency of drainage and the protection of the foundation in any way.