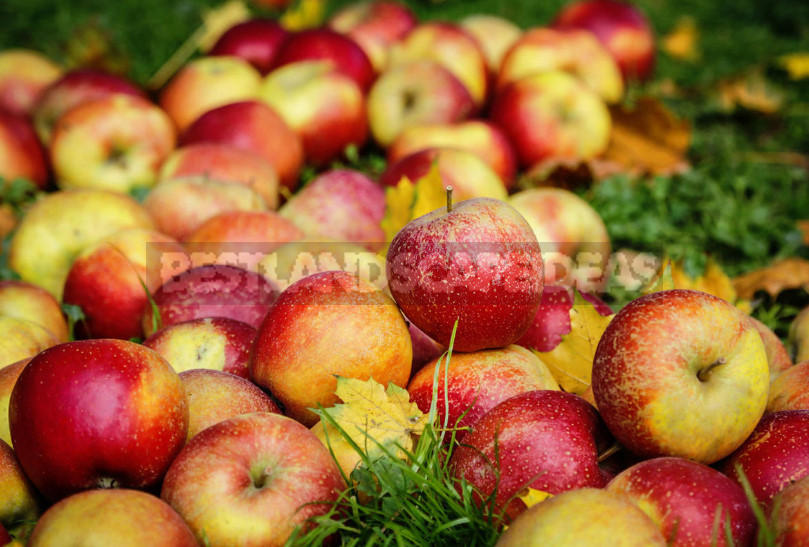 Winter is the best time to plan the planting of the next summer season. And if next spring you are going to have one or more Apple trees on your site and while you are at a loss, choosing the right variety, this article is for you.
Lovers of fresh apples sour you will not find here anything interesting. But those who like honey fruits melting in their mouths will surely be able to make a choice. In my review I included 9 of the sweetest varieties in my opinion.
'Lungwort'
We should also mention the popular summer variety 'Lungwort'. Harvest from the tree removed in the second half of summer. Apples differ incredibly sweet taste.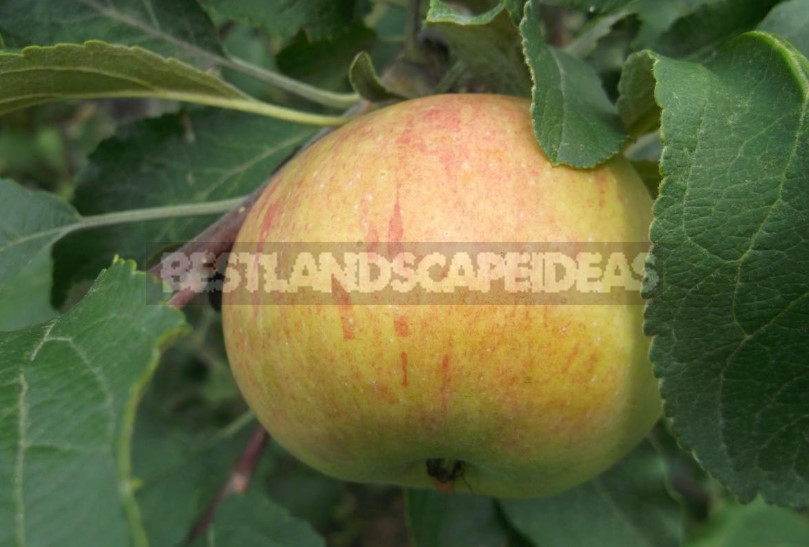 Tree grows large, pyramidal with a sparse crown. The first honey harvest Apple will give already on the 4th year of life. The fruits are medium-sized, weighing 110-140 g, with yellow skin and a beautiful scarlet speckled blush, especially bright in the sun. Rounded apples 'Lungwort' different fine juicy flesh cream color and delicious aroma.
This is a great hardy variety that is well going through frosty winters. High yields and resistance to scab – two more important characteristics that speak in favor of this variety.
'Candy'
Among the huge assortment of varieties is leading in the sweetness of its fruits another summer variety – 'Candy'. The first fruit you get with 4-5-year-old tree.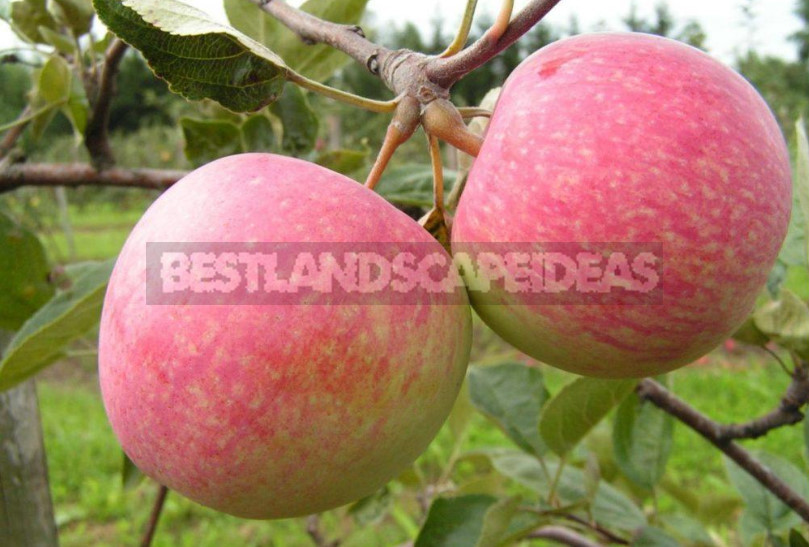 His crown is spreading, powerful. Grows ' Candy' to 4-5 m in height. Rounded fruits weigh on average 100-130 g, have a delicate rind of rich yellow color with a beautiful orange-red blush. According to the sweetness of this variety can argue with 'Lungwort': apples have a dense juicy pulp with honey flavor and caramel aroma. But they are stored only 2-3 weeks.
Yields have ' Candy' is not very high, but you will not suffer from the frequency of fruiting: apples you will have every year. In rainy seasons, the tree can be affected by scab, however, this disadvantage is more than compensated by good winter hardiness and delicious sweet taste.
'Golden Delicious'
Complements the line of sweet varieties American 'Golden Delicious'. This variety is for real sweet tooth. Beautiful yellow fruits are removed in late September-early October.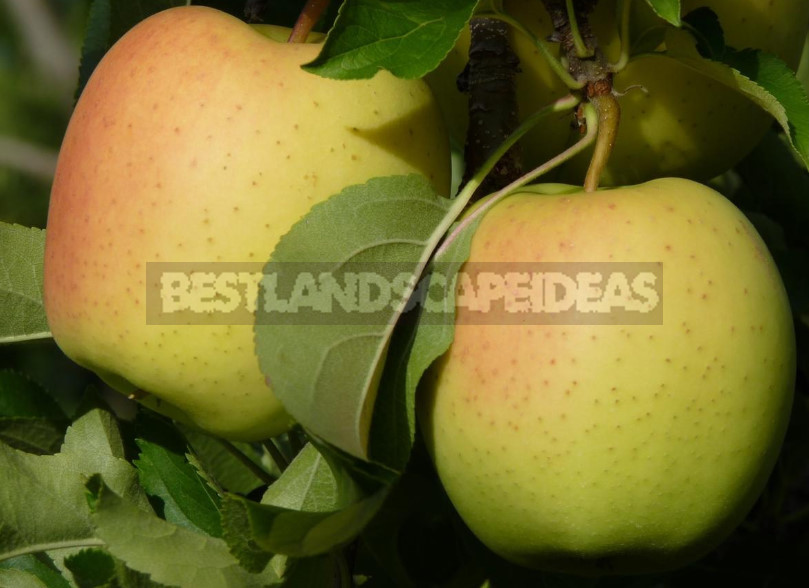 A tree of medium height with a wide-rounded dense crown. The first harvest it will please you already on the 2-3-year life. Apples with recognizable Golden, slightly rough skin with a slightly pronounced pinkish blush rounded-conical shape. Flesh is light yellow. If all storage conditions are met, apples can lie as long as until April.
The variety tolerates frosts well, has an enviable yield and excellent quality of fruits. But it also has drawbacks. These include poor drought resistance, irregular fruiting. In the United States, the variety 'Golden Delicious' is considered the official symbol of Virginia.
'Belarusian sweet'
Undoubtedly, in our top ten sweet gets winter grade 'Belarusian sweet'. The tree grows medium in size with a round-conical crown. Young Apple trees bear fruit for 2-3 years of their life.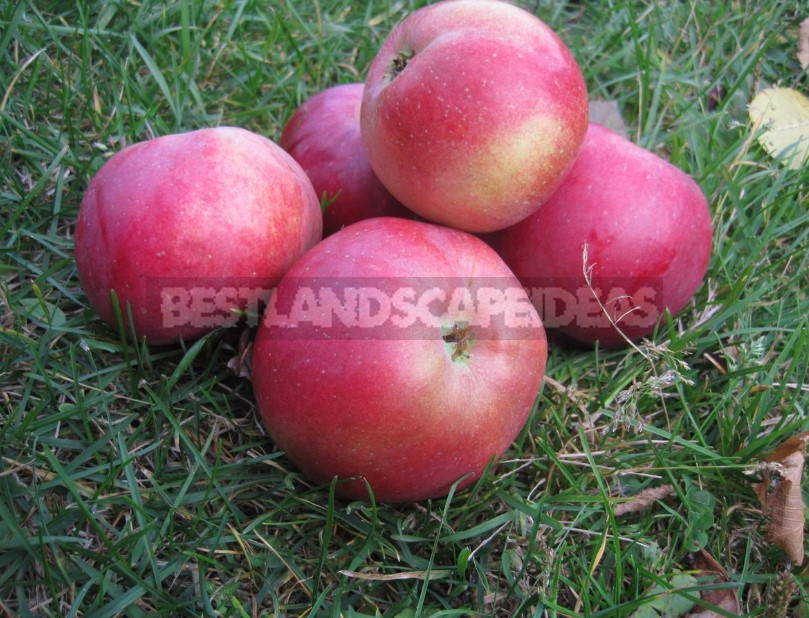 Rounded apples weighing 150-200 g when ripe yellow first, and then poured a solid red blush. The flesh is beautiful, snow-white. The variety is good due to high frost resistance and yield. The tree is genetically resistant to scab. Bears fruit annually. In time removed from the tree crop is perfectly preserved until February.
'Orlov'
I want to mention the Apple ' Orlov'. Apple tree gives very sweet fragrant apples. A tree of medium height with a beautiful rounded crown. Bears fruit on the 3rd year of life.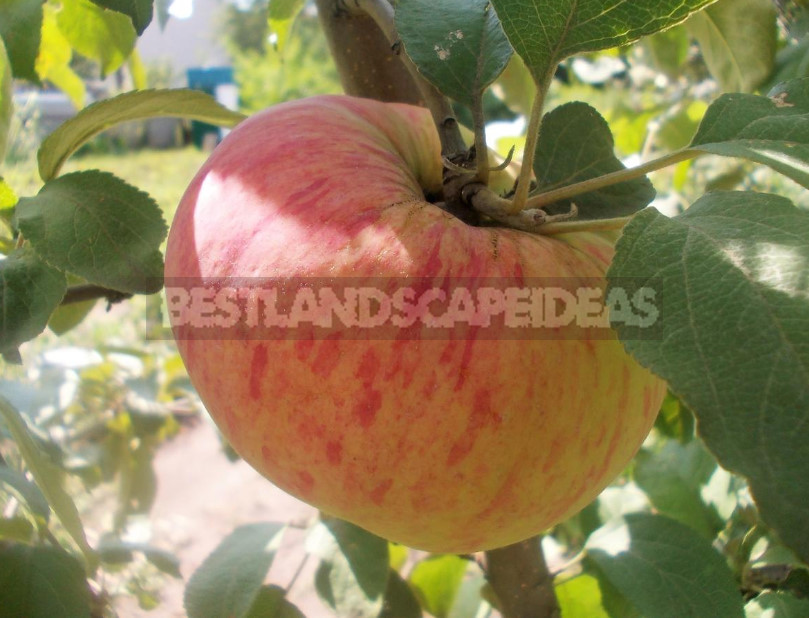 Planting this variety a few years ago in his suburban area, I do not cease to admire its merits. 'Orlov' is not affected by disease, bears fruit annually and abundantly. It does not cause problems when pruning – its branches depart from the conductor almost at right angles, so the beautiful crown is formed naturally.
Apples are slightly flattened, weighing 150-170 g. the Skin is pale yellow with abundant blurred watercolor blush pink and red tones. Under the impressive exterior there is a no less impressive content: the flesh is creamy, juicy, with terrific flavor and a nice caramel flavor.
The variety should be planted for food, as for long-term storage of fruits are not suitable. Like other summer varieties, apples 'Orlov' lie no more than a month.
'Christmas'
Not far behind the 'Orlov' on the sweetness of the fruit variety under the beautiful name 'Christmas' early winter ripening. On this medium-sized tree with a broad-pyramidal crown, even in the most unfavorable seasons, I also never noticed signs of scab – Apple is resistant to this disease at the genetic level.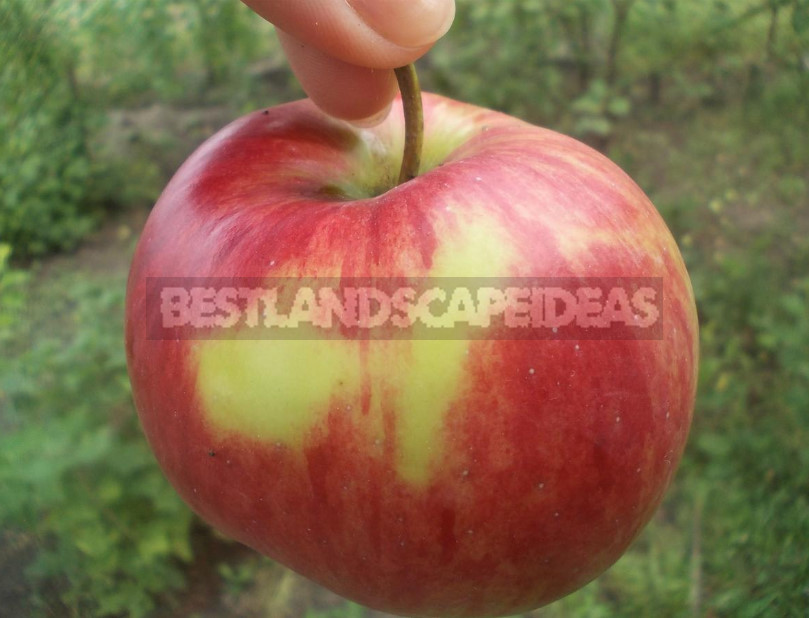 The average weight of the Apple 140-180 g, but on my tree often ripen more weighty specimens (weight 230-250 g). Apples differ greenish-yellow colouring of a peel and in a stage of ripeness are covered with bright red, almost continuous blush. The flesh is dense, juicy, snow – white-in contrast to the red skin looks great.
The first apples tree will please at the age of 3 years and the harvest will bring annually. And so named variety is not accidental: these delicious sweet apples are able to lie in the vegetable store until mid-winter.
'Pepin saffron'
Certainly worth noting the old winter grade 'Pepin saffron'. It still does not lose its relevance and is often found in Amateur gardens.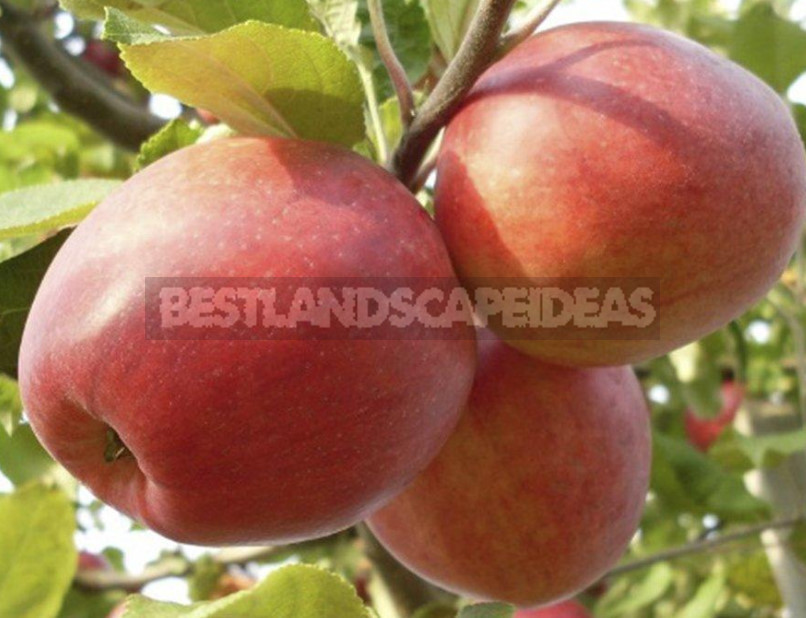 The first harvest will have to wait for quite a long time, as only 4-5-year-old trees come into fruiting. But the long-awaited apples will not disappoint you: they are medium-sized (80-140 g), but fragrant, juicy and with a dessert taste. Impossible to break away! Their skin is yellowish-green, covered with dark red blush, the flesh is creamy.
Collect 'Pepin saffron' in the first half of October, ripen apples already in storage. It is there that they acquire their famous spicy flavor and become honey. Under proper conditions, the harvest is perfectly preserved until April.
The variety stands out for its high yield, excellent quality and good keeping quality of the fruit. It does not suffer from periodicity in fruiting, but in severe winters it freezes strongly, and in rainy summers it is quickly affected by scab.
'Riga dove'
Particularly sweet and delicious fruits of early autumn ripening stands Latvian variety 'Riga dove'. Beautiful greenish-white apples with the thinnest skin reach a mass of 110-130 g. on the barrels a delicate pinkish blush can appear. The ripe fruit is translucent, as if suffused with juice. The taste of apples is pleasant, sweet and sour. Subject to all storage conditions, will last until December.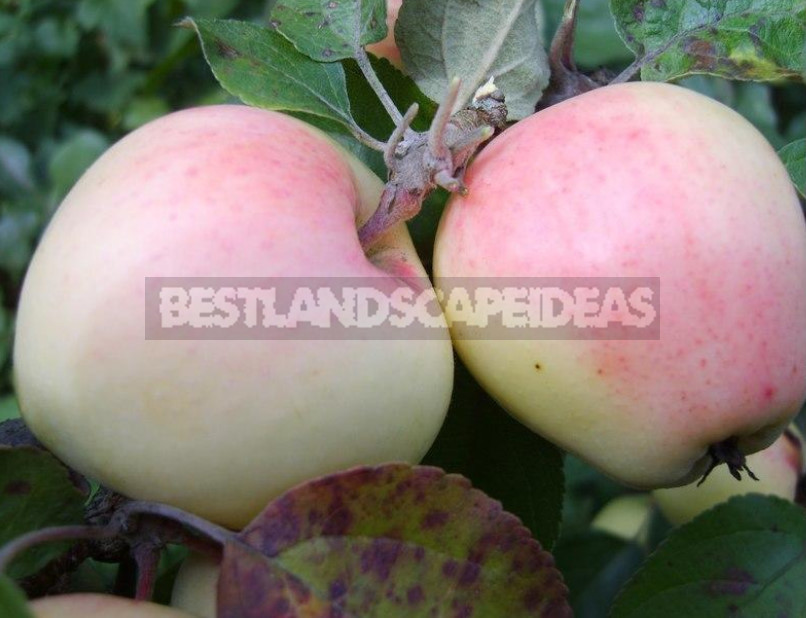 The tree itself is medium-sized, with a spreading crown. The variety is prone to periodicity in fruiting, and the first harvest will have to wait (the first apples are on the 4th year). But he has a good winter hardiness. Scab and fruit rot is not affected.
'Delight'
The tree of this variety is characterized by an average growth force, has a wide-oval thick crown, begins to bear fruit for 4-5 years.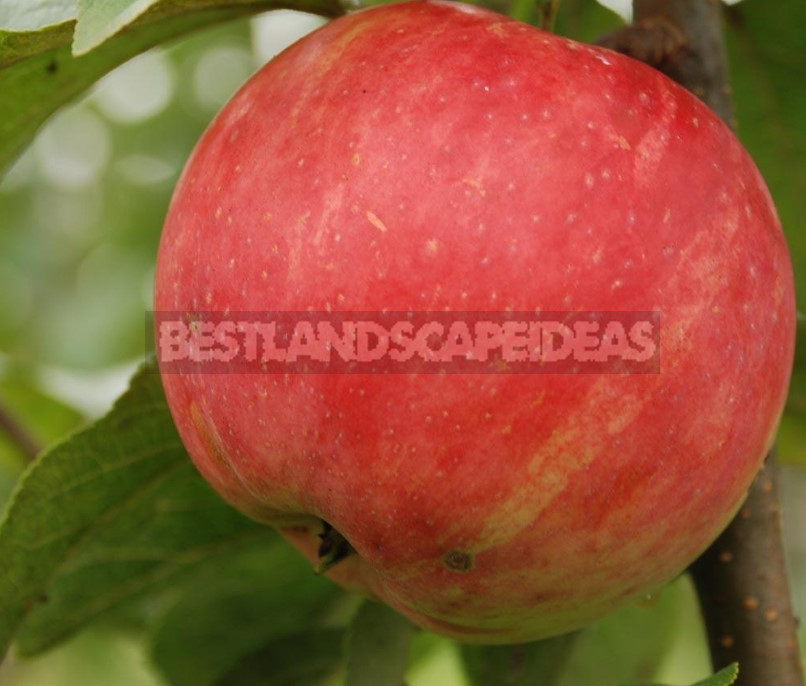 The apples of early autumn ripening, weight of 120-160 grams. In form they are almost perfectly round, and want them in a vase, but on the table. The skin of the fruit is greenish-yellow, but it is hidden under the abundant watercolor-pink blush, which covers the ripe apples. The flesh may be pinkish inclusions. Juicy, sweet, smell of raspberries-these are the special apples in the variety 'Delight'.
They will lie without problems until December. The variety is high-yielding, winter-hardy, resistant to all typical Apple diseases. The disadvantages include a strong thickening of the crown, so the tree needs to be looked after and regularly pruned, otherwise the yield will melt before our eyes.
Sweet apples of the above varieties, undoubtedly, deserve the highest praise for their taste characteristics and always become the main dessert on any table.