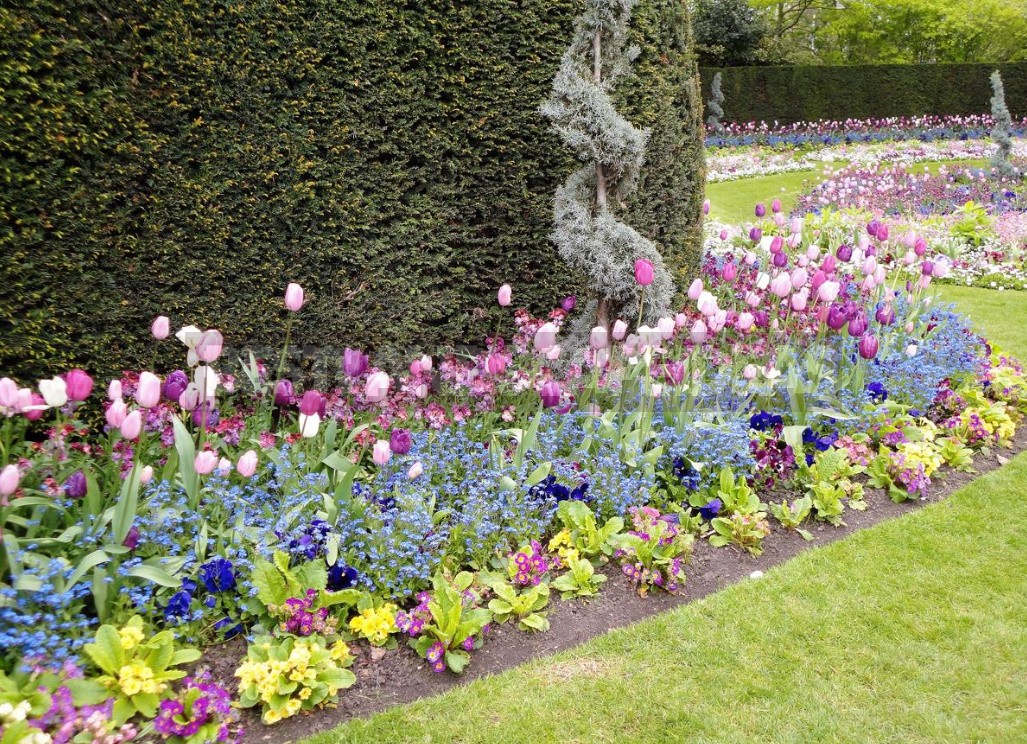 The fifth appointment. Separate landing
Let's turn our attention to peony, parrot and fringed tulips, as well as varieties with a unique color. These plants are so original that it is better not to mix them with each other. For them, a separate landing is preferred. Such tulips are better placed close to the point of view — because nothing should distract us from these perfect beauty of the creations of nature and breeders. When planting bulbs should mark more sparsely-this applies to lilac, Terry and multi-flowered varieties, as, blooming, their glasses can interfere with each other.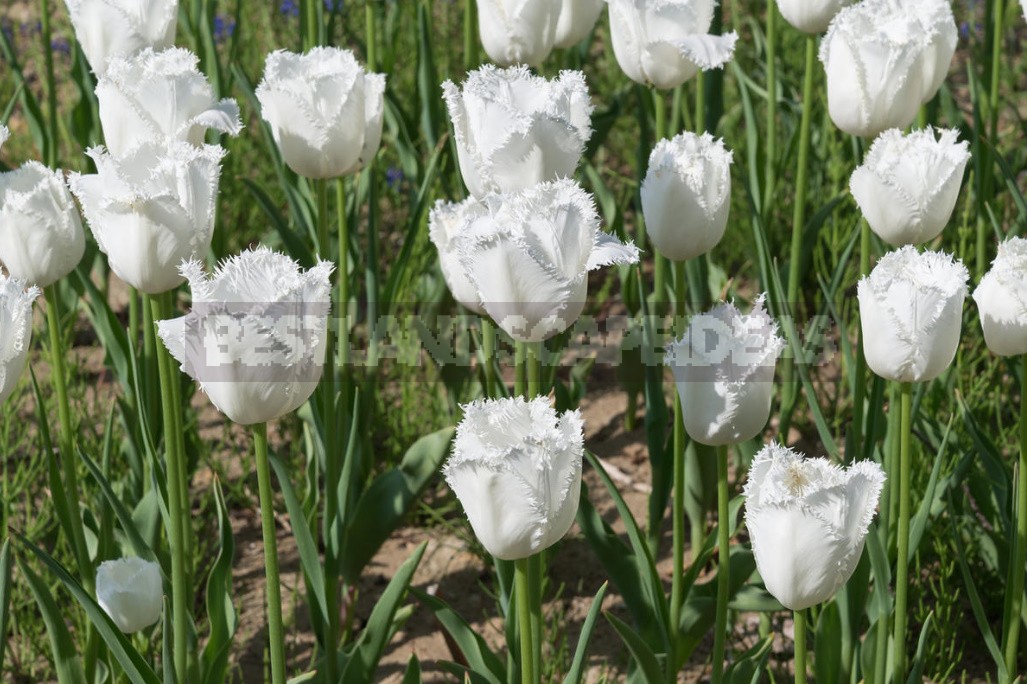 The sixth appointment. Make way for the Narcissus
For Narcissus, I would recommend a collectible planting method. Now on sale offers a huge variety of varieties. Passionate collectors simply can not resist!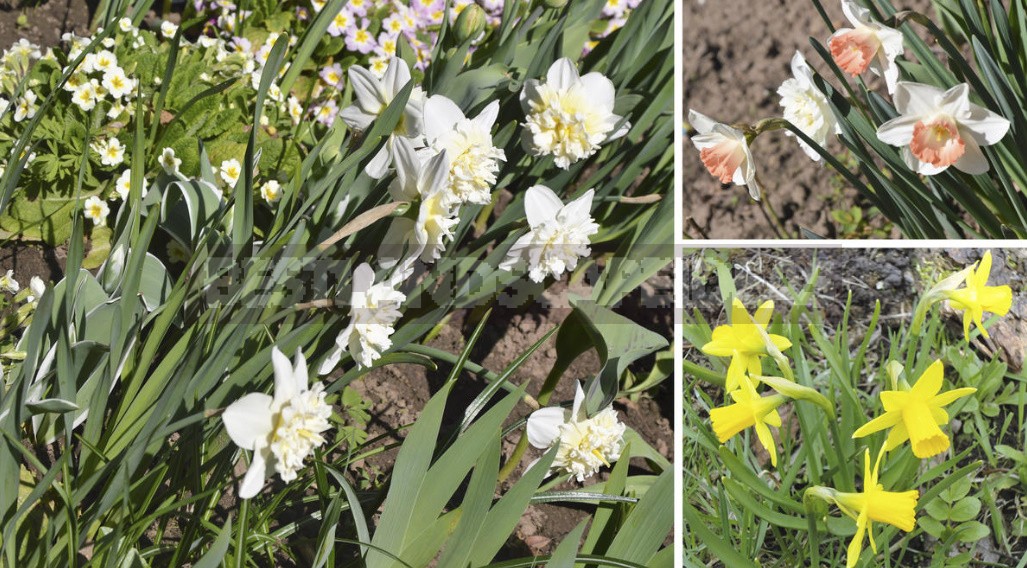 They should be planted in flower beds in large arrays, strictly according to varieties, separately from each other. They grow in one place for more than 1 year, and for a long time they will delight with their diversity. And the collection can be replenished annually.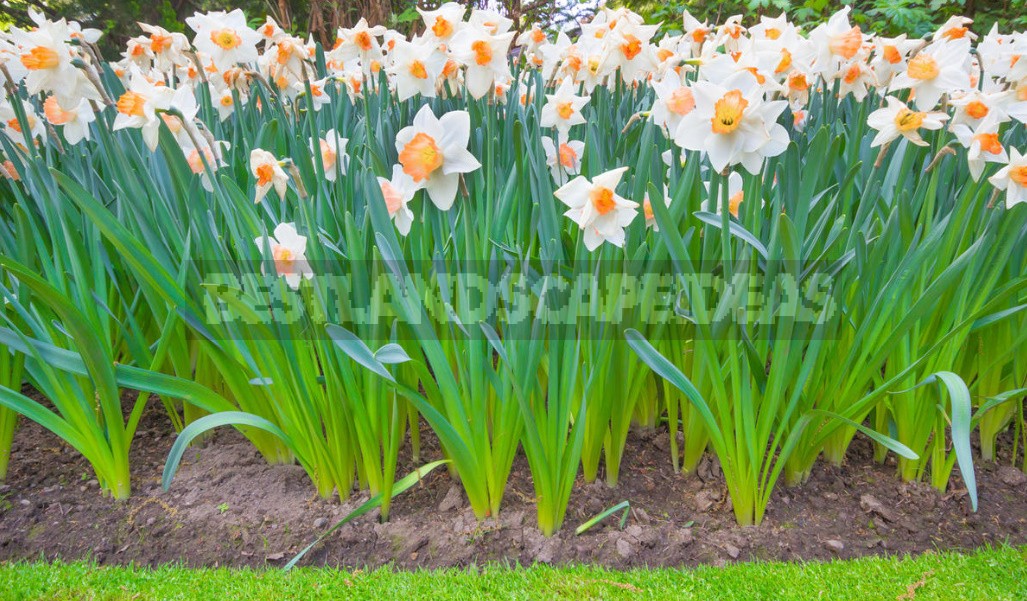 My favorite technique is to place the Narcissus curtain in the spaces between the peonies, planted in a row. In the spring, their sturdy maroon young shoots look very beautiful, but the company of bright Narcissus, interspersed with the heavenly blue of Muscari and proles, adds even more to their decorativeness. Later, when primroses wither, their withered foliage is hidden by the grown leaves of peonies.
The seventh reception. Hyacinth carpet
Hyacinths especially look great in carpet plantings. Do not plant them "in line" along garden paths or in the foreground of flower beds.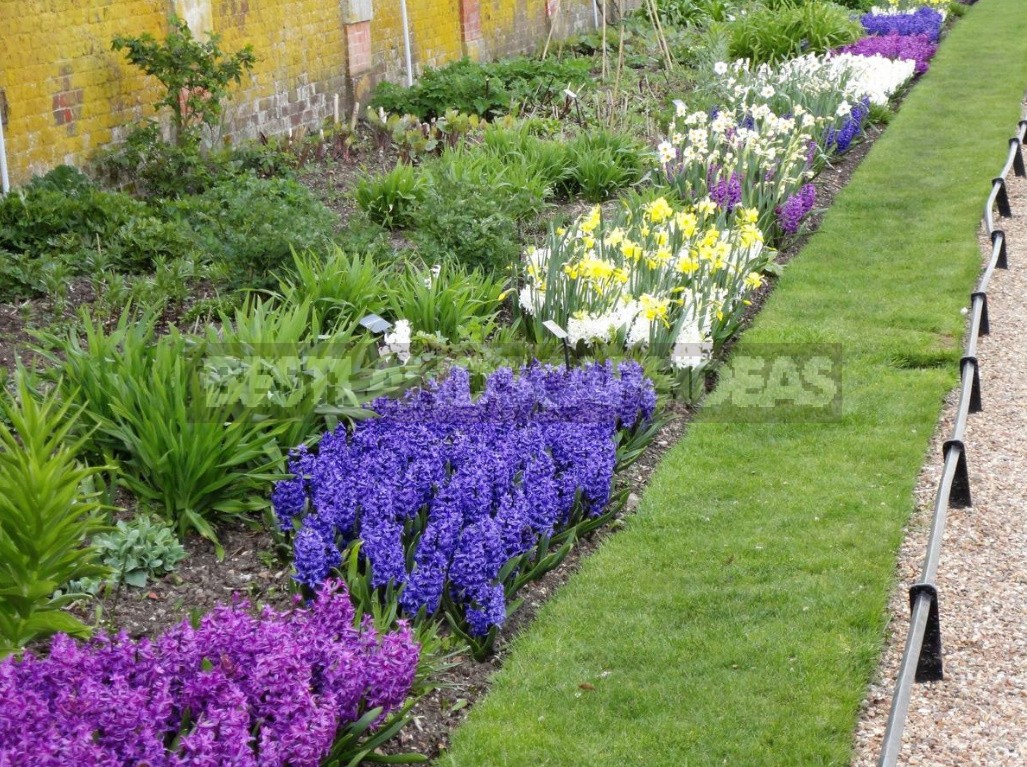 It is better to plant quite tightly on individual varieties, approximately as is customary in the famous Dutch Park Keukenhof. Naturally, not claiming its scale, but also using the principle of compacted landing. A small hint: dig in the ground bed of the desired size and depth, tightly stacked there bulbs in sufficient quantity (do not skimp!) and then all fall asleep on top of the earth. Delicate compositions are obtained from hyacinths of any color in combination with the most common classical daffodils.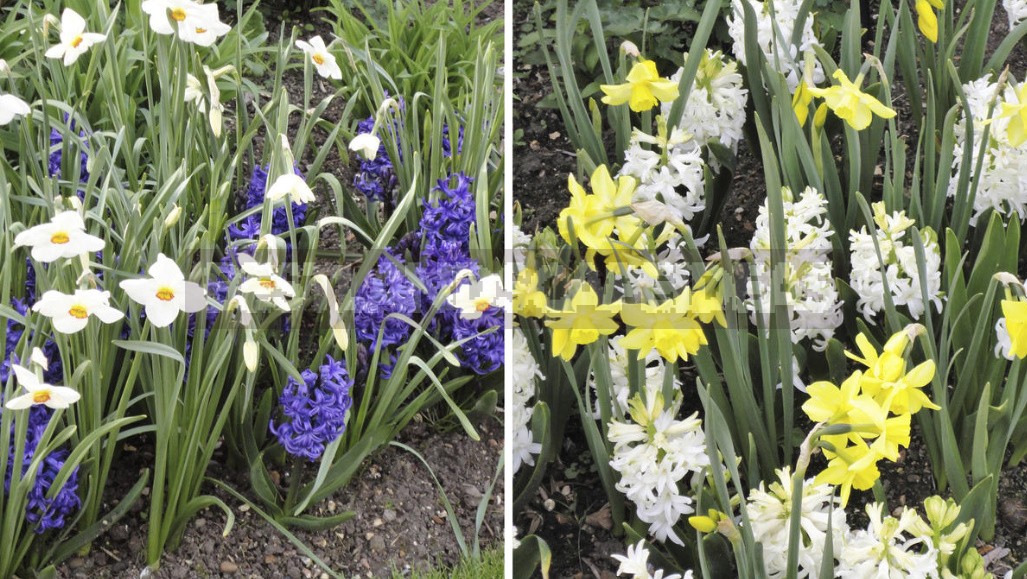 The eighth reception. Walking with Fritillaria
Fritillaria, like younger brothers, repeat everything after tulips — they are also crowned with goblet-shaped flowers, but they tilt their heads down, and do not stretch their petals upwards. That's the charm of it. Their presence Fritillaria immediately transform any spring flower garden. You need to place them in reference points (reference points, reference points) of a linear flower bed with equal intervals, setting a certain step of the entire composition.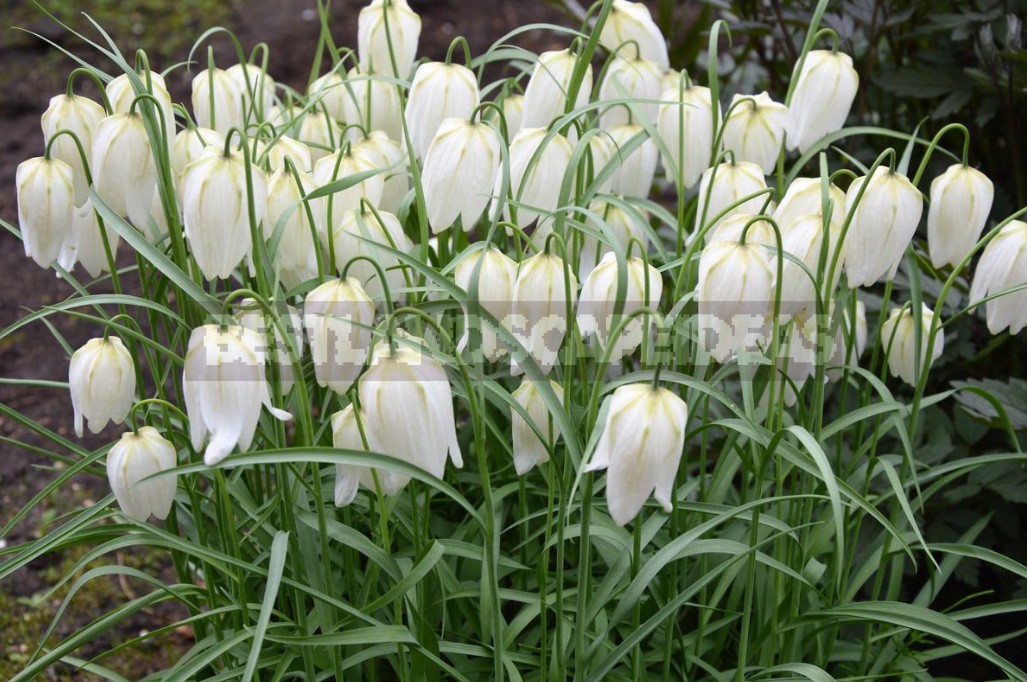 The ninth appointment. Fantasy landing
Both professionals and Amateur gardeners come up with fantasy planting, which involve the creation of bizarre compositions in the form of concentric circles, twisted snails, festoons, snakes, figures in the form of beads or beads and other options-circles, ovals, horseshoes, any geometric shapes.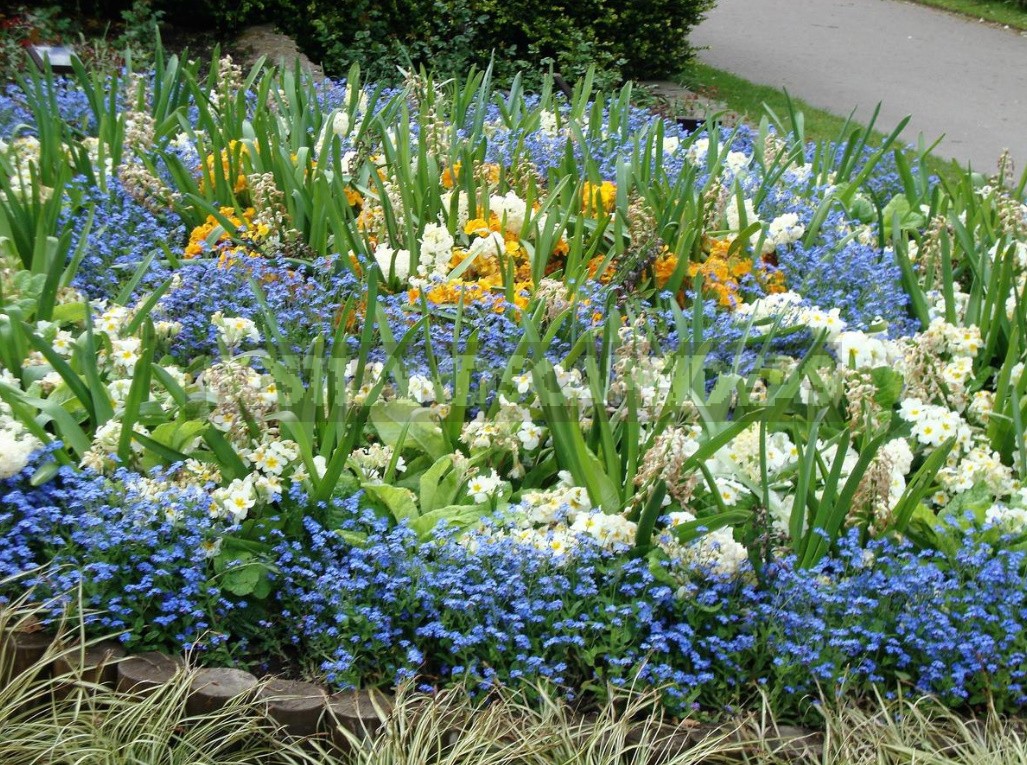 Choice of color
As for the choice of color of tulips, at the very beginning of spring in the garden, their yellow flowers of all shades without exception look extremely picturesque: from pastel cream and lemon to the color of Mimosa or egg yolk, saffron yellow, Canary or turmeric color. Then, when the leaves of trees and bushes bloom, against the background of fresh greenery, varieties of red and orange shades of the average flowering period – bright scarlet silky, coral, the color of Mandarin or apricot look preferable.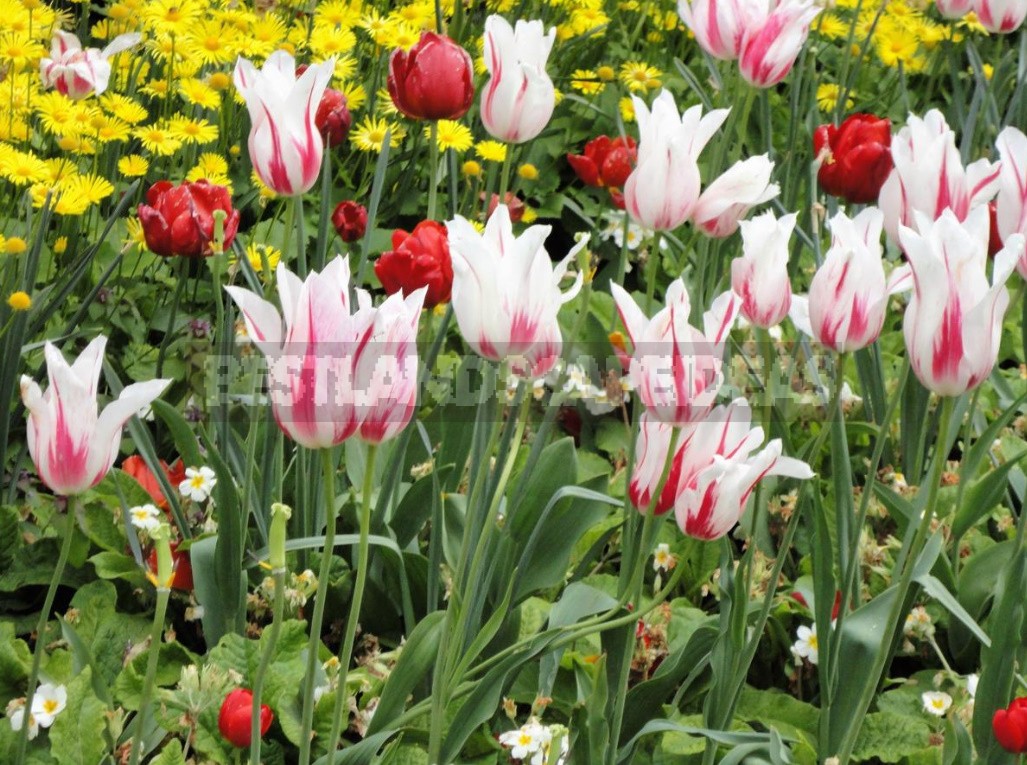 Towards the end of may, let the garden be decorated with delicate shades of pink-colored tulips – from gently ruddy to deep purple tones. All of them are perfectly combined with white varieties and very fashionable now green-flowered, which add a special charm to the compositions.