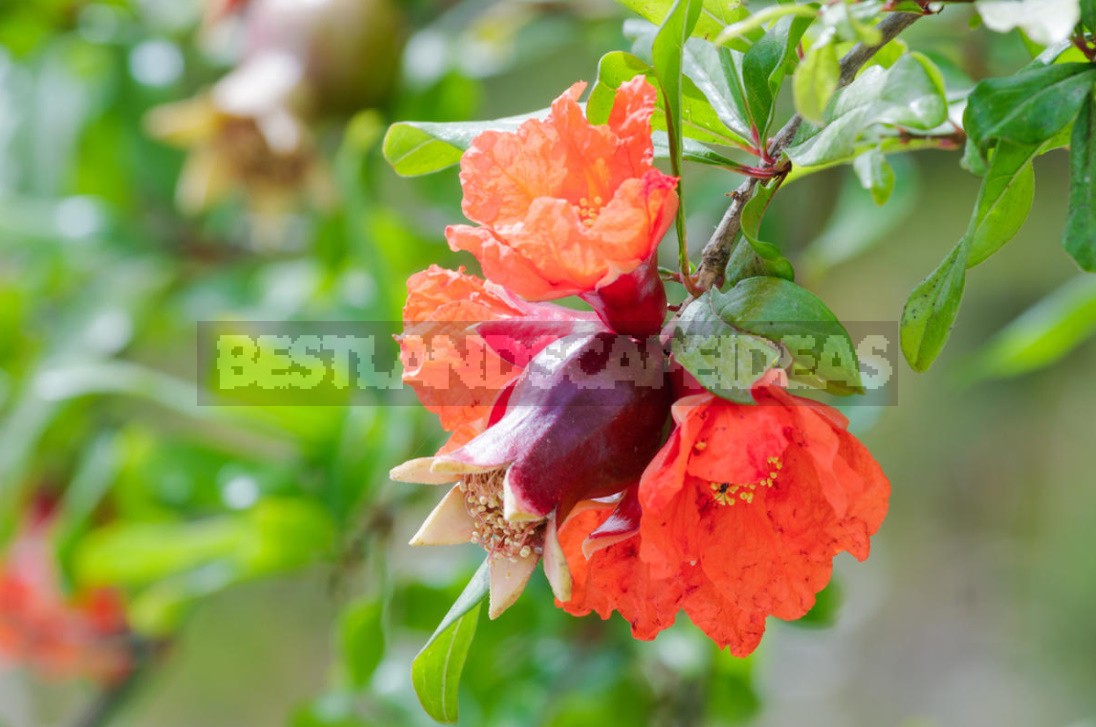 Fans of indoor floriculture often take not quite ordinary plants into the ranks of their pets. For example, sometimes lemon, tangerine or orange trees, avocado or medlar trees appear on window sills and flower racks. We offer to expand the range and get figs, pomegranates, limes and calamondin. If you follow agricultural techniques and do not neglect the recommendations, they will all develop well at home, and even give you fruits.
How to grow figs
Indeed, having grown figs on the windowsill, you will surprise everyone. The fig tree in nature can reach 10 m in height. Indoor varieties are also relatively large, usually growing up to 1.5-2 m. However, figs are perfectly amenable to shaping and pruning, so you can grow such a plant as you will need. It should be borne in mind that the fig tree sheds its leaves during the dormant period, this is a normal process. You can get fruits 2 times a year.
Soil and pot
Figs are not demanding on the soil, so you can choose a universal soil mixture for indoor cultivation. This composition is well suited — leaf humus, turf, sand and peat in a ratio of 2:2:1:1. A drainage layer should be placed on the bottom so that moisture does not stagnate at the roots.
For the first 3-4 years, while the fig tree is actively growing, it should be transplanted every year, gradually increasing the size of the pot. However, you need to understand that when the roots of this plant are given a lot of space, fruit formation can be delayed. After reaching the age of 5, the pot of figs should be a little cramped: an adult plant requires 6-7 liters of soil.
Growing conditions
Figs are unpretentious. In natural conditions, it is content with a small volume of land, is ready to withstand interruptions with water and will grow even in shading. However, to get a beautiful regularly fruiting plant, it is necessary to give it a lot of light, loose soil and competent watering. In summer, figs will be good in the fresh air: in the garden or at least on the balcony.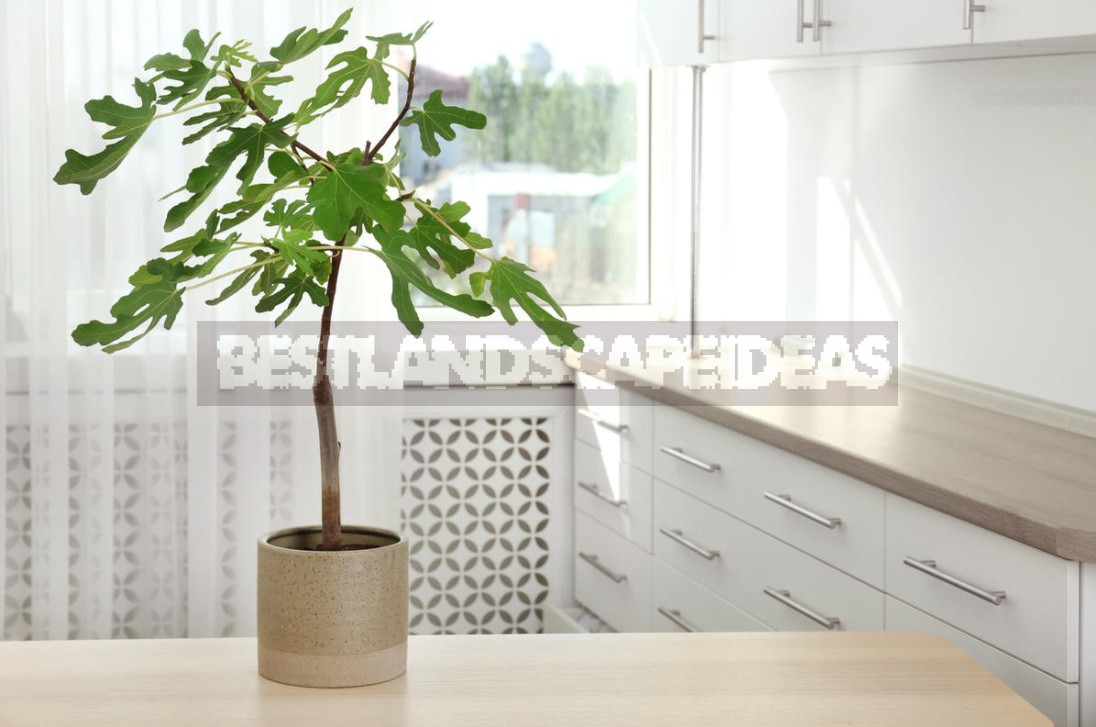 The dormant period of this crop lasts from November to February, the leaves fall off. It is necessary to water the tree very rarely at this time, and the optimal temperature of the content is +8…+10°C. Since February, figs wake up and begin to actively grow. Now watering should be abundant and regular. It is impossible to allow the soil to dry out, since as a result, the fig can shed leaves or ovaries, if they have already appeared. The normal temperature of the content during this period is +20…+25°C.
At the beginning of the active growing season (in February-early March), you need to start forming. If the plant branches weakly, then the central stem should be pinched. The same can be done with the side branches to encourage new shoots to grow.
Reproduction
Figs are propagated by seeds and cuttings. Growing from seeds can be attributed more to professional breeding in order to obtain a new variety. This is a long process, besides, it will be possible to taste the first fruits only in 5-6 years.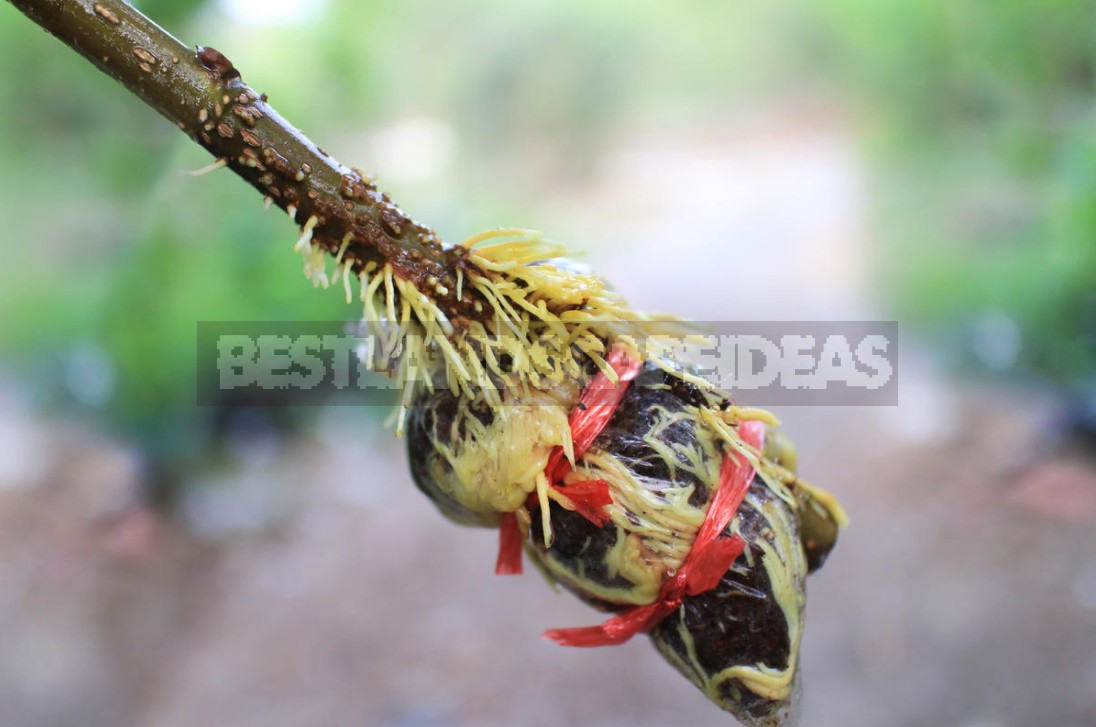 It is easier and faster to get a fig tree from the cuttings. To do this, you need to have an adult plant (at least 5 years old), well-bearing and developing harmoniously. It is best to cut the cuttings in the spring, when the leaves are blooming. The length of a good cut is 10-15 cm, it should have 4 live buds. Cuttings are cut in the usual way, the survival rate is good.
But for a guaranteed result, it is better to take up the cultivation of a beautiful and productive fig tree from a seedling purchased in a professional nursery. There are specially bred varieties intended for home breeding, and one of the most successful is 'Brown Turkey'. In the adult state, the plant in the tub culture reaches 1.5-2 m, but with the help of forming it can be restrained in more modest dimensions. It has a good yield and excellent fruit taste.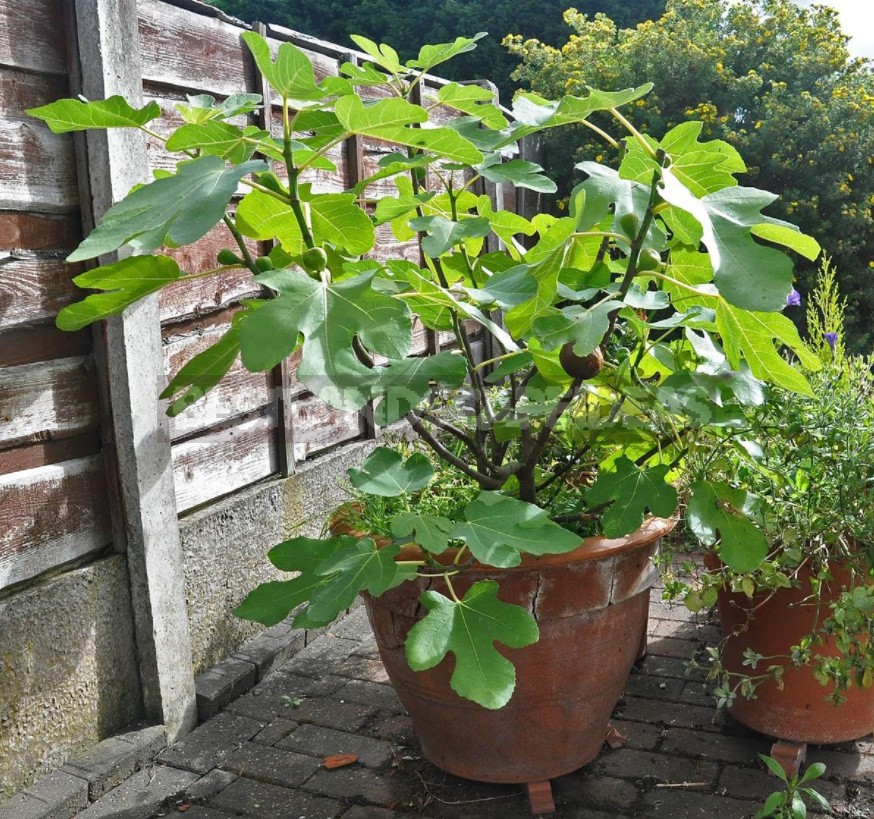 How to grow a pomegranate
It should be understood that it will not be possible to get real large fruits of the Carthaginian tree in the conditions of the room. But it is quite possible to grow an aesthetically beautiful plant with delicate flowers and miniature fruits. Garnet itself is quite unpretentious, it is only important to understand its needs and try to satisfy them.
An important feature of this plant is that it is deciduous. Surprisingly, the pomegranate is often recorded in complex and capricious plants precisely because at a certain time it sheds its leaves and becomes "dead". The responsible gardener begins to treat him diligently, and then, having failed to cope with the "problem", he gets upset and sends the bush to the garbage. Let's consider what a pomegranate tree needs for a good life.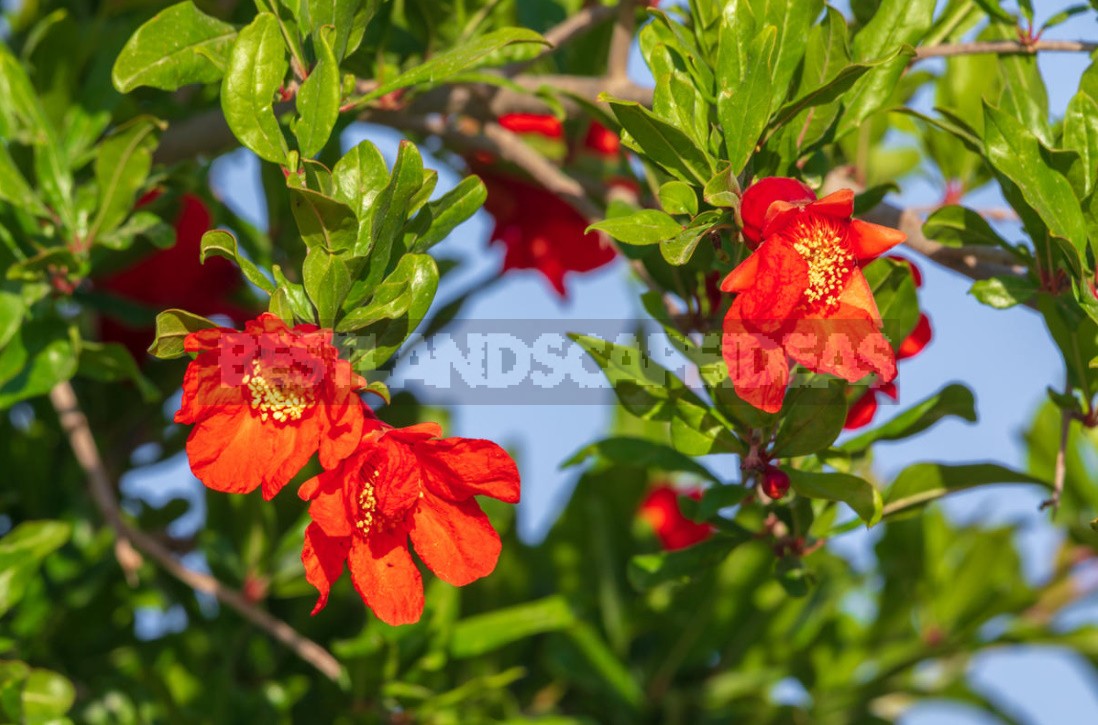 Soil and pot
The authentic soils on which the southern beauty grows are characterized by scarcity, so the houseplant will not be particularly capricious in this regard. However, to get a highly decorative fruit-bearing specimen, you should add comfort to it. This crop responds well to nutritious loose soil with high air and moisture permeability. The reaction of the soil should be neutral. For example, you can mix sand, loam and peat in a ratio of 2:1:1. If you decide to buy a ready-made substrate, then choose the one that is made for roses or begonias.
The pot for this culture needs a tight one, therefore it is necessary to transplant the first three years of the plant's life once a year. A thick layer of drainage is required, since the garnet does not tolerate stagnation of moisture.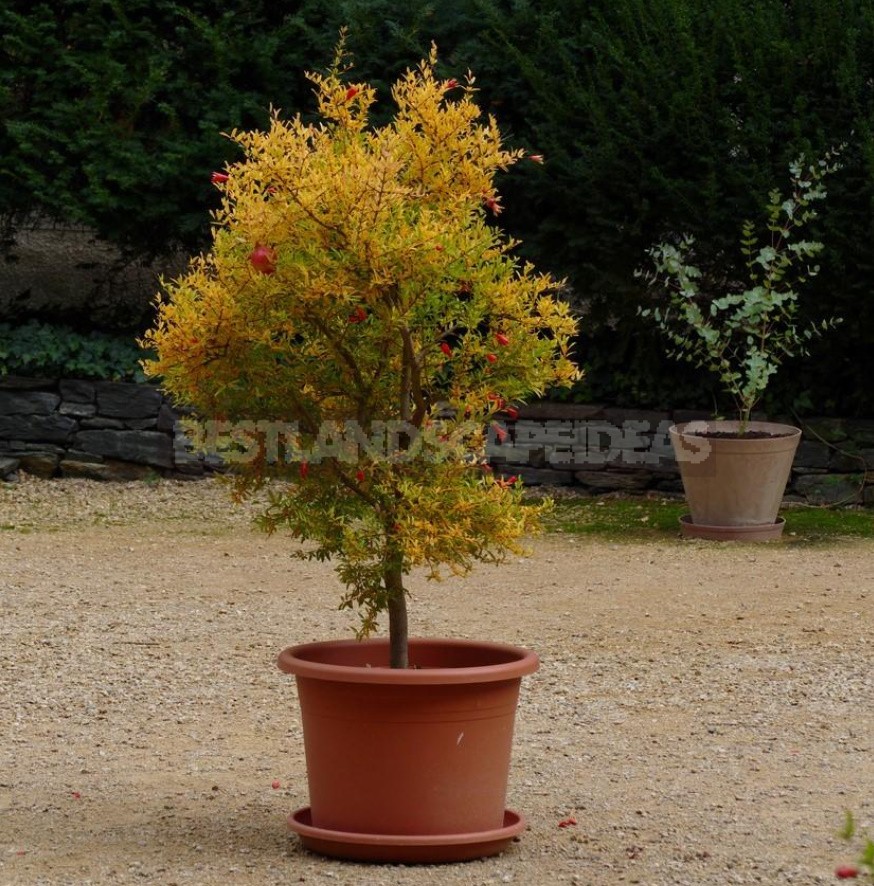 Lighting and temperature
If the garnet has no special requirements for the soil, then the illumination plays a crucial role. It is impossible to grow a pomegranate on the north window: it needs a lot of light. On cloudy days, it is necessary to include additional illumination with phytolamps. However, on hot days, it is recommended to protect the plant from direct and burning sunlight by organizing diffuse shading. In summer, during the active growing season, it is better to keep a pomegranate tree in the open air, since at this time it can withstand even significant changes in day and night temperatures.
In winter, this crop requires a period of rest. At this time, the optimal temperature for a pomegranate is +10…+12°C, the tree will shed its leaves and will look dried up. However, in practice, many varieties specially bred for indoor cultivation quietly winter in an apartment at a temperature of +20…+22°C. The problem may lie in the too low humidity of the air during the heating period, at which the plant does not feel well. In this case, periodic spraying will help.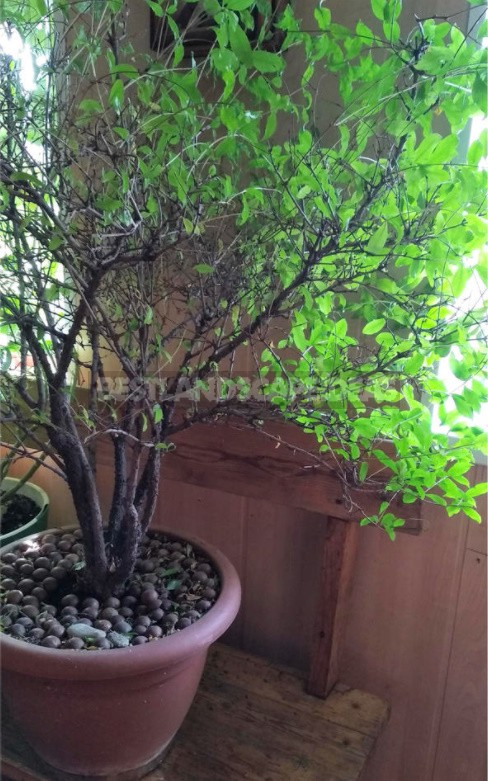 Fertilizing and watering
In winter (from November to the end of January), the pomegranate does not need much moisture at all. During this time, you can water it only 2-3 times. Since February, the tree wakes up, now it needs more water. The earthen lump should be soaked thoroughly — and repeat watering immediately after the surface layer of the soil has dried. After the flowers bloom, watering should be done less often, repeating the natural conditions, but do not over-dry the roots. After the end of flowering, the frequency of watering is restored. During the ripening of the crop, it is not necessary to give a lot of moisture, since the fruits can crack.
Garnet likes top dressing, but it is necessary to carry them out at the right time. In the spring, in February-March, we give 2 times a month a fertilizer with a high nitrogen content. During the budding and flowering period, we feed it with a complex with a predominance of phosphorus. By the end of summer, when the fruits are poured on the tree, we switch to potash fertilizers. In autumn and winter, fertilizing should not be given.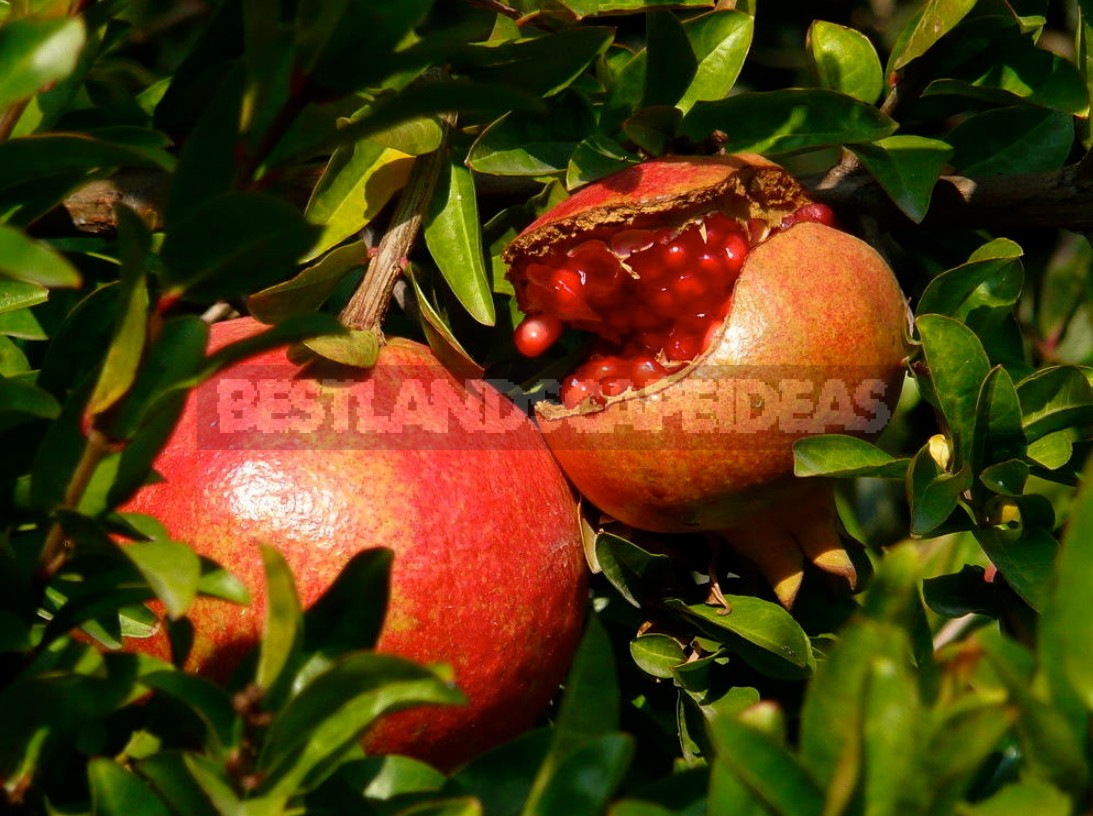 Reproduction
Pomegranate can be grown from a seed, propagated by cuttings, made a layering or grafting. As a rule, the first two methods are used for indoor cultivation. Good seeds are sold in horticultural stores — you should not take them from the purchased fruit, since the plant will most likely not retain its varietal properties. It is necessary to soak the seeds for a day, and then sow them in moist soil to a depth of about 0.5 cm. The shoots that have appeared should be placed on a light window sill. Plants should be planted in individual pots after they have grown 2-3 pairs of real leaves.
If you already have an adult plant, then you can propagate it with cuttings. To do this, you will need to cut them in late February — early March, the optimal value is 5 buds. It is necessary to bury them in a moist light substrate and cover them with a transparent cap. After 2-3 weeks, it will be clear whether they have taken root. After thorough rooting, when several pairs of leaves appear, the plants can be planted.
The most reliable and easiest way to grow a room pomegranate is to plant a varietal seedling. Pay attention to the dwarf variety of 'Nana'. This is an analogue of Punica granatum, which has compact dimensions, ideal for indoor use. Its height reaches 80-100 cm, but with the help of pruning, you can form a bush up to 50 cm high. It blooms beautifully and abundantly, binds fruits that reach 5 cm in diameter when ripe.