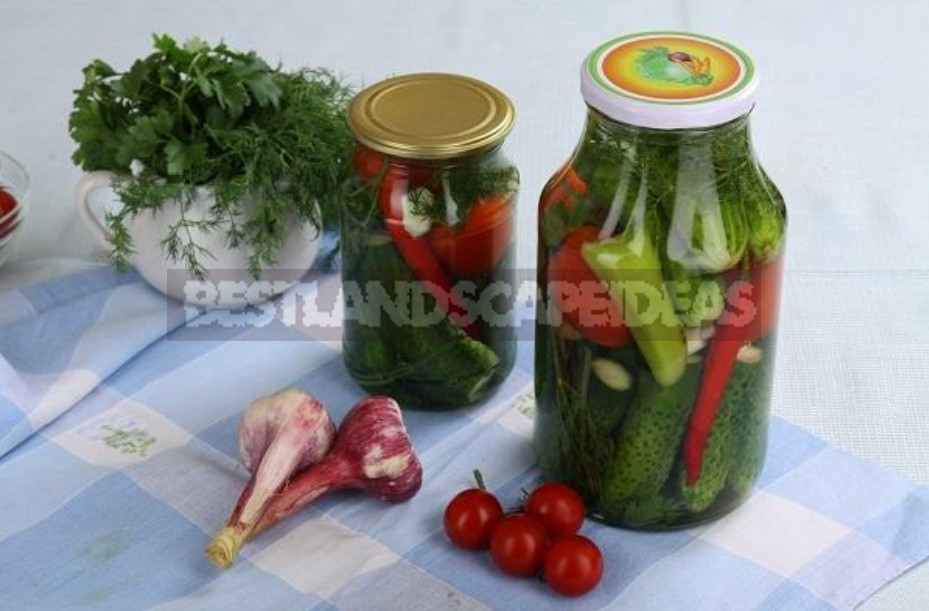 To prepare cucumbers for the winter is the primary task of every housewife. Because they can not only just eat, serving as a snack, but also to do with them different salads. So that rather for deal!
1. Pickled cucumber
Ever need:
6-10 kg of cucumbers,
1 red pepper,
1 head of garlic.
For marinade (4 three-liter jars):
1 Cup salt,
2 cups sugar,
2 cups of 9% vinegar,
15 peas of black pepper,
15 peas of allspice,
5 carnations,
2 Bay leaves,
8 tablespoons vodka,
8 aspirin tablets.
Preparation:
Wash cucumbers, cover with cold water for 2-4 hours. Rinse, cut the tails. Peppers and garlic to clear.
Fill sterilized jars with cucumbers, pieces of pepper and garlic. Pour cold water into one jar with cucumbers. Pour into a large saucepan. Increase the volume of water by 4 times, bring to a boil.
Fill pickle jars with boiling water, let stand for 5 minutes. Then the water from the cans to pour in the pan. Add salt, sugar, vinegar and spices, boil, fill the jars a second time. Add 2 tablespoons of vodka and 2 aspirin tablets to each jar. Roll the lids.
2. Cucumbers with asparagus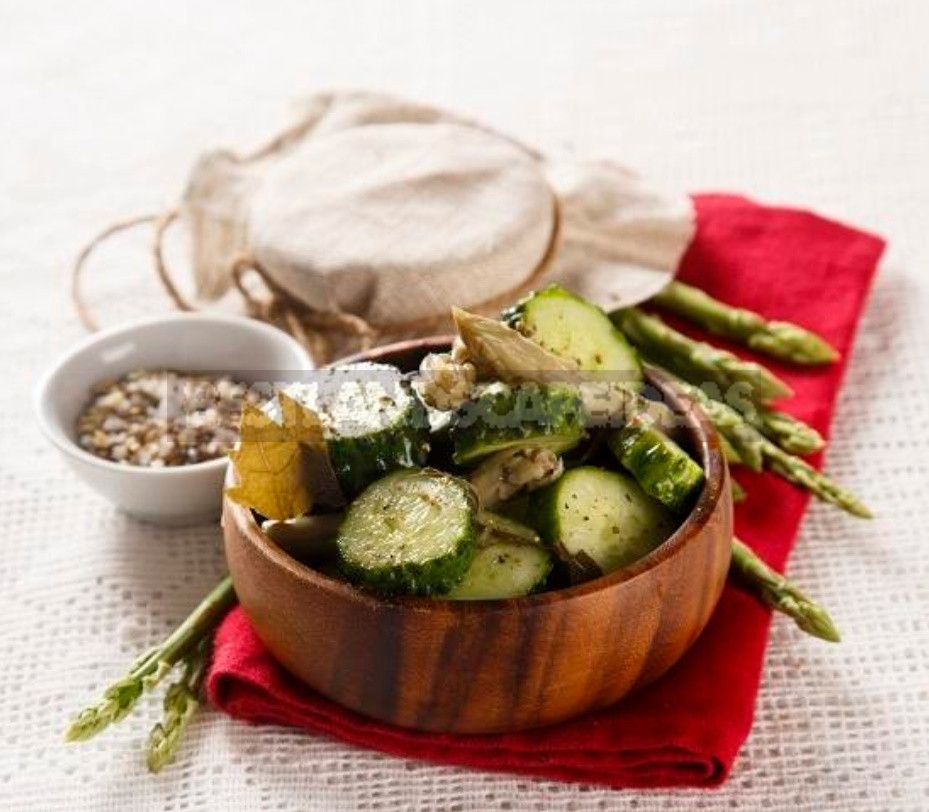 Ever need:
For 1 three-liter jar:
2 kg of cucumbers,
100 g asparagus,
1 carrot,
3 garlic cloves,
4 black currant leaves,
6 peas of black pepper,
3 tablespoons 9% vinegar,
1 tablespoon sugar,
3 tablespoons salt.
Preparation:
Carrots and cucumbers cut into circles. In a jar add the carrots, garlic, leaves of currant, pepper. Then – cucumbers and asparagus, add salt, sugar, vinegar.
Banks pour boiling water, roll up, turn to cool.
3. Cucumbers with red onions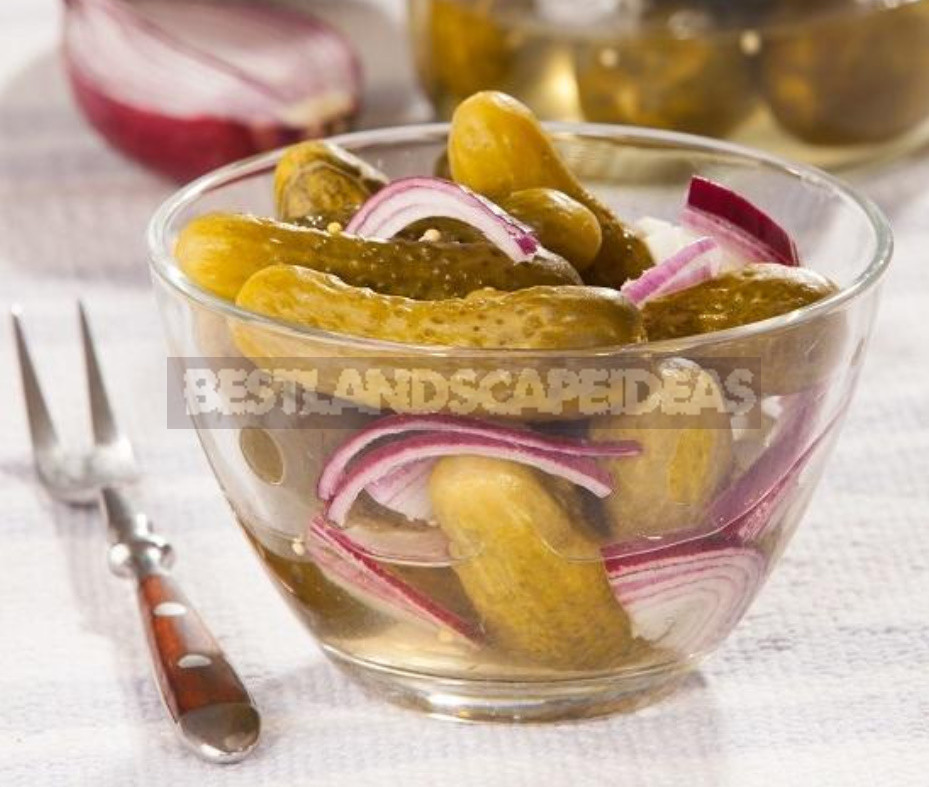 Ever need:
1 kg of cucumbers,
4 red bulbs.
For the marinade 1 liter of water:
the umbrellas of dill to taste,
currant and raspberry leaves,
50 g horseradish root,
nutmeg on the tip of the knife,
2 tablespoons salt,
2 tablespoons sugar,
150 ml white balsamic vinegar,
5 black pepper peas.
Preparation:
Cucumbers wash. Peel onions and cut into slices. Put cucumbers and onions in sterilized jars. Horseradish to clear, wash, grate. Dill umbrellas, leaves of raspberry and currant wash.
Prepare the marinade. Boil water, add sugar, salt, pepper, raspberry and currant leaves, grated horseradish, nutmeg, dill umbrellas, simmer for about 2 minutes.
Add vinegar, bring to a rapid boil and remove from heat. Strain the marinade and pour it over the prepared jars with cucumbers and red onion. Twist, turn and leave until cool.
4. Cucumbers "grandmother's care"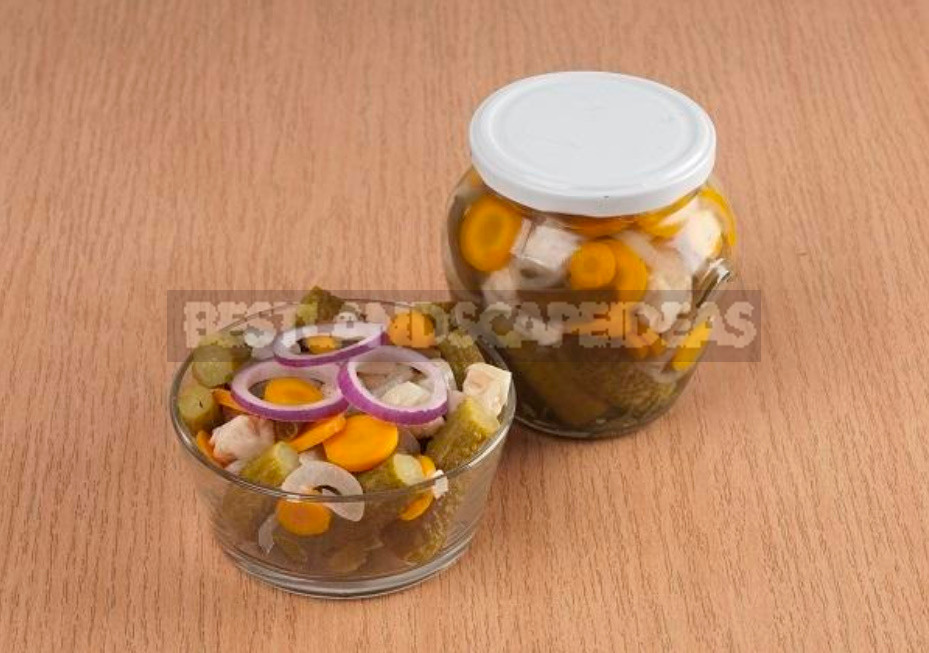 Ever need:
1 kg of small cucumbers,
200 g carrots,
200 g cauliflower,
2 small bulbs,
100 g of green beans,
4 garlic cloves,
3 sheets of black currant,
3 cherry leaves,
25 g salt,
5 g citric acid.
For decoration:
Preparation:
Wash the carrots, peel and cut into thin slices. With onions and garlic remove the husk, wash. Onion cut into rings, large cloves garlic cut in half, small to leave whole.
Wash cauliflower and shake off water. Cabbage disassemble into small florets. Wash the green beans and remove the streaks.
To combine vegetables with beans, add salt and mix well. Leave on for 1 hour until juice is released.
Boil the vegetables along with the juice for 15 minutes. After 10 minutes, add citric acid.
On the bottom of cans to lay out the washed and scalded with boiling water the leaves of cherry and currant. The leaves quickly to put the washed cucumbers and vegetables with the boiling juice. Cover with sterilized metal lids, roll up and wrap until cool.
5. Spicy cucumber snack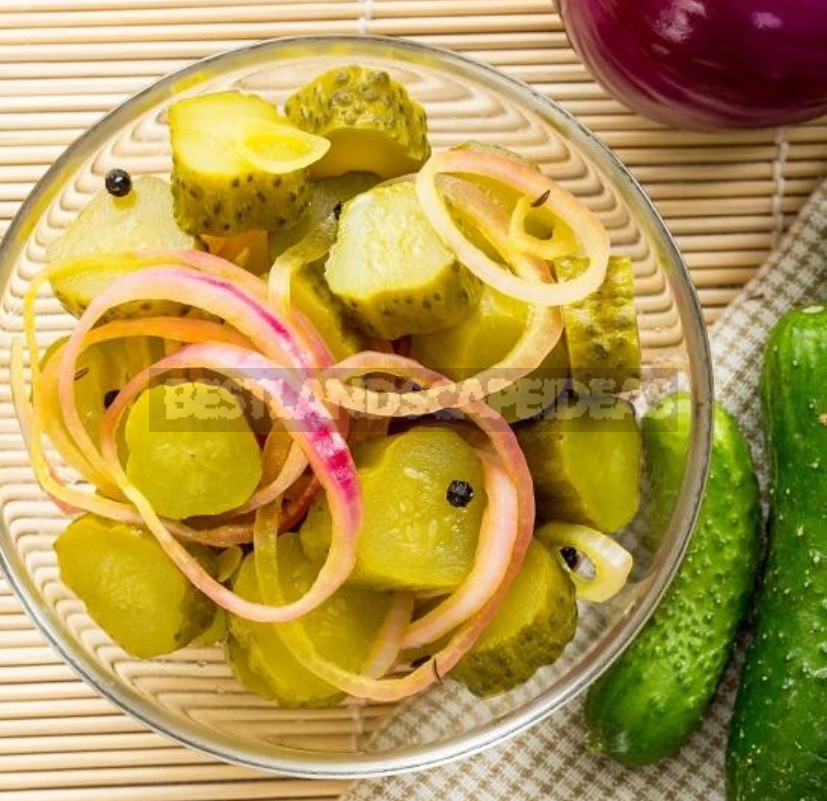 Ever need:
500 g small cucumbers with small seeds,
1 red onion,
1 tablespoon salt,
200 ml Apple cider vinegar,
1 tablespoon dill seeds,
1 pinch turmeric,
1 teaspoon of allspice,
100 g of granulated sugar.
Preparation:
Wash cucumbers and cut into circles. Onion — thin rings. Put the layers in a bowl, sprinkling each with salt. Leave under pressure for 2 hours.
Vegetables throw in a colander, collect the liquid. In a small saucepan, pour vinegar, 100 ml of water, add dill seeds, turmeric, pepper and sugar. Bring to a boil and remove from heat.
The resulting marinade pour cucumbers with onions, spread out on sterilized jars. Roll up. The snack will be ready in about 3 weeks.