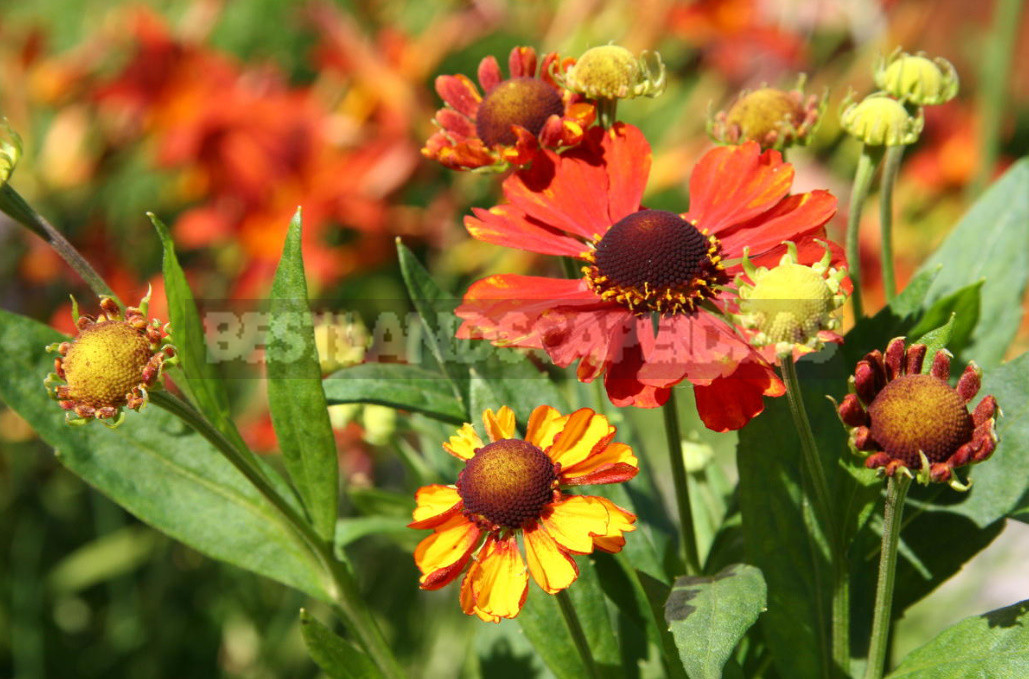 I walked down the main street, cradling him to my chest. Happiness overwhelmed me. I was sure that it is only necessary to put it on a long favorite place, and the world around will immediately become brighter, more colorful, festive.
I met a neighbor. Knowing my passion for flowers, she stopped and looked with interest at the newly acquired treasure. The inflorescences had already been cut, and she could not identify the plant by its stiff stems.
"What is it?" "what?" she asked.
— Helenium! I broke into a happy smile.
Face neighbor immediately poskuchnee. She waved a dismissive hand and went about her business, clearly wondering what had caused my joy. And I felt a burning resentment for the plant, named after the legendary beauty Helen, because of which the Trojan war was unleashed.
Meet: Helenium
My resentment at the time was well-founded. Familiar to most gardeners Helenium from the family Asteraceae from Central and North America. From there, members of the genus gradually migrated to the gardens.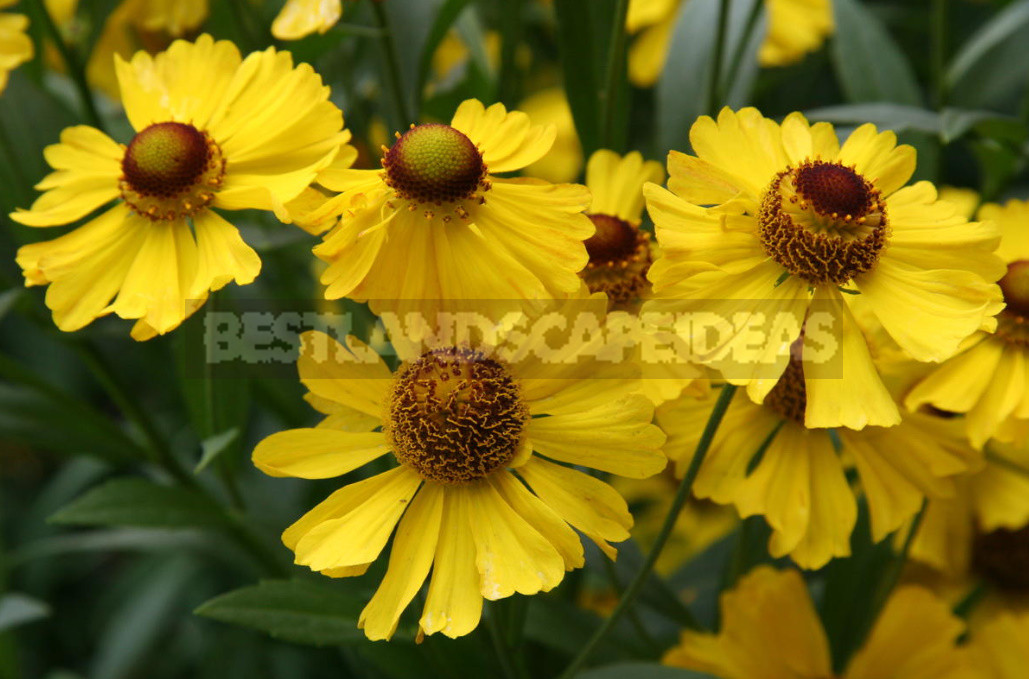 It is believed that in Europe Helenium first came in 1729, quickly taking its rightful place among other flowering perennials in autumn. Actually, it can be called a perennial only with a certain stretch, because it does not have a wintering rhizome. Stems after flowering die with the roots, but, fortunately, in their underground part there are buds that give life to new plants. From each of these buds in the autumn formed a rosette, which, in turn, will give a new stem in the spring, and since such underground buds on each stem quite a lot, the curtain grows Helenium very quickly. Planting in the spring of a single outlet, next season you will get a full Bush, which is sure to please you with flowers.
Tough and durable stems of Helenium can reach almost two meters in height. At the top of the stem branches, and each of the shoots is crowned with a bright flower. Inflorescence Helenium-basket, but in the vernacular it is often called "Daisy". Depressed center consists of tubular flowers with brown and yellow hues, but the boundary — the "petals" are striking variety of colors.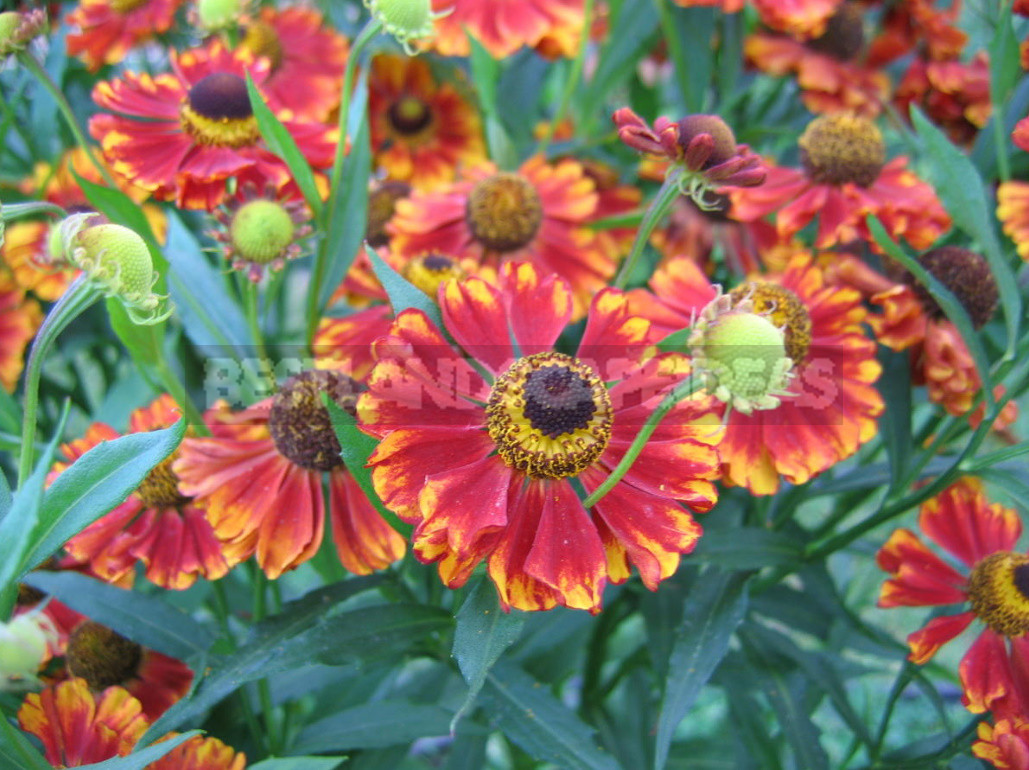 Helenium palette is very rich: all the warm colors of the spectrum, ranging from purple-red shades, and ending with a joyful Sunny yellow, uplifting even on a rainy autumn day.
Species and varieties of Helenium
More than a dozen species belong to the genus Helenium, but only a few of them are introduced into culture: Helenium bigelovii, H. bolanderi, H. hoopesii, H. nudiflorum (flexuosum). The most famous is Helenium autumnale, which grows wild in swamps, floodplains and wet meadows. Its range includes 34 North American States and several canadian provinces. In the pages of the English Gardeners 'Chronicle in 1878, this Helenium was described as"pure yellow". Resistant and unpretentious, it is able to withstand a drop in temperature to – 40 C! It is this species that served as the basis for the breeding of numerous varieties, now United under the common name Helenium hybrid.
A wonderful collection of Helenium collected in the English garden Holbrook Garden. It has been given the status of the British National collection. In addition to species of plants it presents a huge number of varieties, both very popular and little-known. They are all extraordinarily good, and each has its own face.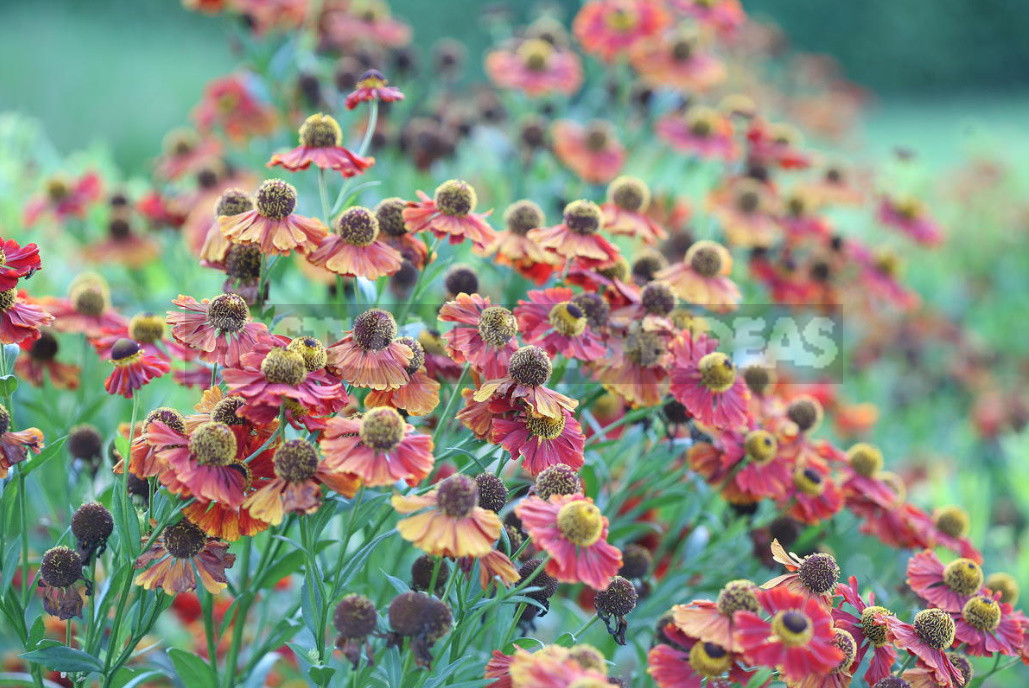 The oldest, perhaps, can be called a variety of 'Riverton Beauty', obtained in 1909 by the American breeder Pritchard. Its height is 120 cm, the Central flowers of the basket are brown, and the marginal ones are egg-yellow with light red strokes on the reverse side. Pritchard's next variety was 'Riverton Gem ' with a convex brown center and orange with yellow-tipped petals. He was registered a bit later, in 1914, together with the now well-known yellow sort of 'Gartensonne'.
But another no less famous and still very popular variety- 'Moerheim Beauty' – was bred in the Netherlands. Plant height 110 cm, flower petals strongly bent outward, have a rich red color, which is replaced by the withering ochre-brown, and dark red underside.
Did not remain indifferent to Helenium and Carl Forster, although interest in this plant woke up at the outstanding breeder is not immediately. Since 1907, when the first of his catalogues came out, Helenium had not been mentioned at all. And only in 1940 it appears sort of 'Kupfersprudel'. Interestingly, now on sale under this name there are three completely different forms.
For a quarter of a century Forster brought 17 varieties, including the inimitable 'Konigstiger'. Its dark petals of a bronze-red hue have a Golden-yellow ring about 5 mm wide at the base, encircling the center of the flower, and the same Golden-yellow tips. This Helenium reaches a height of 130 cm.
However, all the beautiful varieties obtained by Forster: 'Goldlackzwerg' (1949) with red-brown centre and red edge flowers; egg-yellow with orange highlights 'Zimbelstern' (1956); dark red 'Rubinkuppel' (1950); Sunny yellow 'Die Blonde' (1959). And what a nice bright 'Feuersiegel' (1959), in a deep yellow petals which like a broad brush orange-red strip!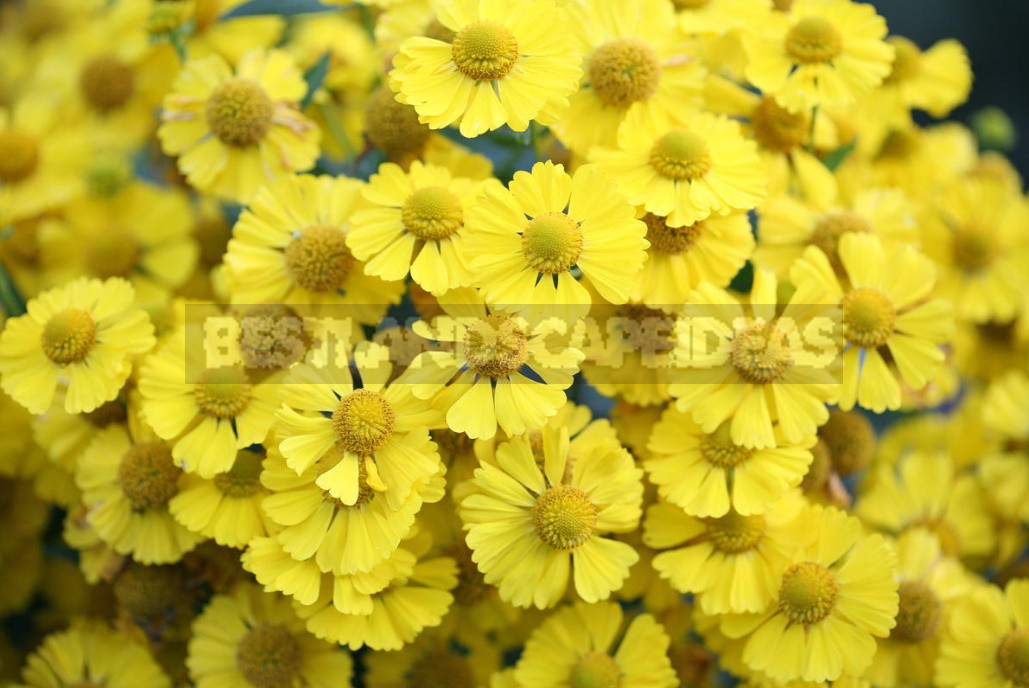 Today, breeders are still very enthusiastic about working with Helenium. Introductory such as Uwe Peglow and PETER ZUR LINDEN from Germany, INES Arnold from the Netherlands and others create new varieties, no way inferior to his older famous brothers. Suffice it to say that it is the cultivar 'Rubinzwerg' received PETER ZUR LINDEN, used to create your border in Wesley Dutchman Piet Rudolph.
Among these relatively new varieties and my dream: 'Indianersommer'. He always brings to mind the husky voice of Joe Dassin and the enchanting melody of his song of the same name. The 'Indianersommer' brick-red blossoms with a convex center. At the dissolution of the Central bump is green, and the petals, lightly wrapped inside, lurks distinctly yellow. Over time, the convex middle of the flower darkens, becomes brown, yellow disappears altogether, and the petals acquire a bronze-red hue. This magical chameleon variety can become a real gem of the autumn garden.