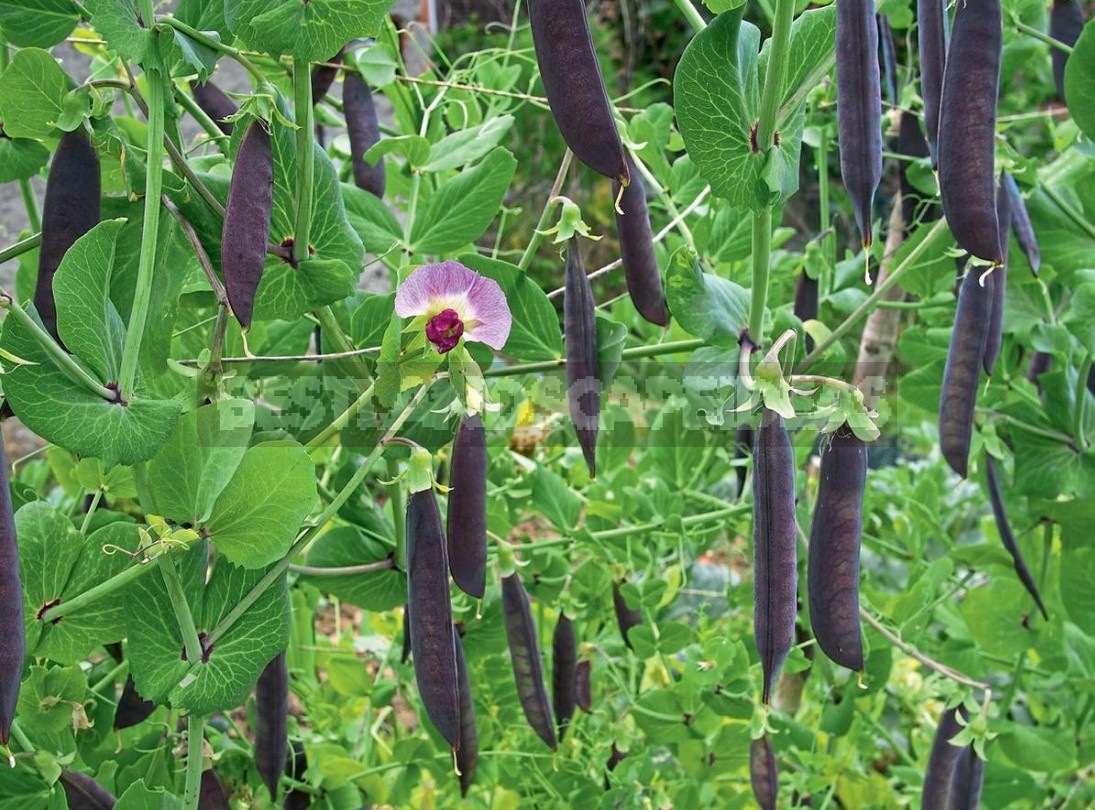 We treat this plant as a pampering plant: we plant it most often for children. And sometimes it is fragrant or green. The first is for beauty and taste, the second is for pleasure: there are sweet peas. Few gardeners grow this vegetable, hoping for a serious harvest, prepared for the winter.
Although peas are a very valuable vegetable crop, containing a rich set of vitamins and minerals. And yet-one of the oldest, dating back thousands of years, we can say that many European and Eastern civilizations were brought up on it. This fact is confirmed both by the material (archaeologists found dried peas during excavations of the Stone Age) and by folklore.
The popularity of the legume plant in the Old World was explained, firstly, by the fact that it is a very satisfying and nutritious protein product, and secondly, mature seeds (i.e. dry peas) can be stored for years. But… first, vegetables from America, and then new technologies (preservation, freezing) significantly pushed the peeling of peas in European gardens and kitchens. Why grow, clean, store, and then soak dry peas for a long time, when there are tender, delicious and inexpensive canned peas on sale all year round, collected in the stage of milk-wax ripeness?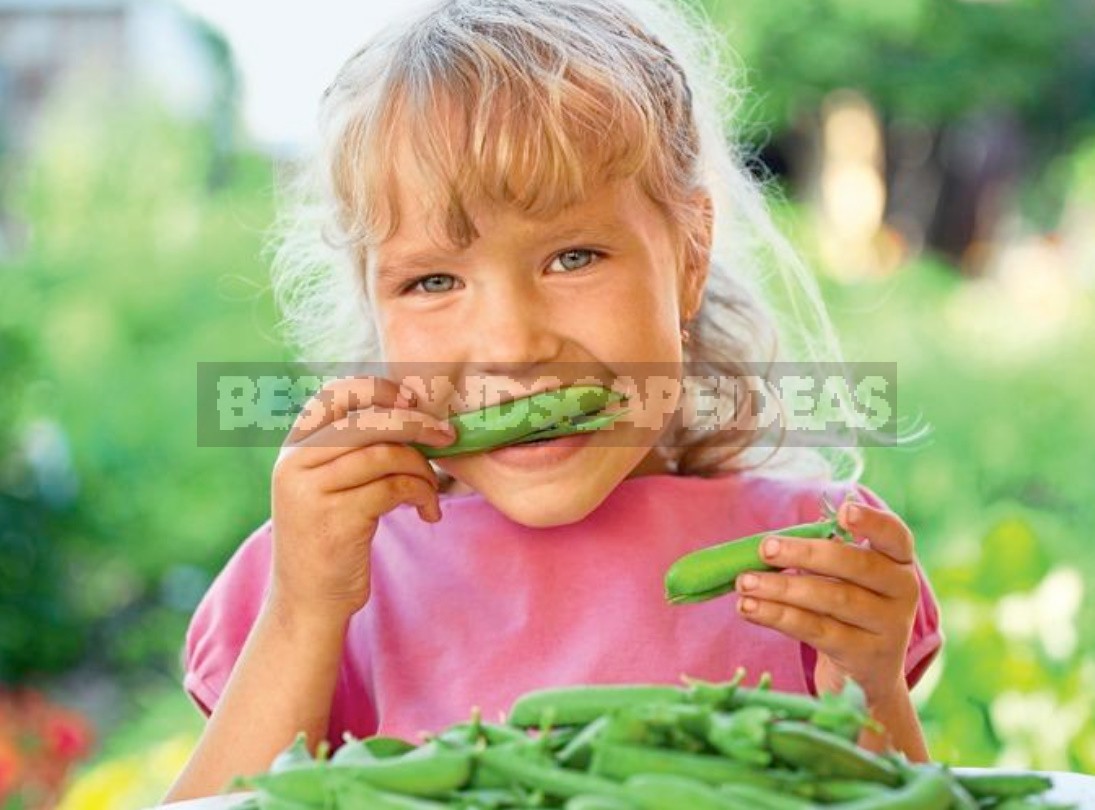 So this legume culture has a place exclusively in kindergarten, and then-mainly sweet varieties of sugar, those that can be eaten directly in the crispy blades, since their leaves do not have a parchment layer.
Everything is purple!
Come on, pluck it-regardless of the pod-and enjoy it. However, to find green beans among the green leaves, you need to strain your eyes a little… recently, breeders have solved this problem by creating varieties with purple pods (peas inside are green). The color is achieved due to the increased content of anthocyanin (the same pigment that makes the pods of some varieties of beans purple). True, this substance, known as a beneficial antioxidant for the body, is destroyed when cooked, but we like to eat peas from our own garden raw.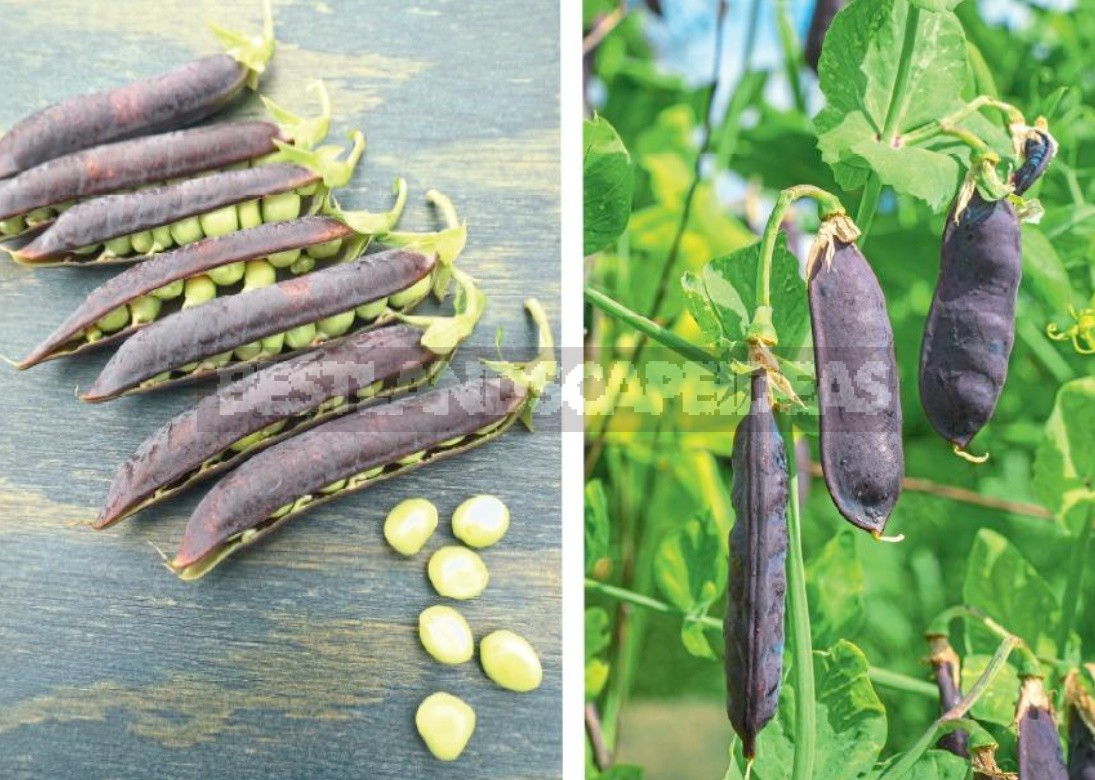 And, of course, the advantages of these varieties are combined with beauty, the plants look very elegant: long shoots with juicy green carved foliage are decorated with thin tendrils that cling to the supports, and white or pale lilac flowers-moths (in some varieties they are also fragrant), and dark purple glossy beans.
So far, there are not many purple varieties on sale, but they are there.
This sugar pea "Purple King" – early maturing, its shoots reach 100 cm (3.3 ft) in height. Beans can be steamed, fried or baked in the oven or microwave, but it is most useful, of course, to eat them fresh.
Vegetable peas "Purple sugar" refers to medium-ripened varieties. It should be grown on supports, since the height of the shoots is more than 150 cm (4.9 ft). From germination to the first harvest takes about 60-70 days, and it is better not to let the beans ripen, because the blades still contain a weak parchment layer, but the peas in the stage of milky-waxy ripeness are very tasty-large and sweet. This variety is also suitable for freezing.
Be sure to grow on the supports and another medium-ripe variety of vegetable peas 'All purple'-its shoots reach a height of 180 cm (5.9 ft). This variety is not only beautiful, but also highly productive, numerous beans 8 cm (3.1 in) long contain 7-9 peas.
Important: the beauty and originality of the color of these varieties did not affect their requirements for growing conditions, it is still the same cold-resistant and rather unpretentious crop that is sown in the open ground in late April-early May. And these varieties require absolutely the same care as the usual varieties of green peas.
Varieties of leafless peas
If you can't eat the whole crop fresh, you can save it or freeze it. And for those who are important, first of all, not beauty, but the simplicity of cultivation and the duration of fruiting, it is worth paying attention to the varieties of leafless peas. The foliage on these plants has completely transformed into tendrils, short light shoots, intertwining and clinging to each other, support themselves, so they are grown without supports.
One of the varieties is called "Leafless Sugar Slider" . This early-ripening pea variety (the period from germination to the beginning of technical ripeness is 53-55 days) has one of the longest fruiting periods among the early varieties. The plant is 70-75 cm (2.3-2.5 ft) tall. The beans are light green, slightly curved, narrow, up to 10 cm (3.9 in) long.
Another variety of leafless peas- 'Afilla' – is late-maturing, the height of the shoots is 50-55 cm (1.6-1.8 ft). The beans are dark green in color, large, each containing 6-9 sweet peas. Regular cleaning promotes the appearance of new beans. Another advantage of this variety is its resistance to powdery mildew.