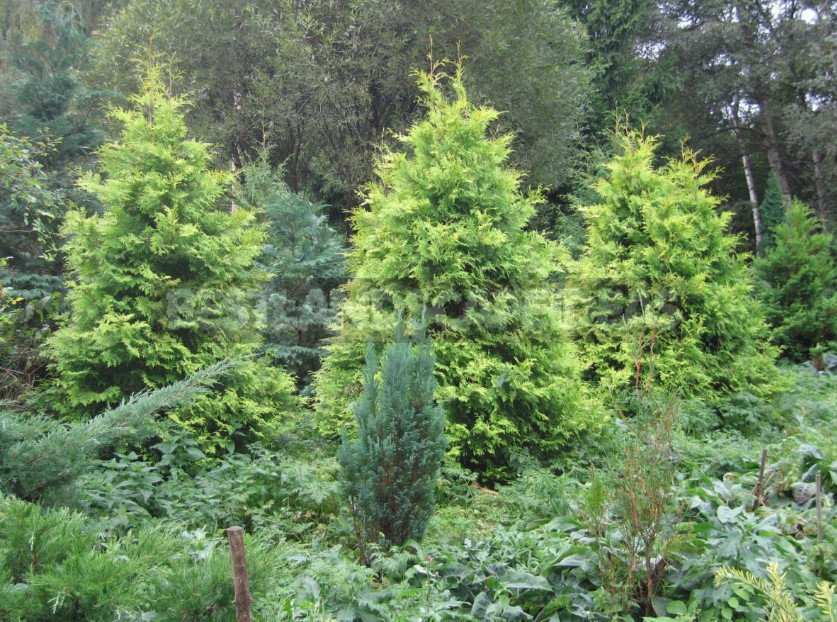 When we talk about thuja, we usually mean Thu Western, while this genus has 5-6 species native to North America and East Asia. All of them are already on sale.
Indeed, in gardening is most often used Thuja occidentalis, as well as its numerous (more than 120) forms. In Europe, it was introduced into culture in the XVI century, naturalized and became common in our gardens and parks. In nature, its large specimens reach 20 m in height, in culture-8-12 m. this durable (lives up to 1000 years or more) tree in his youth has a narrow pyramidal crown, later – ovoid.
Thuja unpretentious, can grow in almost any conditions. They are light-requiring, but when grown in the shade, most varieties preserves the decorative effect, although the Krone may become more friable. Prefer fertile loamy soil, but grow quite well in poor sandy loam (to be feeding). Moisture-loving so that they can grow in areas with close groundwater, at the same time, adults and well-developed plants are relatively drought-resistant. Among all species of the genus, Thuja occidentalis most frost-resistant, which applies to most of its varieties.
Usually for landscaping offer the following forms: 'Columna', 'Douglasii', 'Pyramidalis', 'Fastigiata', 'Brabant', 'Malonyana' height of 6-10 m, and 'Smaragd', 'Holmstrup', 'Rosenthallii', 'Wagneriana' 3-4 m tall.
They are most often used to create green hedges, thus it is necessary to take into account their size and features.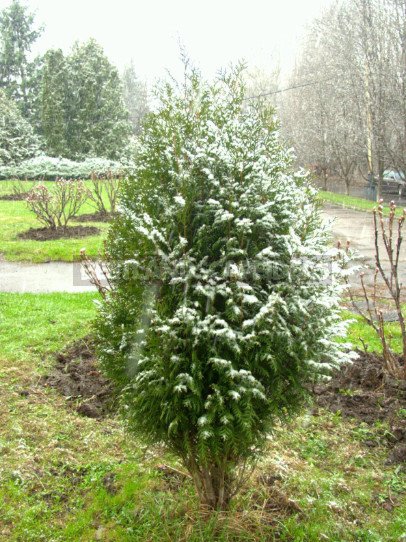 Forms with several tops-tops, multi-barreled ('Fastigiata',' Malonyana', ' Wagneriana') before the onset of winter, it is necessary to slightly tighten the twine to prevent breaking of the crown with heavy wet snow, and large specimens often need even fixing with a screed throughout the year.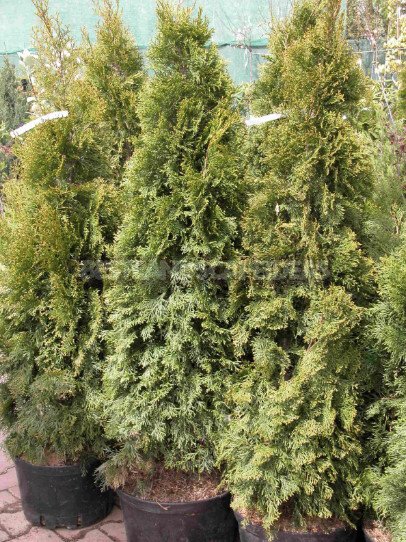 Among all the "columnar" forms of thuja West, according to our observations, in Moscow 'Smaragd' and 'Brabant' less winter-hardy.
However, 'Smaragd' interesting preservation of emerald green in winter, while most of the green forms are copper-brown in varying degrees (in the spring of the same color is restored, if there was no winter burn).
Another "brown" problem: often the fifth spoiled by the abundance of cones, which at the end of the summer, become brown, respectively, the plant looks green-brown, and the following year when the buds fall off, the crown becomes loose.
This happens usually after a hot dry summer, and perhaps it is worth consoling that this year your pet "life was a success", which affected the formation of seeds.
Sometimes gardeners are frightened, finding brown withered legs-twigs. If this happens inside the crown and does not affect more than a quarter of its volume, and the young shoots of the last year do not look suffering – it's okay, it's a natural process. Remember: arborvitae – coniferous evergreen, but the needles lives of 3-7 years.
There are pyramidal varieties of arborvitae with a special form of branching – "fluffy-knotty", suitable for creating loose fences or small groups, as well as exotic forms in the thematic (Eastern) garden – 'Spiralis' (6-10 m tall), 'Bodmery' (up to 2.5 m). From the "colored" pyramidal forms for high hedges can be used varieties 'Alba-picta', 'Albo-variegata', 'Argentea' white 'mottled' or 'Aureo-spica' – with yellow tips.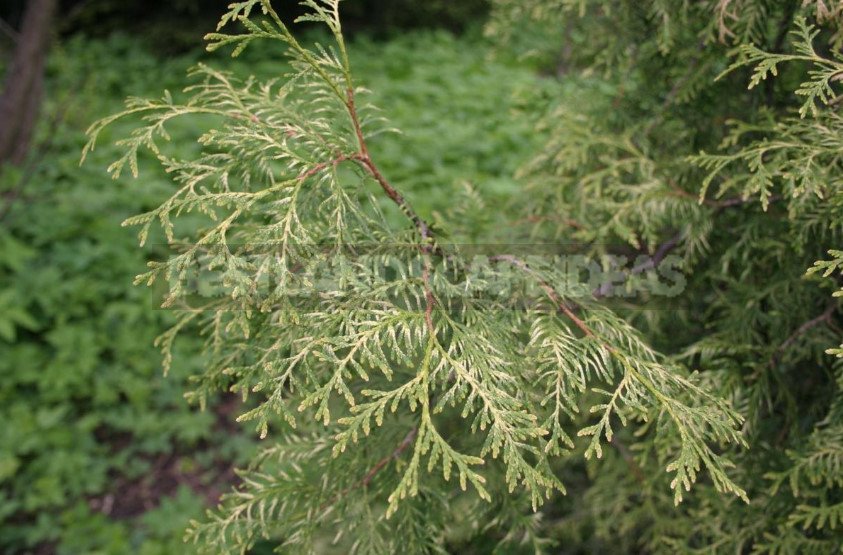 Another group of varieties-spherical shape, of which larger- 'Boothii', 'Globosa' and 'Recurva Nana' (up to 2 m tall) and 'Wareana' (up to 4 m, with a dense crown and "fan-shaped" unfolded branches). These forms must be pulled together with twine before the arrival of winter, and the variety 'Wareana' should take into account the fragility of the branches and frequent "breaking" of the snow crown (they have to be removed in the spring, although the shape of the top of the crown is quickly restored).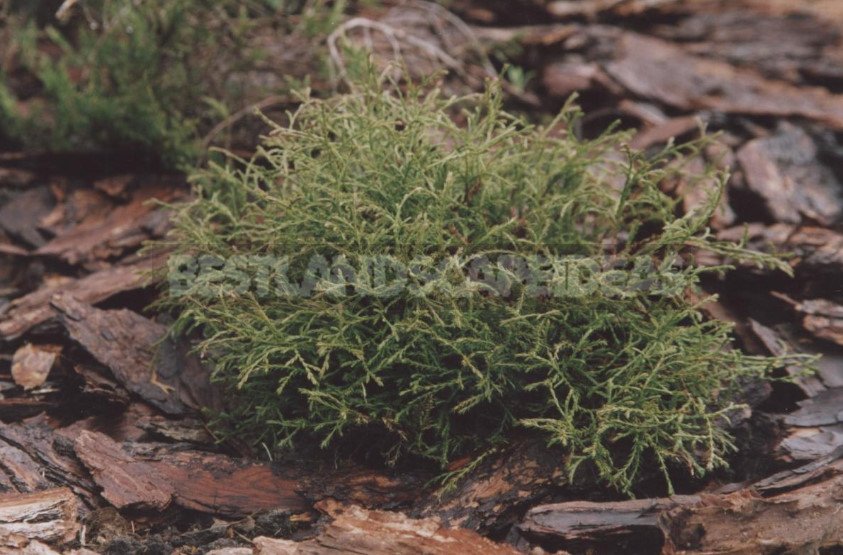 Interesting more "squat" and "shaggy" 'Woodwardi' (up to 1.5 m); another form in adulthood umbrella – 'Umbraculifera' (up to 1.5 m). There are balls-crumbs (up to 0.5 m tall) – 'Globosa Nana', 'Little Champion', 'Danica', 'Tiny Tom', and 'Little Gem' in adulthood acquires a "saucer" shape, growing up to 2 m in diameter.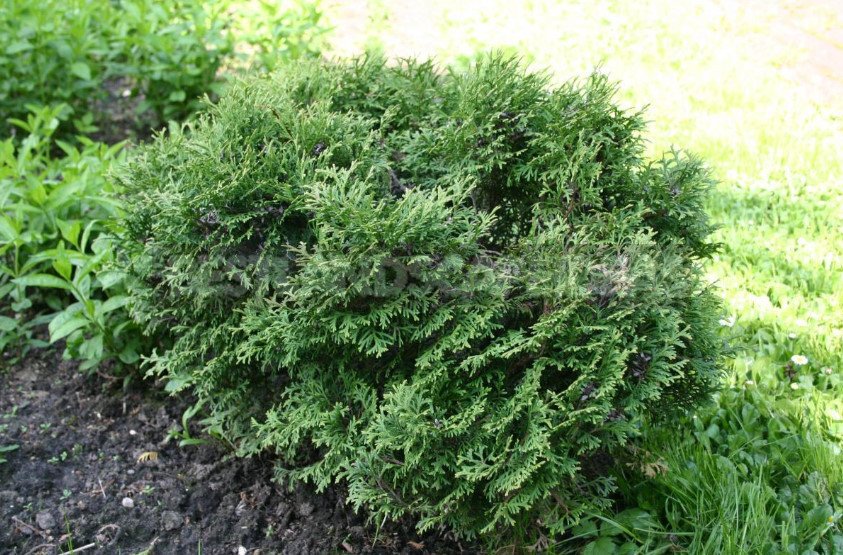 Dwarf forms winter under the snow, as a rule, coming out from under it without loss and without requiring special preparations for the winter. It should be remembered that these varieties are desirable to grow on relatively poor soils, otherwise they "start to grow" and lose their shape.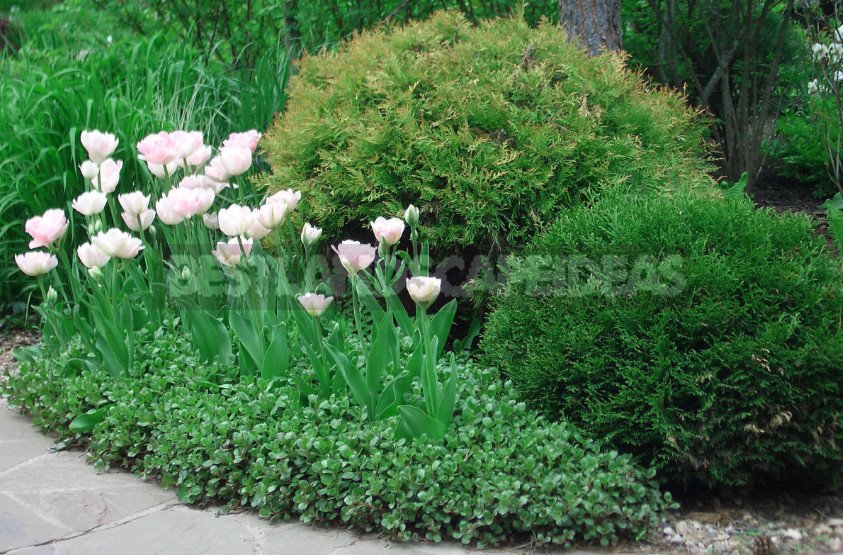 The unusual cascade, "filiform" form of 'Filiformis' with long protruding and hanging shoots is also derived; another form — 'Ohlendorfii' – with thin long shoots, but growing up, has two types of needles on branches: scaly and needle-shaped. These forms of "Amateur", and 'Filiformis' larger, up to 4.5 m tall, but more decorative at a young age, it is better to start cutting when it reaches 1-1. 5 m.
The same can be said about the form of 'Ericoides' with needle, or "Heather" needles – adult specimens, reaching 5 m in height, easily bent and "fall apart" under the weight of snow, and just become ugly. In its color 'Ericoides' is different from the" normal "thuja smoky silvery green color, in winter, sharply changing to" bronze", but rapidly recovering in the spring.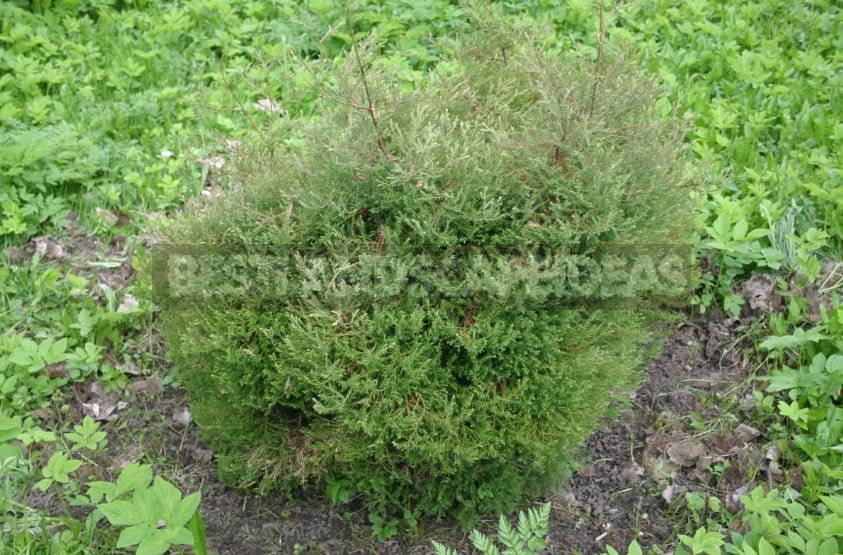 There are "Heather", with short fluffy needle-like needles, miniature varieties- 'Dumosa', 'Teddy'. They do not require "tracking" the size and timely pruning, winter under the snow and practically do not change color.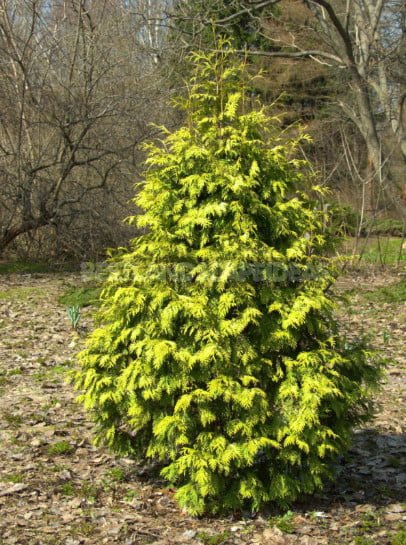 There are also forms with two types of needles on the branches: scaly and needle – 'Ellwangera', 'Ellwangera Aurea' (Golden form), which have an interesting feature of crown growth. They are low (up to 3.5 m), but at 8-10 year of life the crown "breaks" into several peaks, and as a result, in place of one instance we have a whole "crowd". Accordingly, one in the future adult plant is required to take a seat up to 5 m in diameter.
Sometimes I hear that arborvitae – "cemetery" plants, what does not agree, because in addition to the gloomy green columns and pyramids derived a lot of joyful, "Sunny" Golden-colored varieties. It is 'Aurea'(wide-pyramidal, fast-growing, up to 5 m high),' Europe Gold '(pyramidal, slow-growing, up to 2.5 m),' Golden Globe '(spherical, up to 1.5 m),' Reingold '(oval, up to 1.5 m, with needle-shaped and scaly needles), shining ' Wareana Lutescens' (height up to 4 m), with a beautiful oval, dense crown.
We can say that a huge variety of varieties of Western arborvitae allows you to use them truly universally.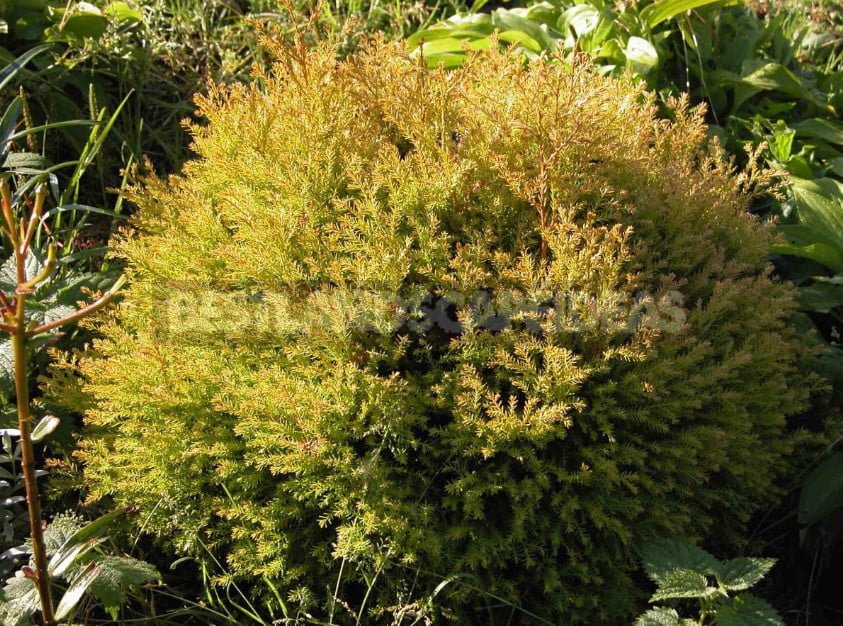 The other North American Thu-T. plicata, despite the fact that in nature grows along the Pacific coast from California to Alaska and is the highest (at an altitude of 2100 m) thuja. The second name of the plant is a giant thuja, as in nature it reaches 60 m in height with a trunk thickness of 3-4 m; in the conditions of introduction in Europe it grows up to 20-30 m.
It grows faster than Thuja occidentalis, but we have at the age of 8 years has 1.5 m in height, freezes in winter. When rubbing twigs have a sweet and fruity smell of pineapple. There are several decorative forms, of which the most common 'Zebrina', suffering from winter burns and cold, but quickly recovering (in 10 years reaches 1.2 m).
T. Koraiensis grows in the forests of Korea in the form of a wide shrub or low (up to 9 m) tree with almost tiered branches. On the lower side of the branches needles elegant, bright white-colored, almost silver.
In the mountains of Central Japan, T. standishii grows up to 18 m high, has a wide conical crown with "candelabra" branches, copper-red bark and silvery branches from below, which spread the smell of lemon and eucalyptus caramel when rubbed. It was tested in the Arctic, where he distinguished by slow growth (at the age of 6 years reached 0.4 m height). In the same conditions seedlings of Korean arborvitae died after the first wintering.
In the genus thuja distinguish the subgenus Platycladus the only representative (R. orientalis), formerly called thuja Eastern. Naturally, it grows in China, but for several centuries it is widely bred in Central Asia (it is usually called Archa), where it is wild.
This is a small spreading tree (up to 12-15 m) or a large shrub with an openwork crown, it is considered a very light and heat – loving, drought-resistant culture, the soil is demanding medium, in protected areas can reach 2 m height. It has more than 60 forms.