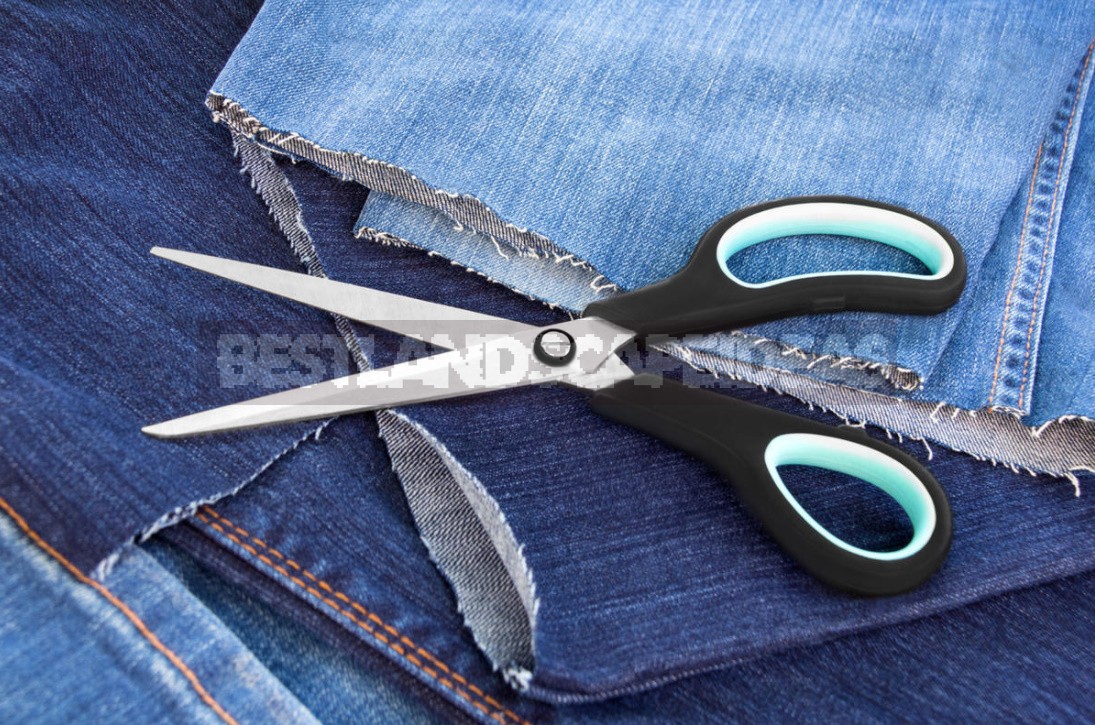 Where should I put my old jeans? Probably, sooner or later, this question arises before every fan of these clothes. Favorite jeans are often worn literally to holes, and one day the moment of parting comes: it will not be possible to give out the formed gaps for a fashionable and stylish decor, patches will not help either…
I have accumulated a lot of such out-of-use denim clothing. Throw out the hand does not rise, because the fabric, with the exception of certain leaky parts, is very strong, and it can be given a second life, turning old things into new ones — practical, beautiful and useful. I'm looking for ideas! Who's with me?
1. Kitchen potholders
Let's start with the simplest, accessible even to novice needlewomen or very busy Housewives. I myself, for example, will hardly dare to do something big at once, but for small things… Moreover, there are not many potholders in the kitchen!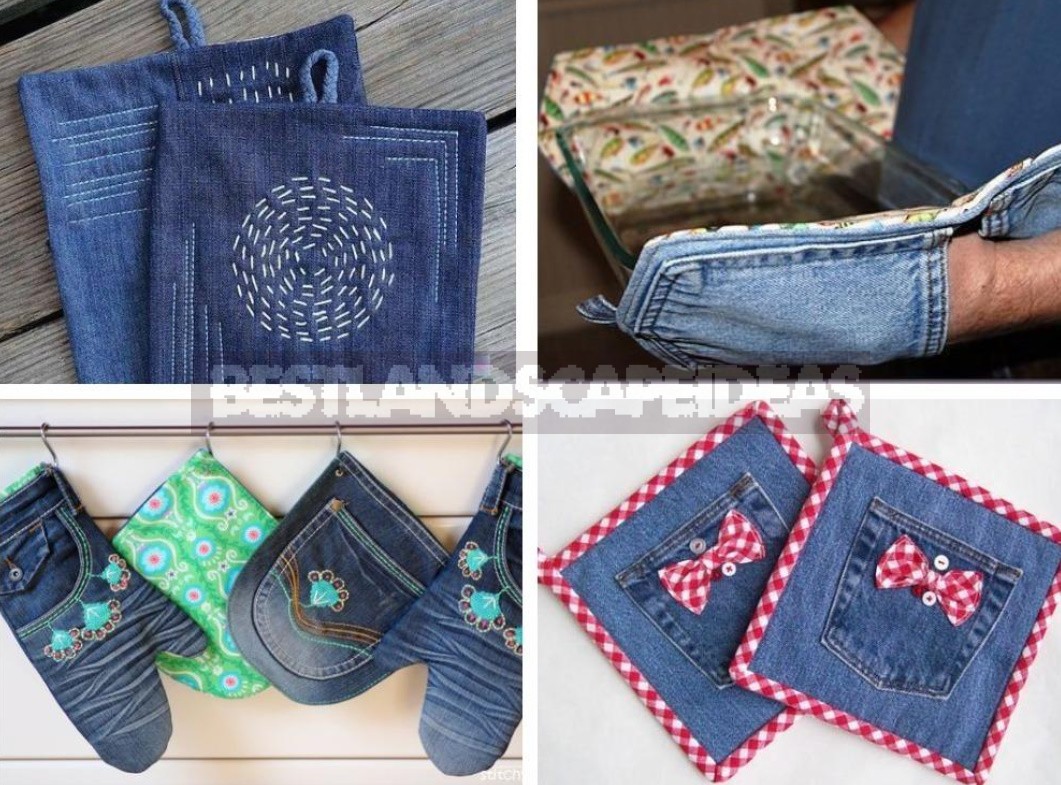 You can make them very concise and practical, or you can decorate them with embroidery or applique and turn them into an element of kitchen decor — everything is in our hands. A very tempting idea is to use the part with pockets: see what wonderful mittens are obtained (photo on the top right).
2. Accessories for table setting
If we started with the kitchen theme, let's develop it. How do you like these napkins and pockets for Cutlery?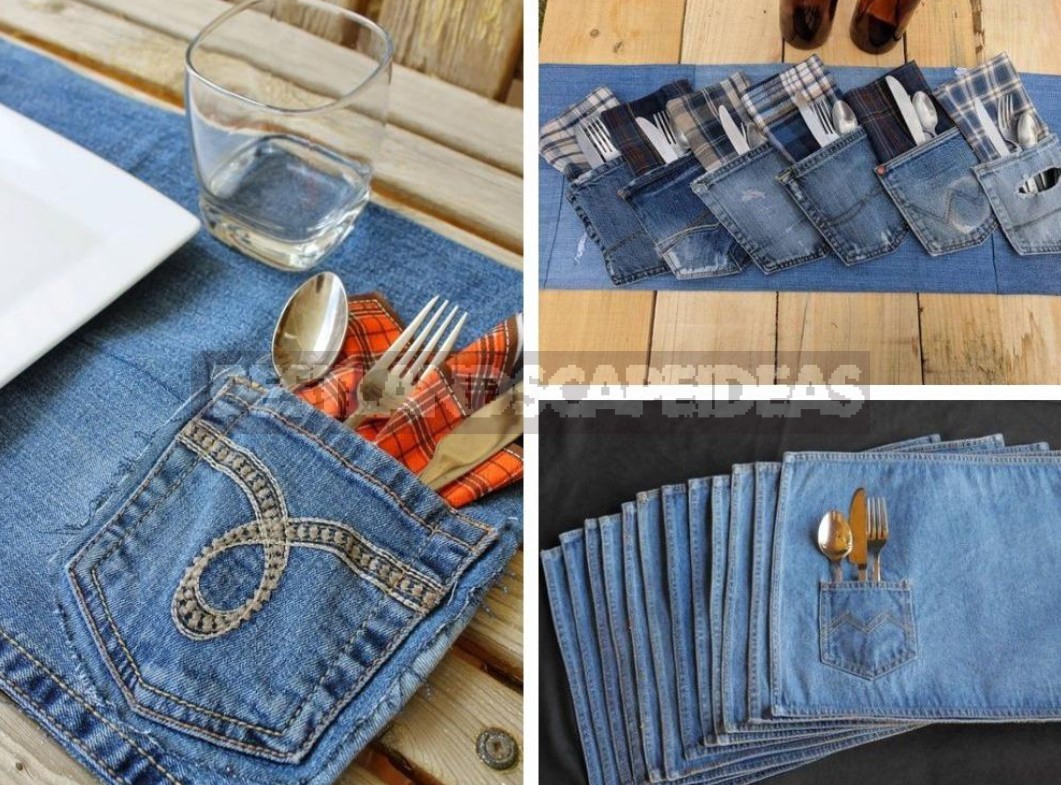 I think for a country picnic or a youth party — what you need! It turns out fresh, original and stylish, do you agree?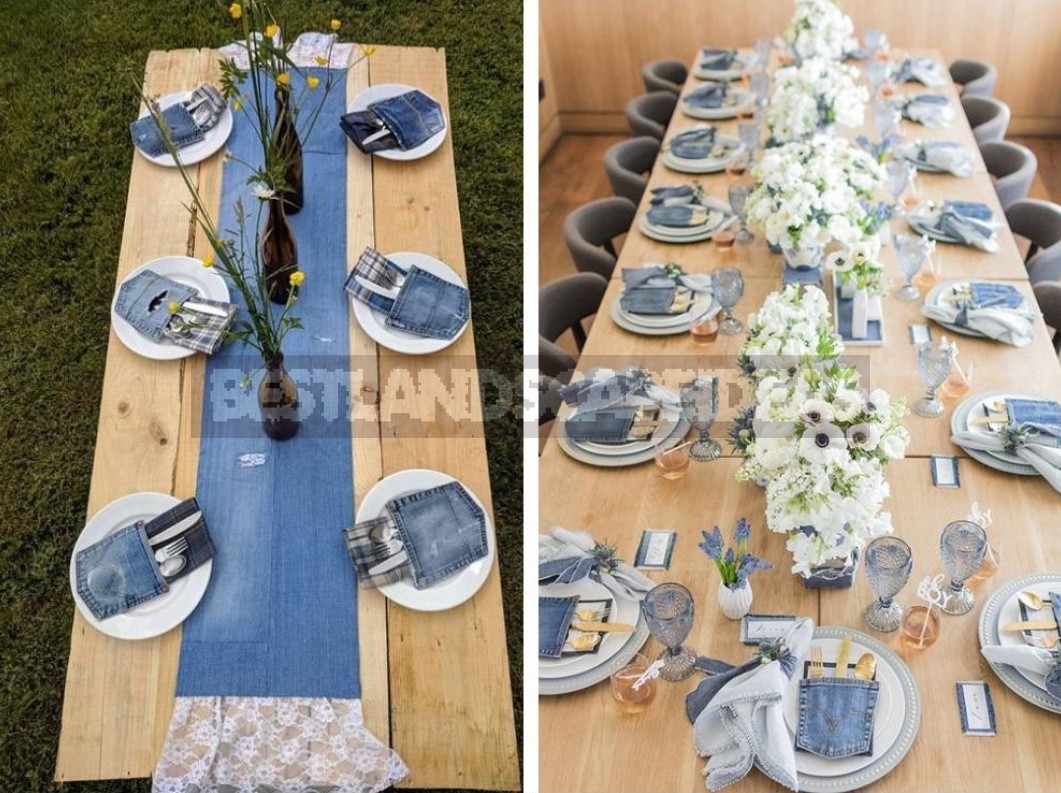 And again, to sew such accessories easily and quickly, there would be a sewing machine at hand. Well, if you want, you can develop the idea indefinitely: combine fabrics, decorate pockets with applique, add lace, and so on …
3. Wall organizer for small things
Another practical and fairly simple idea. All sorts of very necessary little things that I would like to organize, and enough for a young fashionista, and a mother-needlewoman, and a teenager-schoolboy-a convenient wall organizer made of durable denim will help everyone to put things in order and keep the necessary things at hand.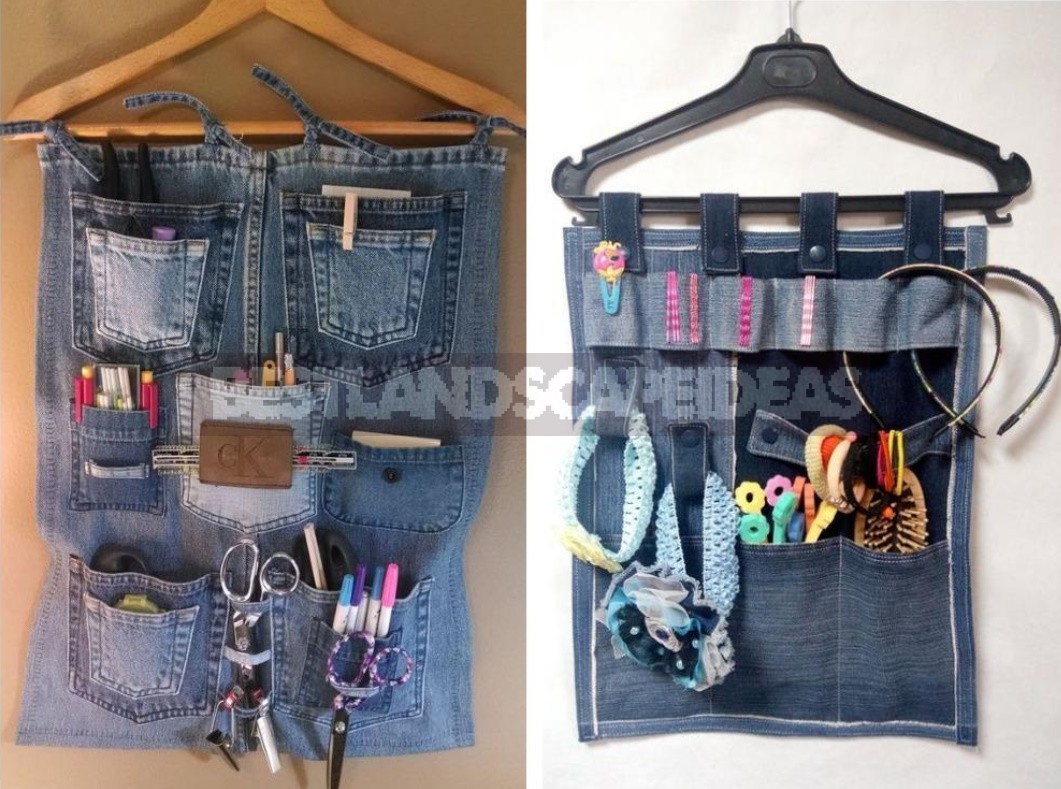 A creative approach to the creation of this interior design is welcome. It is not necessary to make an organizer in the form of a simple rectangle — cats also look great. You can play with the shape or location of the pockets, use various decorative elements-it all depends on the desire and skills of the craftswoman, there are no restrictions!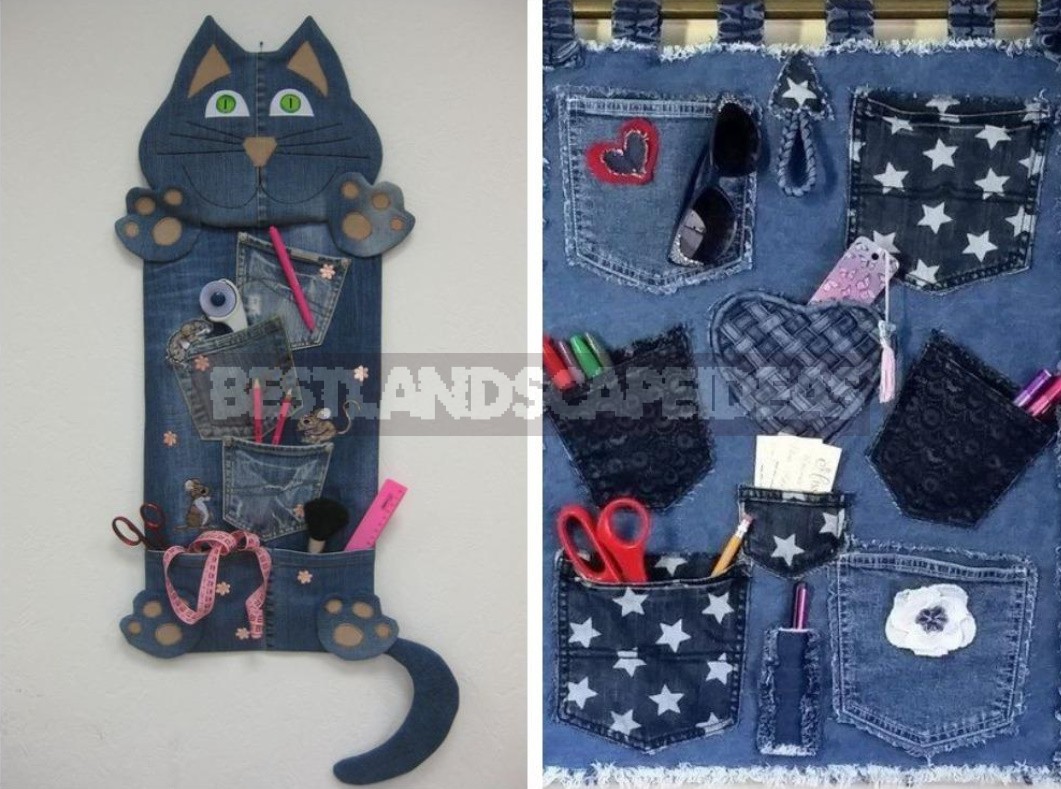 There are no strict rules either — you can and should customize this organizer for yourself. I think this idea will come in handy in the country-for storing bags of seeds, gloves, small tools (such as pruners or scissors). Denim fabric is durable, reliable, erases well, if anything …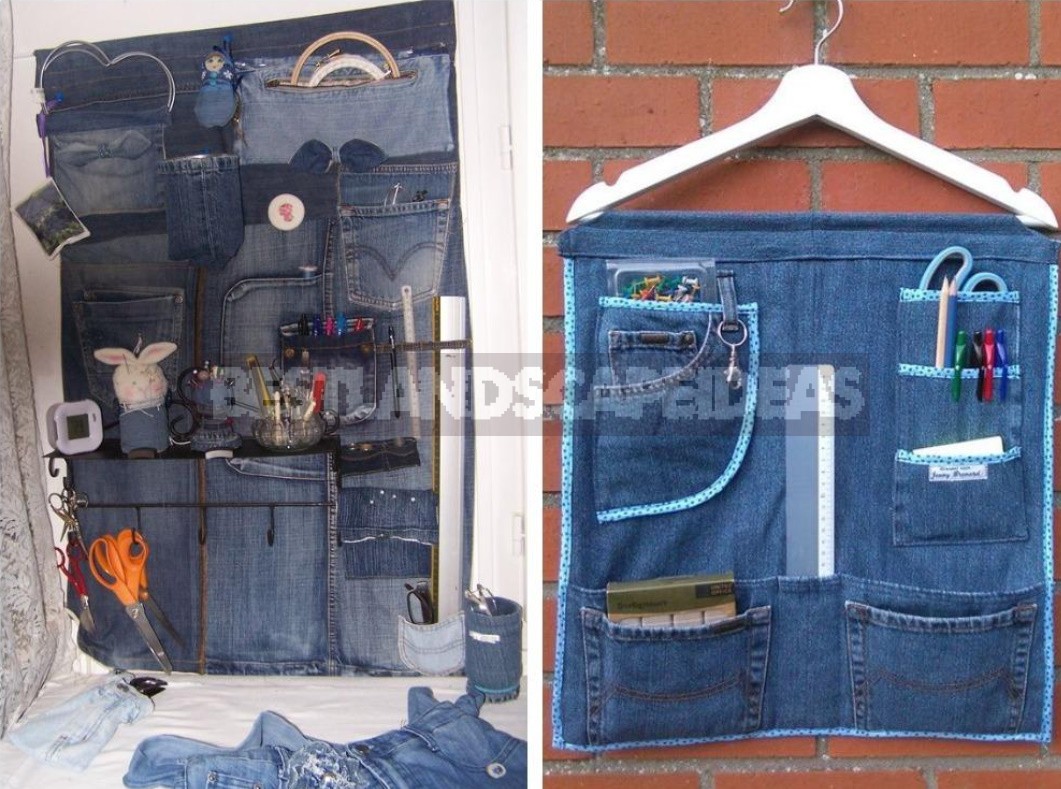 In General, such devices for storing small things are universal — they will find a place in the hallway, in the kitchen, in the bathroom, in the nursery, and in the office…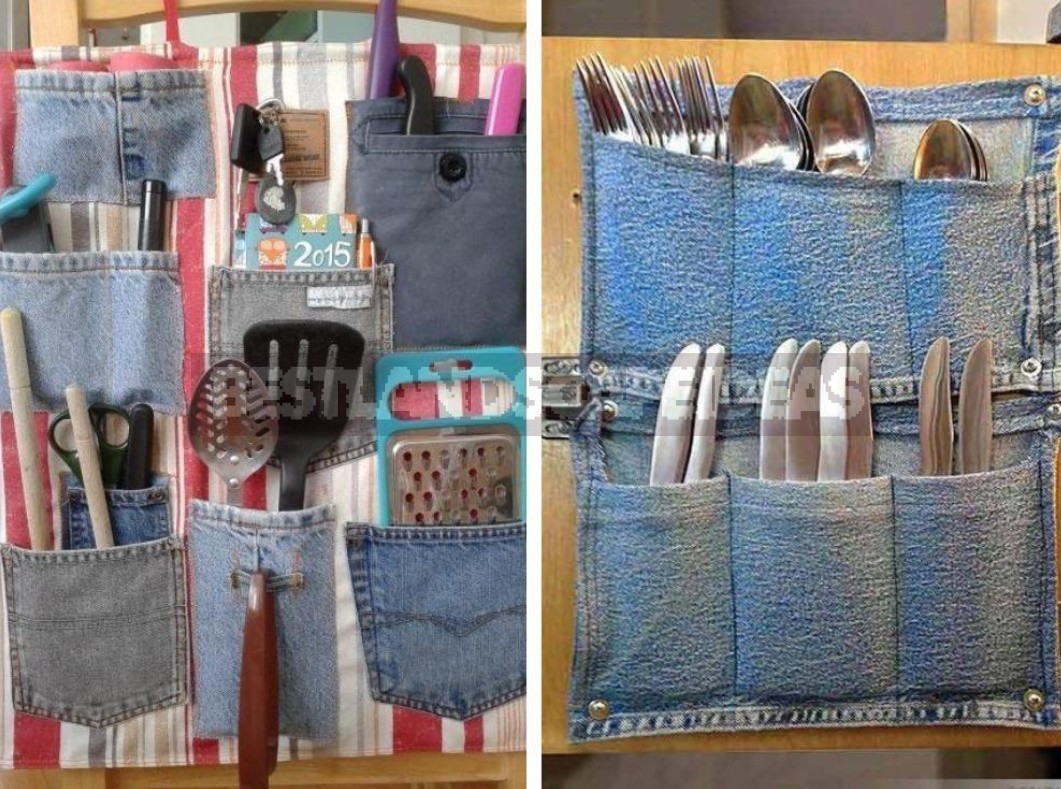 If only there were enough supplies for all the ideas! List of ideas-that is only the beginning…
4. Organizer for remotes on the couch
And for this purpose, old jeans fit perfectly (of course, provided that this material is combined with the interior of your home).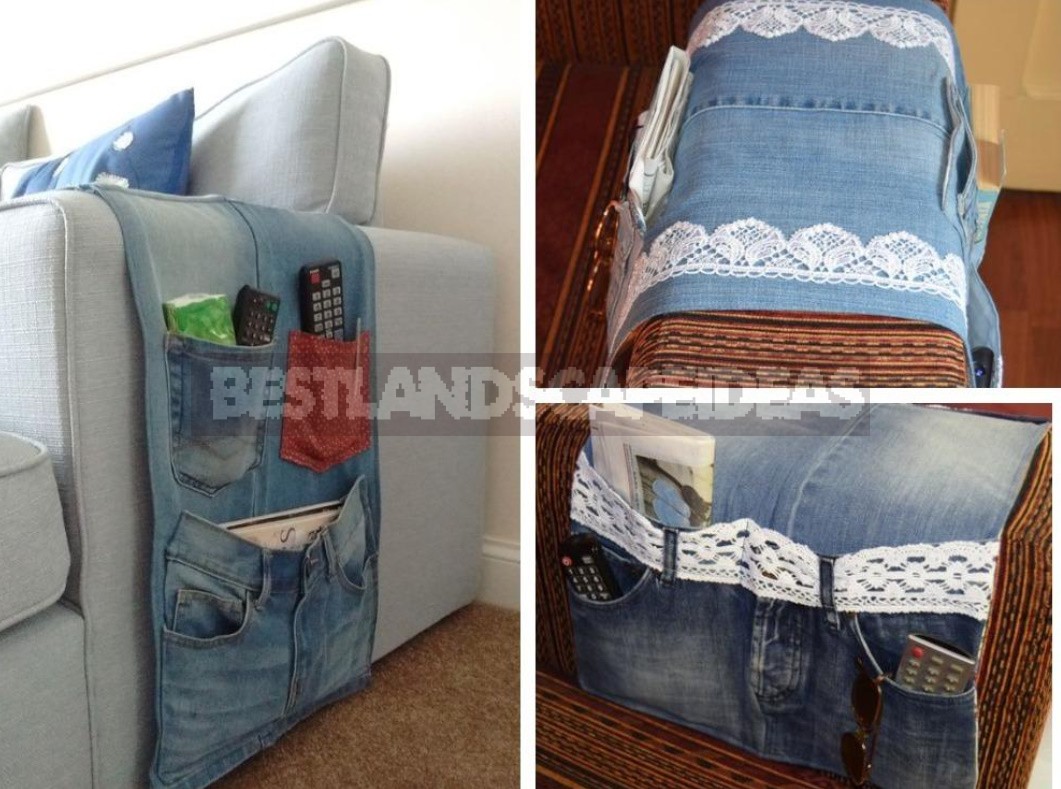 The number and size of the pockets depends on your needs, but the decor can be chosen according to your taste and mood — not necessarily lace, as in the photo.
5. Decorative pillows
What else should be on the sofa? Of course, pillows! The more — the better: they are so convenient to cover from all sides to comfortably read a book, do needlework or watch TV…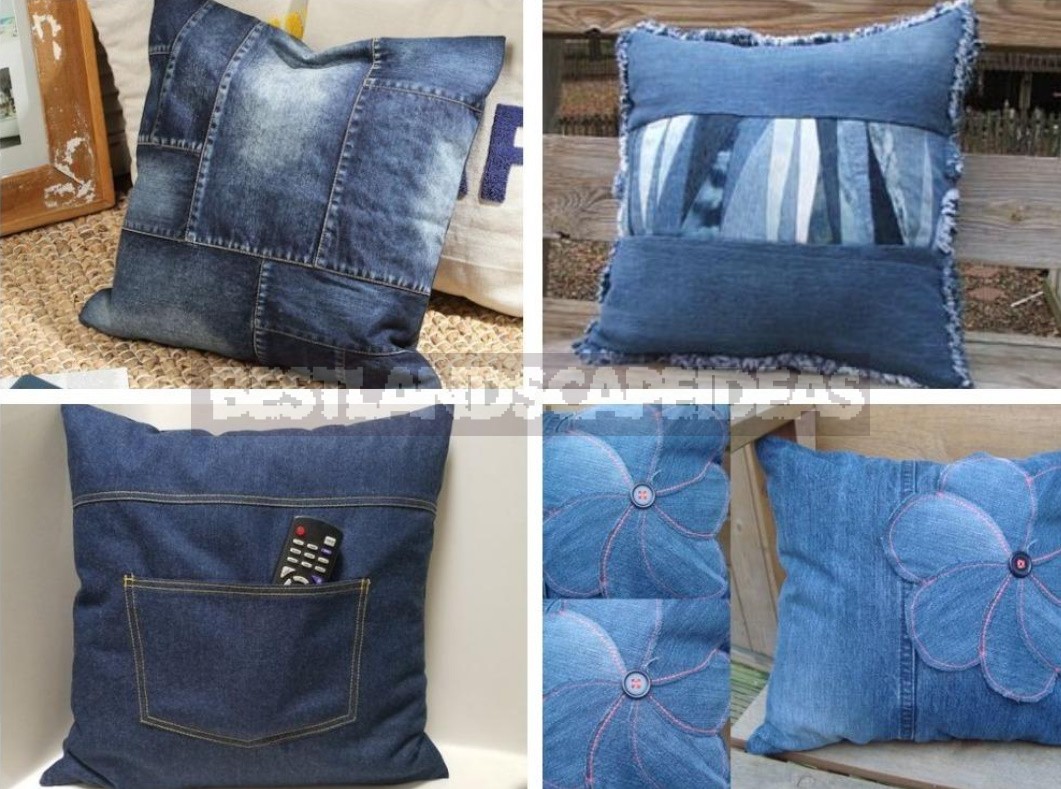 I love pillows very much, so this idea interested me. I'm not sure that I'm ready to work on a complex and refined decor, but simple and practical models, in my opinion, also look good.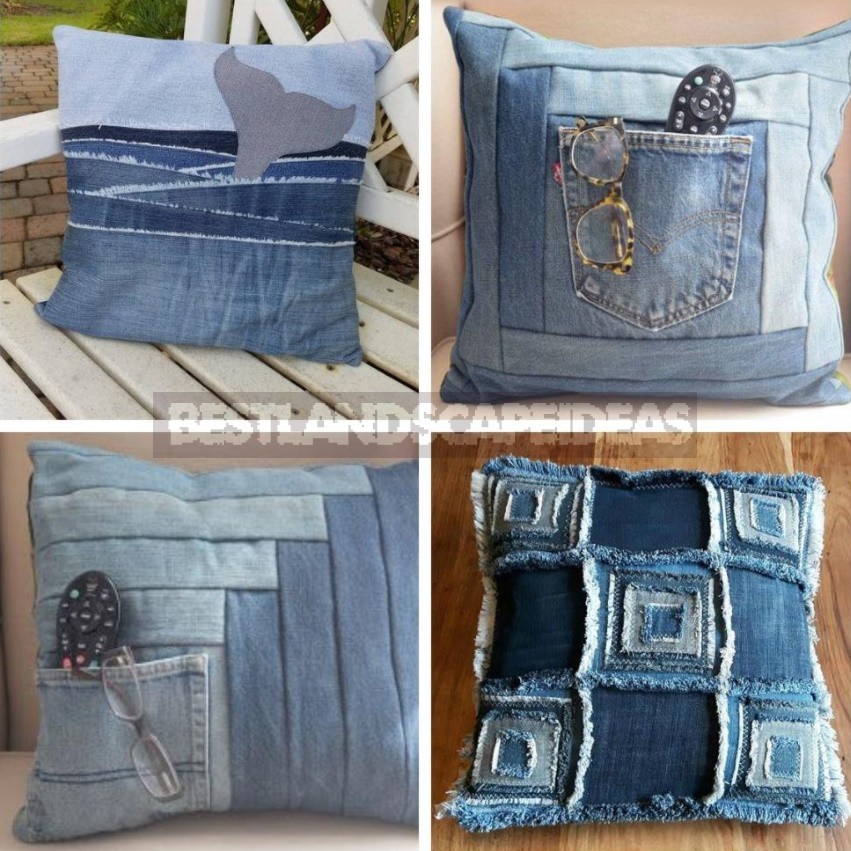 Well, the pillows and asks for a suitable addition-a spectacular denim bedspread or blanket, do you agree?
6. Blanket or bedspread
This is my old dream. I think I already have enough jeans for a large bedspread-it remains to find the right idea and find time to implement it.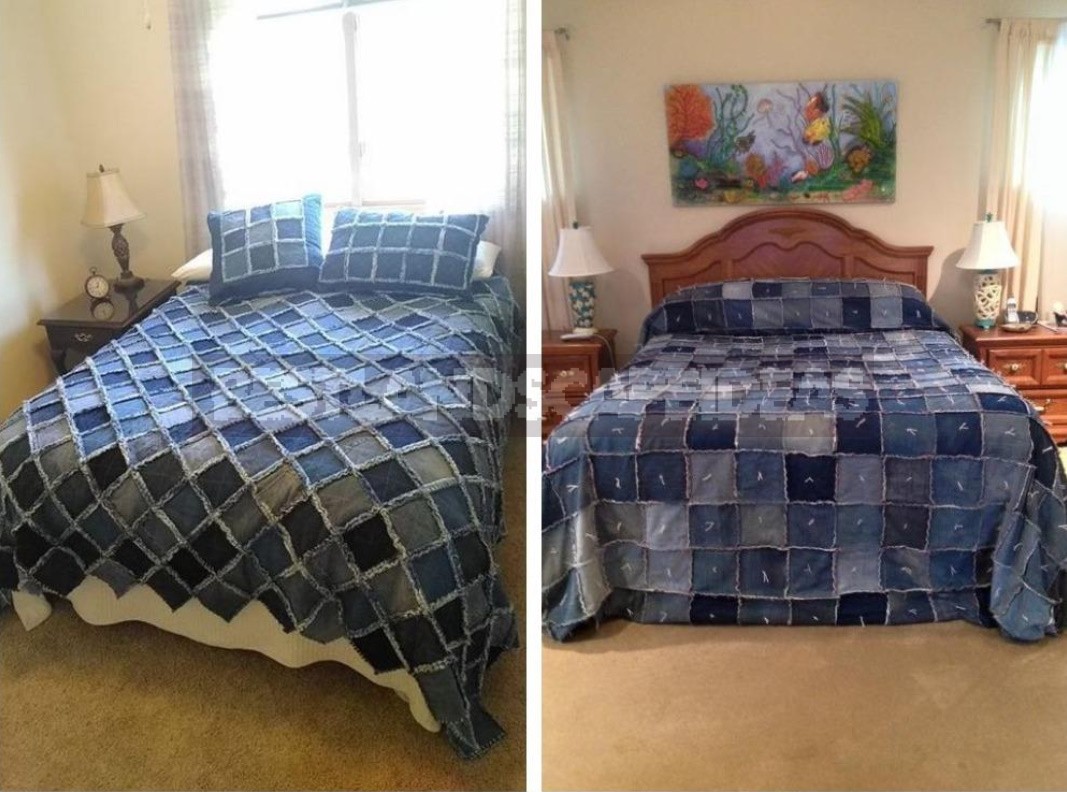 However, even if there is not enough denim, this is not a reason to abandon the idea: a colorful blanket made of multi-colored scraps looks no worse than a strict and concise one. Just the selection of accessories and furnishings should be appropriate.
And by the way, as a blanket, I think the combined version is even better: after all, denim is quite heavy and rough. For a bedspread, this is normal, but I want to make a blanket softer, more comfortable…
7. Rug
If the bed is decorated with a denim bedspread, and on the sofa-a pile of denim pillows, perhaps you should complement them with a suitable rug. Logical?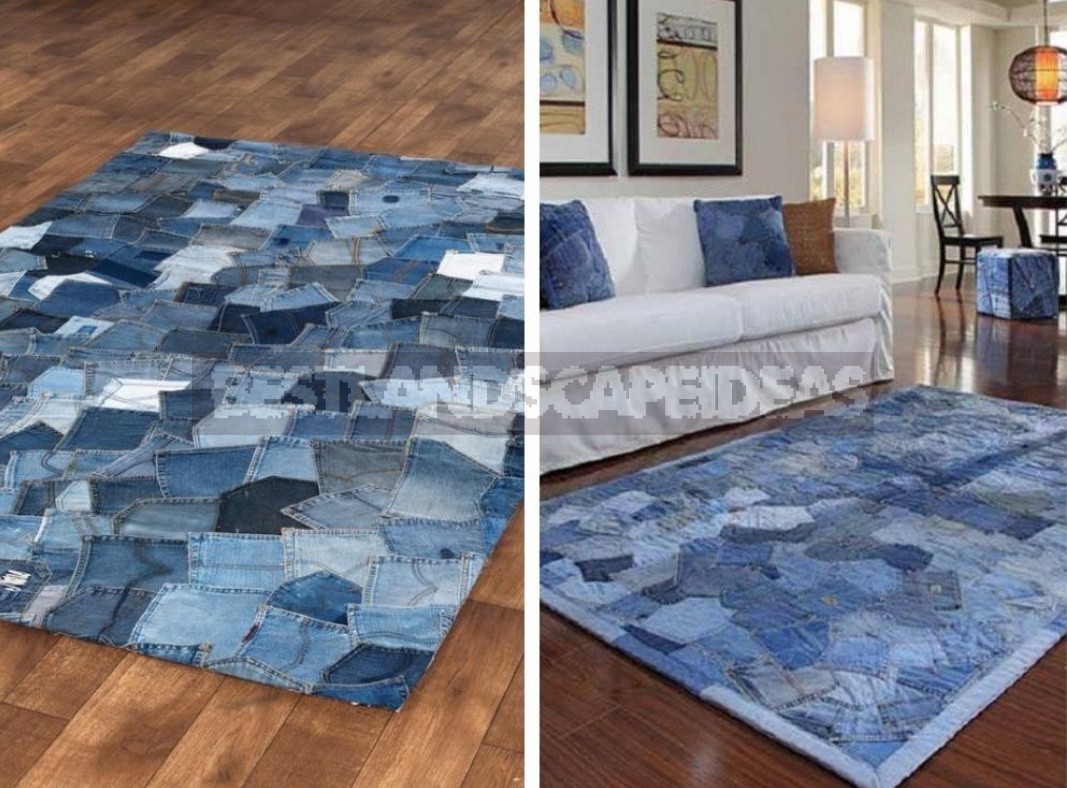 Moreover, here the scope for creativity is even wider: you can not be limited to just products from scraps. Even those who do not know how to sew can easily find a suitable technique for creating a chic denim rug.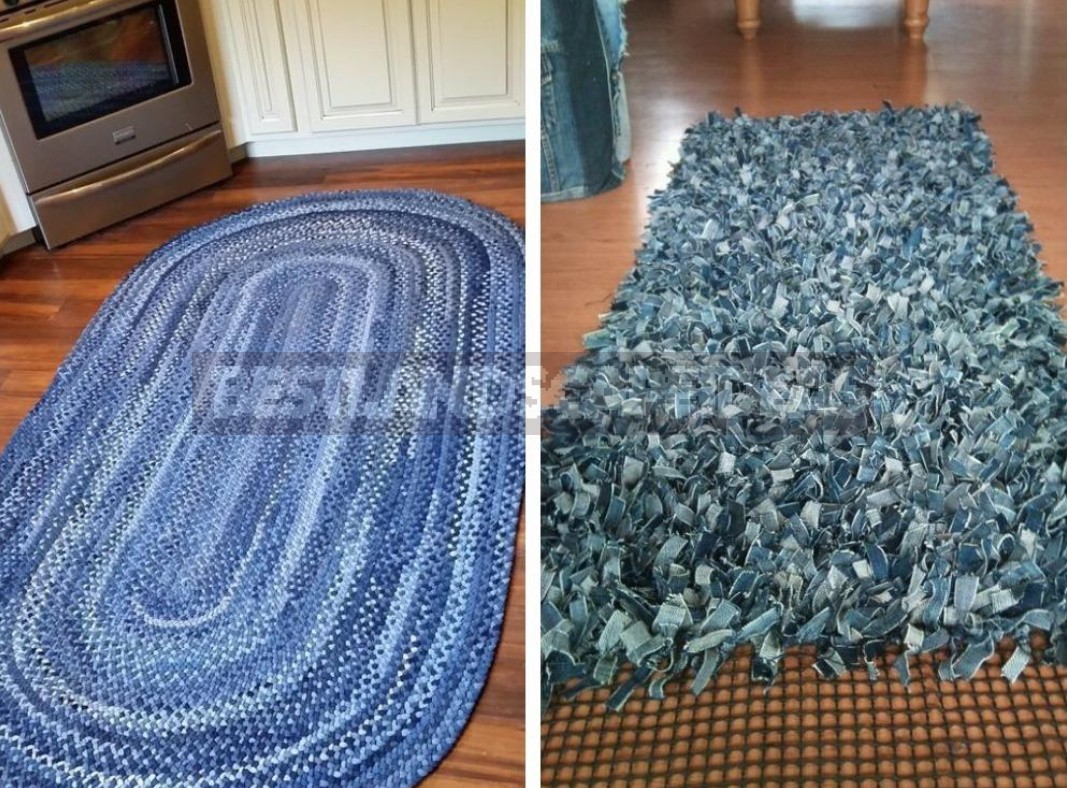 Although, I admit, until I saw the photos, it did not even occur to me that old jeans can be cut into ribbons, so that later they can be tied, woven, and woven into a charming rug. My imagination at first did not advance further than patchwork, but now new horizons have opened up for it!
8. Covers for furniture
Those who easily overcame the mats and bedspreads are no longer afraid to take a swing at the furniture covers, or even start a re-tie of old sofas or armchairs. Maybe you have a future furniture masterpiece waiting for alteration at your dacha for a long time?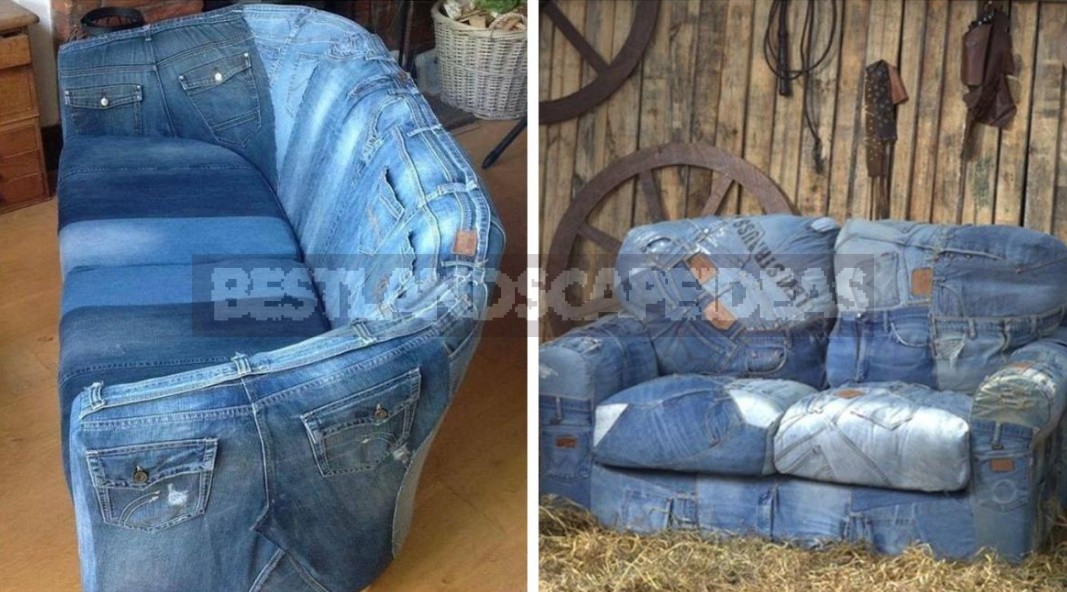 Yes, I agree that denim furniture is not an idea for every home. It is very specific and requires an appropriate environment. It's not even a style — it's a way of life. But agree, these samples are impressive!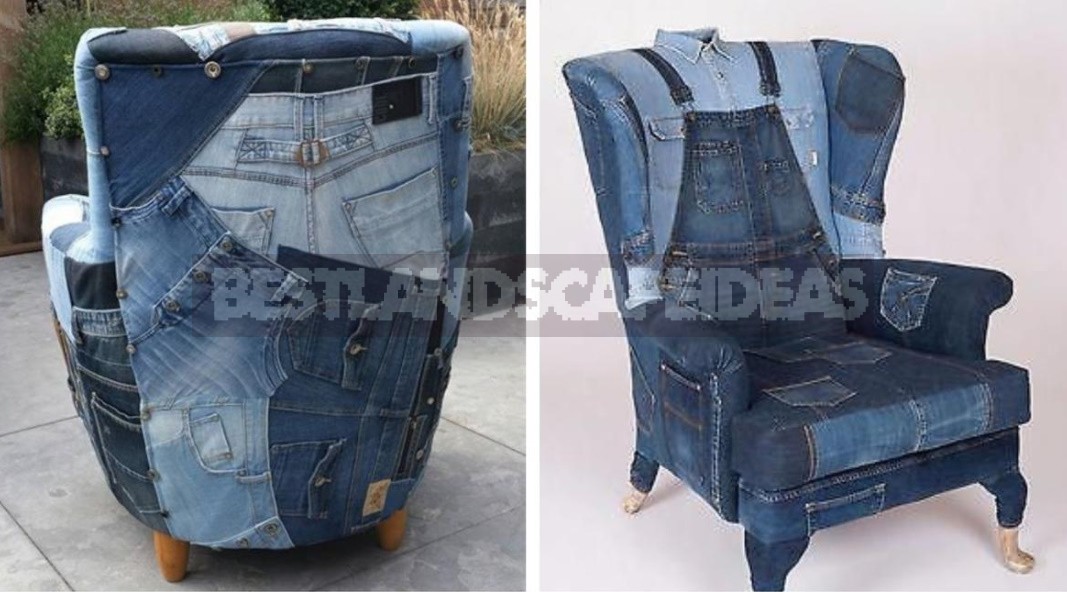 In the end, you can not take on large furniture-limit yourself to small, but very useful items. Such as an Ottoman, for example.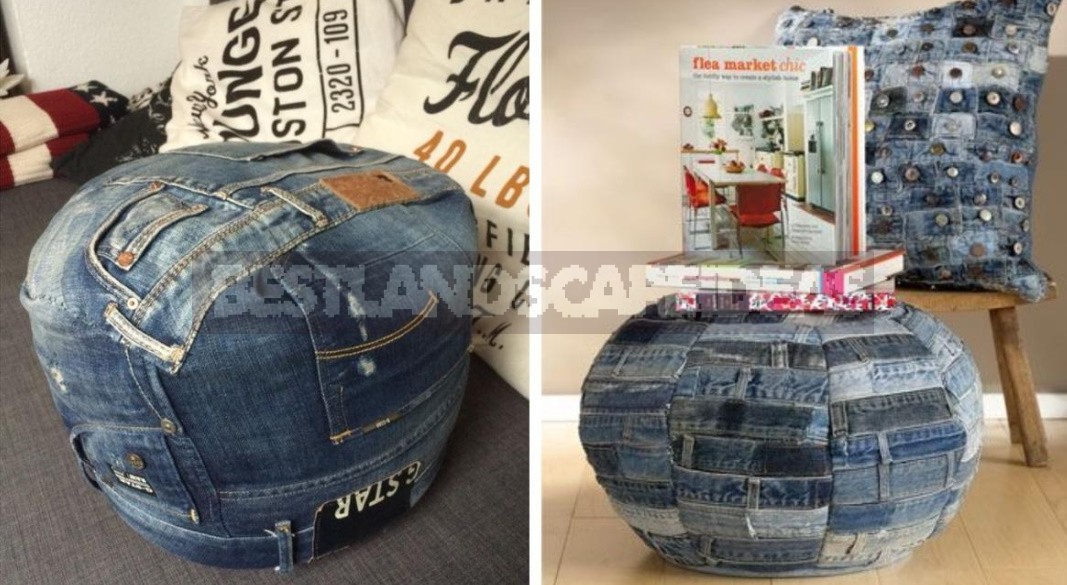 What, you don't need an Ottoman? And what do you say about the lampshade?
Or here is a cover on the back of a work chair with pockets for a tablet and smartphone — it just won me over. Original, convenient and at the same time not difficult.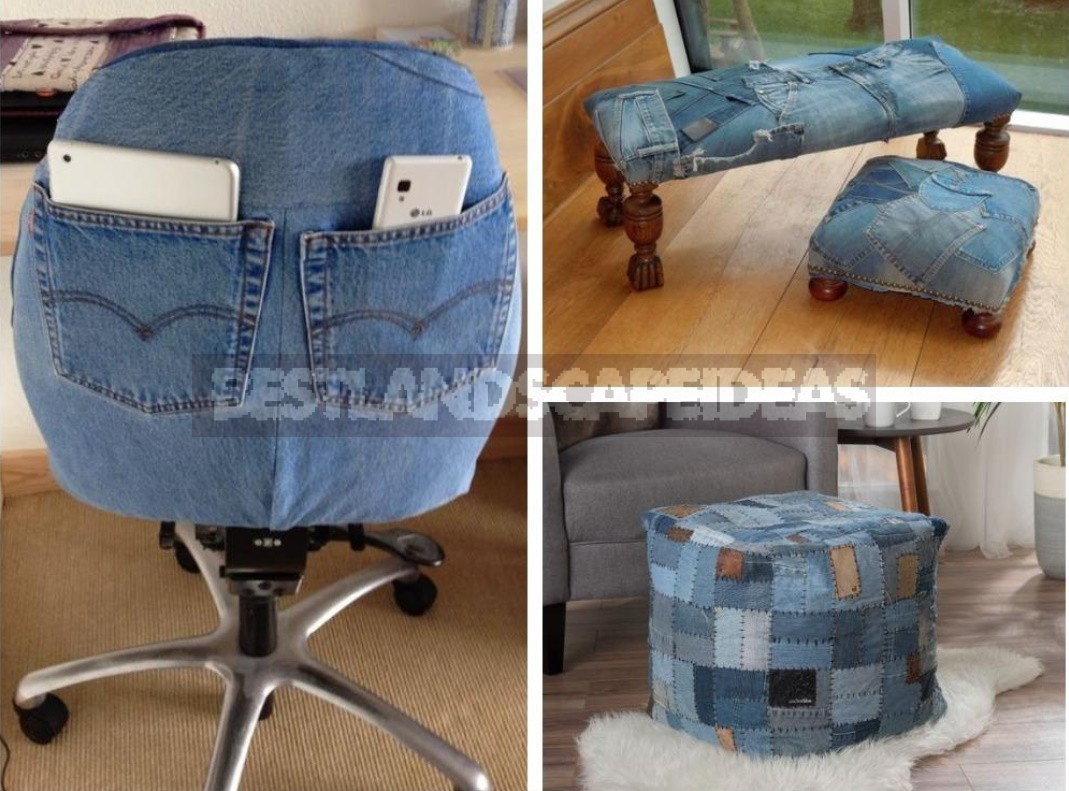 In the end, if you can't imagine such furniture in your city apartment, but you like the idea, maybe you should update the country interior? For example, sew denim covers for stools or chairs …
9. Cover and organizer Mat for sewing machine
By the way, about covers… Perhaps it's time to take care of our hard worker, without which all these wonderful things can not be created-a sewing machine. Well, a little about yourself. A case for your assistant and a convenient organizer Mat for scissors and other tools can also be sewn from old jeans.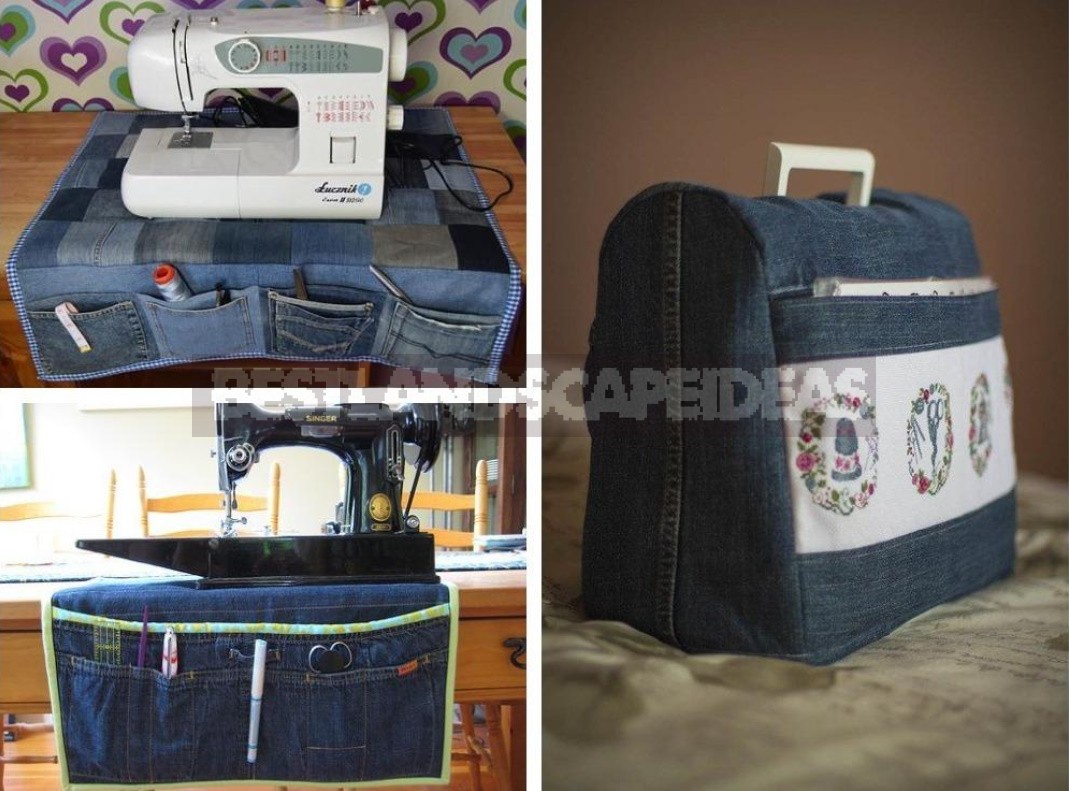 And then add a matching pincushion and needlework basket to the set: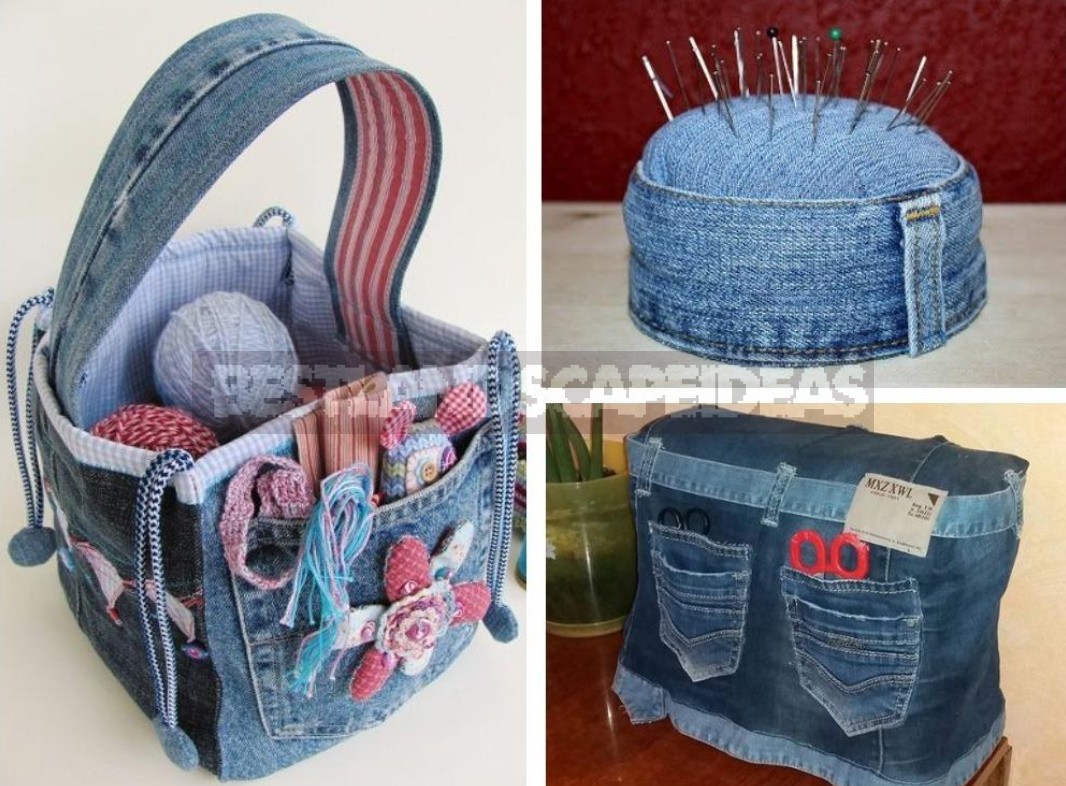 A well-organized workplace makes work easy and comfortable, and cute accessories improve your mood, don't you agree?
10. Phone case
Continuing the theme of cases, you can not ignore phones, smartphones and tablets. Now most of us can't imagine our life without these gadgets, and a convenient case for each of them is an absolutely necessary thing.
Of course, you can buy ready-made. And you can sew a suitable one with your own hands. Old jeans, Yes. In my opinion, this topic deserves attention.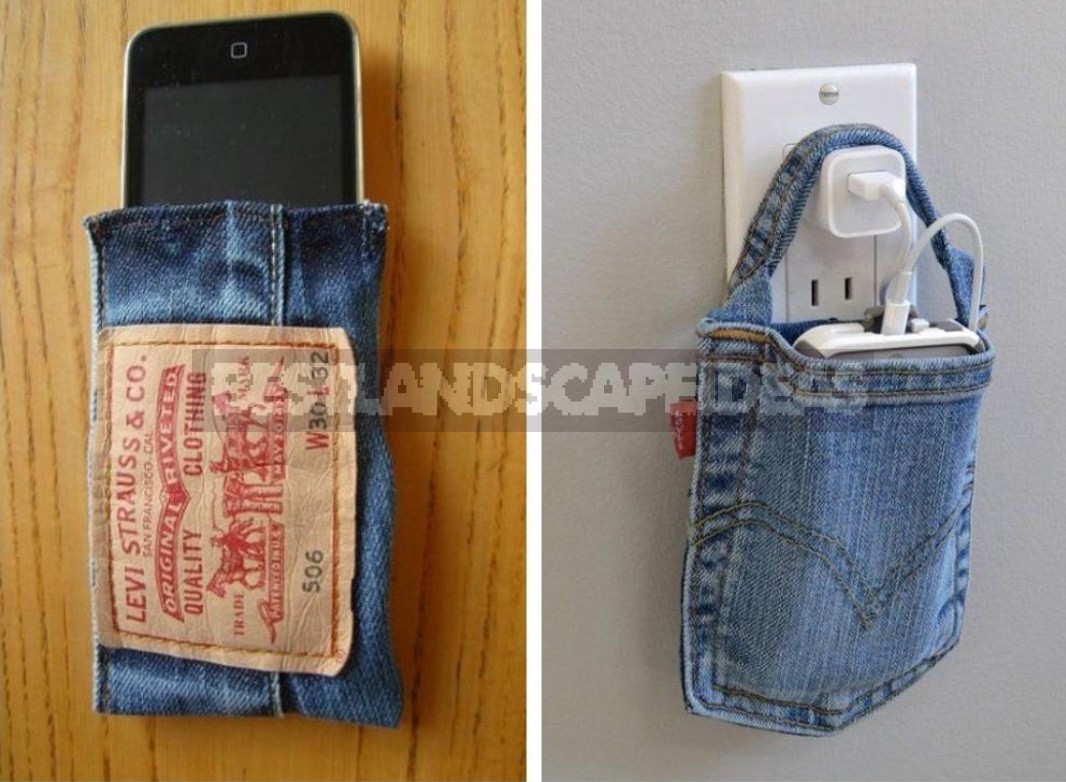 The idea in the photo on the right won me over. I think everyone has faced this situation: a short charger wire — and no furniture near the only available outlet. The pocket from old jeans helps to solve the problem easily and elegantly.