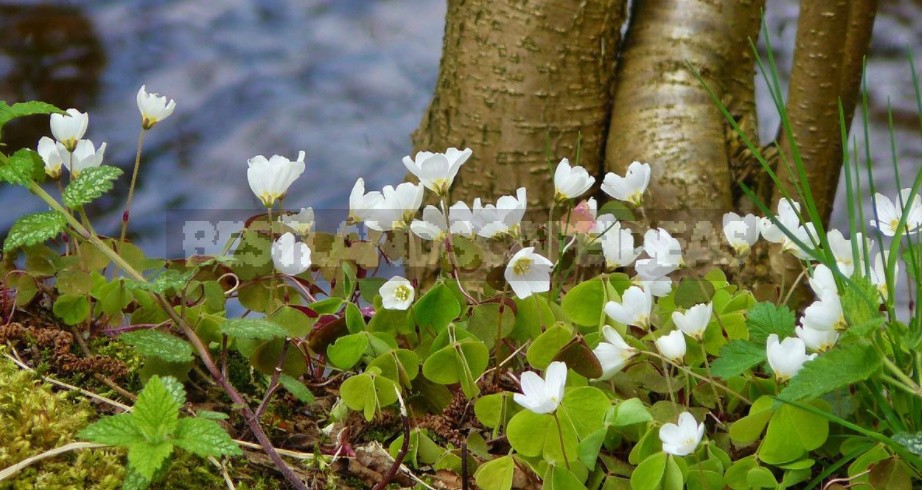 Lathyrus vernus
But, of course, not all forest flowers care about the convenience of the gardener. Lathyrus vernus, for example, stands with leaves until autumn (however, its leaves are quite decorative). But it also blooms early in spring, a little later than Anemone and Corydalis.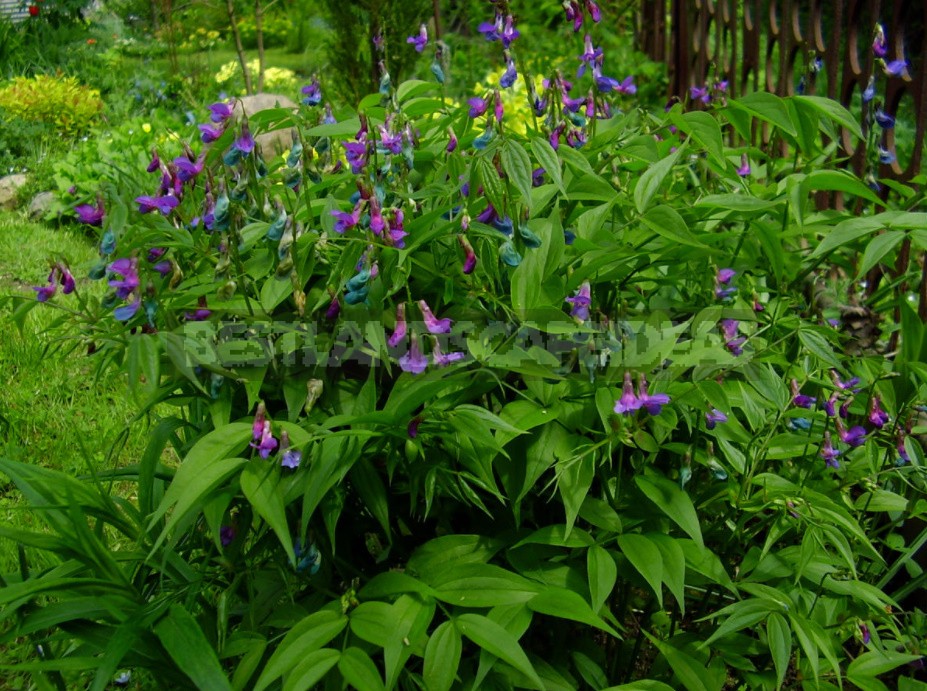 A young plant produces 1-2 shoots with a small number of flowers, but in good conditions it eventually grows into a large bush with dozens of shoots that form a pink-purple cap in spring.
Lathyrus flowers change color as they bloom and age: at first they are pink-purple, then gradually turn blue. This is due to a change in the acidity of the cell juice in the petals. Like all legumes, Lathyrus not only decorates the garden, but also enriches the soil with nitrogen.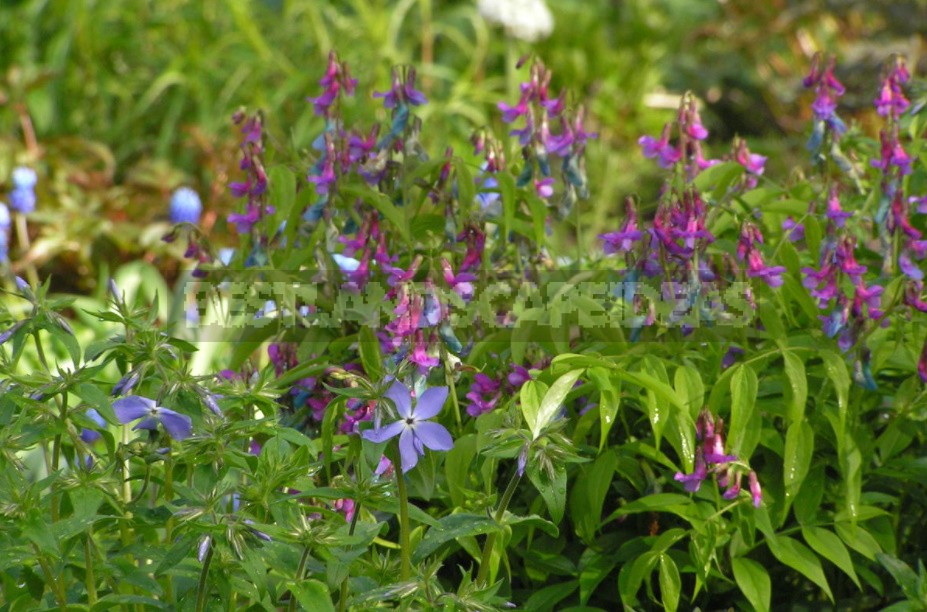 It is quite intensively propagated by seeds, some friends jokingly "complained" to me that Lathyrus has become a form of "weed"in their garden. Oh, if only all the weeds bloomed so beautifully and fertilized the soil! However, there is nothing to worry about: Lathyrus grown in an undesirable place is easy to remove (it is better to transplant it into the forest). By the way, on carbonate soils, Lathyrus can grow in a spruce forest, although, of course, it is better in an oak grove.
Pulmonaria obscura
Another inhabitant of oak forests, which also penetrates into coniferous forests (especially light pine forests), is Pulmonaria obscura from the Boraginaceae family, a relative of Myosotis. Its flowers also change color from pink at the beginning to blue at the end.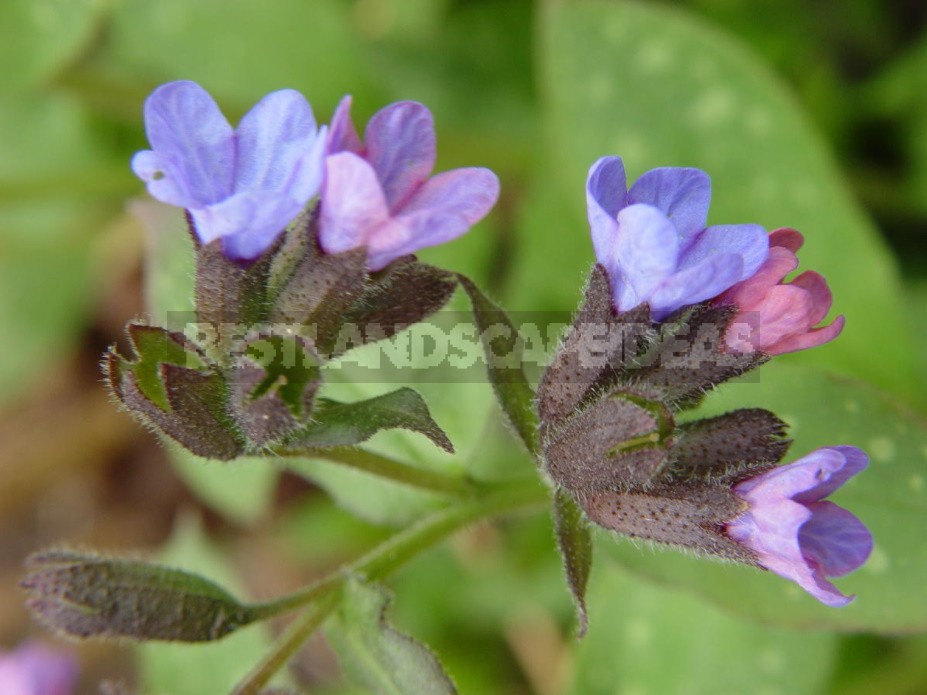 In the forest, in a competitive environment, this flower looks quite modest, but it only causes more admiration and awe before the fragile beauty of a low grass with soft, fragile stems. But in the garden, with minimal weeding (it is enough to pull off the leaves of Aegopódium a couple of times during spring and summer), Pulmonaria grows into a powerful bush, in late April — early May, attracting attention from afar with a bright bluish-purple colorful spot.
Pulmonaria is not very durable, but it reproduces intensively by seeds, spreading through the garden. Young plants already begin to bloom in the second or third year. In summer, the honeydew does not fall into rest: instead of small, about 3 cm long, leaves covering the peduncles, it has large "burdocks" up to 15 cm or more long, forming a basal rosette. But the intensity of respiration and photosynthesis of these large leaves is very low, the plant is actually in a "half-sleep", so it does not need much light.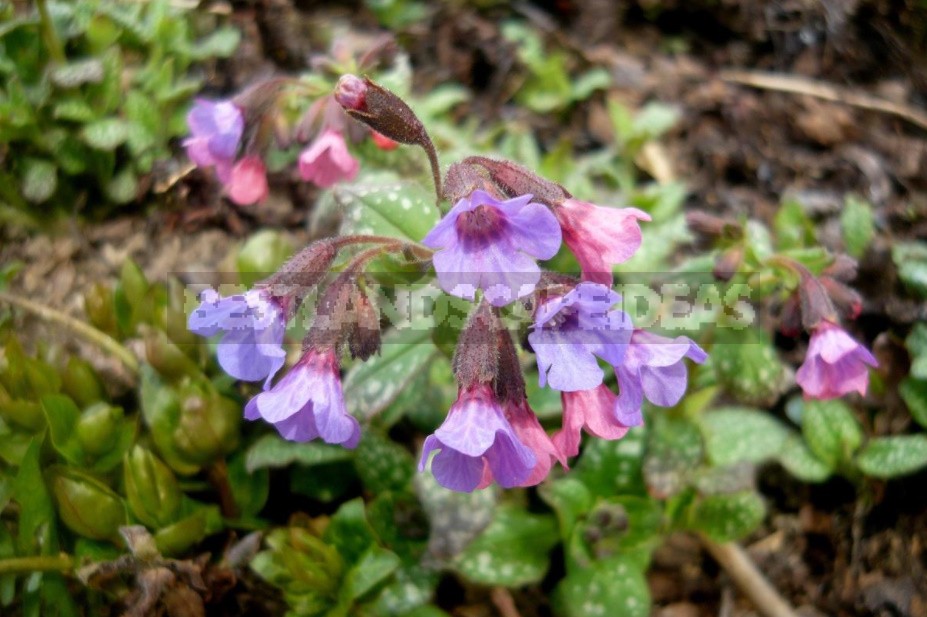 It does not need a lot of water and mineral salts in this state, so do not be afraid that Pulmonaria will make some serious competition for summer plants. It can be planted under apple trees and plums, around park roses and rose hips that do not need shelter for the winter, among late-blooming perennials that tolerate the neighborhood of other species.
But the natural place of Pulmonaria is under the canopy of broad-leaved trees and shrubs: if there is an oak, maple, ash on the site, she goes there. However, the apple tree is also a broad-leaved tree, quite characteristic of forest clearings and edges, so all non-moral grasses can be planted under apple trees.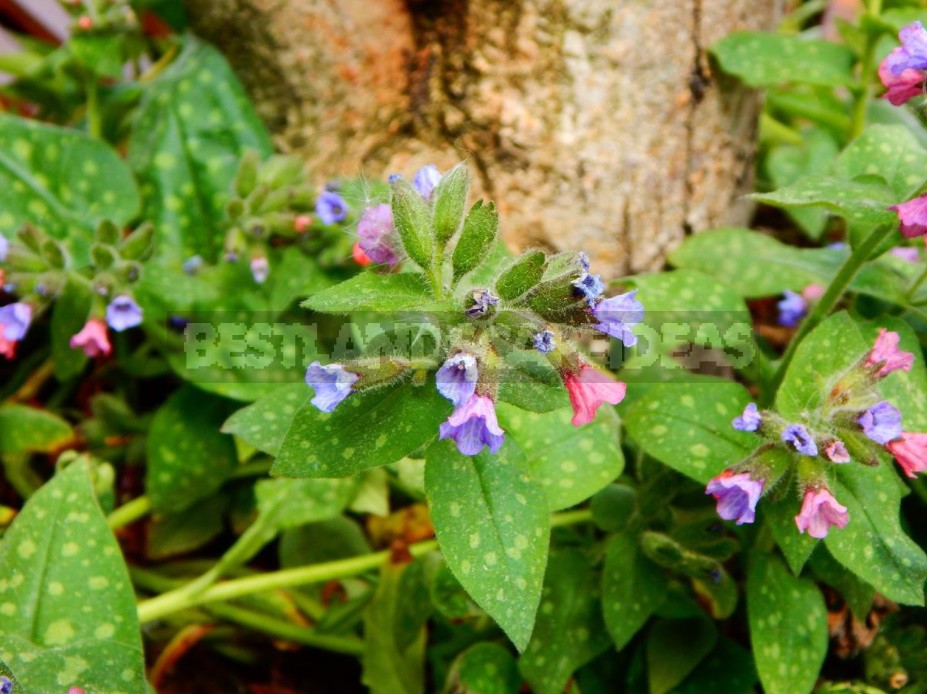 If you have a pine tree, try to plant Pulmonaria under it (but it's better not immediately, but when you already have a lot of specimens) – it might work out.
Ásarum europaéum
Another plant that also "sleeps" in the summer, sharply reducing the intensity of metabolism, is Ásarum europaéum. It can also grow under fir trees, if there is calcium in the soil. Its flowers are inconspicuous and inconspicuous, but the dark green leaves that persist throughout the year are very pleasing to the eye in early spring, when black mud, withered grass, crooked supports of long-faded flowers and rotten apples, forgotten in autumn, come out from under the snow that has had time to get bored.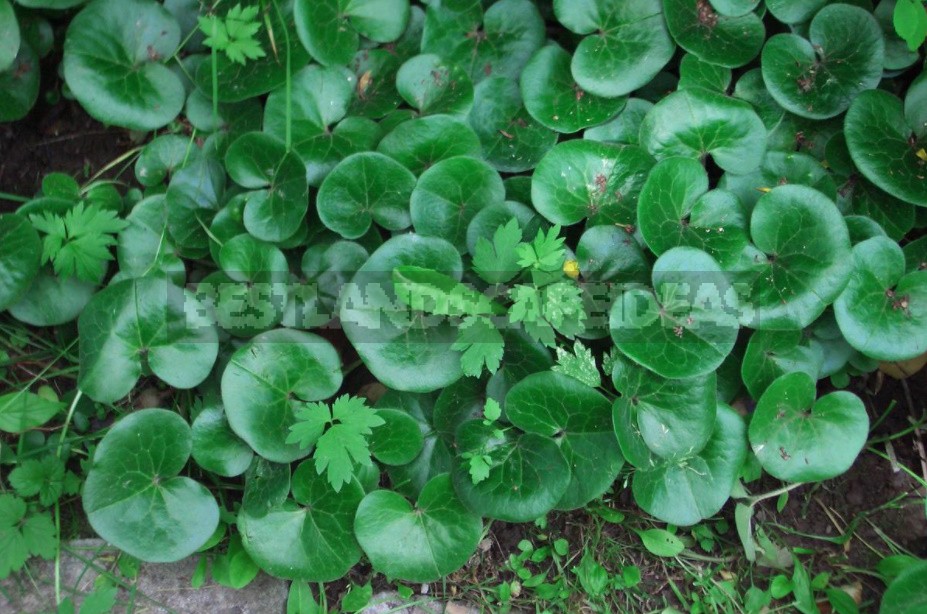 In sunny places, primrose shoots are already making their way, but behind the barn, under the bushes of hydrangeas and Aruncus, which give thick shade in summer, everything is bare and uncomfortable. But all these places, hidden in the summer by lush foliage, can be "greened" in the spring — and it is the hoof. In summer, by reducing the intensity of breathing to a minimum, it can withstand the thickest shade — its main photosynthesis, like that of ephemeroids, takes place in spring, before the foliage on the trees has bloomed and the grasses have not grown, and in autumn, when the foliage falls and the grasses wither.
In the summer, neither you nor the plants under which it grows will notice it — it will never compete with anyone. Rather, on the contrary, being a groundcover plant, the hoof will restrain the germination of weeds in the spring. The only thing he can't stand (as, indeed, other forest grasses with tender shoots),— a rake, which some gardeners use to rake fallen leaves in autumn.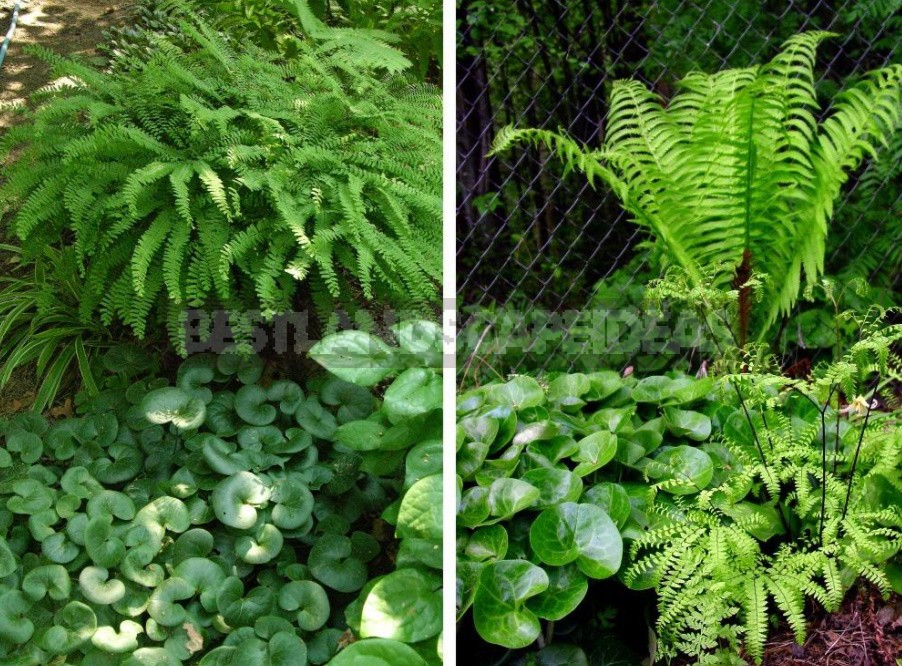 If you still consider this procedure necessary, allocate small areas to hoof and other forest grasses, from which you collect leaves with your hands, without damaging fragile plants. One of the possible places is in the center of the trunk circle of the fruit tree, near the trunk itself. There are no longer any nourishing roots of the tree, so there is no need to loosen and fertilize the soil here — it's time for utilitarianism to give a little space to aesthetics.
Anemone hepatica
For inconvenient places where it is difficult for garden flowers to grow, and which look bare and unsightly in spring, we can also recommend Anemone hepatica. The first name is due to the fact that its three-lobed leaves resemble a liver consisting of three lobes. Healers believed that the shape of the leaves "suggests" which organ should be treated with this plant.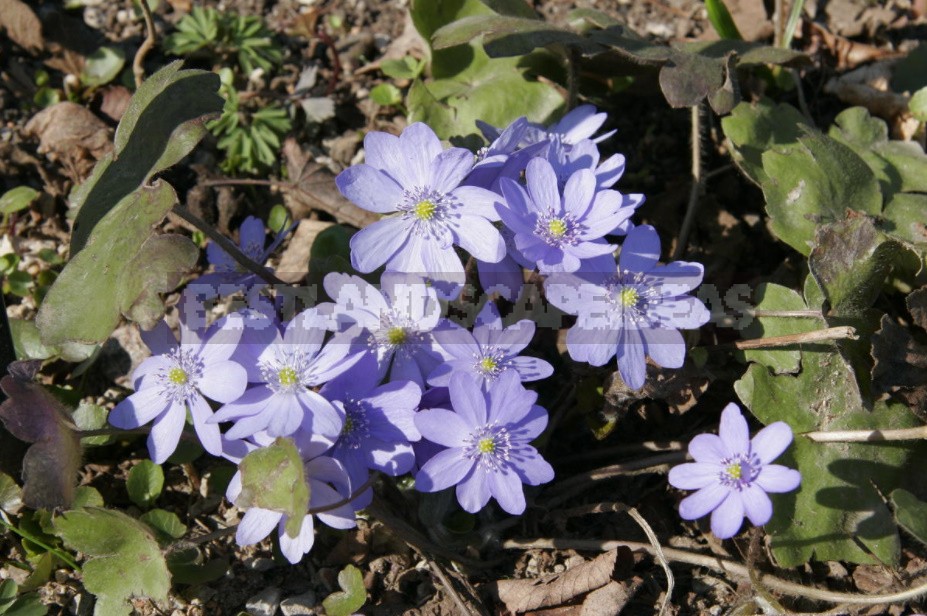 In my experience, it can grow well not only under broad-leaved and coniferous trees, but also under lilac, the neighborhood with which not all plants can withstand. However, Hepatica, so named for nothing, because it clearly deserves to be planted in the most ceremonial areas of the garden: its piercing blue petals are like the purest sky in miniature. The similarity is enhanced by the sunny yellow stamens, shining against the blue background.
I, in principle, am not against cutting flowers, if they are not rare, for bouquets, but to pluck even one Hepatica flower would seem to me a sacrilege: it would be like splitting off and furtively hiding a piece of blue sky in the bosom, leaving people the blackness of dead space. Alas, not all of our compatriots are so scrupulous, and in recent decades Hepatica has become a rare species almost everywhere, including because of the collection for bouquets.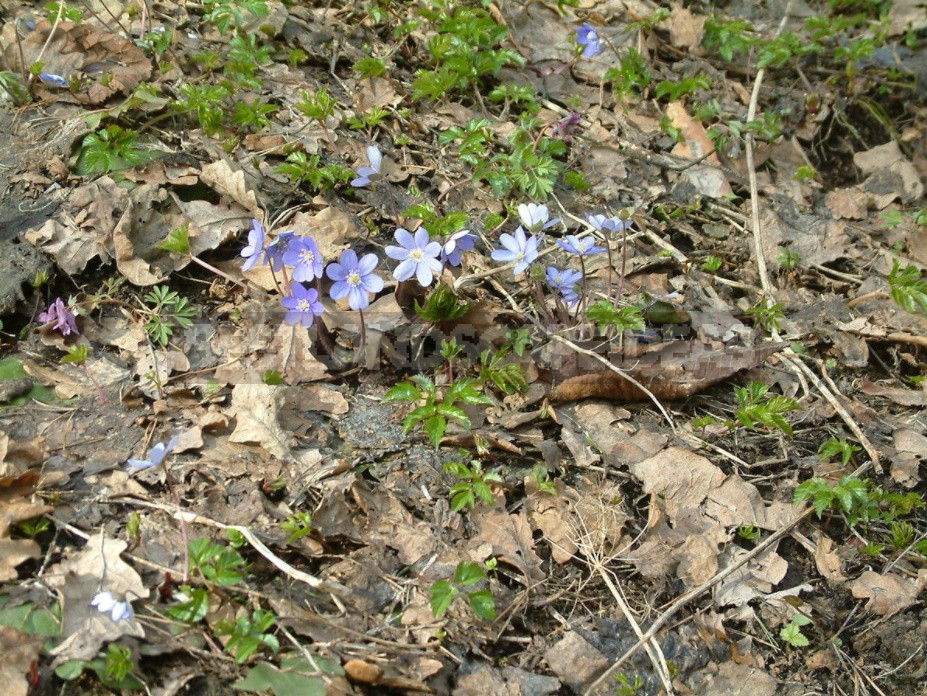 Therefore, it (unlike Anemone ranunculoides, which is still common in places even in Moscow parks) can not be removed from nature categorically! Just collect the seeds. It reproduces quite well in the garden and quickly goes to flowering. By the way, if you want to drop her off in the forest, find a more secluded corner: she will not last long at a crowded path.
Ficaria verna
But the "colleague" of Hepatica and Anemone in the buttercup family — Ficaria verna — not only does not suffer from the neighborhood with a person, but even with moderate trampling increases the number (you can plant it near the track). This is, in general, a kind of forest "weed" that fills "holes" in the vegetation cover.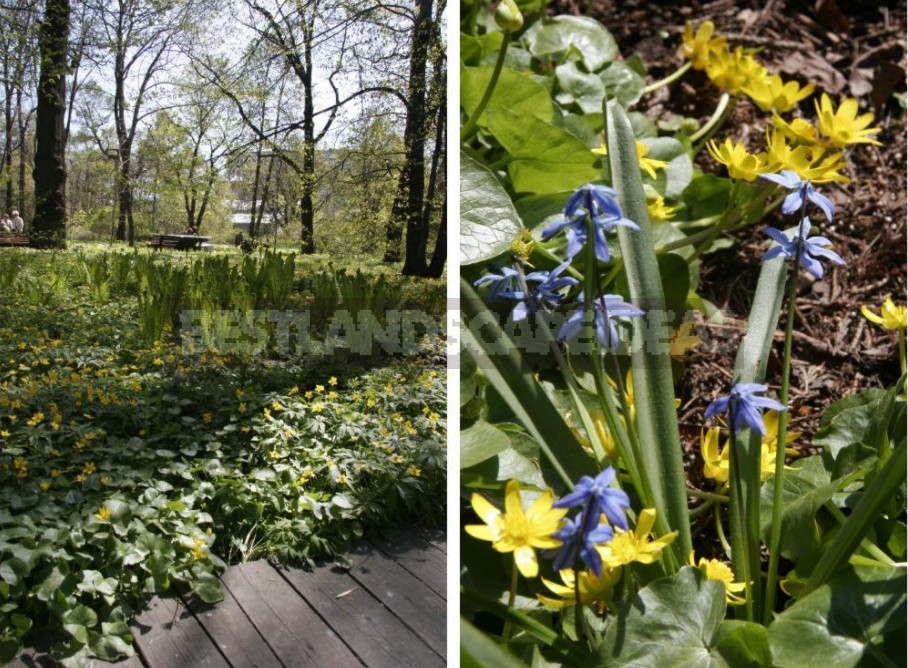 Although a weed, but a beautiful plant. No matter how banal its yellow flowers are, any bright colors delight the eye in spring. Ficaria, as already mentioned, is an ephemeroid; at the beginning of summer, its leaves turn yellow, dry up, and no traces of the exuberant spring splendor remain on the surface. Yellowing leaves look rather untidy, so it is better to intersperse Ficaria with other plants or plant it under fast — growing perennial grasses or shrubs-so as not to catch the eye.
Caltha palustris
Another plant from the same family will allow you to decorate both an elegantly decorated swimming pool, and one of the unsympathetic places in the garden — a washbasin. This is Caltha palustris. In nature, it grows along the banks of streams, on wet flooded meadows, in black sandstones. It can grow both in the sun and in the shade, as long as the soil is sufficiently moistened.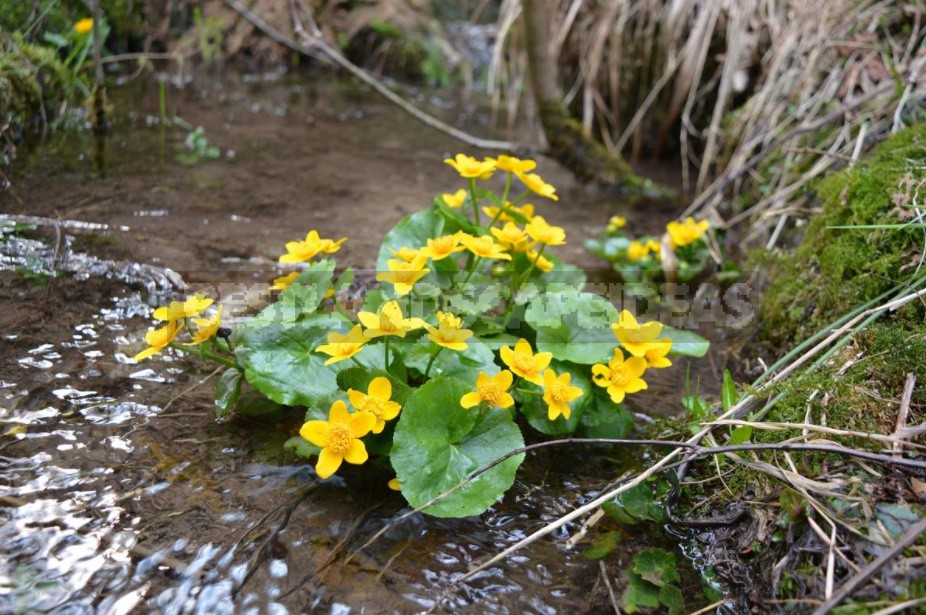 At the sink, where water is constantly pouring, it may be the only plant suitable for this specific place— you can't plant roses with lilies here. If you leave for a week or two and stop using the water supply — it's okay, in the nature of Caltha, you also sometimes have to go through a drought.
In spring, bright yellow, like lacquered, large flowers collected in lush inflorescences will please the eye, and in summer, large juicy leaves will well cover a piece of "waste" land. The leaves of the Cáltha are quite strong, they can withstand the fall of a watering hose or a waterfall of soapy water splashed out of a basin — it seems to be specially created for decorating a country water supply system.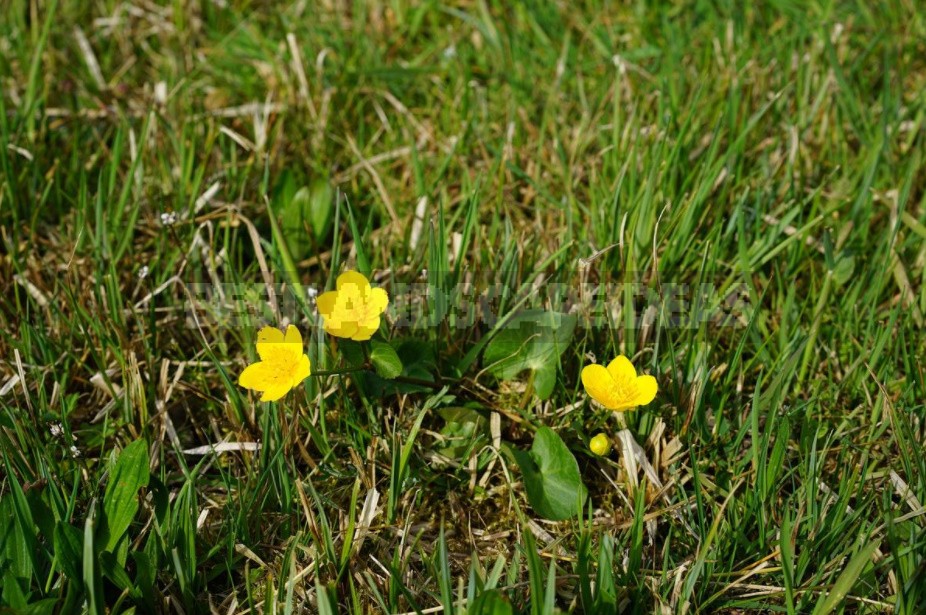 This plant is not very numerous in nature-attachment to a narrow set of habitats affects, so it is better not to dig up wild Caltha (besides, their roots diverge very widely, and you will willy-nilly break them off), but to collect seeds.
And do not forget, tying the bags on the flower stalks, to say thank you: to the gentle Corydalis and the perky Gagea, the powerful Cáltha and the low Hepática and the gloomy Asarum — to all who so selflessly bring us joy in the spring, asking almost nothing in return, except for the opportunity to please us further.