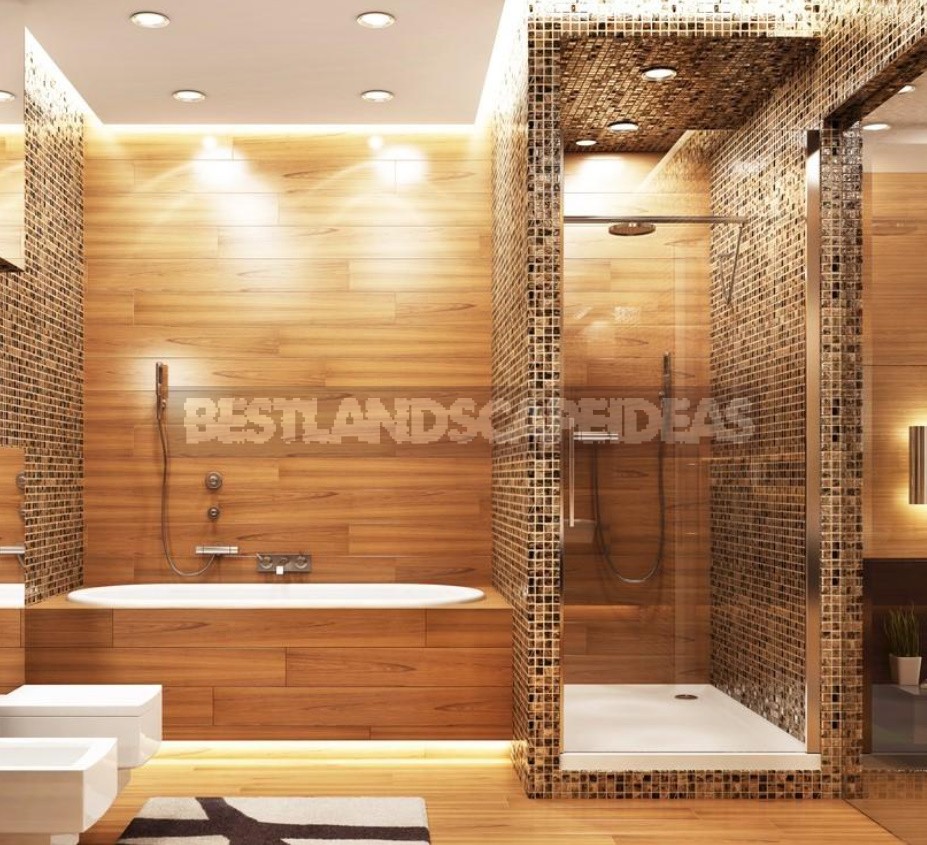 There are not so few options for making a shower cabin. The most interesting ones are those that can be done quickly and without too much effort. At the same time, you can have a shower with a low or high tray — either option can be installed independently.
Shower room with frame partition
A free corner in the bathroom is the best place for a shower: two walls are already available, it only remains to put a third-and the cabin is ready.The first thing that comes to mind is a light partition on a frame made of metal profiles under the skin with water-resistant drywall. And as a finish, it is best to use ceramic tiles or mosaics. This design will perfectly fit into the style of the room.
To complete the shower cabin, you only need a door that can be precisely adjusted to the walls. It is desirable that it is completely made of safe (unbreakable) glass — frosted or transparent. The dimensions should be determined in advance and as accurately as possible: the mistake made when cutting thick glass is almost impossible to correct later.
The width of the future door should be measured in several places located at different levels and do not forget about the tiles protruding on the walls. You will have to order the glass of the required dimensions in a specialized company.


1. Two-piece door hinges are attached to the glass door in pre-prepared places. To do this, use special screws. 2. The door is placed in a niche and its position is precisely verified. Having outlined the points of attachment of the hinges, drill holes and fasten the hinges on screws with dowels. 3. The inner and outer handles are fixed on the stud
Shower cabin made of ready-made elements
Installing the pallet
If you don't want to mess with the frame wall, you can build a cabin from a set of ready-made parts, which includes a glass partition and a glass sliding door. But first you need to mount the base for the pallet. You can do this with foam blocks or bricks. Previously, the floor in the bathroom, in the place where the podium is planned, is leveled with a screed.
After the base is assembled, a plastic or metal bowl is installed on top, to the drain hole of which a sewer pipe is connected.


1. The size of the base must exactly match the size of the pallet. 2. In order for the pallet to sit flat on the base, you need to use the level. 3. The finished podium is finished with tiles
Installation of doors and partitions
Now it's time to put up a glass partition and hang the door.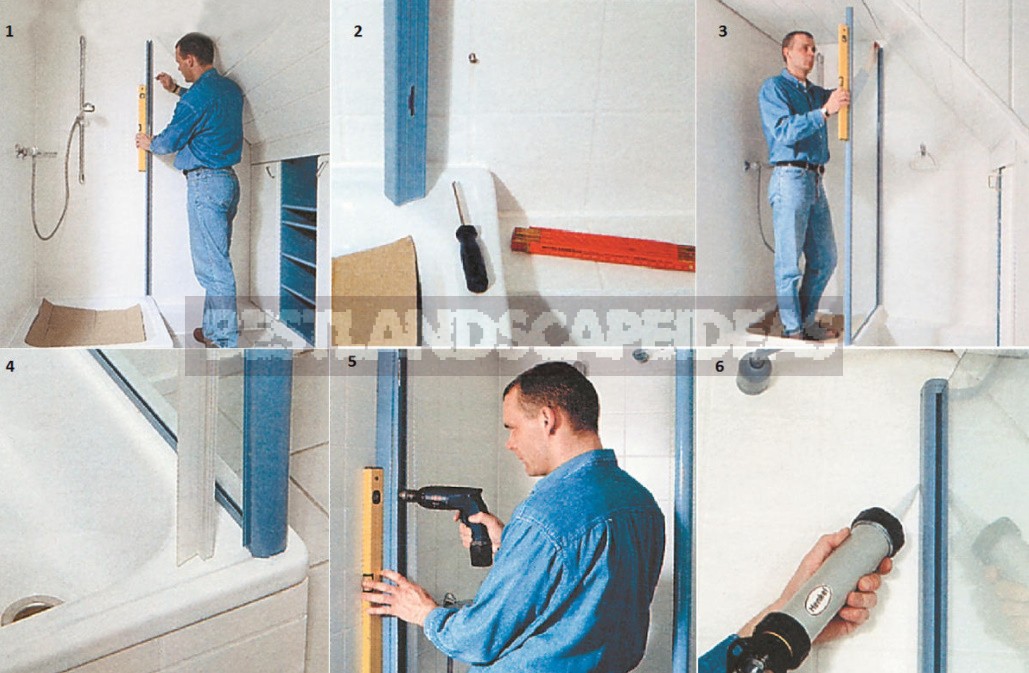 1. Installation begins with mounting the side wall profile to the wall. The pallet is covered with something-for example, cardboard. 2. The screws securing the profile are first only baited, then carefully check the position of the profile and attach it finally. 3. Put a corner rack on the side wall and put it vertically. The final rigidity of the structure will acquire only after the installation of the bracket. 4. The fasteners of the corner post, as previously the fasteners of the profile, are first baited. Then, in the place of the door narthex, a seal is attached. 5. The wall bar for hanging the door is placed vertically and fixed, observing the distance from the edge of the bath. 6. Fat-free seams are sealed with silicone sealant, smoothing it with a finger dipped in water