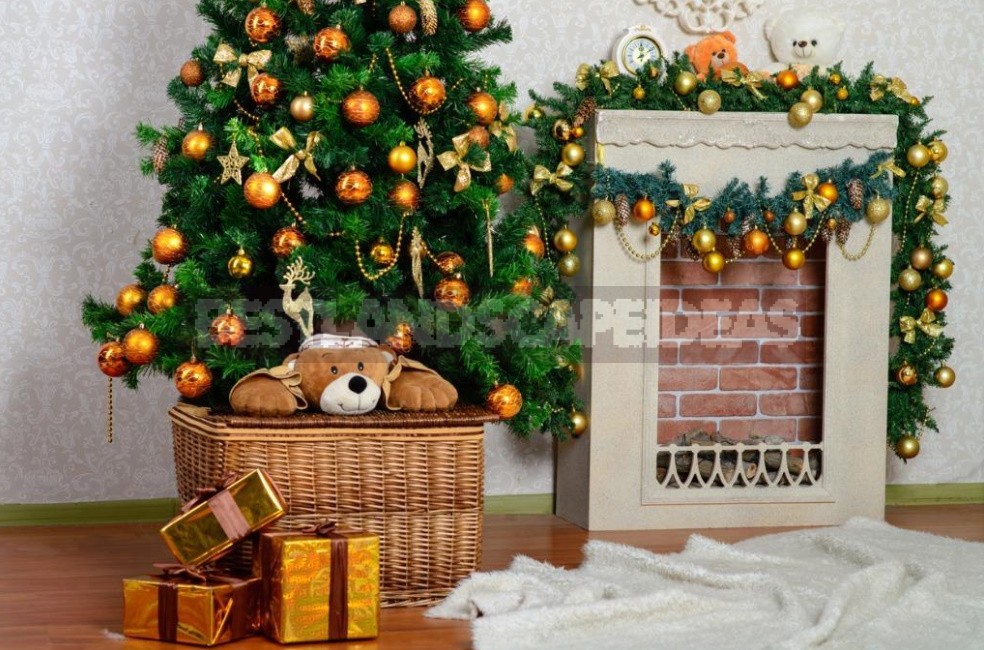 Fireplaces probably like everyone, but the arrangement of a real hearth is not easy, expensive and time-consuming. And often simply impossible-the area does not allow. But there are no hopeless situations: there is no real fireplace — put a decorative one!
Of course, the replacement is not equivalent, but the artificial hearth has many advantages over the real one! First, the possibility of fire and carbon monoxide poisoning is excluded. Secondly, there will be no soot and dust. Thirdly, a decorative fireplace will cost much cheaper, and if desired, almost free of charge, if you make it with your own hands! Do you think that nothing worthwhile will come of such an undertaking? Then look at this selection, perhaps your opinion will change.
What you can do
There are a lot of available materials: drywall, foam, plywood, chipboard, fiberboard, wooden slats. The list can be continued, but the main idea you have probably already understood: we use the remnants of materials after construction or repair, for sure there are such in every house! If none of the above was available, cardboard boxes will help out, so it will not be difficult to get them.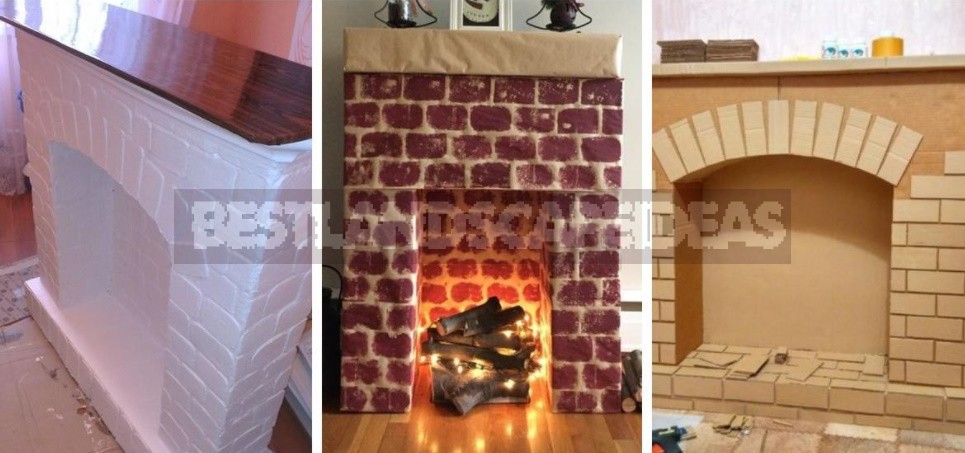 By tradition, we will not go into the subtleties of creation, we still have another goal-to look for a suitable model. Is it hard to believe that anything worthwhile can be made from these materials? Then here's a good example: the fireplace from the plywood. Superimposed curly elements and a stylish white color give it a respectable look.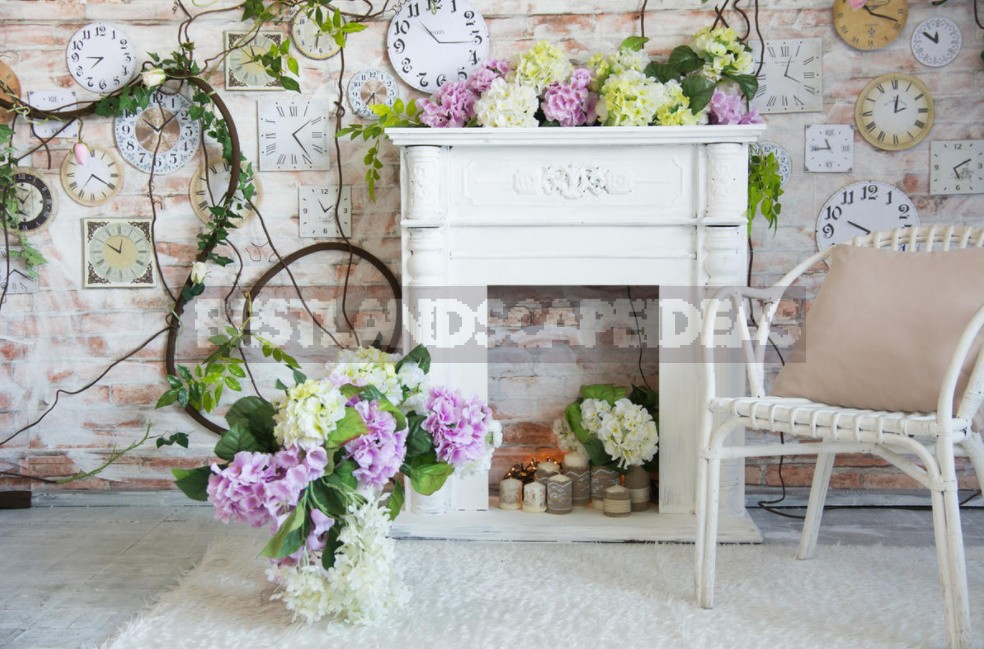 To be honest, until I started working on the selection, I had no idea about a decorative fireplace. No, I knew they existed, they were easy to make, and if you poked around in my husband's workshop, you could find enough materials for a dozen medium-sized fireplaces. But I definitely did not plan to make something like this. Exactly until then, until I began to look for the most interesting and cute models for the article. Just look at what beauty is obtained from the planks, which are more and there is no place to attach usefully!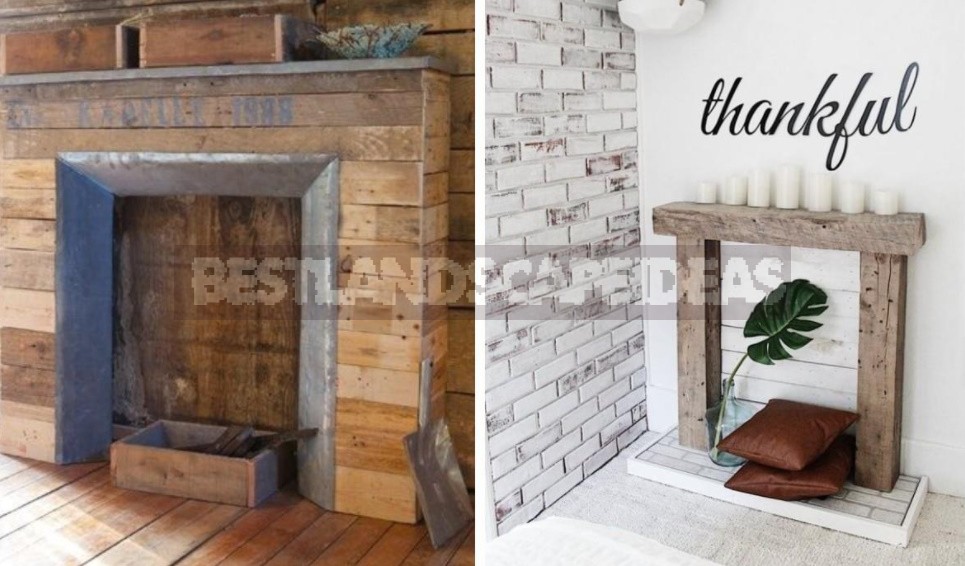 It only seems to me that the model on the left used a platband? Even so, the solution is amazing! I fell in love with these fireplaces at first sight! I do not have a decent platband in stock, but you can ask around from friends and neighbors, many consider them unnecessary junk and will be happy to free up some space in the shed.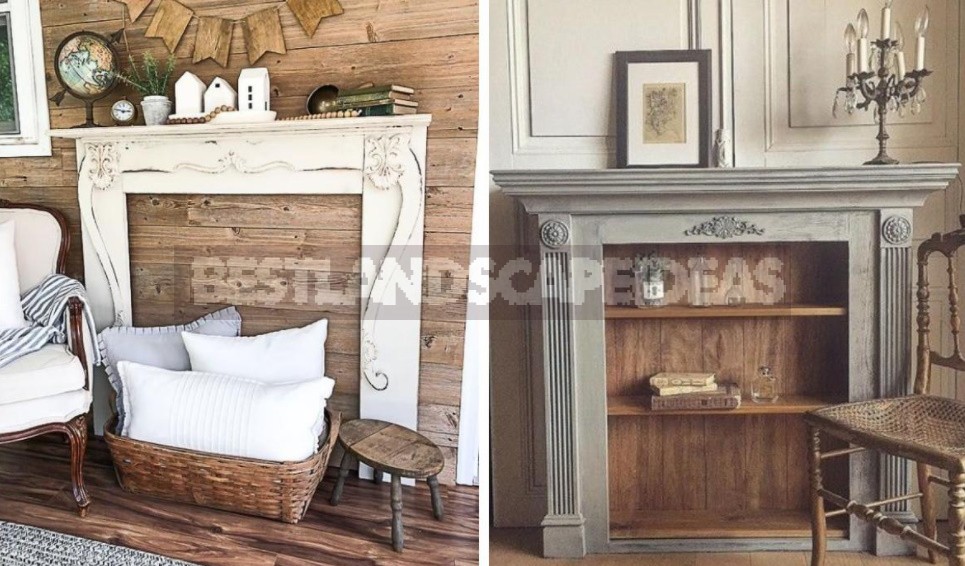 Finishing
Most of the options with imitation of stone or brick masonry. It is understandable: so the fireplace is still more like a real one.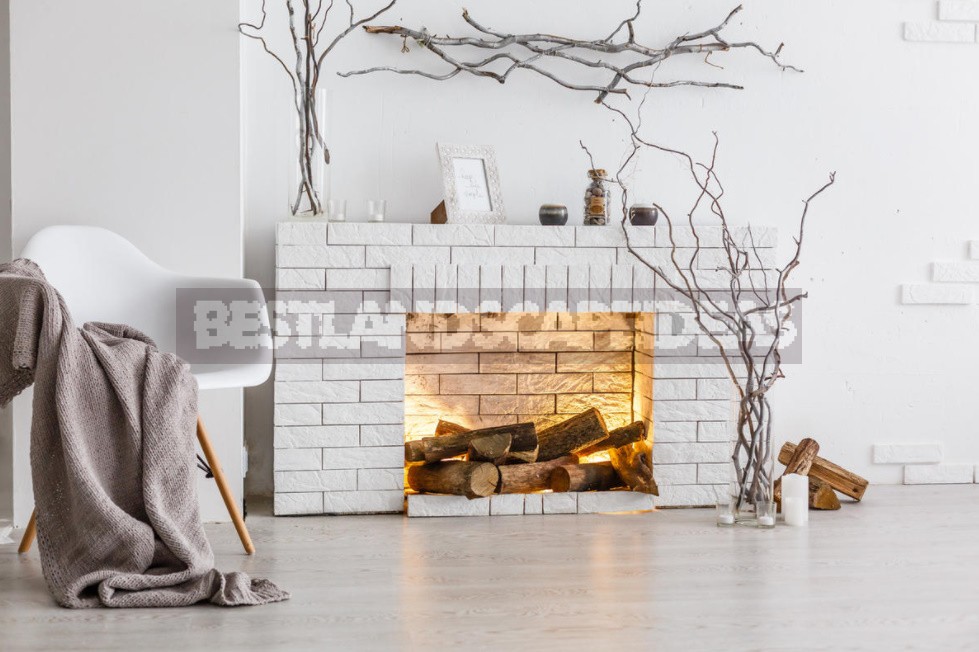 There are several ways to give the product a solid look: paste over the skeleton with stylized wallpaper, paint or make bricks from the same cardboard or thin foam. The result is quite nice fireplaces!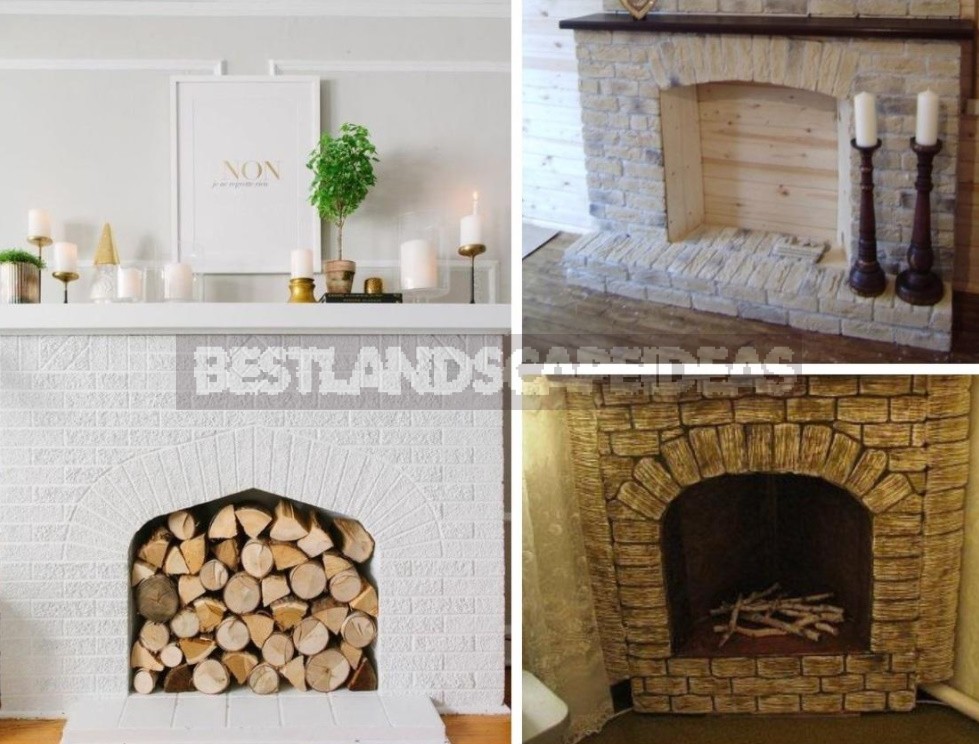 And in the furnace?
An empty hearth looks sad, you will agree, so it is advisable to fill it with something.
Wood
Put wood in the firebox, and the cardboard counterpart of the stone fireplace will look almost like a real one. For shallow hearths, you will have to make cuts, since firewood of the usual size will not fit in the furnace.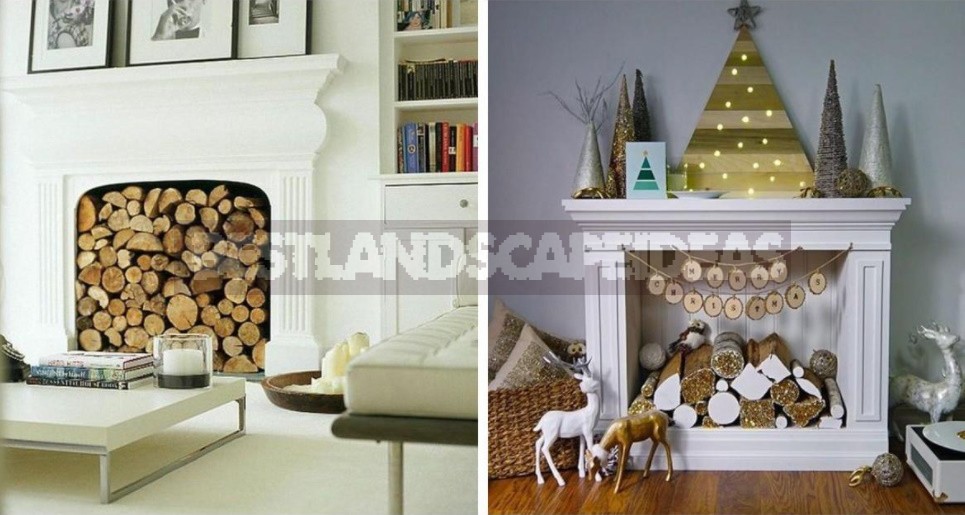 You can drill small holes in the logs and put candles in them. Well, or make it even easier-put a garland behind the bars. Although not very reliable, there will still be some semblance of fire. By the way, if you do not want to mess with the cuts, the logs can be laid not across, but along the furnace.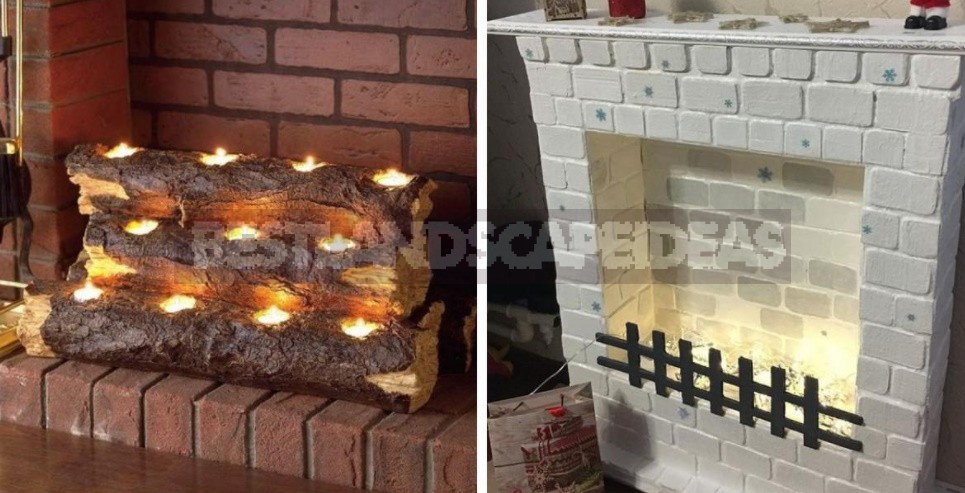 Even with minimal lighting, the fireplace looks much more cozy, lively, or something. So this is during the day, but can you imagine how much more spectacular the wood-garland composition looks in the evening?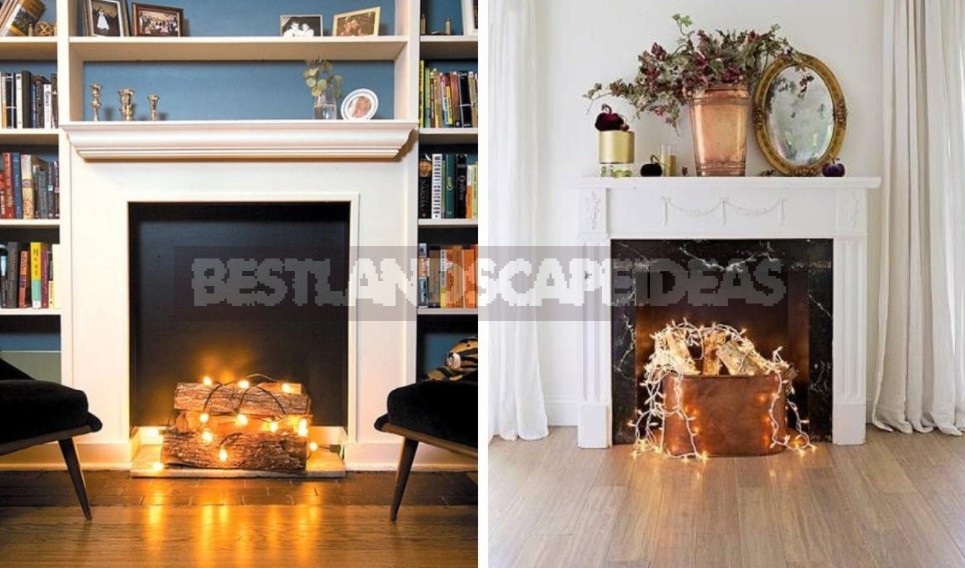 I think if you take a garland with red lights, the illusion of smouldering embers will be complete. Even better-try several color solutions of illumination, the benefit, now garlands in abundance and in stores and markets.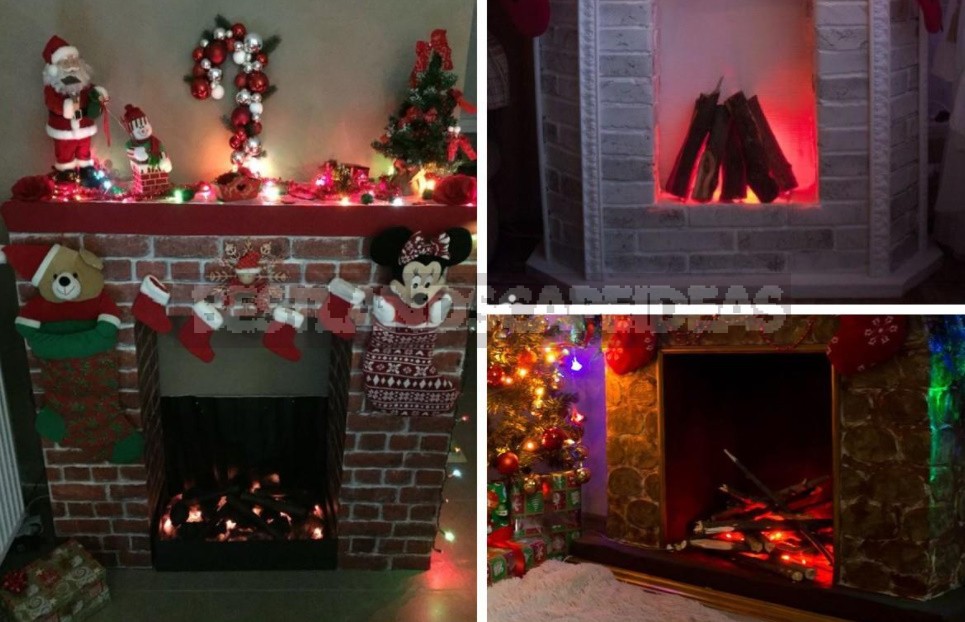 Candles
Fireplaces and candles are classics of comfort. Really successful duet, right? Candles can be selected in a tone or contrasting color, in any case, it will turn out well.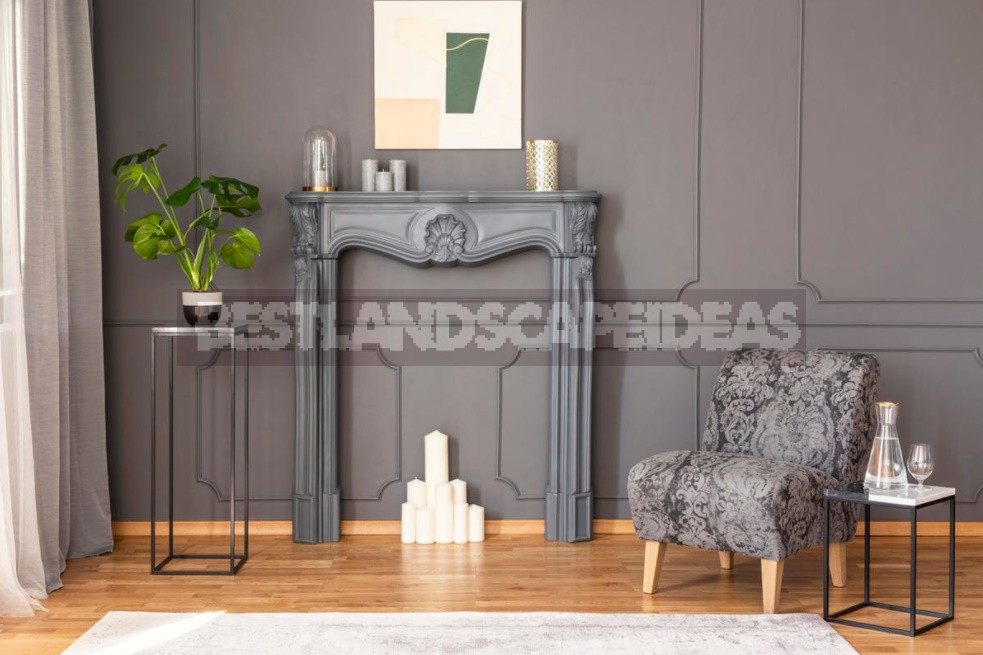 It seems to me that the composition of candles of different sizes looks more interesting, naturally. And do not forget about candlesticks: even simple ones can give a fireplace a special charm.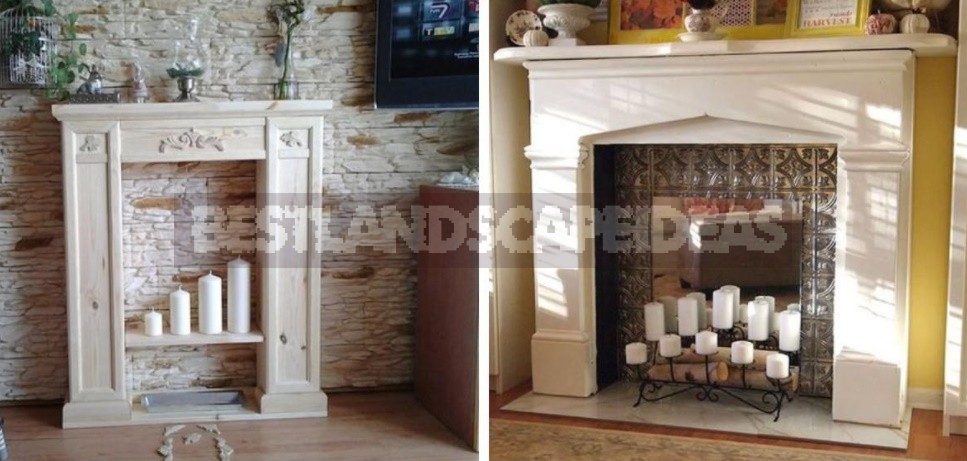 Since fireplaces are made of combustible materials, it is better not to take real candles with an open fire. Now a lot of decorative, battery-powered, here they will be in place. Otherwise, instead of enjoying a relaxing holiday, you will have to keep the fireplace in sight — you never know what!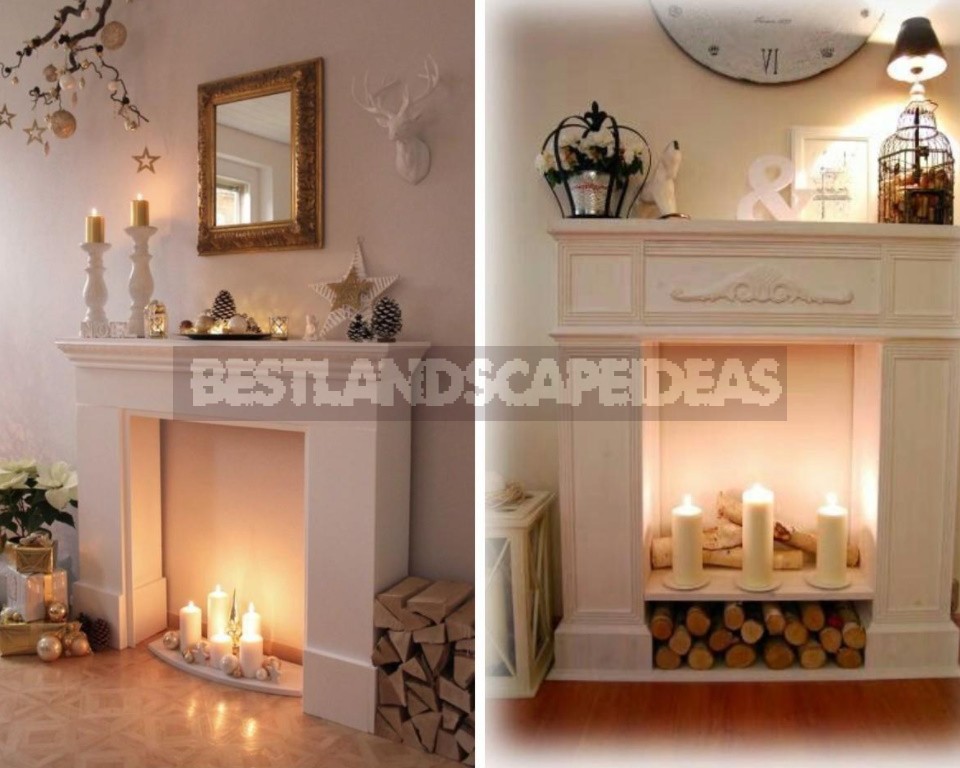 Bottles
The internal space of the hearth can be used more efficiently. For example, as a mini-bar. And what? Our fireplace, what we want, we put in the furnace!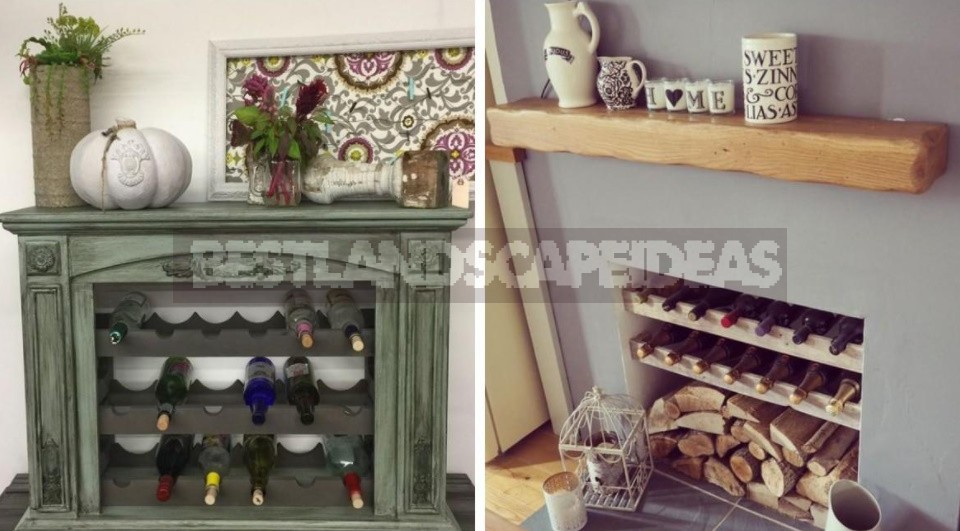 Indoor plants and decorative items
It will look cozy indoor plants or interior compositions. In my opinion, a win — win solution for the second option is decor and household items in a retro style. Kerosene lamps and lanterns, cages, boxes and other lovely things.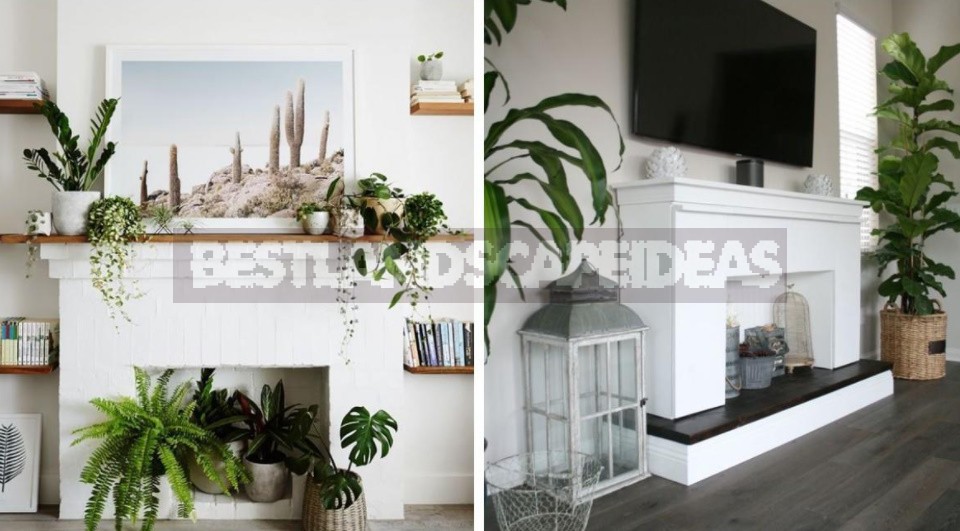 Books
And with the role of a small bookcase, a decorative fireplace will cope perfectly. Furniture will not be cheap, shelves do not look so impressive, and a fireplace made of cardboard or plywood is the perfect solution!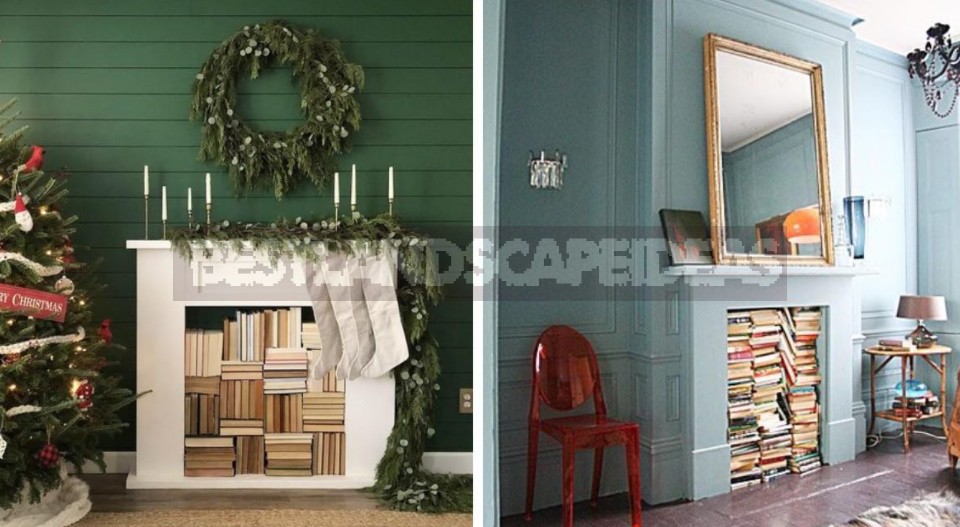 Mirror
And if you put a mirror in the furnace, the space of the room will visually increase. Not dramatically, of course, but at least something!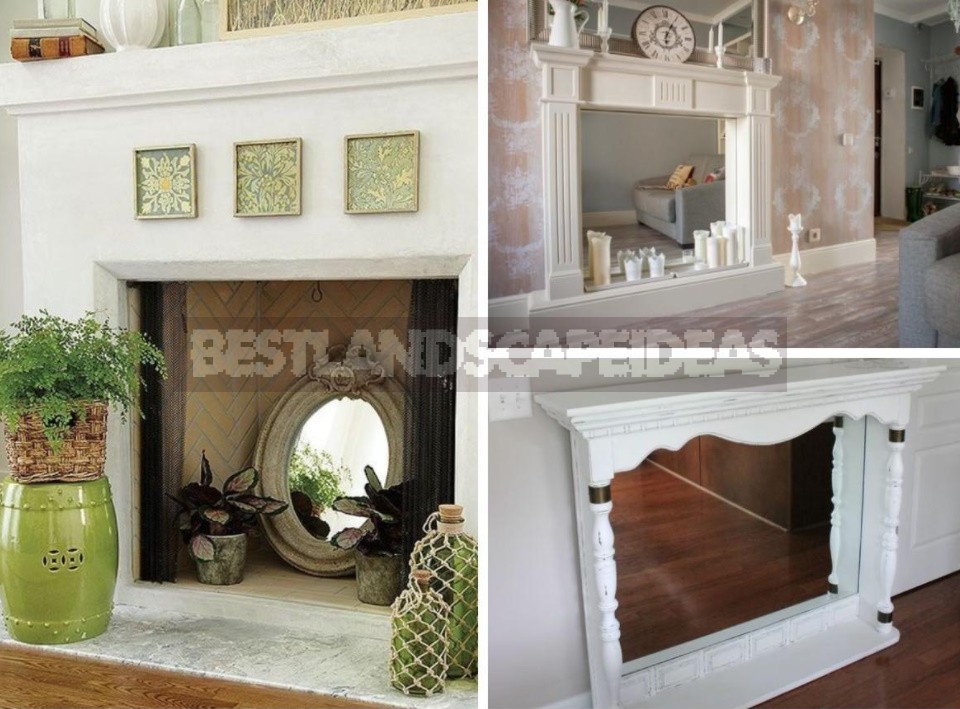 Pets do not embarrass us, even if the house, as they say, there is nowhere to turn around. We already automatically step over cats or dogs stretched out in the most inappropriate place. From boiling irritation and instant karma, they are reliably protected by our love for them. But the beds get! With enviable constancy, they are underfoot, but how-a mystery. But do not leave the fluffy pet to freeze on the bare floor? There is an elegant solution to the problem — hide the couch in the fireplace! And do not worry about your pets, they will surely like such a home-almost their own home!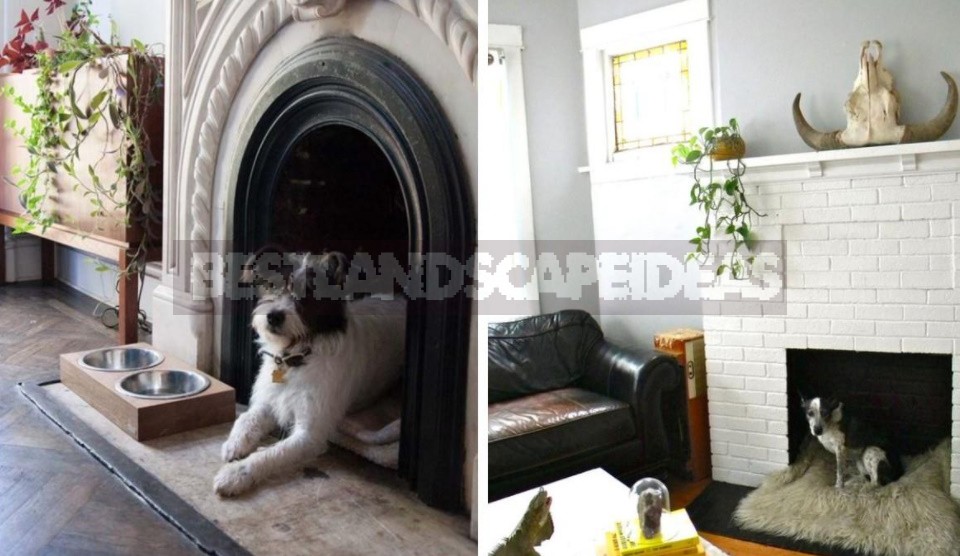 With shelves and drawers
There is not enough space in the house, and every shelf is worth its weight in gold? And the fireplace for what? Just look at how much storage space you can organize in it! In buildings made of cardboard, perhaps, this idea will not work, but in portals made of more durable materials (plywood, chipboard, fiberboard, etc.) no problem!
Corner
It also happens that you want to make a fireplace, but there is no free space in the room, no matter how you figure it out! And for such a situation, there is a way out: select a corner for it, usually there is a little free space left. Tell me, are these fireplaces out of place?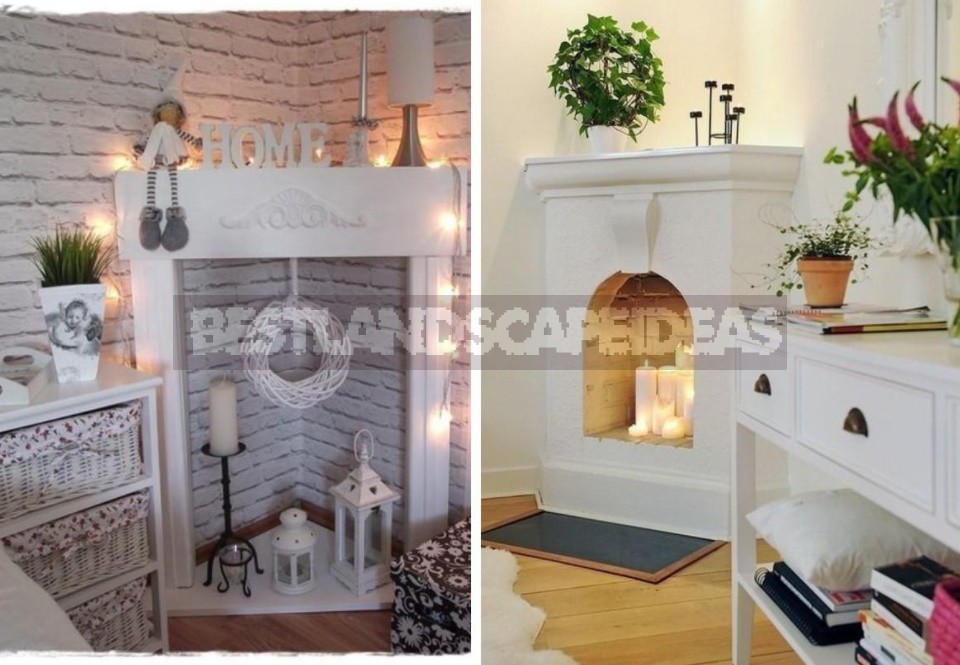 Mini
Or make a mini fireplace! There are even desktop options. Perhaps I will start with this: it will take less time to work, you will not have to move the furniture to put my product in the place of honor. And if the fireplace turns out to be so unsightly that it is only one road — to the landfill, it will not be so annoying.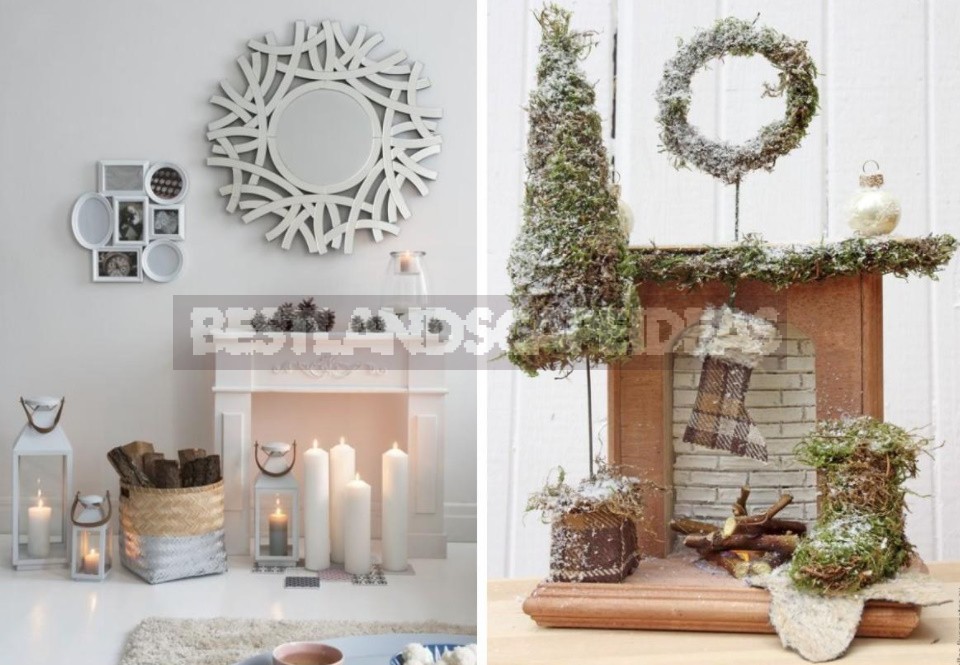 For the children's room
Decorative fireplaces are perfect for the nursery! The kids love cozy corners, so they will certainly be happy with a new big toy. And if you put painted wood in the furnace, the room will look bright and cheerful.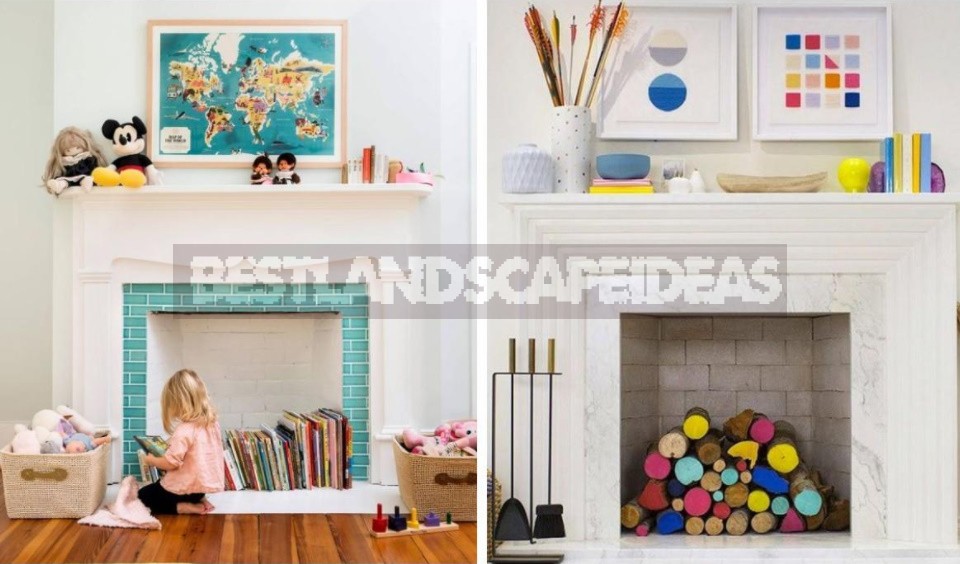 However, the children themselves will figure out how to use the internal space of the fireplace. The main thing is not to prevent them from filling it out at their discretion.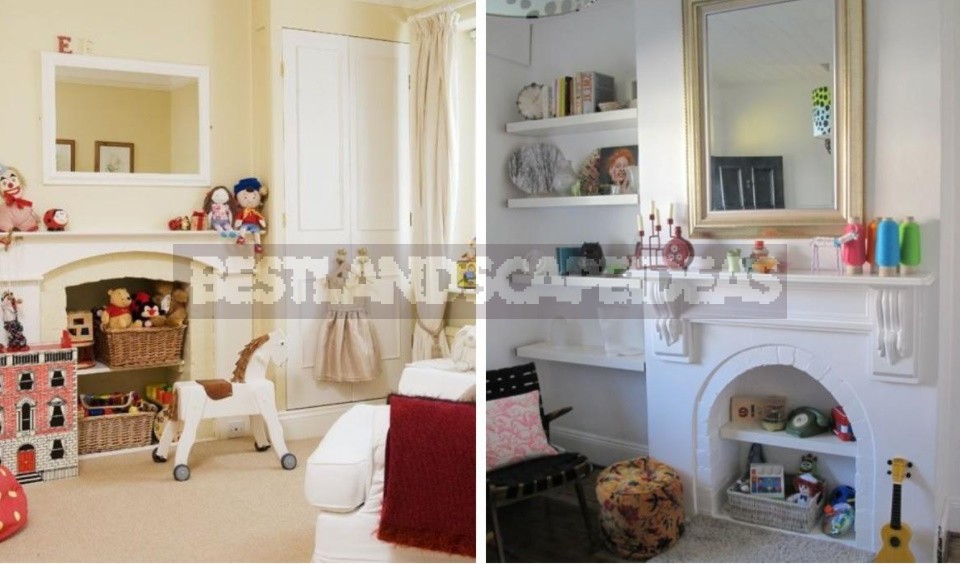 Christmas decor
Well, if you already have a fireplace, it's time to think about its festive decoration. In order not to prevent you from creating your own composition, I will limit myself to just a few beautiful photos.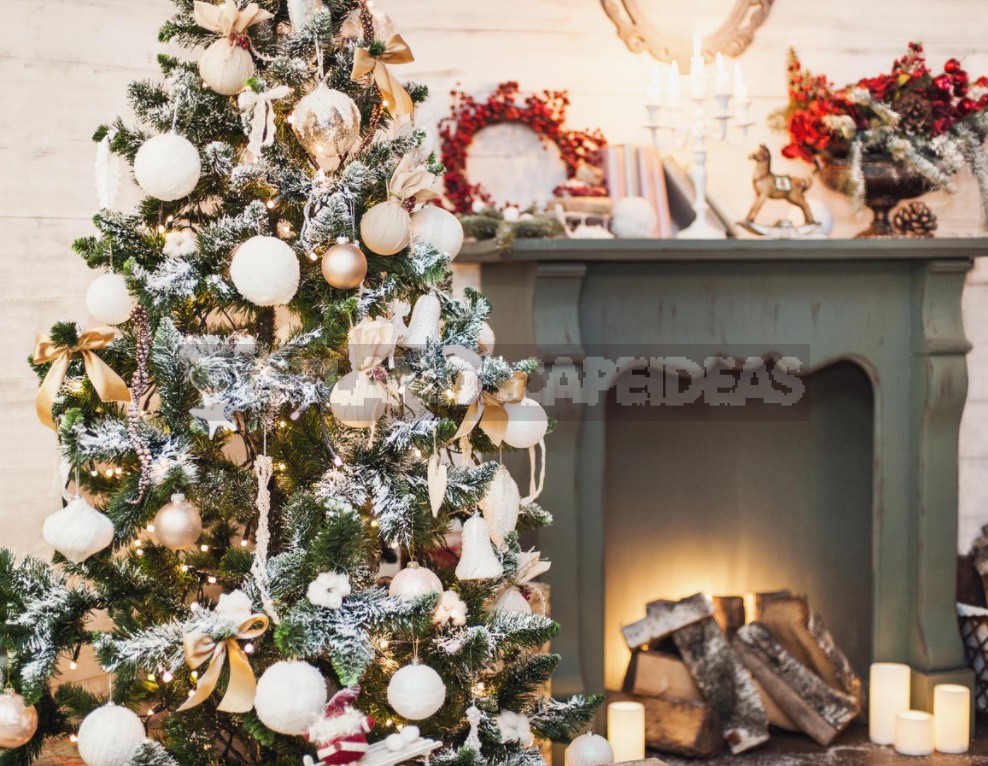 Sometimes you need just a little inspiration: it is worth seeing a successful combination of colors and New Year's attributes, and the imagination begins to work at full capacity.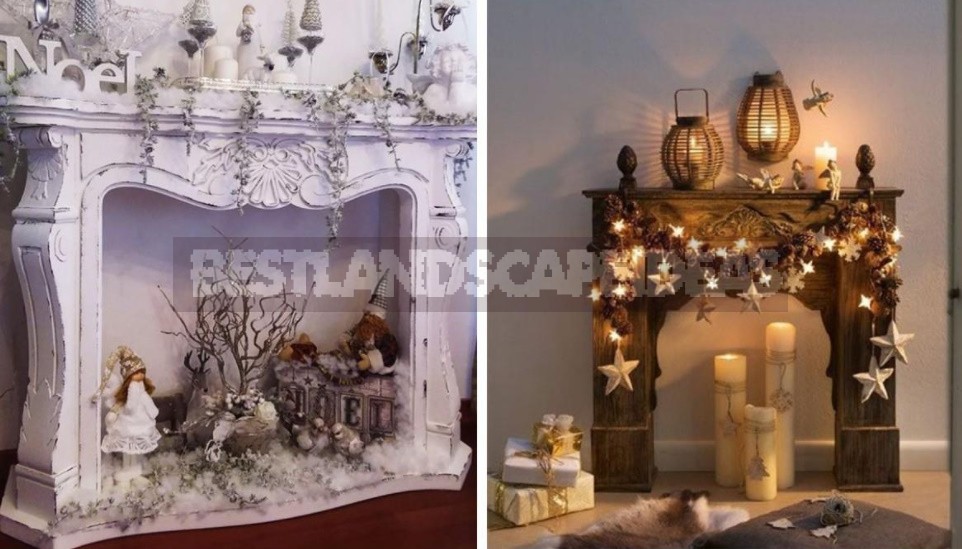 I prefer calm compositions, and the children are delighted with the abundance of color and illumination.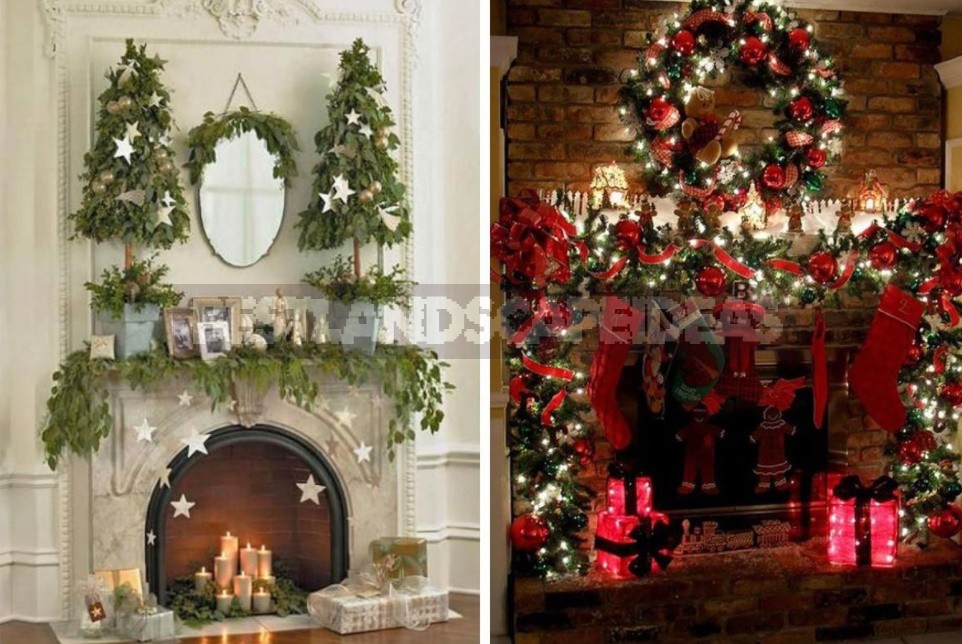 And everyone liked these. True, it will not be easy to repeat them exactly, but it is not necessary! The children have already checked their DIY boxes and brought me a lot of cones — there is a reserve, just a little bit left!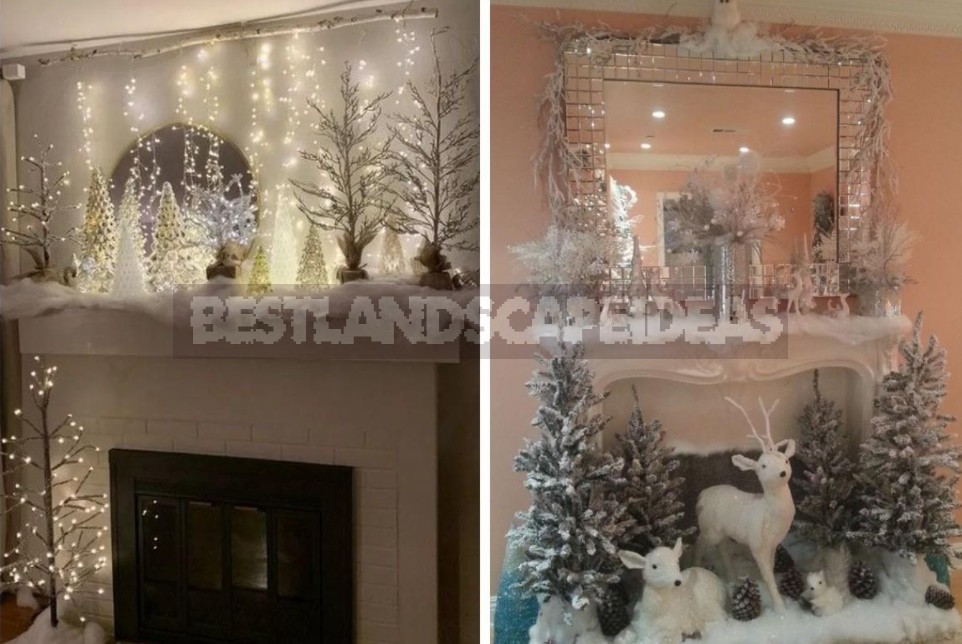 With this charming sparkling note, I will conclude our journey into the world of decorative fireplaces and I really hope that you were interested. It will be great if we work in parallel, encouraging each other and sharing interesting solutions that will definitely appear in the process. Well, who is ready to make the most beautiful fireplace in the world for their home? Setting a start date for work?