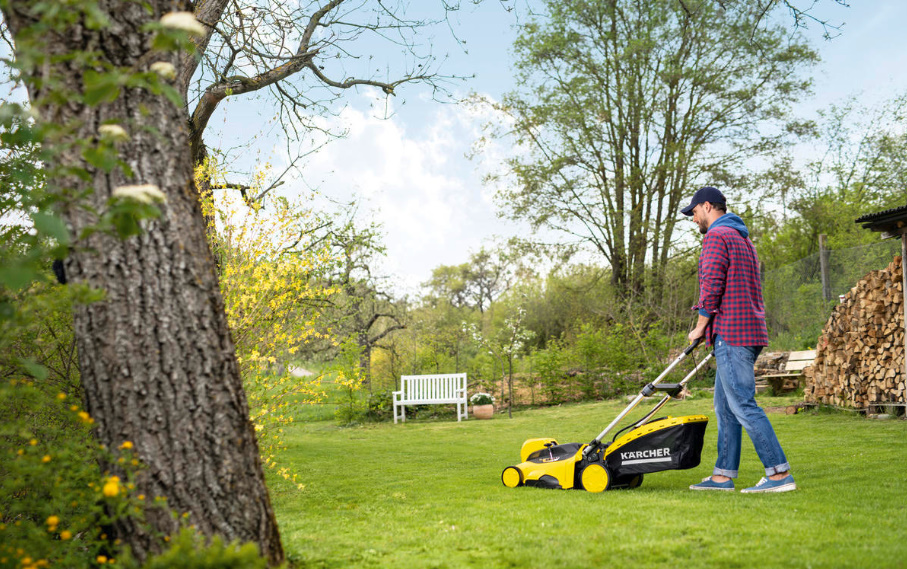 What bonuses will battery lawn equipment give
If, of course, you will use it correctly! First of all, we must understand that in the country we mow not only a flat area with green grass. There are hard-to-reach corners, and relief differences, and flowers that have grown beyond the flowerbed, large and small stones of Alpine slides, fences. A solid obstacle course! But the competent use of modern battery mowers and trimmers allows a lot.
1. Work without getting tired
What is important for the back of every summer resident? So that the trimmer handle is of the appropriate length and provides a comfortable grip. The trimmers Kärcher LTR 18-25 Battery and LTR 18-25 Battery Set have a comfortable ergonomic handle for gripping with both hands. The LTR 18-30 Battery and LTR 18-30 Battery Set models are equipped not only with a soft additional handle, but also with a telescopic rod. With it, you can easily adjust the tool to your height.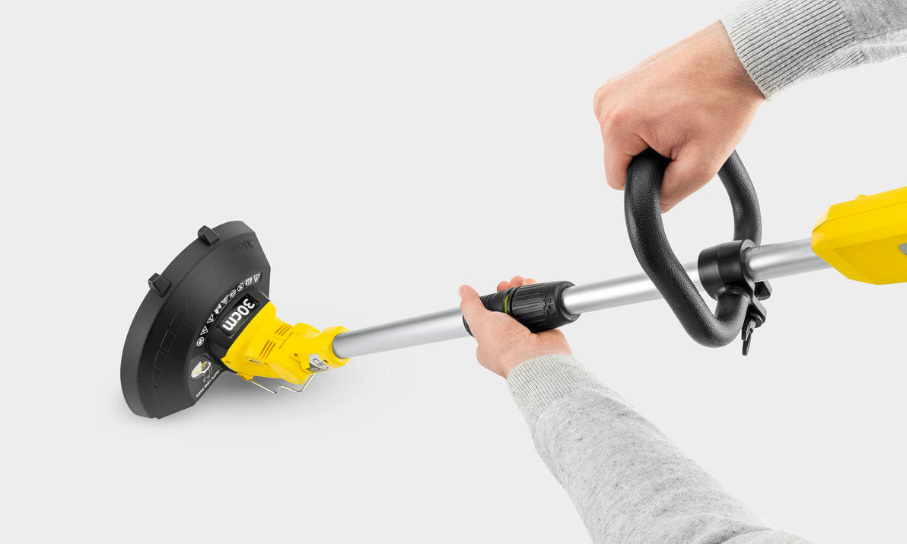 And the Kärcher LTR 36-33 Battery and LTR 36-33 Battery Set models also have a shoulder strap that will securely fix the tool.
Cordless lawn mowers also adapt to your height thanks to the adjustable handles. It is convenient that they are easily folded if the tool is sent for storage, and that there is an additional handle for carrying the device. To reduce the weight of the tool, the grass collector is made of fabric material.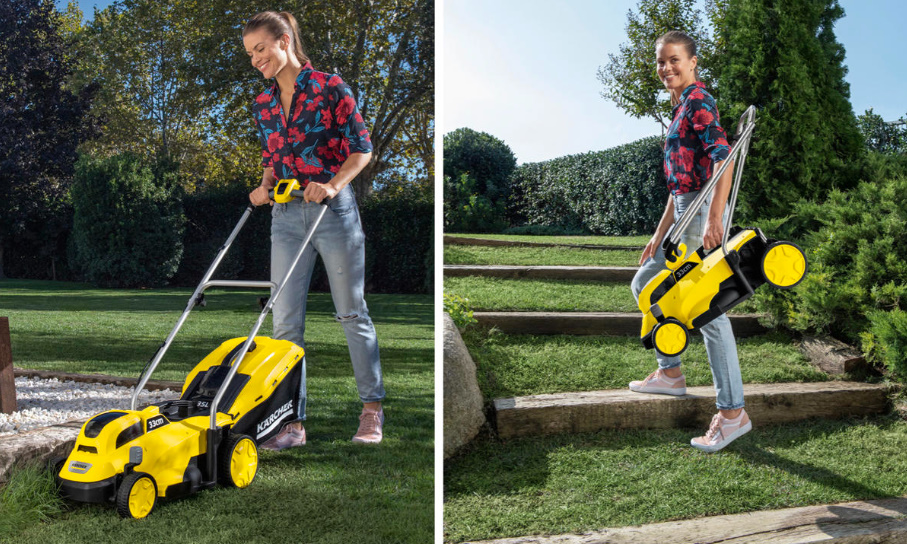 2. To hear and be heard
The noise level during operation of the battery-powered lawn equipment is so low that you can enjoy the sounds of nature. And nothing will disturb the rest of your household.
3. Mow quickly
To prepare the battery equipment for operation, it is enough to inspect it for damage and install a charged power supply. No need to fill up the fuel, unwind the extension cords. You do not have to calculate the trajectory of movement, so as not to get tangled in the wires. Battery trimmers and lawn mowers are designed so that with a minimum of effort and time spent to get an excellent result. For example, special combs on mowers allow you to cut grass growing on the edges of the lawn adjacent to walls or fences. And you won't need to level it with scissors.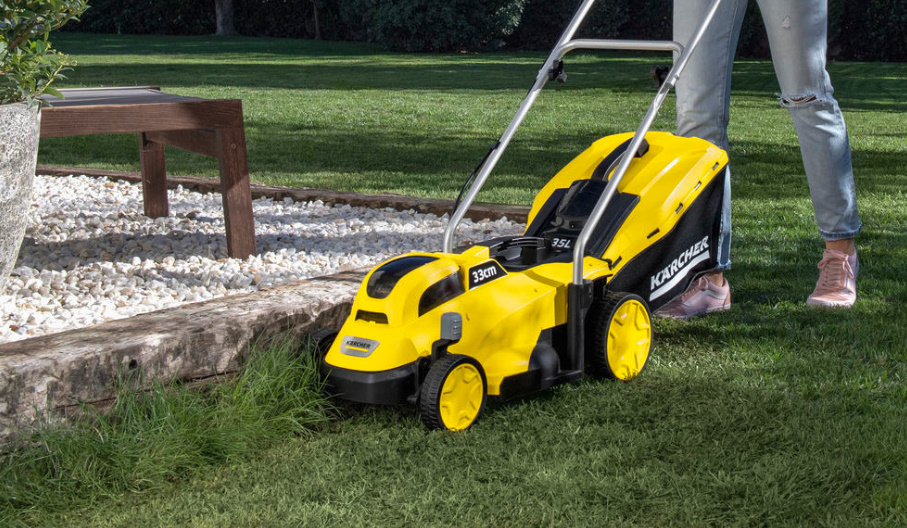 The LMO 36-46 Battery and LMO 36-46 Battery Set models have a rear-wheel drive that connects with a single button. With it, you will easily work on the slope when you have to mow downhill.
If you still doubt that you will be able to work efficiently, without interruption, with battery tools, then we will give you the following figures: on one battery charge, the simplest model — the LMO 18-33 Battery Set lawn mower with an 18 V Kärcher Battery Power platform — will process an area of 250 m2. The most expensive and powerful model LMO 36-46 Battery Set will remove grass on 650 m2.
4. Get the perfect result even in the most inaccessible places
If there are many difficult places for a lawn mower in your dacha, then the best solution would be to buy a battery trimmer Kärcher. For convenience and perfect results, they are equipped with a whole set of functions. For example, a twisted fishing line gives an even cut. Thanks to this, the grass does not get sick and does not turn yellow after mowing.
We have already talked about the folding bracket, which helps to mow safely next to trees and flowers. But Kärcher battery trimmers also have a deflectable head. It allows you to carefully process the edges of the lawn along paths or terraces, as well as mow the grass under benches or a podium.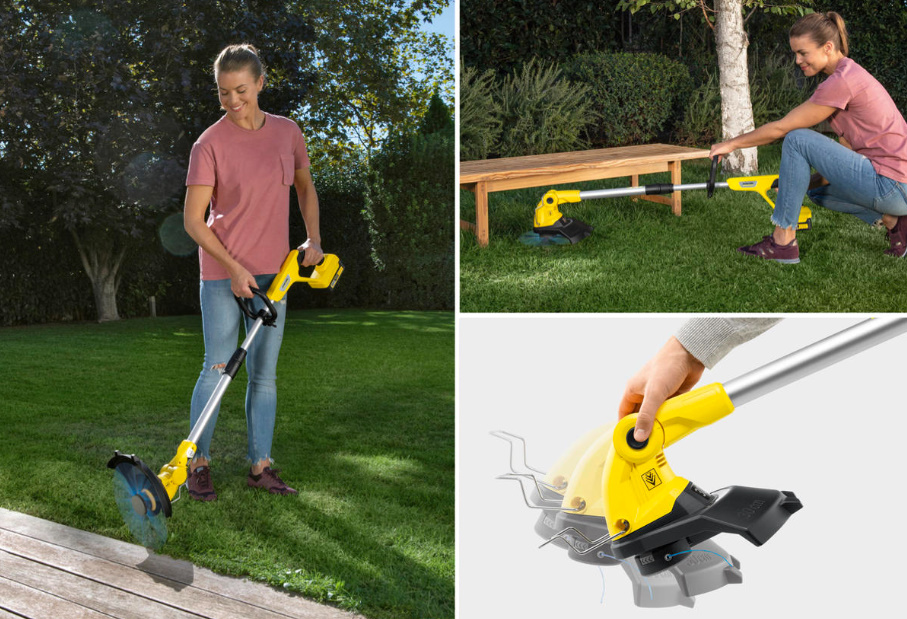 A good battery—powered trimmer or mower is a killer weapon in the fight for the perfect lawn. With a convenient, maneuverable, reliable tool, the war with grass and weeds turns into an exciting creative process of creating an ideal garden.