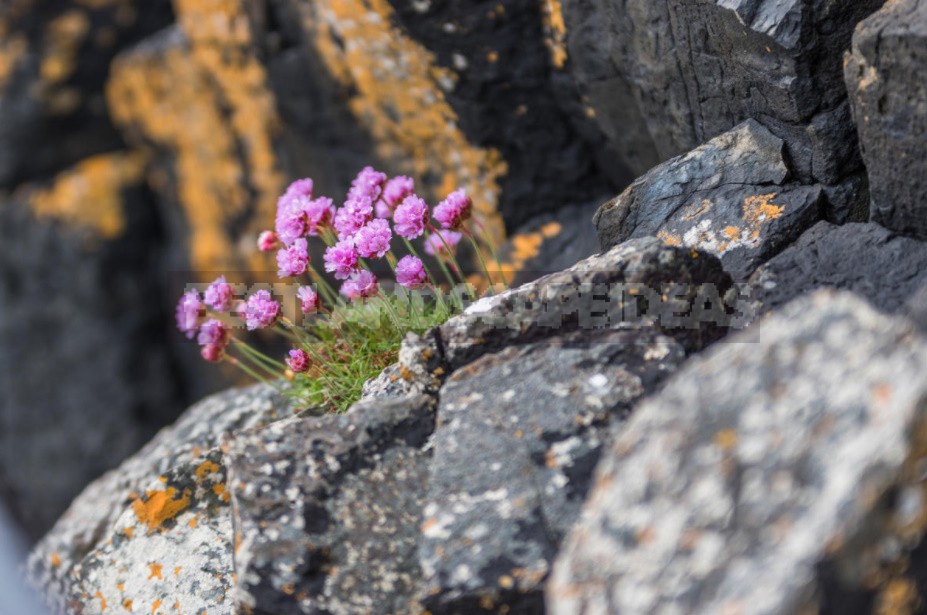 The combination of a monumental stone and a fragile plant is fascinating. Perhaps that is why gardeners are so popular with all sorts of "slides" — the same compositions with stones, without which a rare dacha plot does. Professional designers often criticize these amateur "delights" — but who and when did this stop? We ask ourselves again and again how to arrange an alpine slide-so that it is beautiful and original and at the same time everything is done with our own hands, from available materials… Well, let's go in search of ideas?
I'll make a reservation right away: the phrase "alpine slide" in the context of this collection is not used in the meaning that experts put in it. We will not talk about creating conditions for plants in the Alpine highlands. We will talk about amateur rockeries, about landscape compositions with stones, so dear to the heart of many summer residents. And in order not to get confused in terms, let's call it all the way most amateur gardeners are used to-an alpine slide (may the supporters of precise wording and competent terminology forgive us).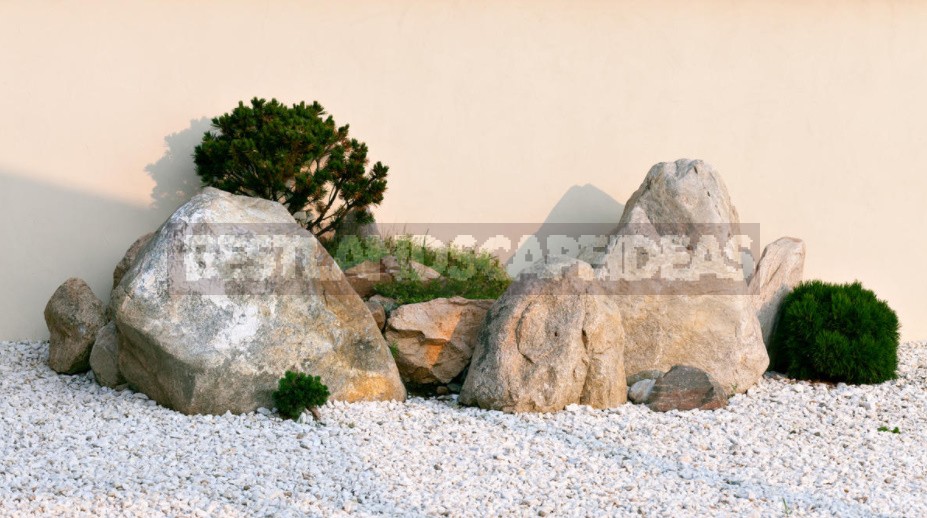 The introductions are finished — let's go directly to the ideas. I will tell you about those that are quite realistic to implement on their own and which at the same time are not so often found in our dachas. I hope that for someone this collection will be a source of inspiration and an impetus to create a new rock garden in their garden.
What is a Czech rolling pin?
Czech gardeners saw this idea in nature and successfully implemented it in landscape design at the end of the last century.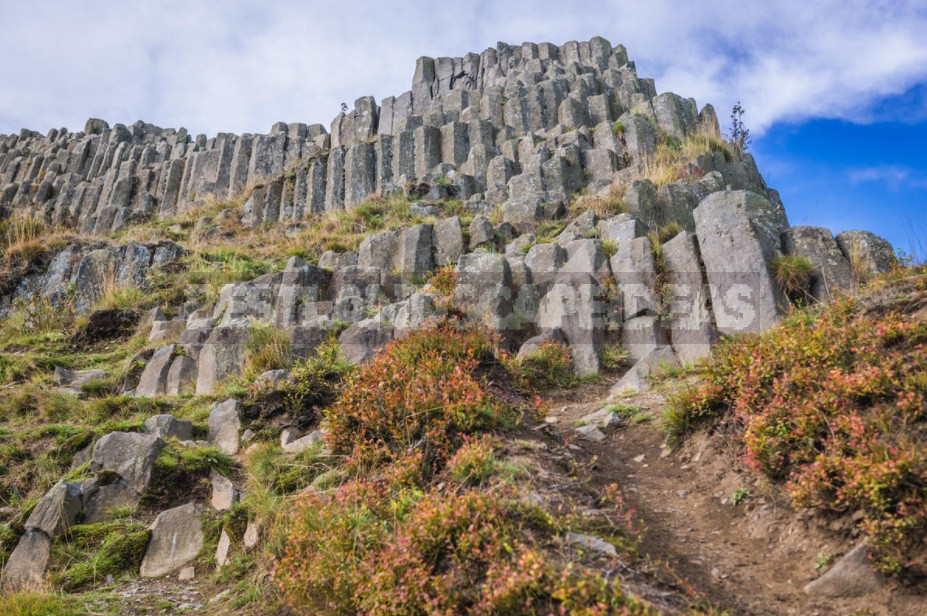 Unusual "layered slides" quickly became popular all over the world, but to this day they are perceived as an original, innovative solution — after all, in our amateur gardens, such structures are not yet particularly common.
Characteristic external features of the rockery-rolling pin:
flat stones of various sizes are used;
stone slabs are placed on an edge strictly parallel to each other;
the stones are placed close together, with a minimum distance between them;
the plates can be placed vertically or at a slight angle to the surface;
plants are planted in the cracks between the stones;
the ground should not be visible: the foot of the hill and the cracks between the stones are covered with stone chips or gravel.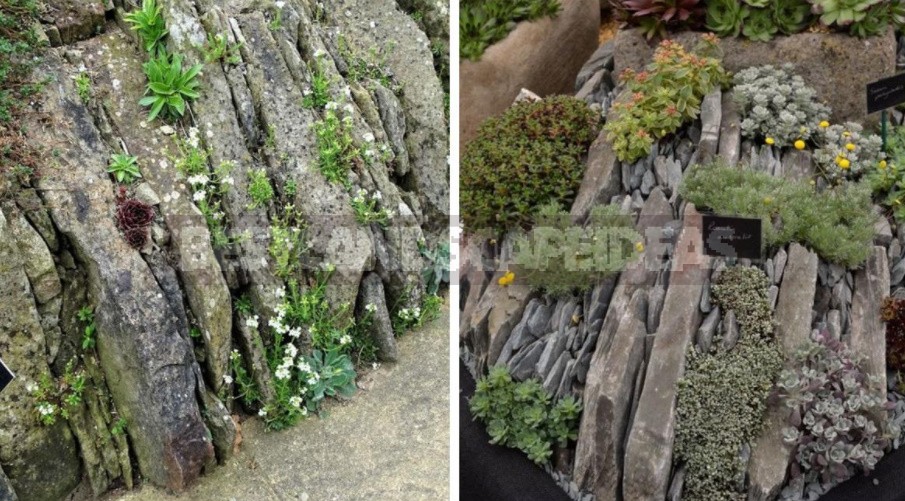 Well, this is all if strictly according to the rules… But as usual, sometimes the idea is simply taken as a basis — and an alpine slide is created "based on" the Czech rolling pin. And who said that it is impossible?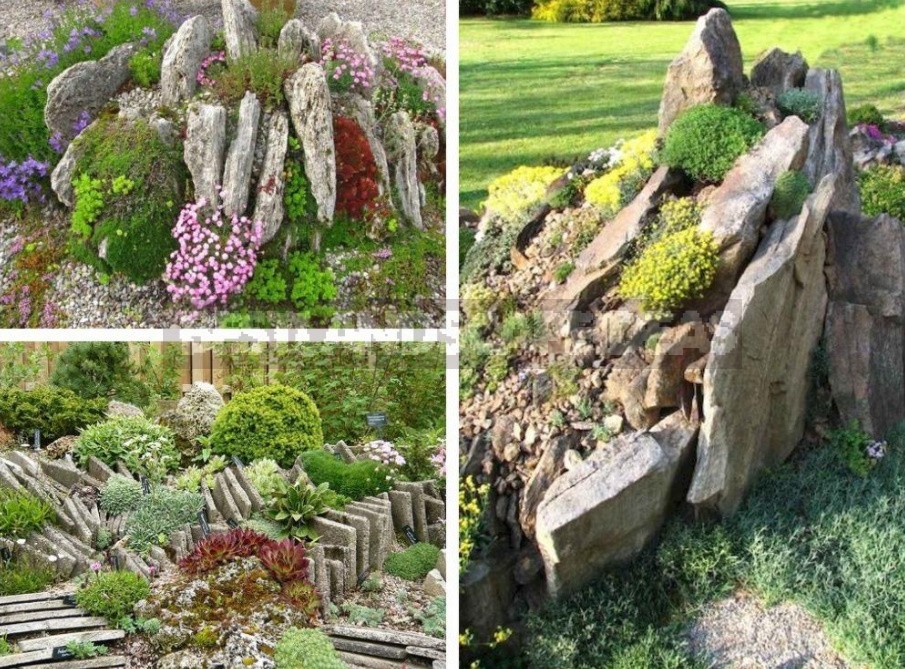 The main thing is to correctly fit such an unusual rockery into the design of your garden, so that it turns out not a strange pile of stones, but an organic element of the garden landscape. Still, it is quite peculiar and will not be combined with any environment. However, this also applies to other types of rockeries.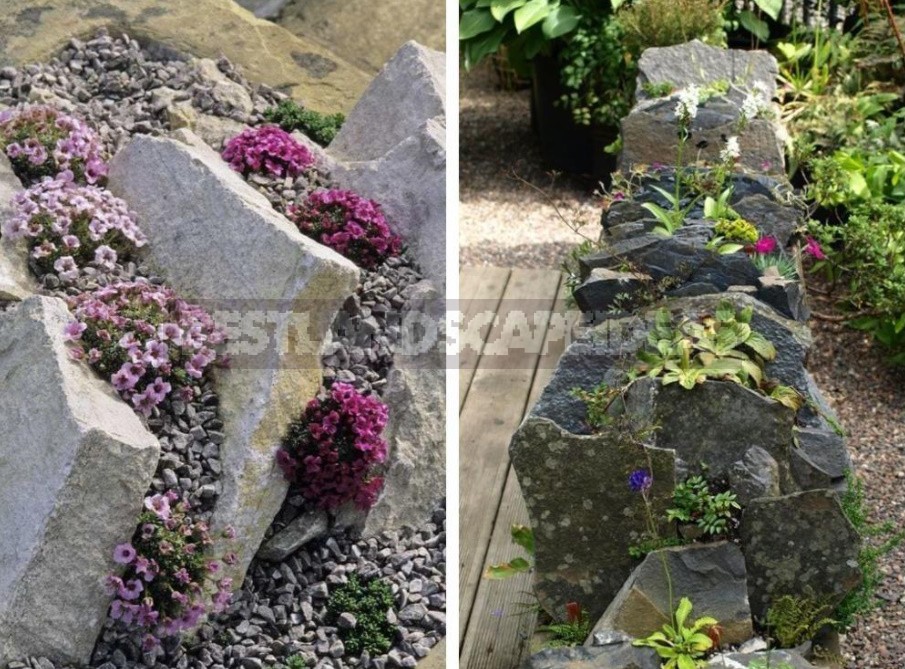 And this is probably the most difficult. The search for a successful solution requires both knowledge and experience, and a good flair, artistic taste. If you are not yet sure of the result of such an experiment, it may make sense to start practicing on miniatures…
Slide in miniature
A miniature alpine slide will require very little space and materials. Its construction does not require heavy earthworks. At the same time, you can get no less pleasure from creativity than when creating a large landscape object.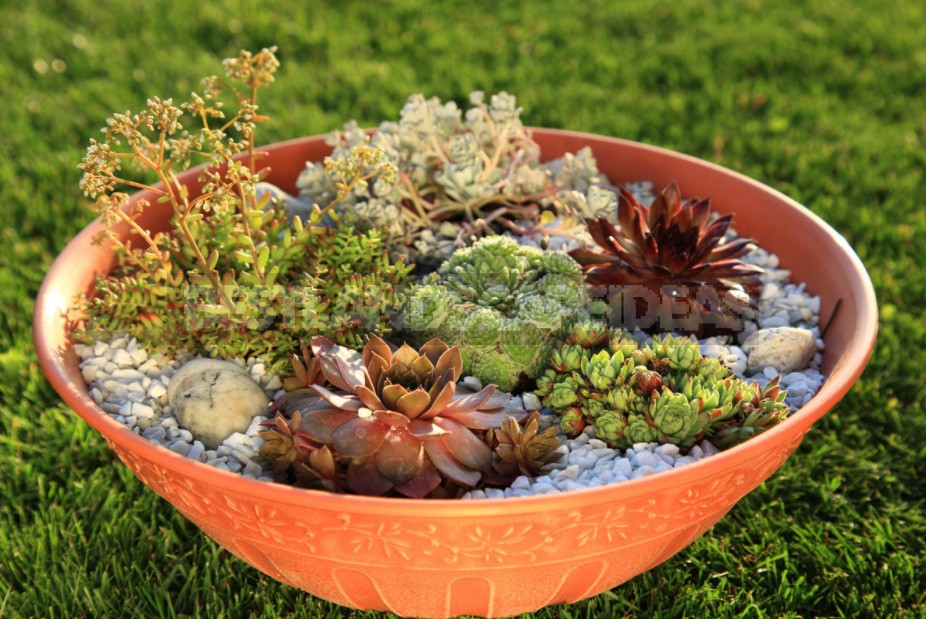 And only you can decide in what style, from what materials, what size your mini-rockery will be, where it will be placed, what plants will settle in it.
This idea will suit you if:
you have little space on the site, and you want to make a rockery;
you doubt your decision and want to "try it first";
you do not have the opportunity (technical, financial, etc.) to arrange a large rockery;
you need to effectively place a small collection of succulents;
you just love thumbnails.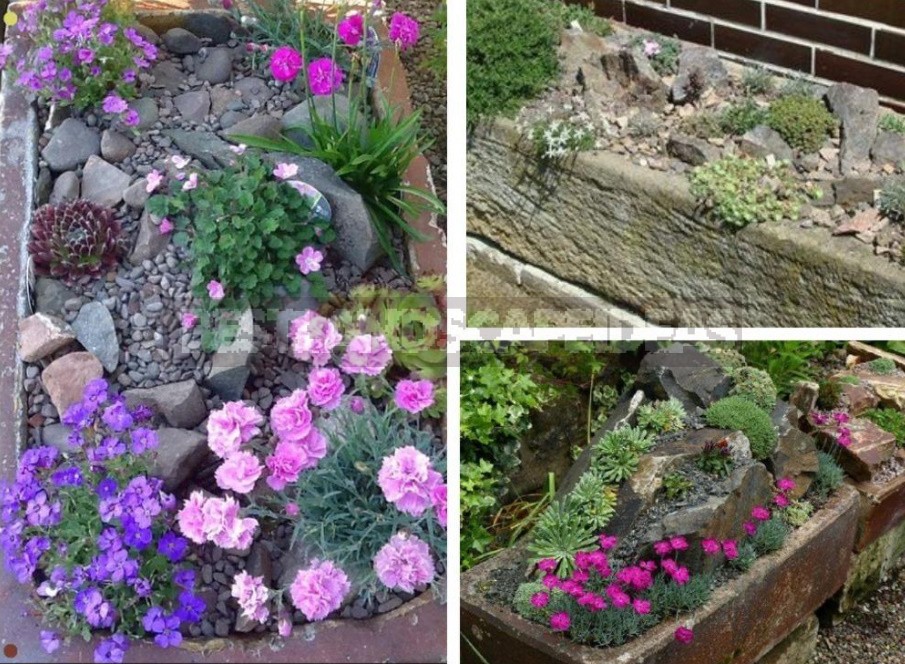 By the way, popular Zen table gardens-Japanese rock gardens for home meditation or just to calm the nerves — are essentially the same miniature rockeries. Plants are usually not used in them — only stones and sand. And if only a few people can afford to build such a place in the country "in full size", then there are no restrictions for the mini-version.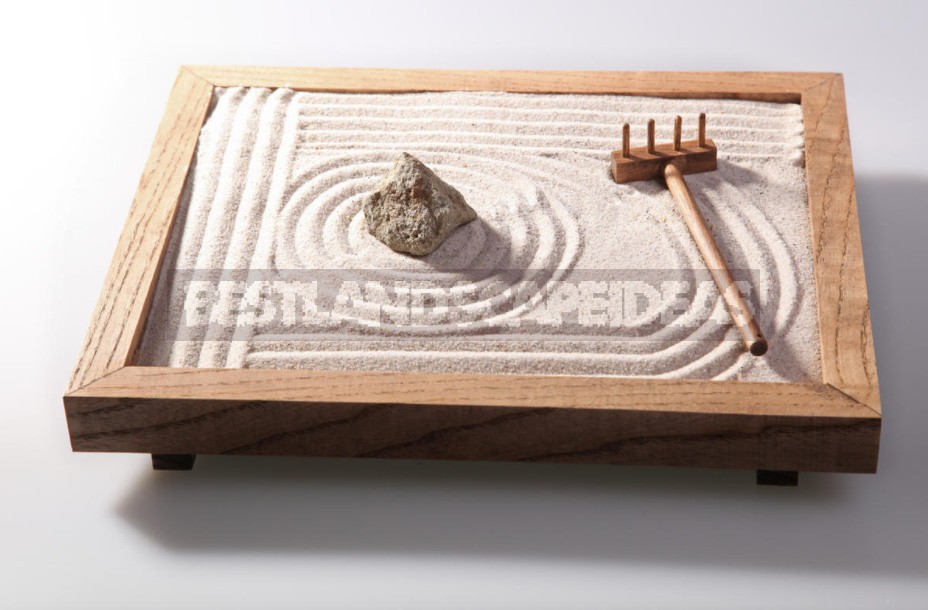 In the garden, miniature slides placed in massive concrete containers (or rather, in containers made of hypertuff — lightweight concrete made with the addition of peat, perlite or vermiculite) look great. They can be used singly, or you can make a variety of compositions out of them.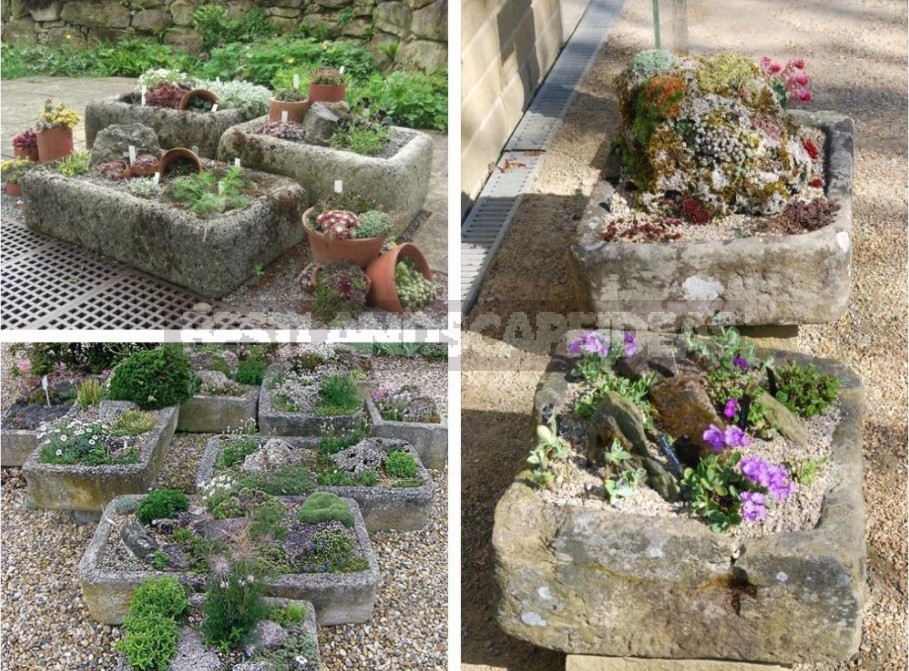 However, if you like other options for containers, there are no restrictions. But what you should think about is the wintering of the inhabitants of miniature man-made landscapes. Raised containers with a small volume of soil freeze in the cold season, and this is often disastrous for plants.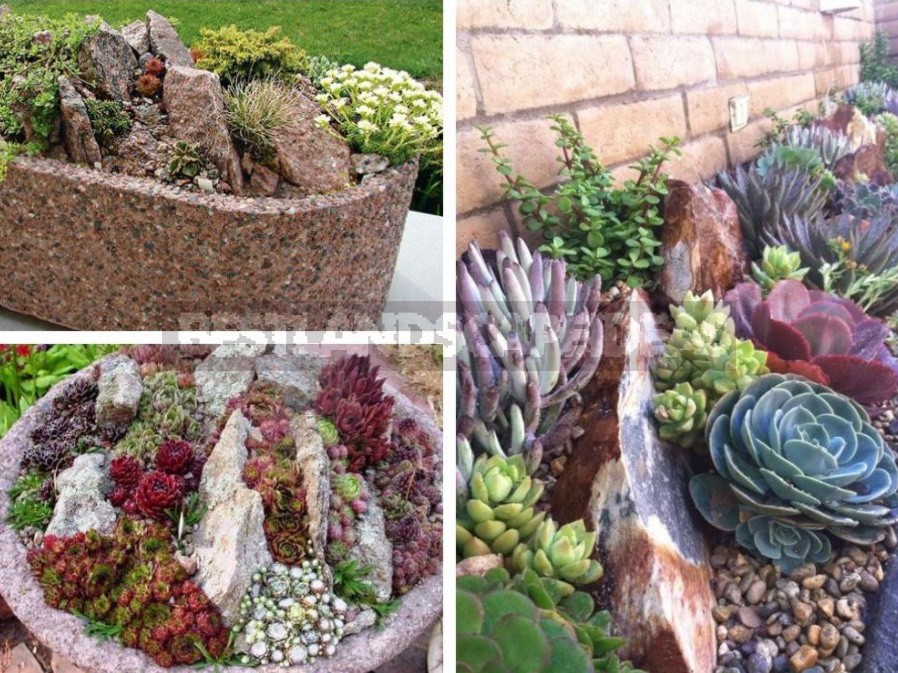 It is unlikely that anyone will like the idea of dragging a heavy concrete bowl filled with stones into the basement, so it is better to find frost protection options for such compositions in advance.
When color matters
What an amateur rockery most often looks like: a lot of stones of different breeds, different shapes and shades. Yes, sometimes the result can be decent. But still, often such a composition is too colorful, the abundance of details deprives it of integrity. Now take a look at the photos: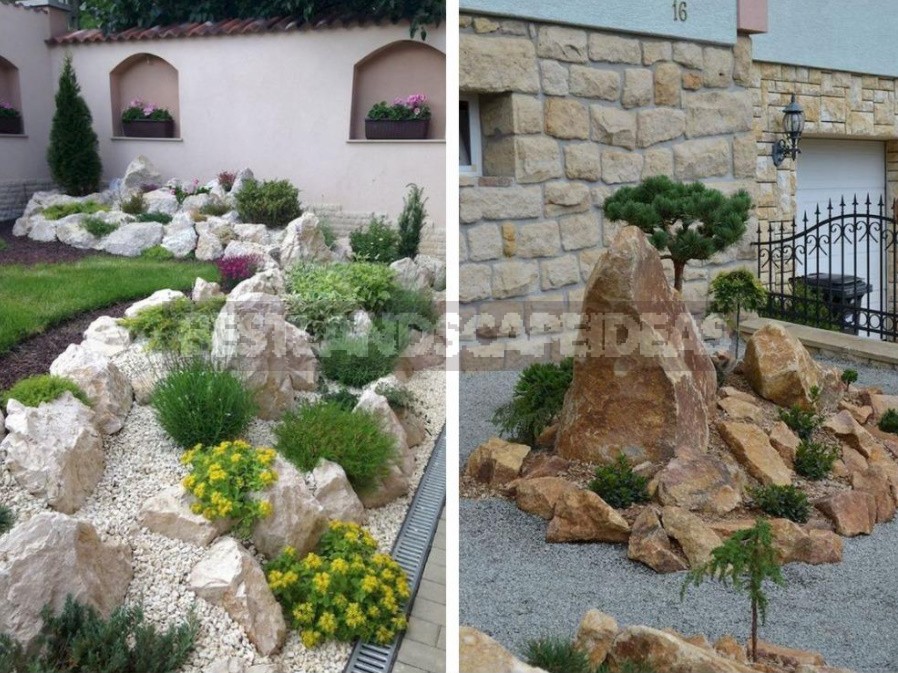 Isn't this the case where color matters? Imagine what the same compositions would look like if they used heterogeneous fragments of boulders… Just one nuance — and what an effect! Take advantage of this technique, creating a rock garden on your site: you will not need much additional effort or cost, and you can see the result for yourself…
Alpine slide: alternative solutions
The ideas in this section are markedly different from the usual "alpine slides". These are options for those who really like compositions of plants and stones, but it is problematic to fit them into an existing garden for one reason or another: either the style of the site does not allow such "excesses", or there is no suitable place, or it is simply boring to be "like everyone else"…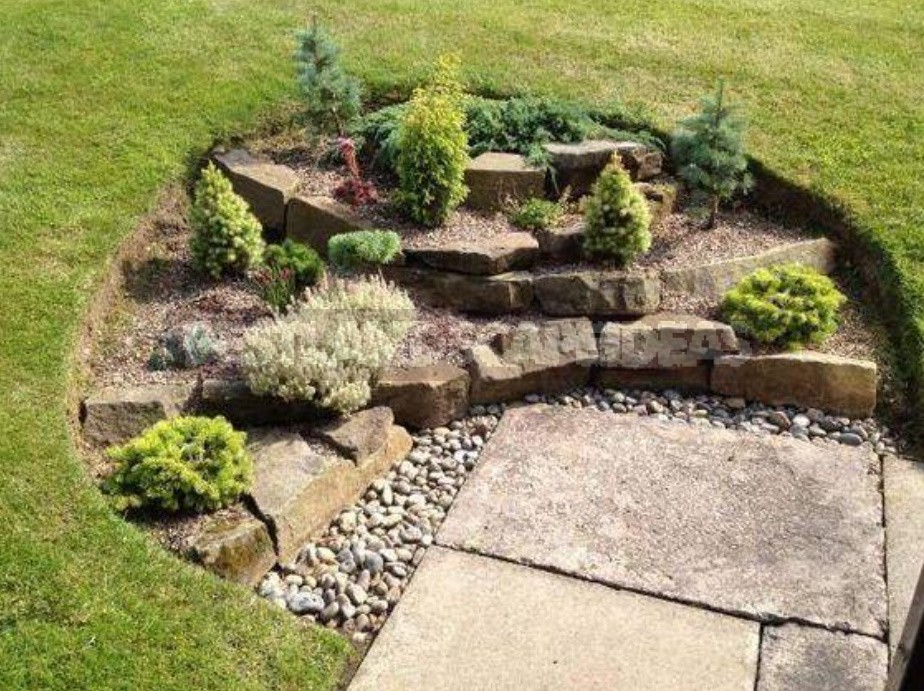 If you do not intend to imitate mountain landscapes or make a Japanese rock garden with a Russian accent, if you do not like the colorful stone "beads" of the dacha "alpine slides", but at the same time you definitely want to have "something with stones" in the garden-perhaps there is exactly the option that suits you.
Rockery vertical
If the compositions from the following photos were located traditionally — on a horizontal surface — we would call them rockery, right? But the creators of these most interesting objects judged differently — and wrote "fragments of the mountain landscape" … in the garden fence.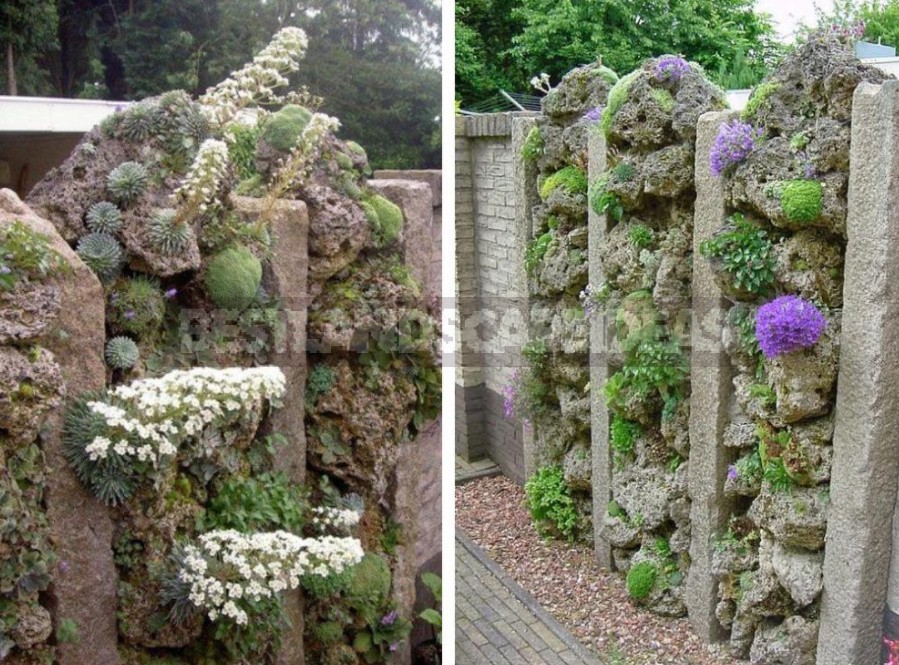 This is not a retaining wall — it is an ordinary stone or concrete fence. But with such an unexpected "addition". By the way, such a composition can also become an independent art object.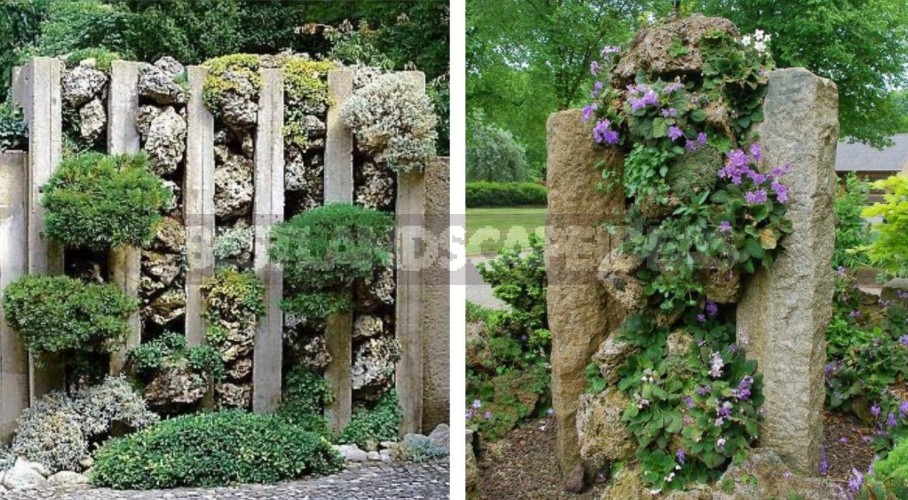 The only nuance that personally raises questions for me: how do plants overwinter in such structures? In a mild winter, there will probably be no problems, but frosts will kill any vegetation-except that moss will remain on the stones… But the idea is interesting, effective, you will agree.
Track + rockery = a good solution
There are paths and paths on any site. The ways of their design are diverse and depend only on the imagination and capabilities of the owner of the cottage. Then why not do it like this, for example: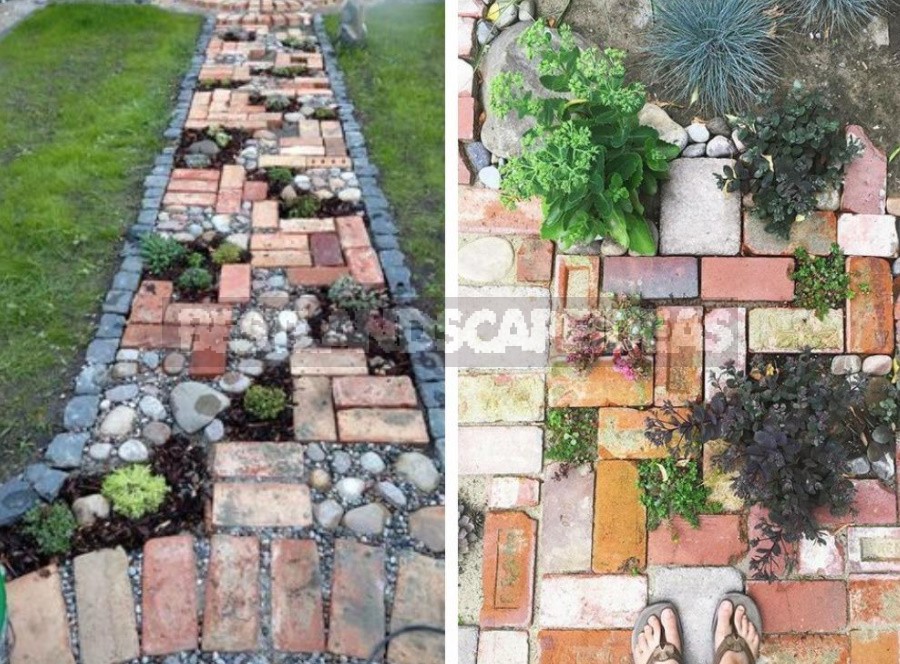 Some designers went even further-they combined a garden path and a dry stream. And that, and original, and practical. I, for example, will adopt this idea.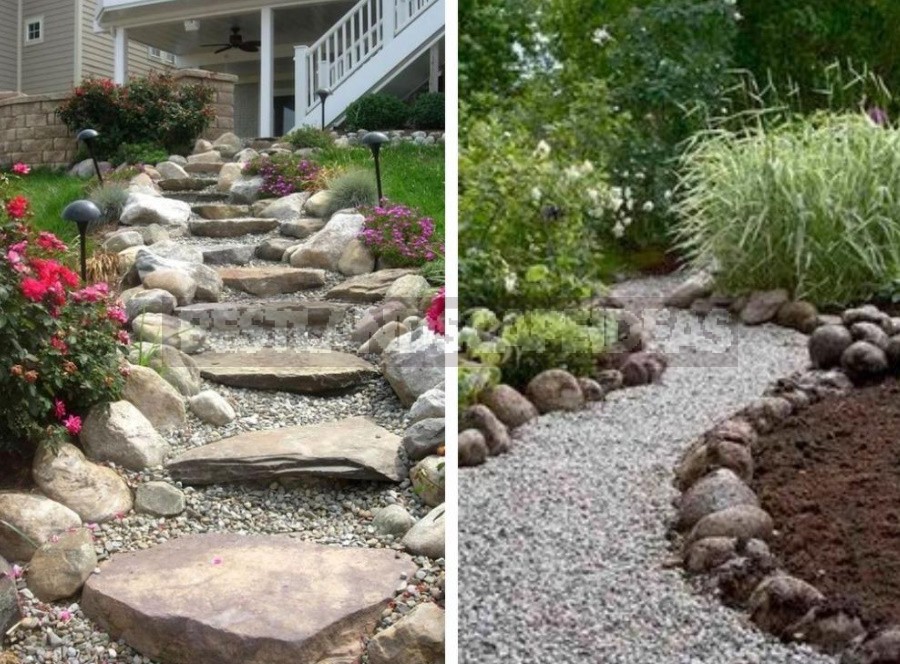 By combining materials, playing with the form, and creatively developing this idea, you can create unique landscape compositions that perfectly fit into the style of your garden.
Balls instead of boulders
But what if you really want a rock garden, but the style of the site definitely does not have the construction of "mountain massifs" or "rocky scree"? Perhaps you should play on the associations.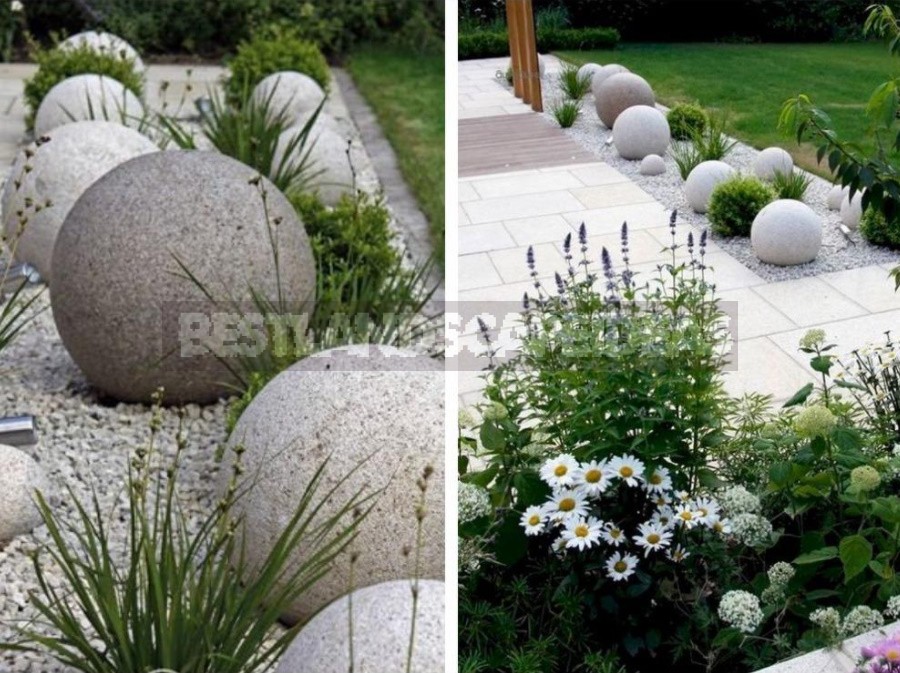 For example, why not replace the rough, uncultivated boulders designed to represent a fragment of wild nature with perfect geometric bodies — balls of stone or concrete, and the deliberate disorder — with verified harmony? By the way, specially made concrete or ceramic balls can serve as a container for planting succulents.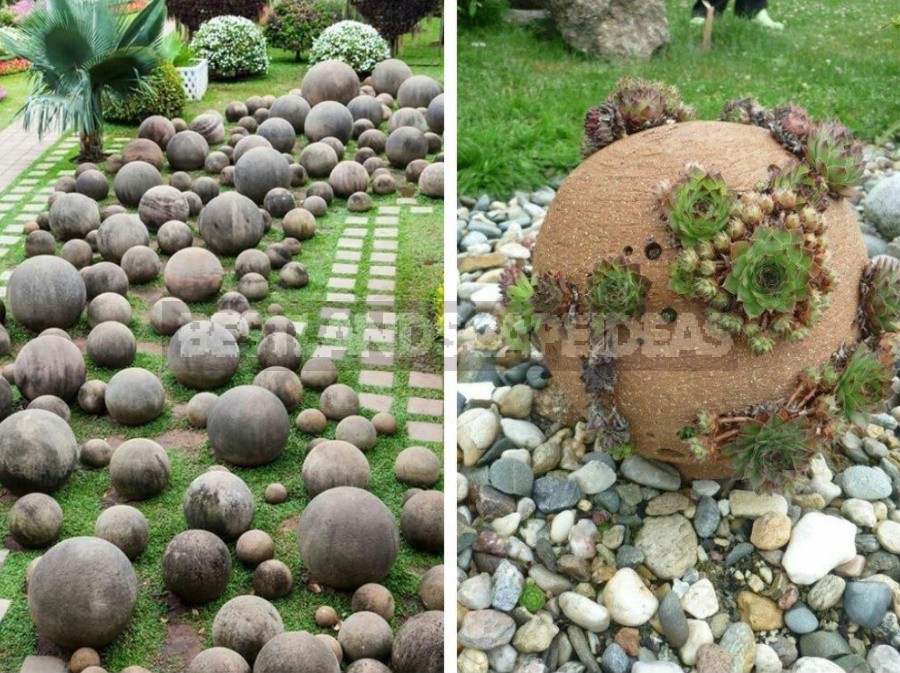 This option is suitable for gardens that tend to the classics, or modern minimalistic landscapes. Yes, this is no longer an Alpine slide at all. But the combination of stone and plants is obvious — which means that the viewer still has associations with rockery. And the style of the plot is maintained at the same time. So why not?