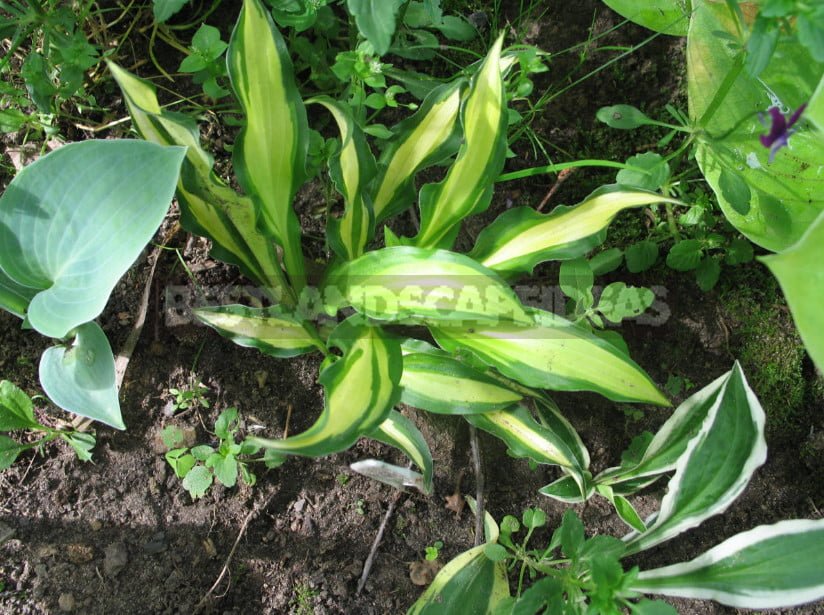 It is difficult to imagine how we can do in the garden without the host. And after all any 10-15 years ago few of us guessed their huge variety. In culture, there were only a few species and natural forms.
Now on sale appeared the whole range of modern varieties-with all kinds of color and shape of the leaves. It turned out that the size of this plant varies greatly. The smallest hosts – dwarf, height of their bushes (not counting peduncles) usually does not exceed 10 cm; higher – up to 15 cm – refer to miniature. In General, the classification is based on the size of the leaf surface: in miniature it ranges from 13-36 square cm, in dwarf-less than 13 square cm.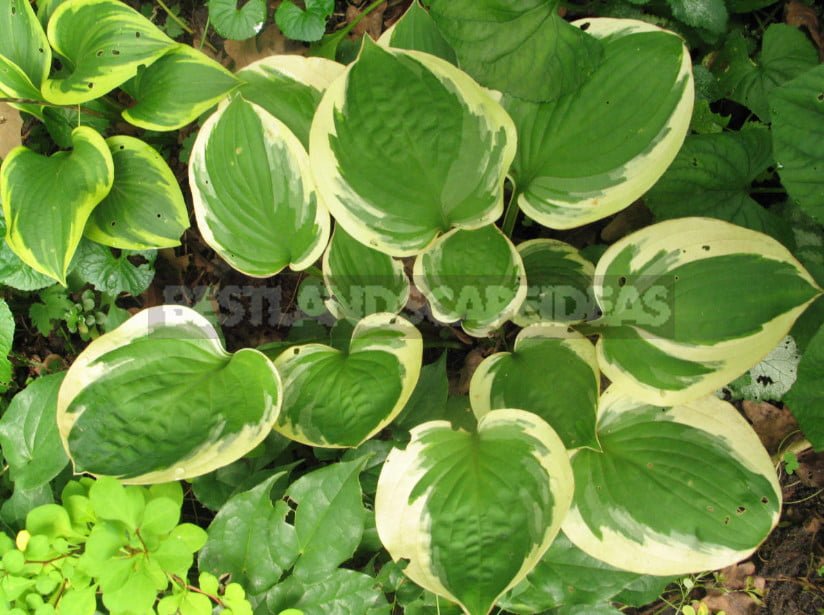 Most of the tiny varieties appeared in recent decades (mainly in the US), and while hybridizers do not slow down. If some time ago the most diverse color, texture and shape of the leaves differed average in height varieties, now there are breathtaking new items among both large and among dwarf and miniature. The most unusual and eye – catching-with colorful leaves, covered with stripes, strokes or specks.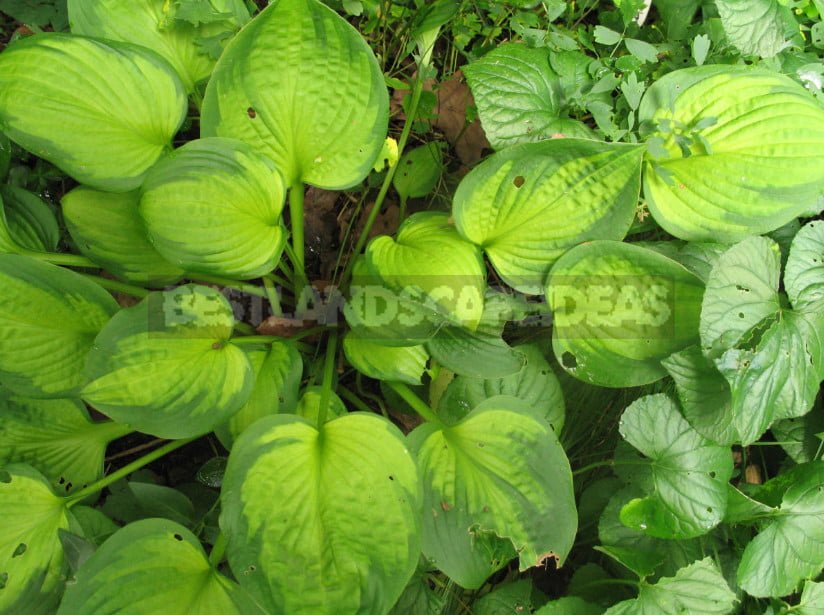 Varieties of miniature and dwarf host
The group of miniature and dwarf host presents almost all the variety of color, pattern and shape of the leaves.
Green:
with flat round leaves- 'Abiqua Miniature',' Collector's Choice', 'Floradora', 'Lakeside Neat Petite';
with oval and lanceolate – 'Tiny Tears', 'Hosta venusta';
with shiny lanceolate- 'Yakushima Mizu';
with wafer texture – 'Lakeside Lepreschaun', 'Cody';
with concave plates- 'Teaspoon', 'Quilting Bee';
with narrow lanceolate leaves- 'Saishu Jima',' Bitsy Green','Sugar Plum Fairy'.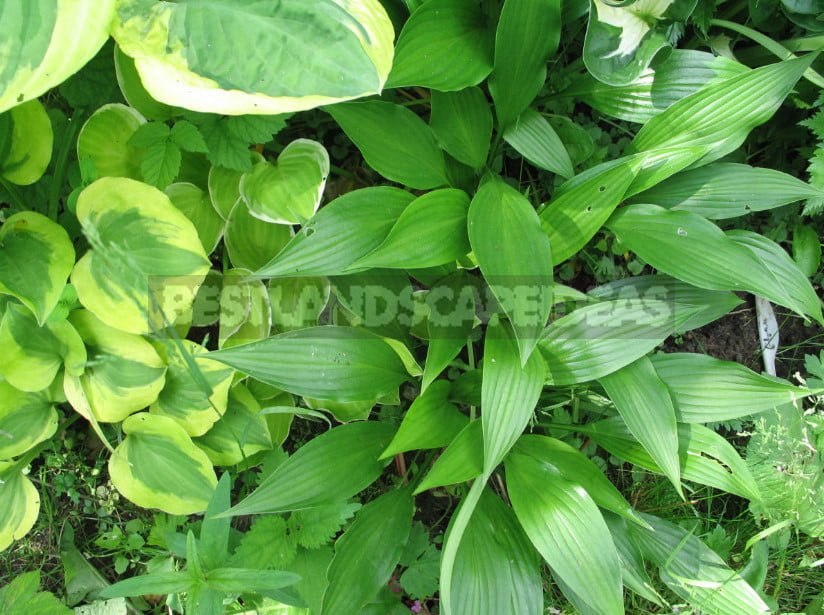 Amber:
with round leaves- 'Cheatin Heart', 'Gold Drop';
with concave plates – 'Limey Lisa';
with lanceolate leaves – 'Bitsy Gold';
with wavy lanceolate- 'Lemon Lime', 'Chartreuse Waves', 'Feather Boa', 'Royalty', 'Yellow Eyes', 'Yellow Waves';
with shiny smooth lanceolate – 'Ga Ga',' Subcrocea','Gosan Gold Midget'.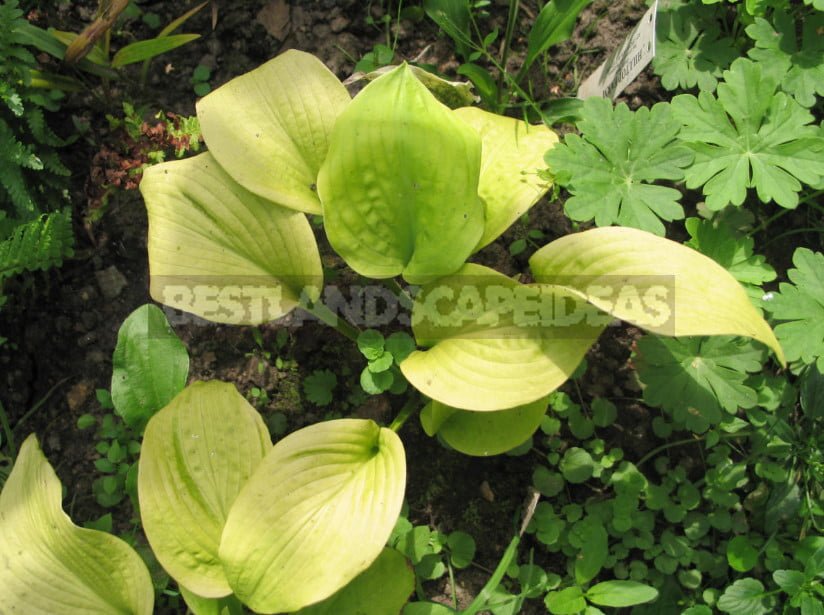 Blue and grey:
with round and oval leaves – 'Abiqua Ground Cover', 'Baby Bunting', 'Popo', 'Tet-A-Poo';
with wafer texture – 'Blue Ice',' Blue Moon', 'Blue Clown';
with concave, Cup-shaped plates – 'Blue Mouse Ears';
with narrow lanceolate plates – 'Rhythm and Blues'.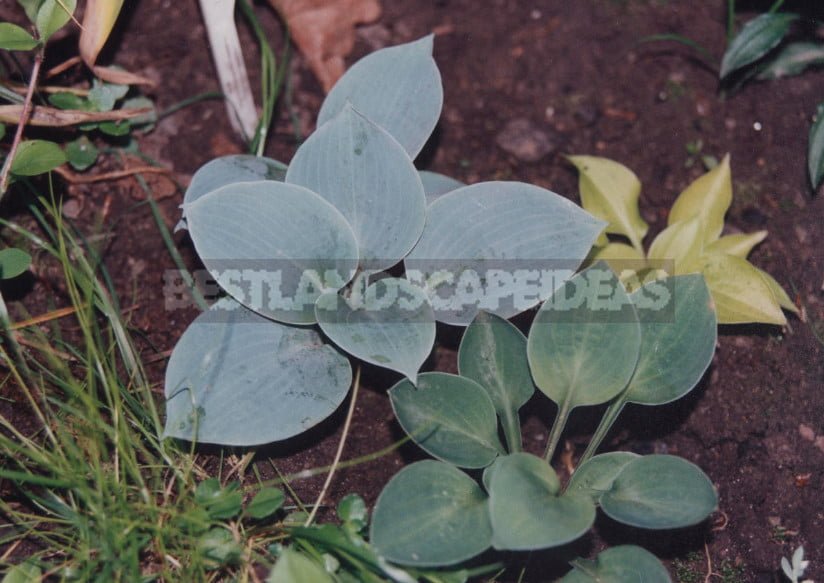 with light-edged leaves:
with round or oval leaves – 'Crepe Suzette', 'Dew Drop', 'Lakeside Ninita', 'Thumbelina', 'Winsome' (with white and cream border), 'Mack the Knife' (with orange border);
with lanceolate leaves – 'Crepe Soul', 'Hi Ho Silver', 'Dixie Chick', 'Little Bo Peep', 'Sparky'.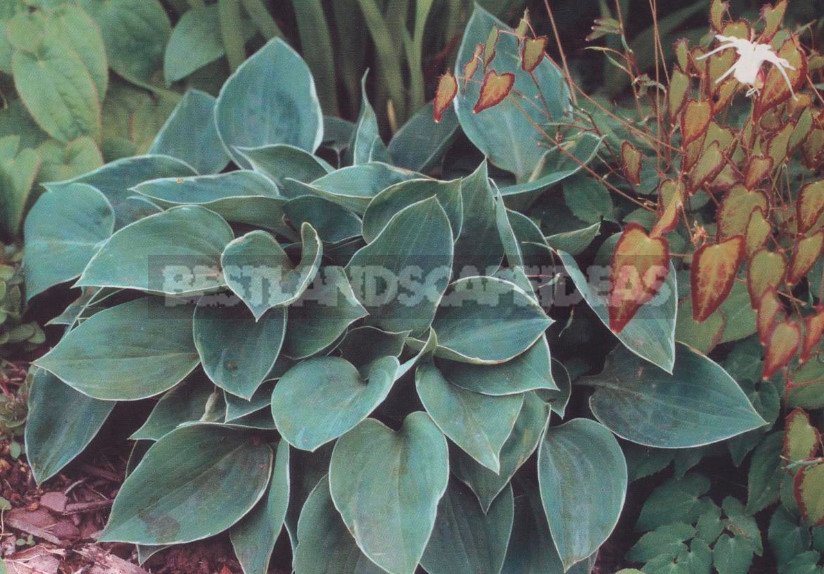 On the bright center of the sheet:
with round or oval leaves – 'Delia', 'Green with Envy', 'Little Caesar', 'Sitting Pretty';
with lanceolate leaves – 'Fuji Sunrise',' Green Eyes',' Lakeside Elfin Fire','Medusa'.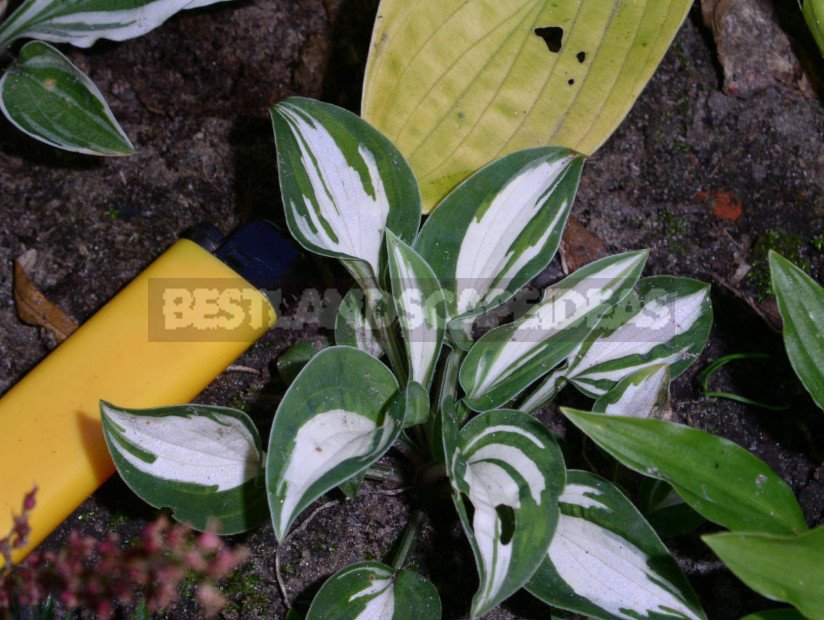 With varied, marble leaves:
with round and oval leaf blades – 'Artist's Palette' (with dense dark green leaves, cream border, cream and yellow strokes and stripes in the center), 'Lakeside Knickknake' (with dark green edges and cream center, dotted with yellow and olive strokes), 'Silver Treads and Golden Needles' (with green strokes on a yellow background);
with narrow leaves – 'Little Jim' (with white and yellow stripes on an olive-green background).
Features of growing miniature and dwarf host
Hosts differ not only in appearance, but also in growth rates. As a rule, this feature is noted in the catalogs. Of course, nothing can stop a passionate collector, but if you buy a host in the hope of admiring its beauty and magnificent views, it is better to choose from fast or medium-growing.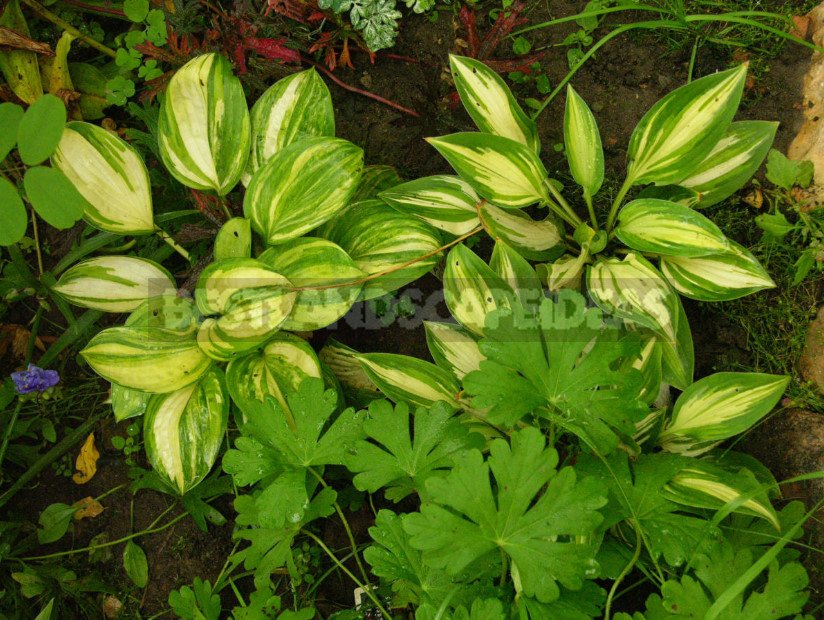 Dwarf and miniature hosts are not among the easiest in the culture.
First, they very poorly tolerate the postage, which until recently remained the main method of obtaining news. If the parcel is delayed, and so often happens, these crumbs usually dry or rot.
If the plants are purchased in containers, it should be borne in mind that it is better to plant them whole, without dividing the Bush into small parts. Dwarf hosts do not like this very much and after such a division it is difficult and long to take root. If you bought a small plant, it is recommended to hold it in a container until it develops a good root system, and only then planted in the open ground.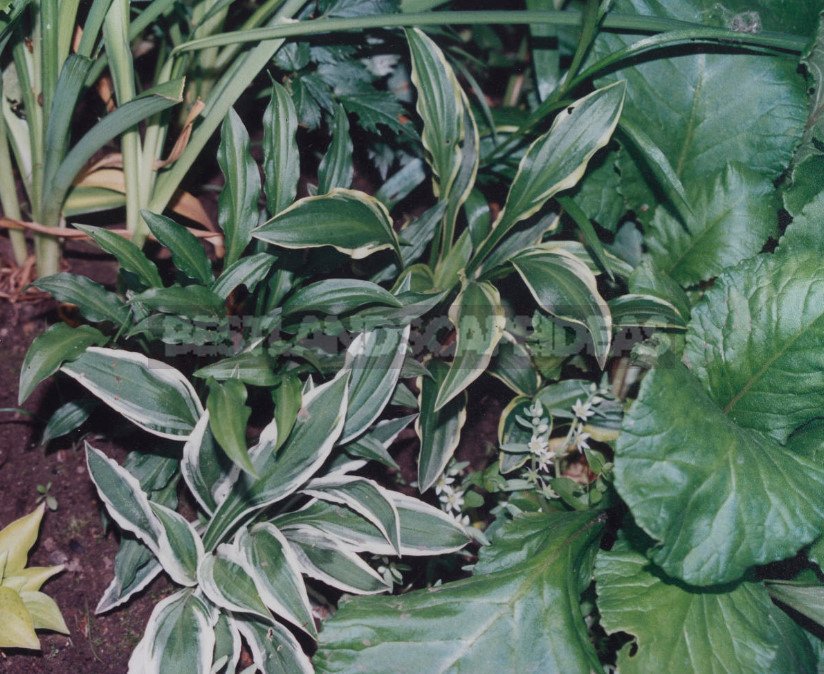 Most host grows well in any garden soil like to be tucked in organic matter – rotted manure or compost. To create the best conditions, it is recommended to mulch the landings before winter, but this does not apply to miniature and dwarf varieties. They can just suffocate under a thick layer of mulch, in addition, it attracts birds that dig in it and can damage plants. Besides, mulch is an excellent place for breeding slugs, the main enemies of the host.
Miniature and dwarf hosts are best planted on convex beds from a loose mixture of crushed bark, very old rotted manure (or leaf humus) and peat (or clay – on sandy soils), all in equal proportions.
While there is no information about the virus infection host of a variety of this group, but we must be careful when working with them (as well as, however, as with all other hosts). The virus is transmitted through the juice, it exists only in living tissues of plants. Therefore, you can not use the same cutting tool when dividing and transplanting, removing leaves. If the plant is still sick, it should be completely removed with all the roots and destroy. The soil to dig up and during the year nothing in this place is not planted to the remains of the roots completely decomposed.