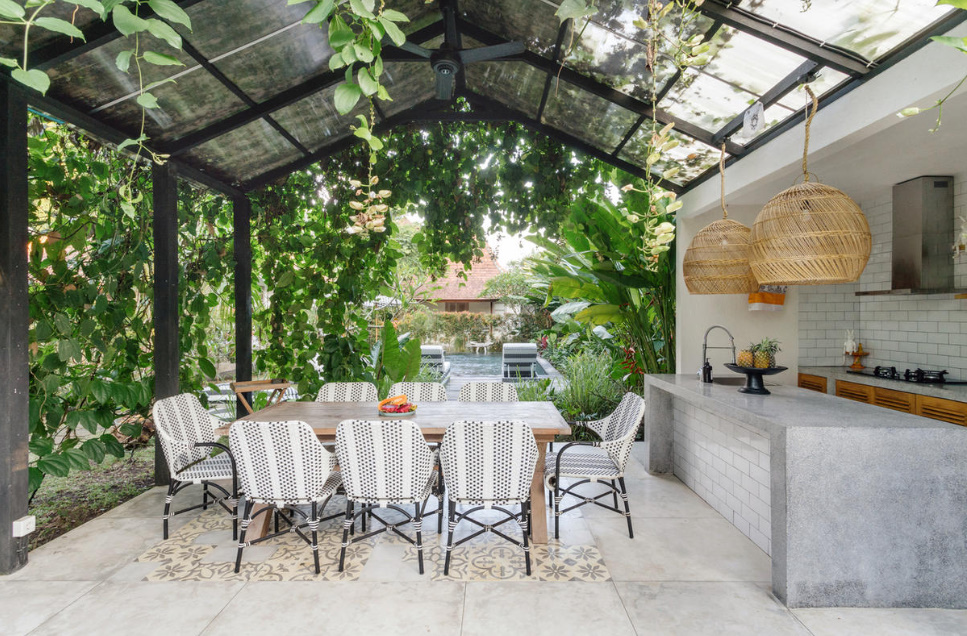 4. What materials are suitable for construction and arrangement?
Here everything depends on the elements of our object and the functional zones that you are going to form. For the construction of a summer kitchen, you can use artificial stone or brick. The first one fits well on the surface of wood, concrete and drywall, and with its external similarity to natural stone, it is much easier to process (cutting and laying) and has a more "modest" weight. The second one is ideal for building a frame.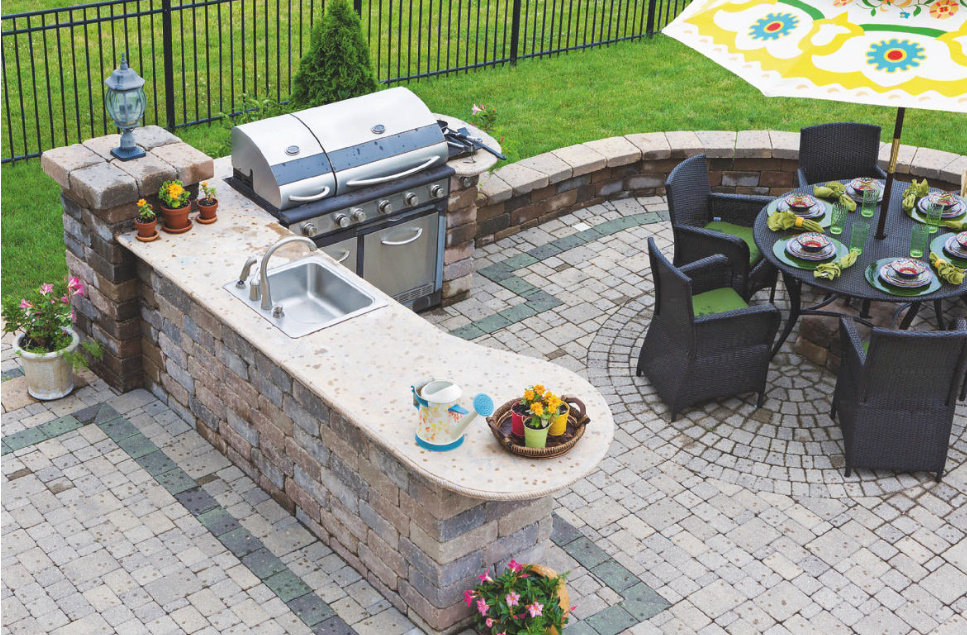 An excellent roof will turn out from a canopy of wooden or metal beams covered with polycarbonate. The umbrella can be used for a mobile kitchen, temporarily deployed somewhere in the middle of the garden, but do not forget to provide it with a reliable and solid foundation.
Cabinets can be made of different materials. Stainless steel has a long service life and resistance to all weather disasters, wood contributes to the creation of comfort, but at the same time requires constant care — once a year or two you will have to cover the surfaces of such cabinets and shelves with special protective means.
A budget and convenient option is plastic. Modern PVC panels can be made under wood, brick or artificial stone, besides they are frost-resistant, perfectly tolerate excessive humidity and temperature changes, and they are usually installed on wooden frames.
Dining room furniture in the summer kitchen should withstand high humidity and temperature changes, so it is better to refuse furniture made of laminated chipboard or MDF, as well as sofas and chairs with fabric or leather upholstery. But other, no less advantageous options are possible.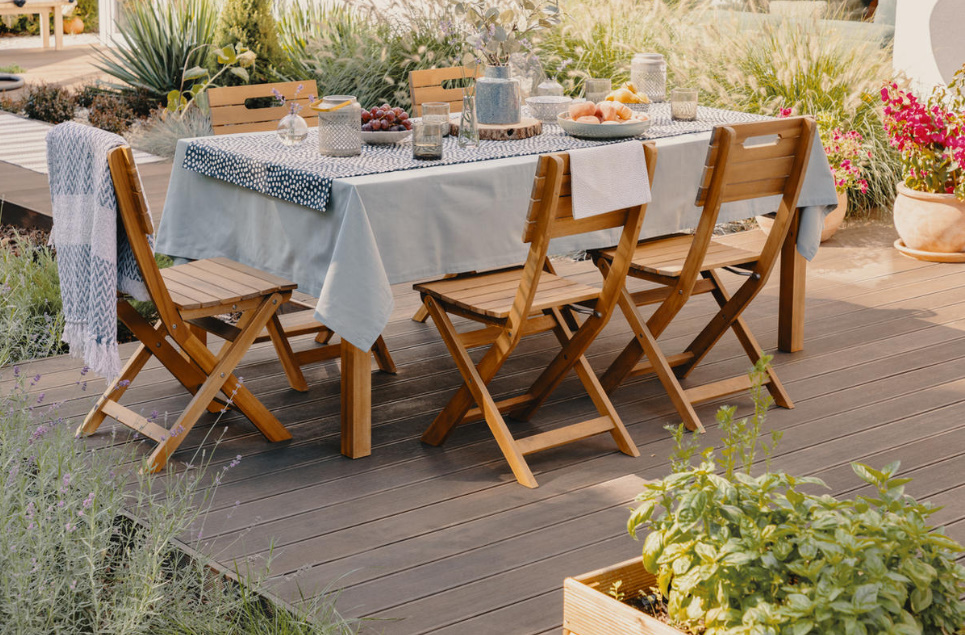 If you prefer wood, choose garden furniture, which after the end of the season can be put away in the pantry or hidden.
I want exquisite beauty — pay attention to forged items, but do not forget to buy or sew soft pillows and mattresses for comfort. You adore permutations — wicker furniture made of natural vine or plastic rattan is at your service.
5. How to choose lighting?
Do not rush to be surprised — it is light bulbs, lanterns, sconces and other light sources that are largely responsible for creating comfort. Ideally, artificial light in the evening should be soft, uniform and multi-level. So, to create it, one chandelier is clearly not enough, you will need floor and hanging lanterns, wall sconces, floor lamps and garlands of light bulbs.
Tip: Use light sources to divide the space into zones and focus on the most important corners. For example, a work area can be flooded with bright light, and in the dining area you can create a romantic twilight by directing the beam only at a table filled with dishes and glasses.

Metal, plastic, wooden and wicker lamps with additional protection from moisture are suitable for lighting an open summer kitchen, and the perimeter of the building and the paths leading from it to the house or other corners of the garden can be designated with solar-powered flashlights.
6. Which hearth is better?
What to choose — a grill, a barbecue, a garden oven or a conventional stove (gas or electric)? It is necessary to answer this question before the start of construction at the design stage, since many planning nuances depend on the choice — from the type of foundation to the shape of the roof.
Perhaps the combined option will be optimal, and you will prefer to use an ordinary stove most of the time, and on weekends or holidays pamper your friends and family with dishes cooked on an open fire.
Tip: if your suburban area is not connected to the main gas pipeline and an electric stove seems to you a suitable solution to almost all culinary problems, do not be lazy and buy a miniature gas "equivalent" for the farm — in case the electricity is suddenly turned off.
7. How to choose green decorations
There is not much greenery in the country expanses, including around the summer kitchen. If you want to isolate this building from the rest of the territory – a hedge, pergolas or screens with climbing plants will help make it more secluded and at the same time — close the view of the unsightly places of the site.
In the neighborhood of the building, break up a small garden of spicy herbs, which can be arranged both on high beds and in containers – suspended or placed on special shelves.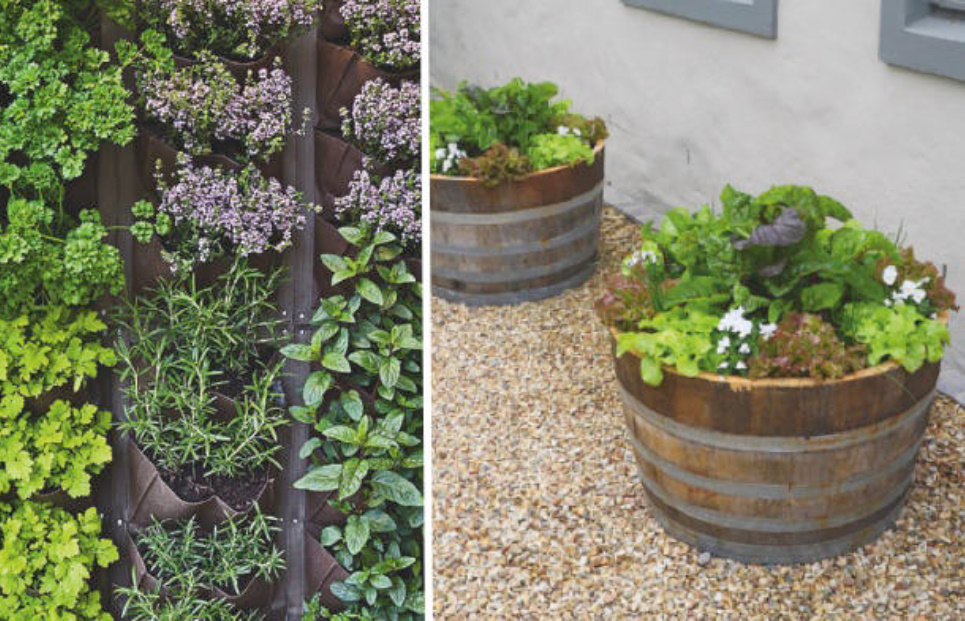 Beds with spectacular annuals or bright boxes with ornamental plants placed directly on the ground will allow decorating a not too aesthetic foundation.
To decorate the interior, use tub plants or hanging planters with ampel varieties of petunias and begonias.
Questionnaire of a summer resident
Are you confused about your own desires and possible future kitchen projects? Six simple and practical questions will help determine the nuances of its construction and decoration.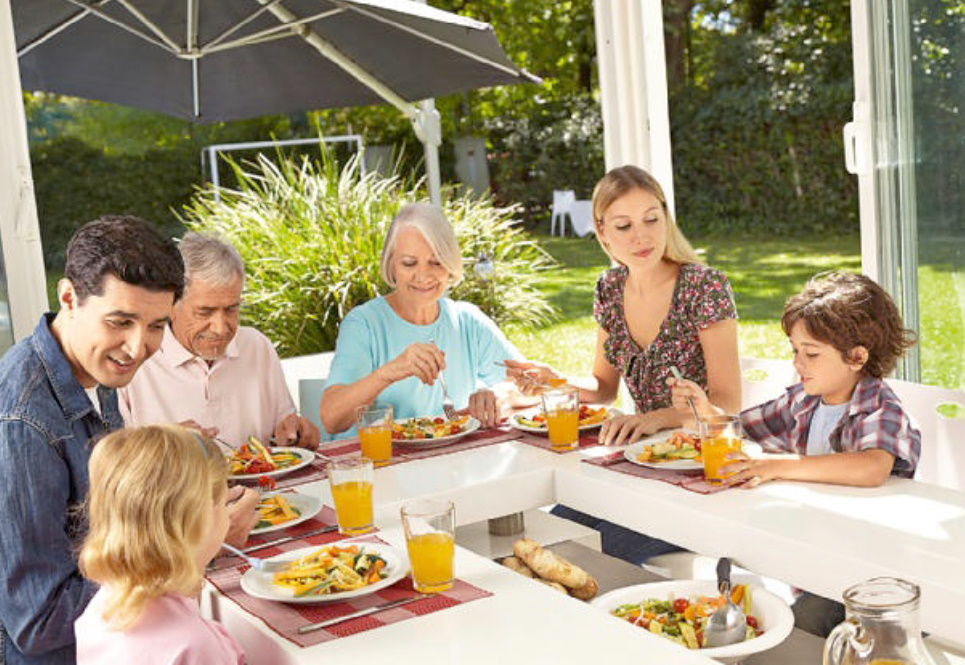 How many days a year do you plan to use the summer kitchen?
Which source for cooking is the most profitable, affordable and convenient for you — firewood, coal, gas, electricity?
What exactly do you expect to cook in the kitchen – only dishes on the fire or full breakfasts, lunches and dinners?
Do you plan to use the summer kitchen also as a dining room and an open living room?
How many people do you plan to accommodate here?
Which place for a summer kitchen seems optimal to you – next door to the house or in a picturesque place in the garden?