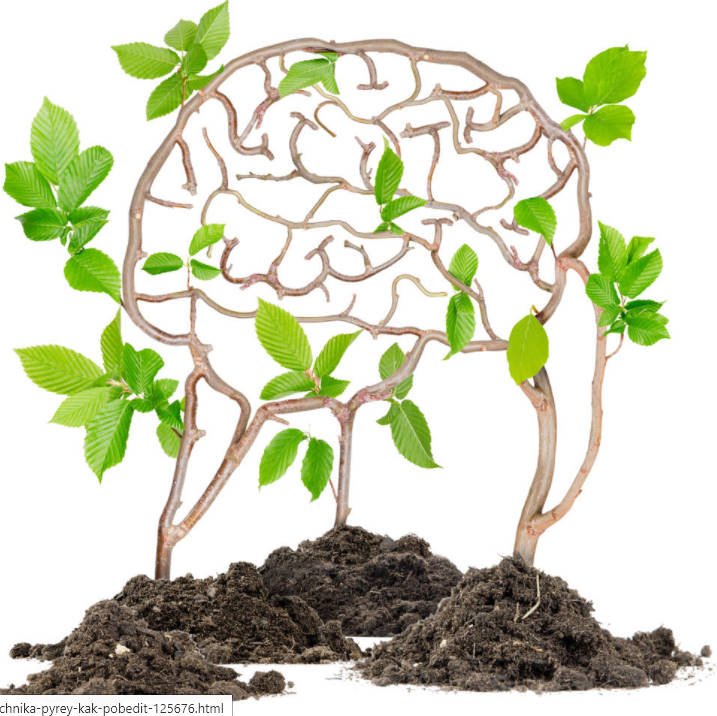 A thinking farmer is always more successful than a simple performer. Because the object of his work — a living, ever-changing nature.
Billions of creatures, both visible and invisible to the eye, are involved in the process of farming. And it depends on them, as well as from the variability of the weather. The secret of the real success of the farmer is that, watching and thinking, not go against nature, using heavy artillery — fertilizers and poisonous pesticides, and become a reasonable co-Creator of the crop. That means:
Increase fertility through composting of organic residues, and cultivation of special plants for green fertilizer, and pests and diseases to fight the forces of nature, using beneficial micro-organisms, insecticidal plants and attracting beneficial insects and birds.
Cultivate for themselves, except edible crops, herbs and shrubs.
And do not forget: everything you grow with love for the earth has the power not only to nourish, but also to heal, both the physical body and the spirit in critical times.
Many newcomers are confused, starting to develop their new land holdings. But, as they say, eyes are afraid, and hands do. The main thing here is not to panic and do stupid things, doing unnecessary (or even harmful) and meaningless work.
Where to start the development of the site
The first thing to do when you become the owner of the land — to conduct an inventory and assess the state of what you got. Pay attention to age and health of plantings and compare with the desires and requirements. How do you want to see your garden?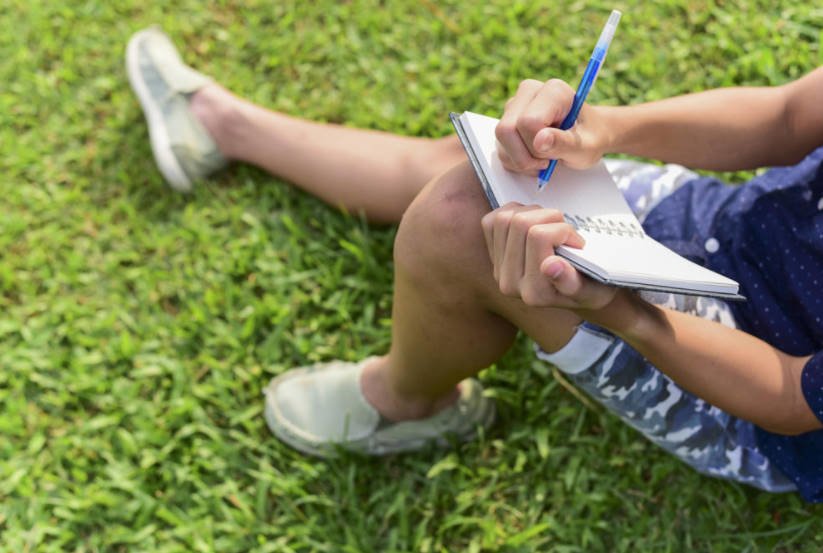 The first thing to do is to conduct an inventory.
Get rid gradually, but ruthlessly from all unnecessary. This may be old currant bushes, Aronia, old tall Apple trees, pears, plums (unless, of course, they are the tastiest varieties, as you can judge at the end of the summer), lilac thickets, shaded culture, launched perennial flowers. The poor condition of woody plants is evidenced by mossy and lichen-covered trunks, cracks and black growths on the bark. When you tidy up the space around you, your whole life is naturally harmonized. Sick, neglected plants, rubbish, optimistically called "a can come in handy", are sources of constant harmful energy.
Try determine type of soil on mechanical composition (sandy, loamy, clay, peat). Make it very simple: roll the moist soil between your fingers. If you get a wand that when twisting the ring remains intact, it is clay. If the Curling wand crack — heavy loamy soil, if highly crack — medium loam, if burst — light loam. Sandy loam soil in a stick does not roll.
During the season, observe and evaluate the natural fertility of the soil as cultivated plants and weeds. So, thicket of nettles and goutweed show a relatively high fertility and looseness of the soil.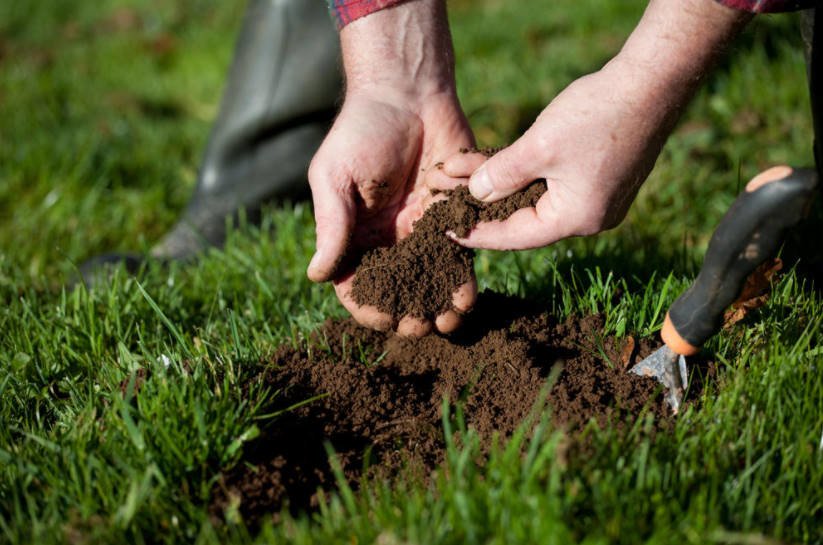 Try to determine the type of soil by mechanical composition
Now comes a fundamentally important point: that your work was reasonable, fruitful and did not turn into hard labor, you need to decide for yourself 3 fundamental questions:
What crops, why and how much to grow?
What to do to make the land yield good crops?
How to work not to get tired?
1. What cultures do you need?
On the first issue, determine your needs and priorities. What fruit crops do you need? Trees begin to bear fruit in the 3-4-th year after planting, shrubs — in the 2-3-th. Therefore, they should be planted first. Decide on varieties. To make them good not only taste, but also resistant to diseases. Choose trees on undersized stems: they take up less space in the garden and are easier to care for.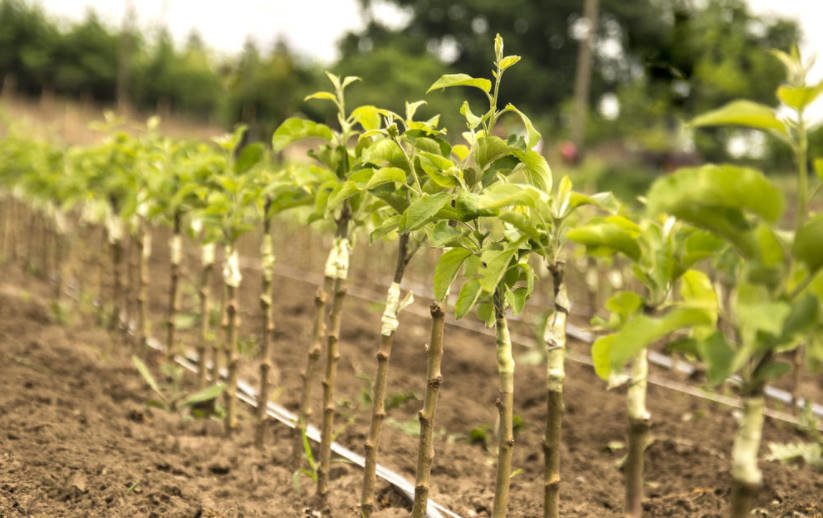 First of all, it is necessary to plant trees and shrubs
For the health and stable yields of fruit trees and shrubs the most important thing is to properly prepare the planting pit size 50-60 x 60-80 cm (for Apple, and for pears on a strong — growing stock — even all 100 x 100 cm) and fill with a fertile substrate.
Pay attention to the useful, but still relatively rare grown in our gardens.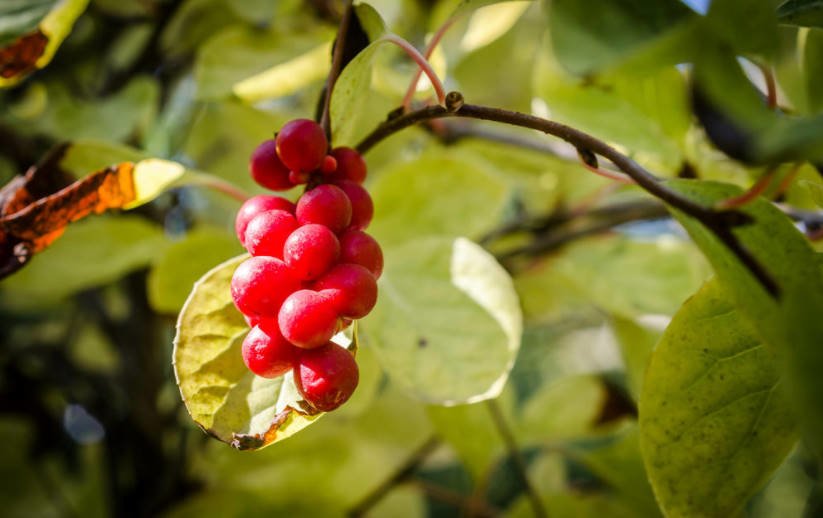 Chinese Magnolia vine
And on medicinal plants.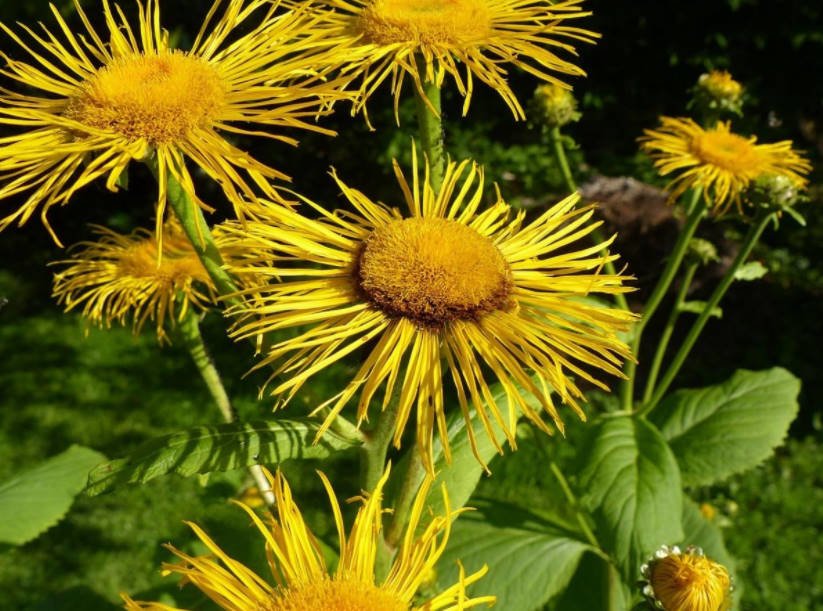 Inula
Special care they do not require, but generously reward medicinal gifts.
Seedlings of fruit crops grown in containers or plastic bags can now be bought and planted not only in spring and autumn in a limited time, but also in summer. Plants in containers do not require immediate planting in the ground, they can wait for a convenient moment for you as long as you want with regular watering.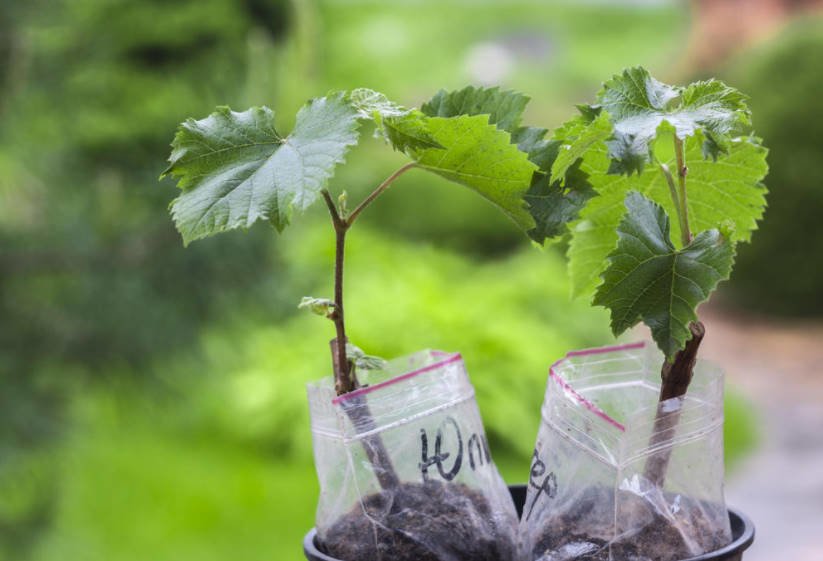 Plants in containers do not require immediate planting in the ground
As for vegetable crops, this list should also be considered. It is possible that you will choose traditional cultures: cucumbers, tomatoes, carrots, onions, garlic, beets, potatoes, peas, pumpkins, zucchini, salad. But, perhaps, not necessary all at once and in large quantities? I have known cases where Housewives work hard and in the beds and in the kitchen making delicious blanks, and the spring or a year from now all this stuff goes in the trash for one simple reason — so many of their little family just does not eat.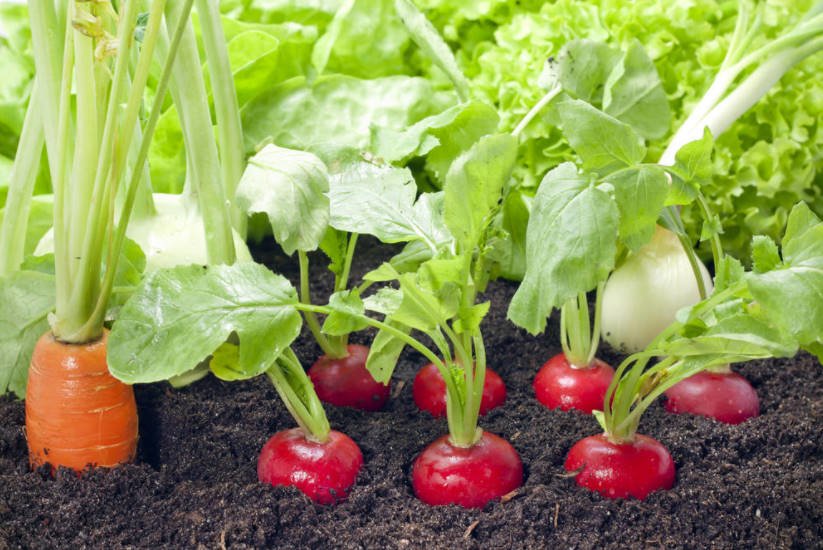 The list of vegetable crops should be considered
If you are brave enough, patient and have the appropriate place, try to grow seedlings yourself:
Start with a small number of reliable varieties. If not, it is easier to buy ready seedlings.
If there is no greenhouse, it will not be difficult to install arcs over the ridges and cover them with a film. This is not only heat-loving cucumbers. These tunnels allow you to get early harvests of radishes, potatoes, carrots, lettuce, strawberries.
Wise from the first year to draw up on paper a planting plan and crop rotation.
2. What to do to make the land yield good crops?
The second issue concerns the method of tillage. This is an extremely important topic, the basic principles of which I will formulate in several postulates. Soil — is a living substance, home to billions of invisible to the eye microscopic organisms that are the creators of the crop. Therefore, it is necessary to treat the soil carefully. In other words, do what she wants. And she wants to avoid digging plow, a cultivator, a shovel, do not throw poisons and not zealous with mineral fertilizer, and raked, provided enough organic food, kept rotation. We will return to this important topic.
3. How to work not to get tired?
Solving the third issue, I would advise first of all to stop digging and digging the soil with the turnover of the reservoir, and replace the shovel on the plane cutter. This versatile tool works wonders. It is easy for you to work — to loosen, to cut sown rows, to cut weeds, to thin seedlings; and the soil is good, since its natural microbiological activity remains, and soil inhabitants do not die in large numbers, as it happens when the reservoir is rotated.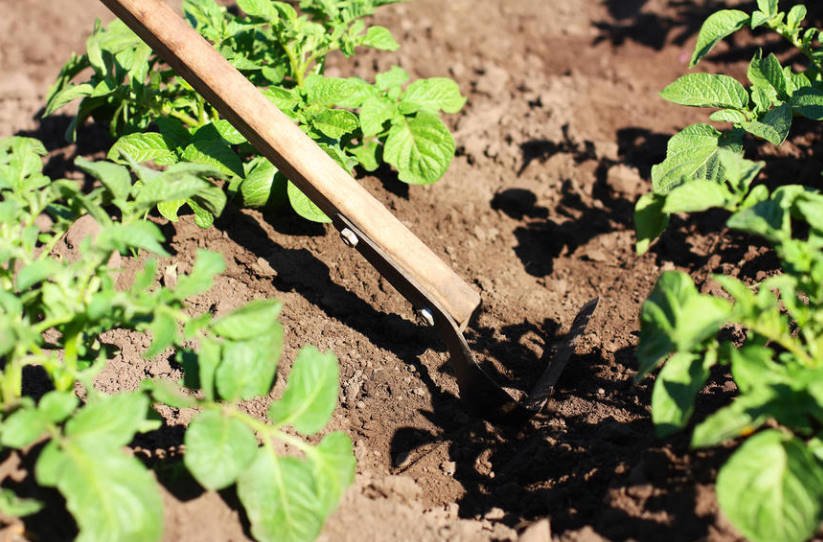 plane cutter
Use of microbiological preparations. Let you help its beneficial microorganisms-loosen and structure the soil, protect plants from pathogens, accelerate maturation and increase the overall yield of crops.
Compost all organic residues with biological products to accelerate fermentation and suppress pathogens, weeds and pests.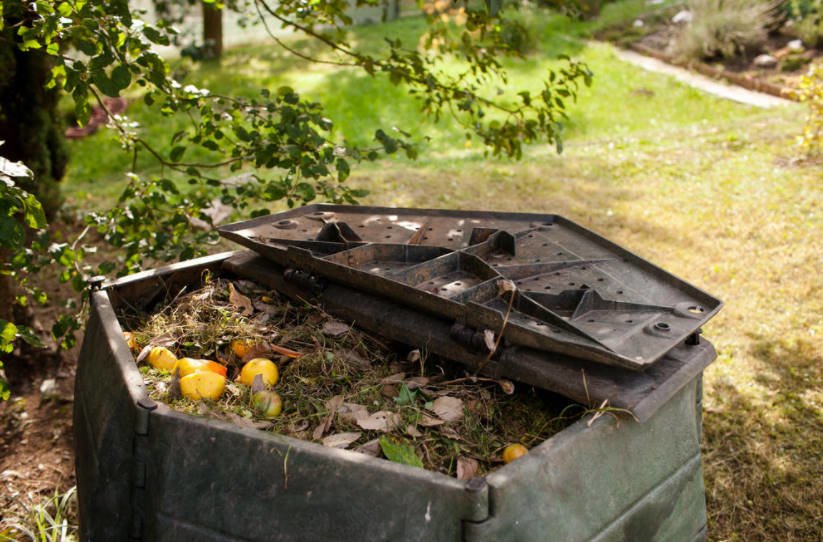 Compost all organic residues
Widely apply mulching. This is the main source of organic matter.
Use biological fertilizers: high-fertility substrates based on biohumus for filling ridges and preparation of planting pits, such organo-mineral fertilizers, as well as humic acids for foliar feeding. Plants grown primarily on organic and organo-mineral fertilizers have a natural strong immune system and high biological value to human health.
Do infusions on herbs for foliar feeding of plants.
Work intelligently and rationally to conserve and increase soil fertility and conserve your own energy. After all, not only vegetables and fruits we are fed. We still have to grow the flowers, hear the birds singing, and just sunbathe and relax on their acres.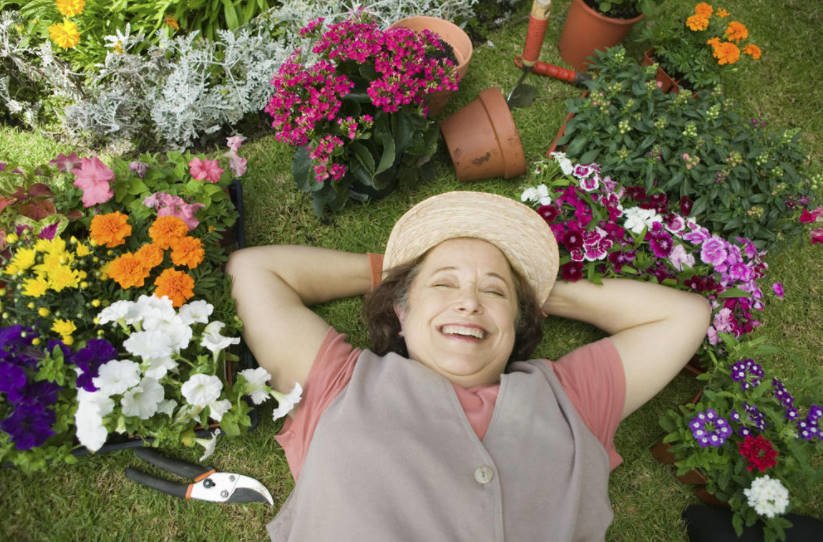 We still have to grow the flowers, hear the birds singing, and just sunbathe and relax on their acres.