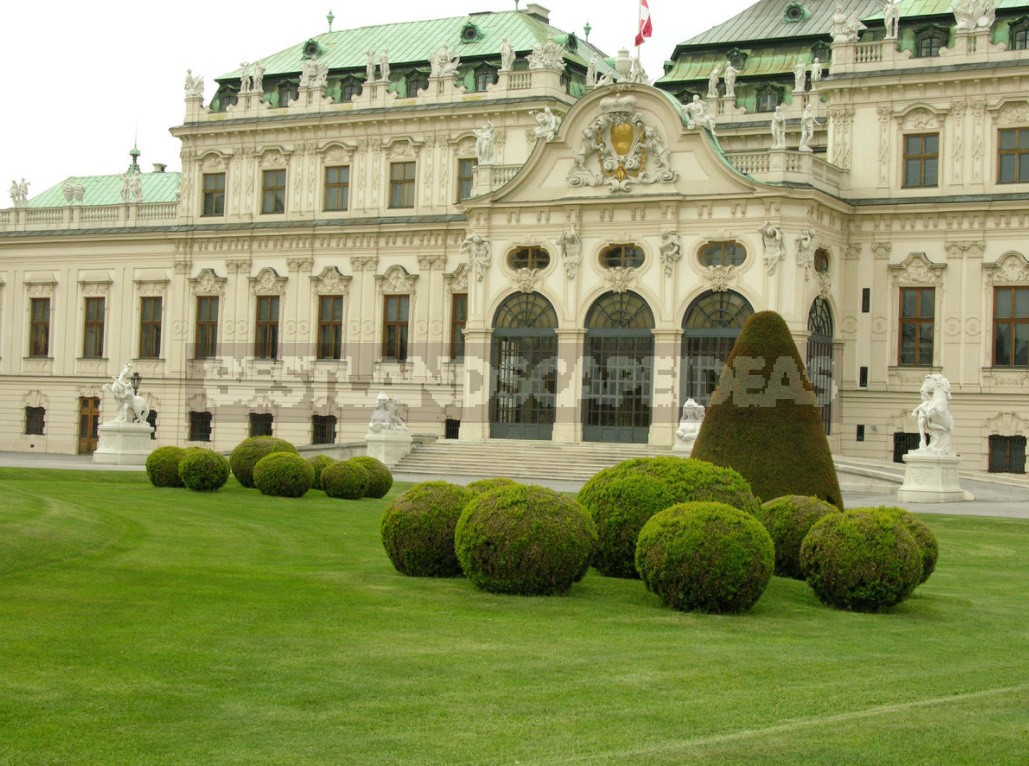 Belvedere — one of the most beautiful Viennese Palace complexes, existing since the XVII century. Two castles and a regular French Park with fountains are sure to be visited by all tourists. Moreover, in the so-called Upper Belvedere there are museums and a gallery of paintings of the XIX and XX centuries.
During our stay in Vienna, there was an exhibition of paintings by Oskar Kokoschka. But, ignoring all the recognized treasures of the Palace, we rushed to the right, through a small gate, behind which is a treasure for the elite: the oldest Alpine garden in Europe, known as the Belvedere rock garden.
Founded sometime in 1803 by Archduke Johann, it was moved to the Belvedere in 1865 and has been receiving visitors from March to August for more than 140 years. The territory is small, and its borders can be viewed from any point, although they are overlapped here and there by towering "mountains". A small house for garden workers, simple furniture of a couple of benches, half a log on each, and a table from a wide saw — that's all, no longer fits. A narrow path made of coarse river sand winds through the "mountains" and climbs up the embankment along the fences.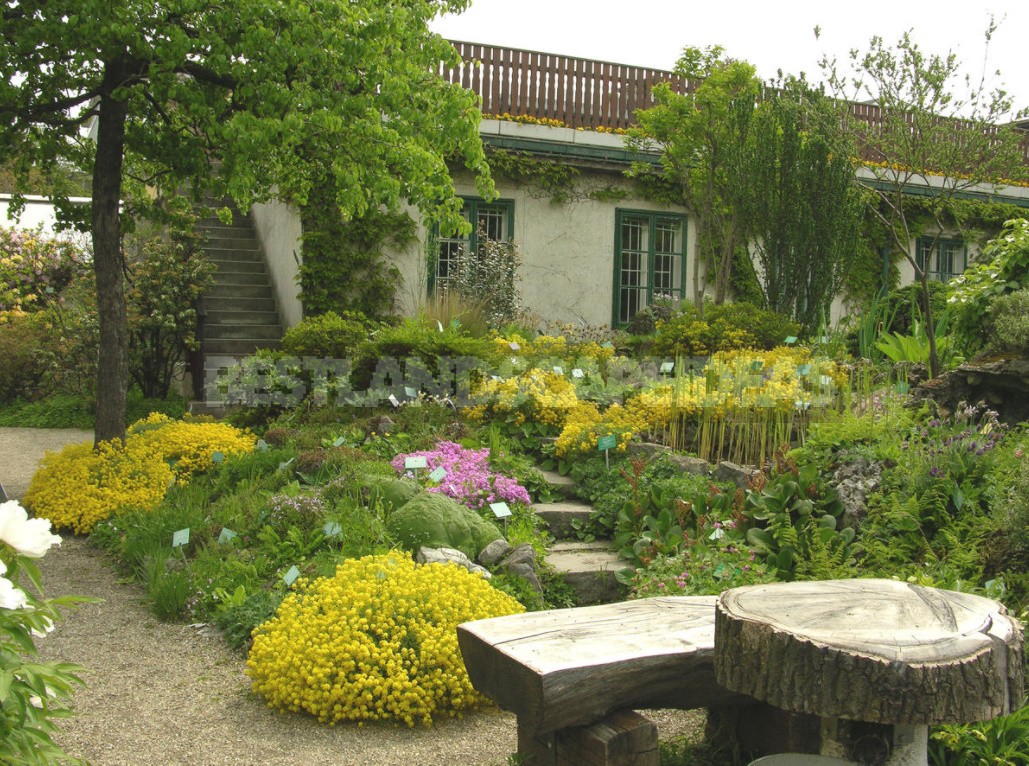 Here, among the overgrown shrubs settled old friends, lovers of shade: ferns, very pink Convallaria, Trillium sessile 'Rubrum', Podophyllum hexandrum Majus, Leucojum aestivum in the thick of ivy and Asarum canadense.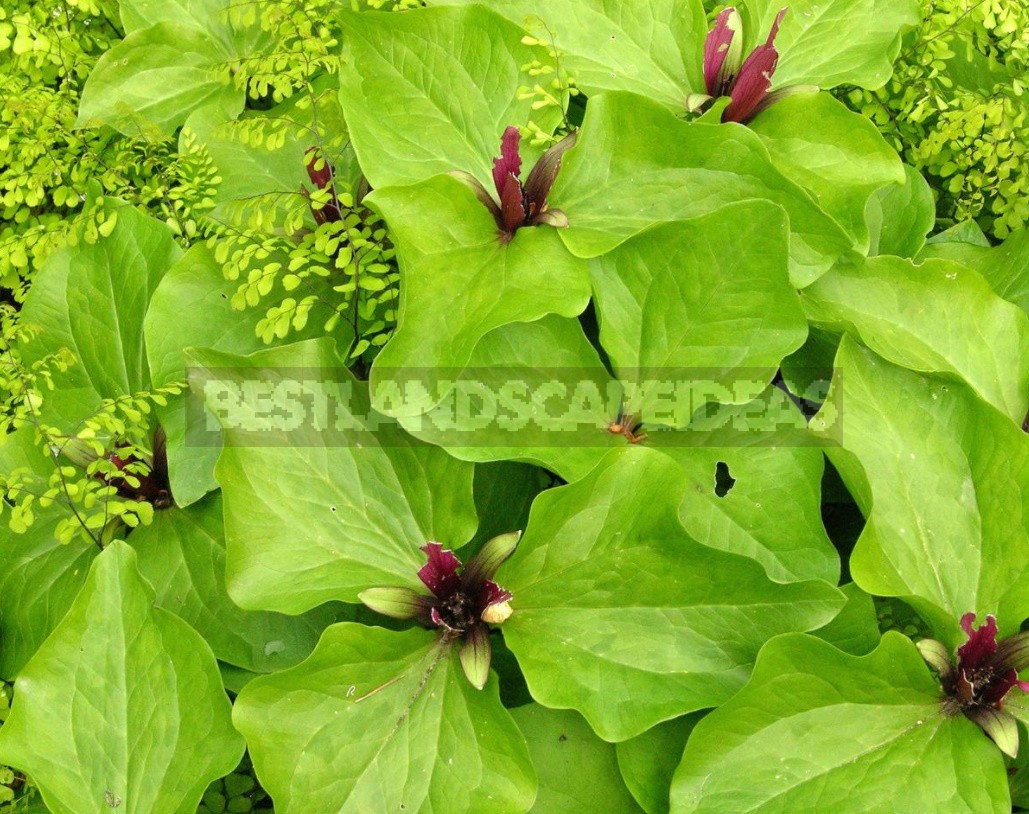 It was the time of flowering tree peonies and rhododendrons — the most prominent shrubs in Central Europe. They occupied flat sections of the rock garden.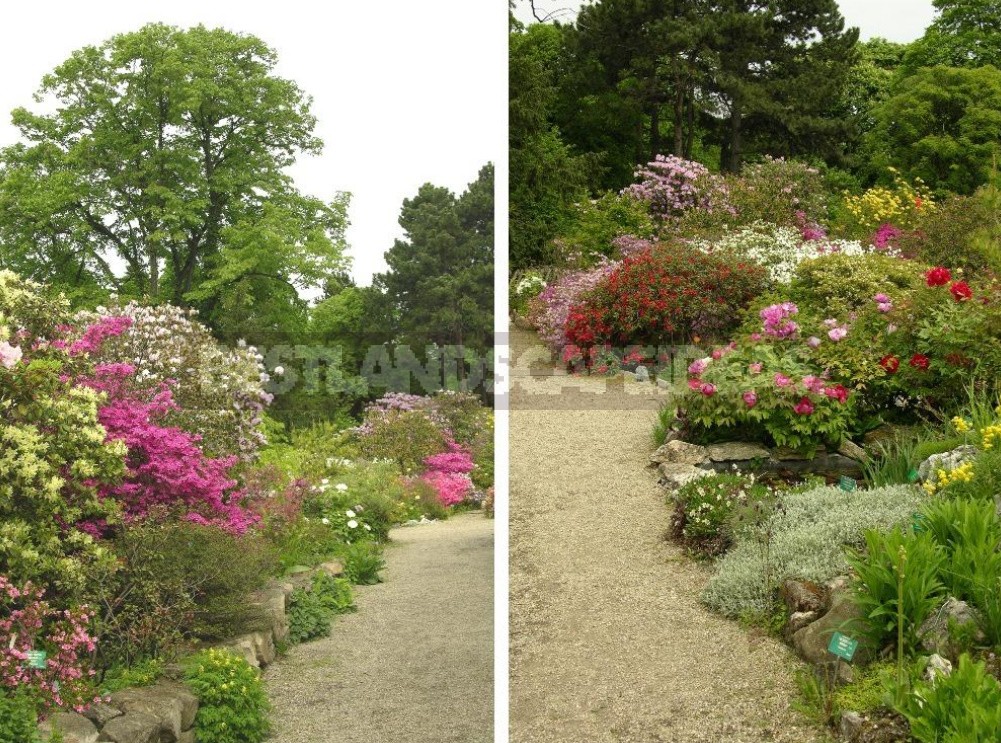 Several large deciduous trees, ancient stocky coniferous dwarf varieties and ephedra diluted their bright green arrays. Although some of them were very attractive — such as Pinus densiflora 'Oculus-draconis'. This is a unique variety with striped needles: each needle has two yellow belts. If you look at the kidney from above, it seems that it is surrounded by yellow concentric circles. Maybe that's what the dragon's eye looks like.
Shrub peonies are amazing plants that manage to maintain all their splendor even in cold climates. And that's with minimal care. Among them were species, for example, Paeonia ostii with simple pure white flowers. But still, rhododendrons do not know their equal in brightness and variety of colors.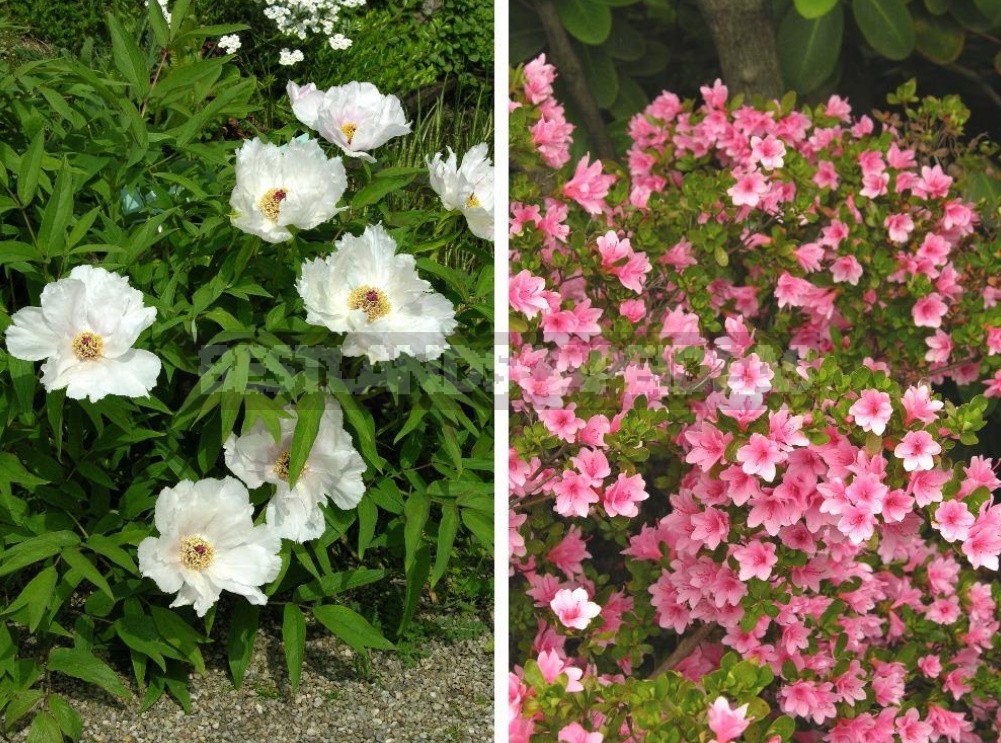 The frightening abundance of varieties makes it difficult to perceive names. And only a few are attracted to very original forms. Evergreen Rhododendron williamsianum with unusual rounded leaves and drooping broad bells of pale flowers. It grows very slowly, reaching 1.5 m in height.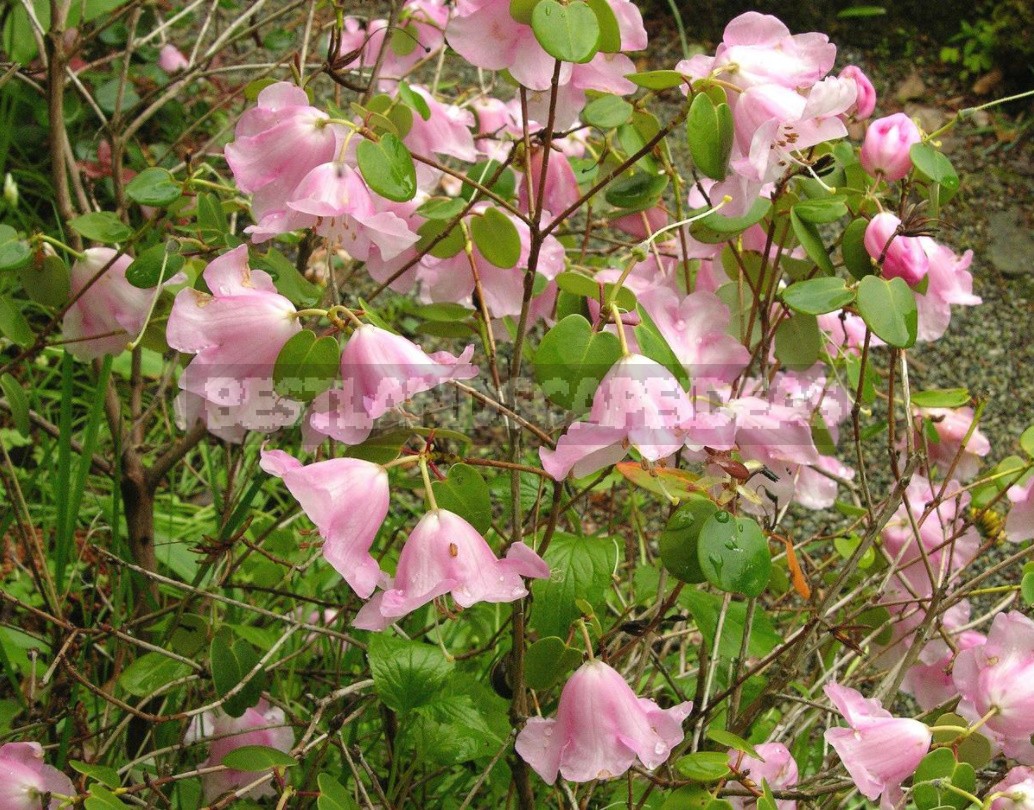 The Japanese variety 'Kirin' ('Coral Bells', 'Daybreak', 'Pink Beauty') from among the ancient Kurum hybrids catches the eye first of all with small but very bright flowers, and only if you look closely, you will notice that the corollas are double. As for Rhododendron stenopetalum 'Linearifolium' (formerly R. macrosepalum 'Linearifolium'), we did not expect that rhododendrons could have such thin petals: there is almost nothing left of them. This is also a Japanese variety, in Europe it is called "spider Azalea".
The structure of the actual Alpine hills is unusual. If now, as a rule, they make wide hills supported by stone walls and covered with a network of paths, then the local hills consist of massive stones (probably calcareous tuff) placed on top of each other in a pyramid. Their height reaches 3 m. Artemisia, Thymus, Sempervivum, and huge bright armfuls of heat-resistant cruciferous plants like Aethionema pulchellum = A. grandiflorum from the Middle East sit in the cracks between the rocks and in the caverns that cover their surface.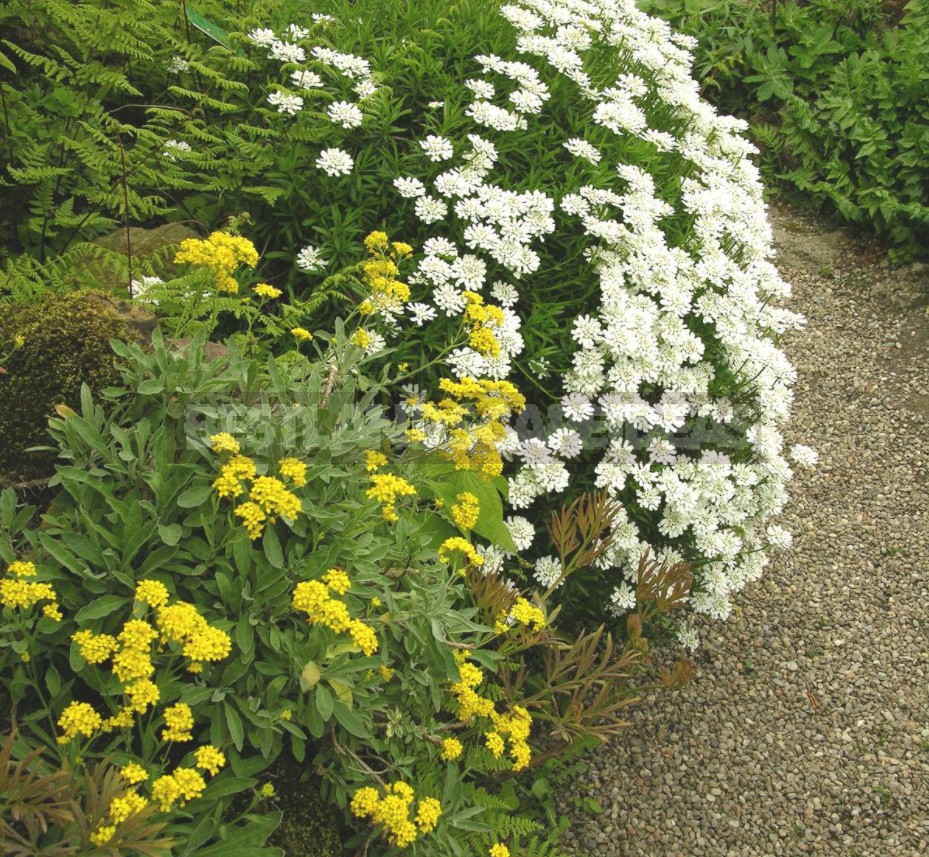 As in any rock garden, not without Ptilotrichum spinosum = Alyssum spinosum. Its pillows, whipped with twisting stems and thorns, reach an intimidating size and are supported on completely vertical stones. What is not surprising: its homeland is the rocks of southern France and Spain. It has two forms: with white and pink flowers. Monochrome pillows of purple aubrietas, yellow wild Alyssum saxatilea and lemon — colored 'Citrinum', white Iberis sempervirens fall down from the mountains and fall out on the paths- a great combination that can often be seen in private gardens.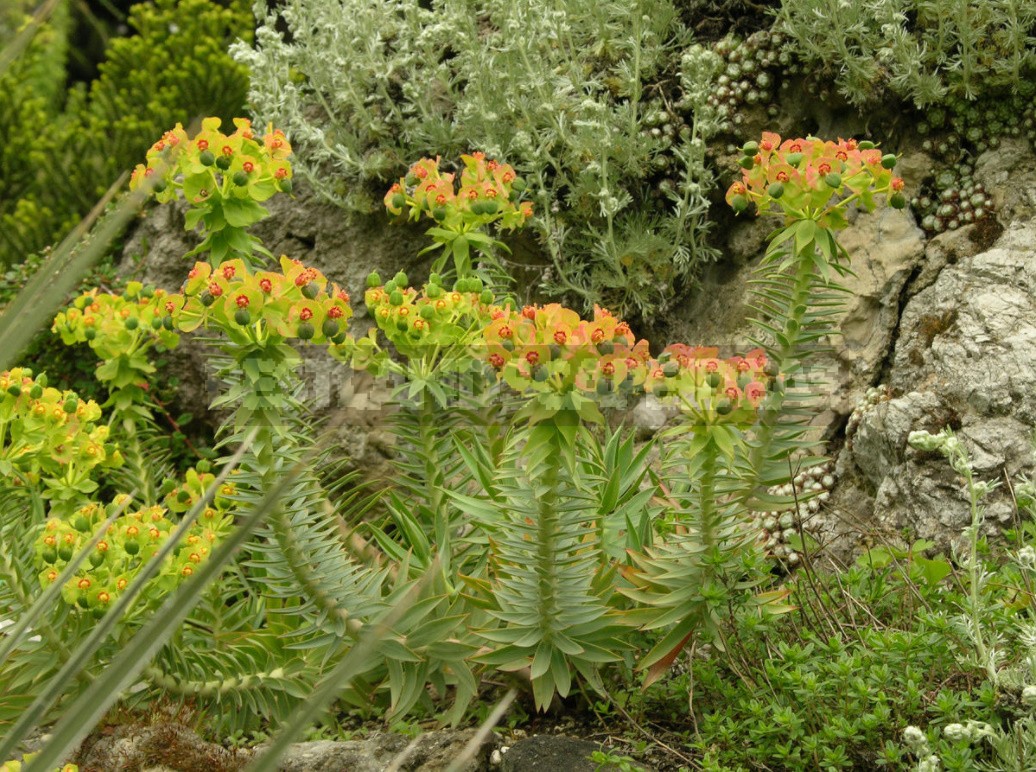 Euphorbia rigida, which seems to need neither irrigation nor soil, and the usual native Saponaria ocymoides.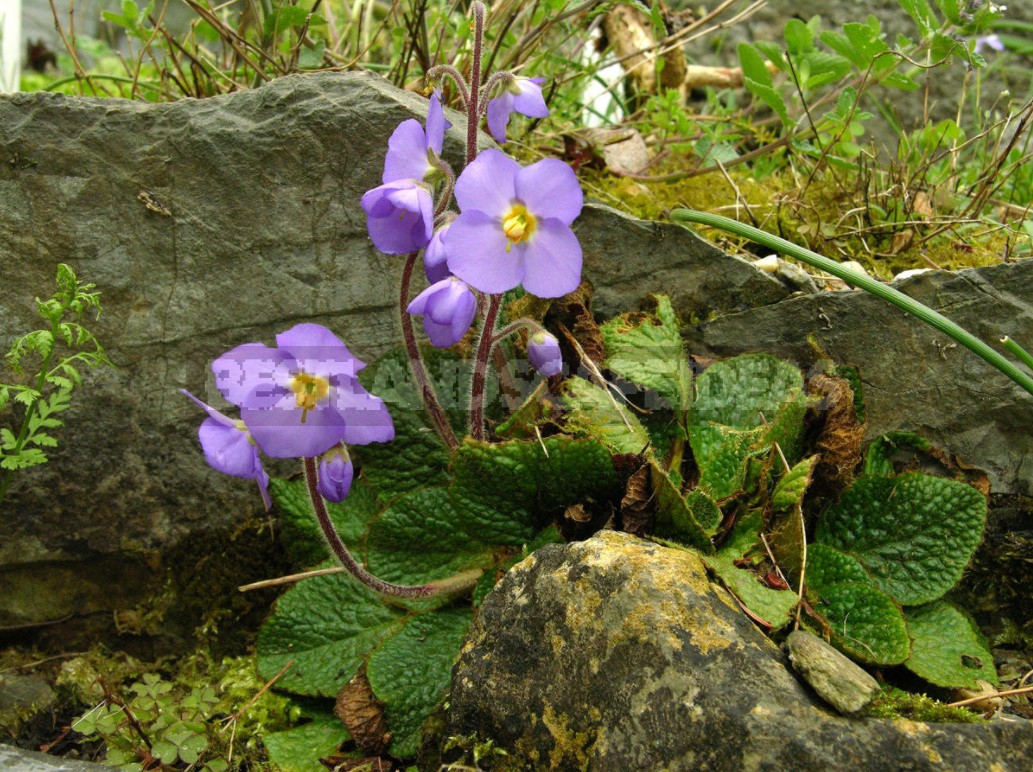 Ramonda myconii and Haberlea rhodopensis usually nest on steep walls, but in shady crevices, near oozing water — a mandatory pair of any decent rock garden. These capricious inhabitants of the rocky highlands of the Mediterranean absolutely can not stand the winter dampness, and on the other hand — the summer drought.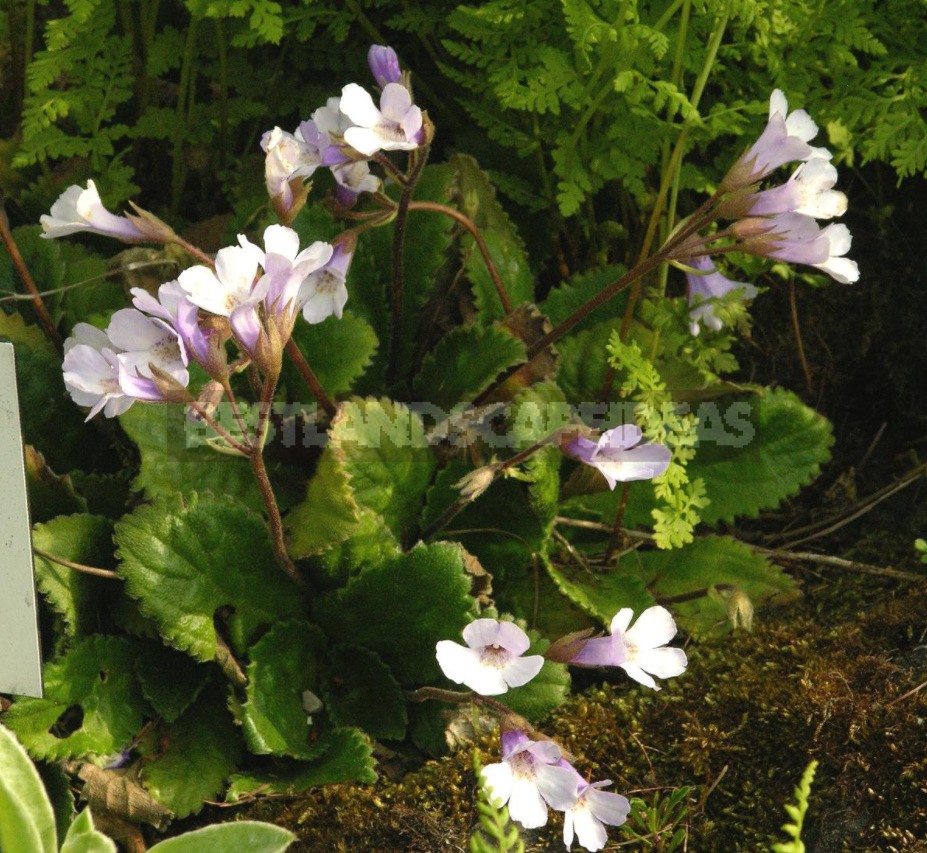 At the sloping foothills, moderately weeded (or moderately overgrown), which created the effect of naturalness and antiquity, powerful beds of legumes attracted attention: Astragalus tragacantha — a representative of the group of prickly shrubby Astragalus that live in steppes and deserts, and the Caucasian A. sanguinolentus in two forms: white and pink.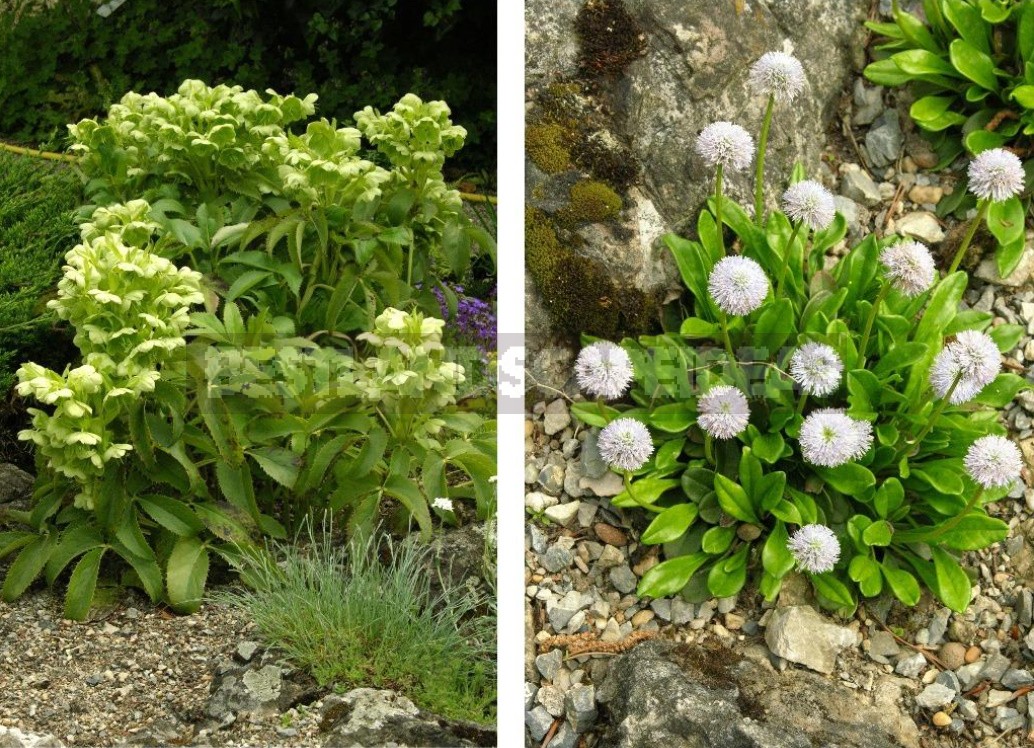 There were, of course, the inevitable Genista hispanica, resembling the spiny domestic Cytisus emeriflorus. The wide range of plants in the lower zones of the European mountains. Here and Helleborus multifidus and H. foetidus, which is not prevented from being sown anywhere, and the Caucasian Nepeta mussini, and the Mediterranean Euphorbia characias, the best of all, according to Gertrude Jekyll.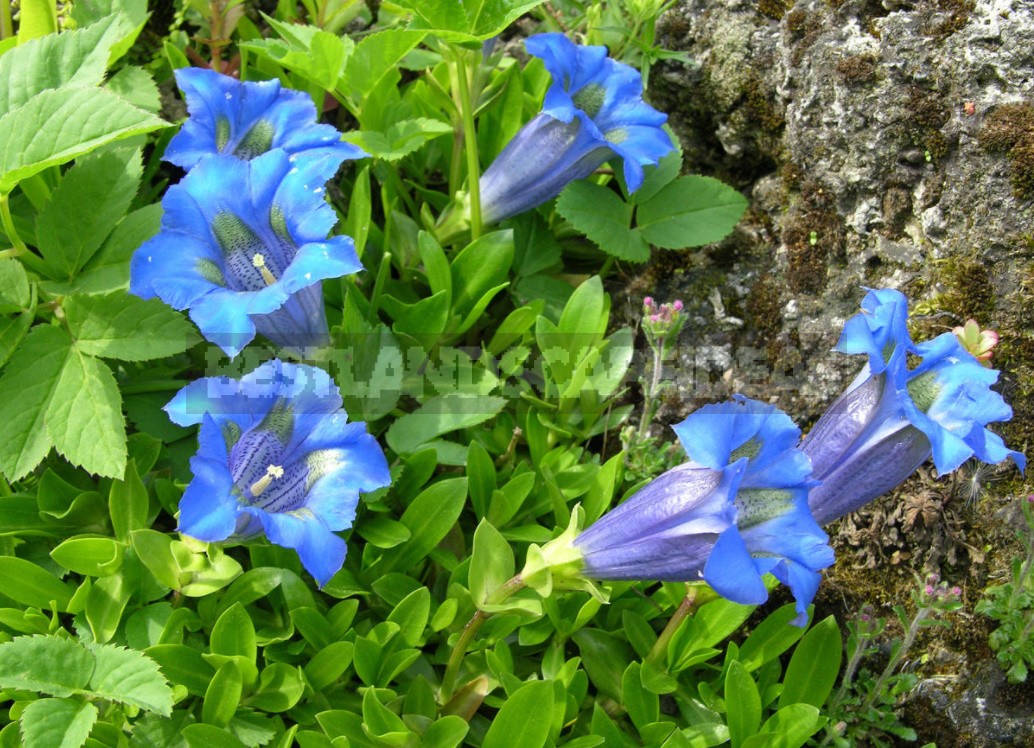 All this was interspersed with the rugs of the alpinists themselves. Gentiana acaulis, Globularia cordifolia, G. nudicaulis, Dryas not yet in bloom, wonderful Anthyllis montana, and Armeria juniperifolia were present. Common in Western gardens Pulsatilla albana, represented by a cream shape. It forms a surprisingly large flowerbeds.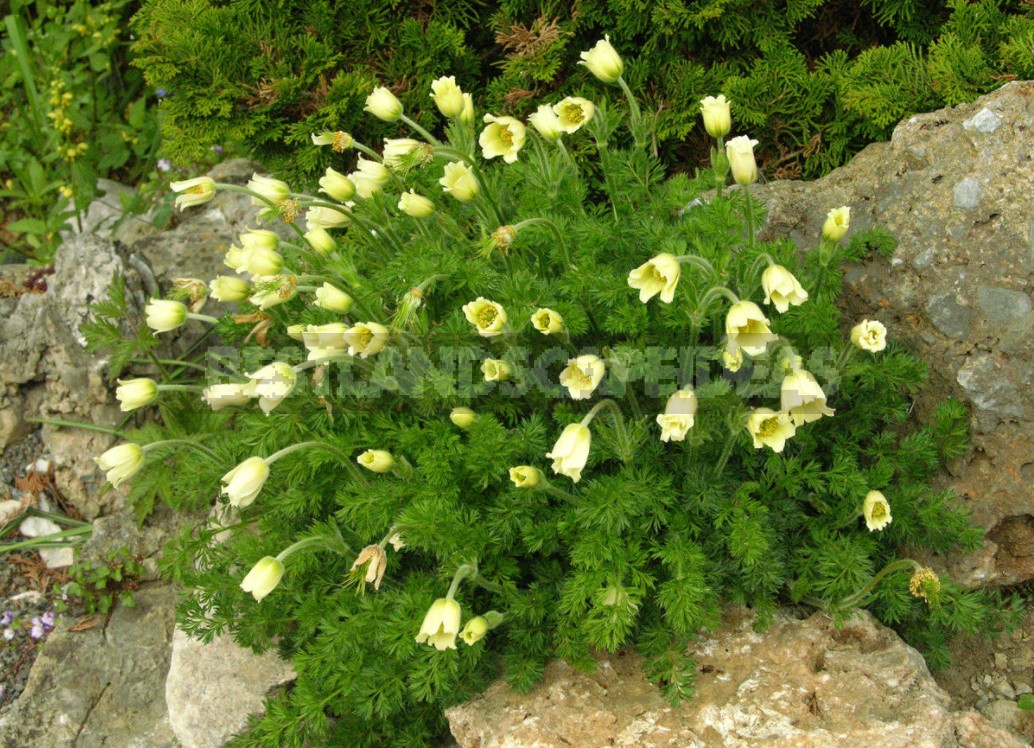 So much for the rock garden, what you'll find here! Brought here from the canadian tundra unremarkable Lesquerella arctica, from the North American deserts — Eriogonum umbellatum, and from Algeria arrived nondescript Othonnopsis cheirifolia = Hertia cheirifolia. Asarina procumbens from the Pyrenees took root so much that it even climbed the brick wall of the house.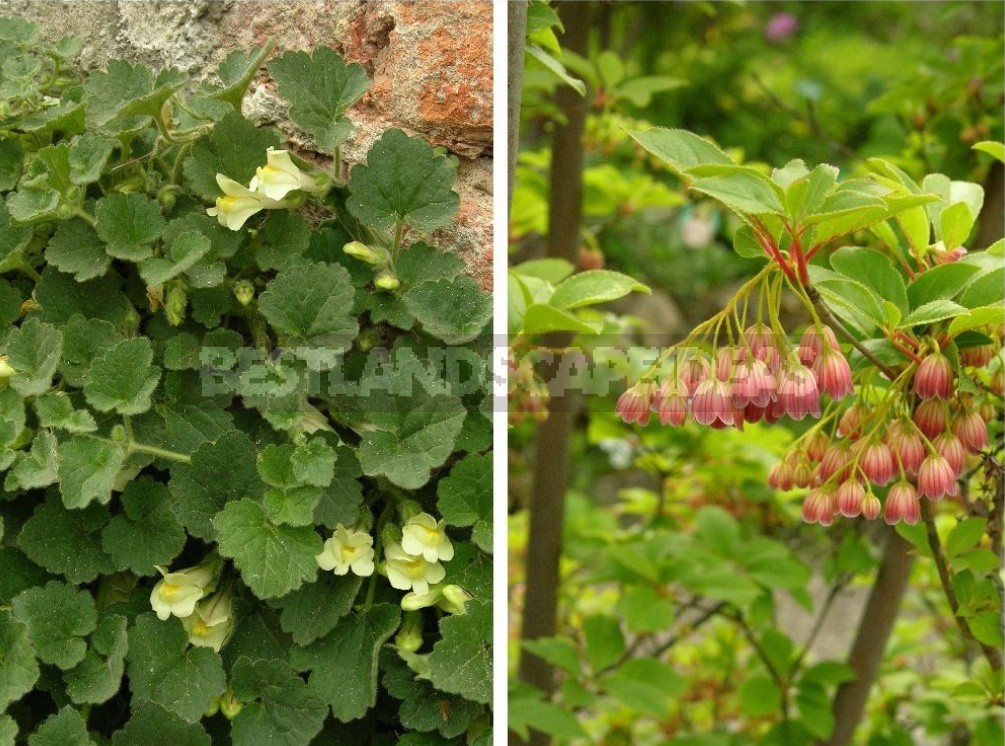 How do I know in advance: what will live with us and what will not? Only experimentally. Armchair theories are only good for scientific reports. We tried to keep some of what we saw in a cold climate and were clearly convinced of the climate difference. Here lilac inflorescences collapsed under the weight: Syringa protolaciniata = S. afganica and S. meyeri.
How many times Spiraea prunifolia 'Plena' was started, the same number of times it fell out, although it is credited with winter hardiness up to the 4th zone. Here, it looked great.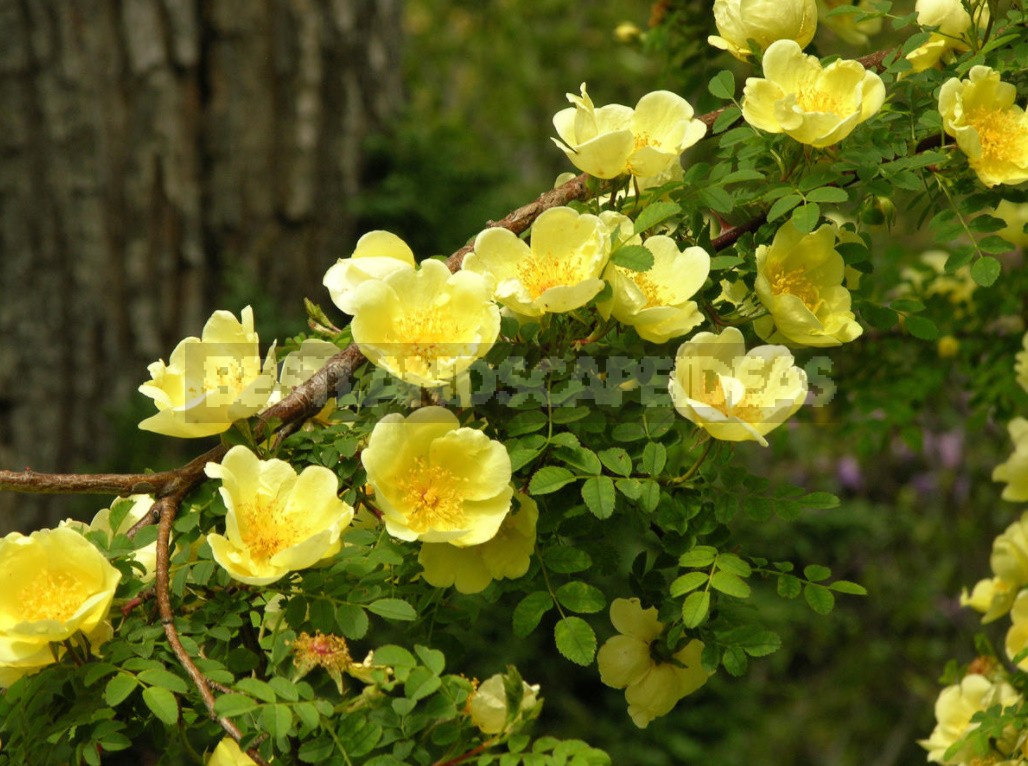 Yellow Rosa hugonis, which pleases us at home with three pathetic twigs, in Vienna grows a sort of two-meter shock. By the way, this is probably the only rose in the garden.
The fattened Daphne, even the evergreen Daphne pontica, was clearly not affected by the weather conditions. The evergreen Viburnum davidii from Western China was in full bloom.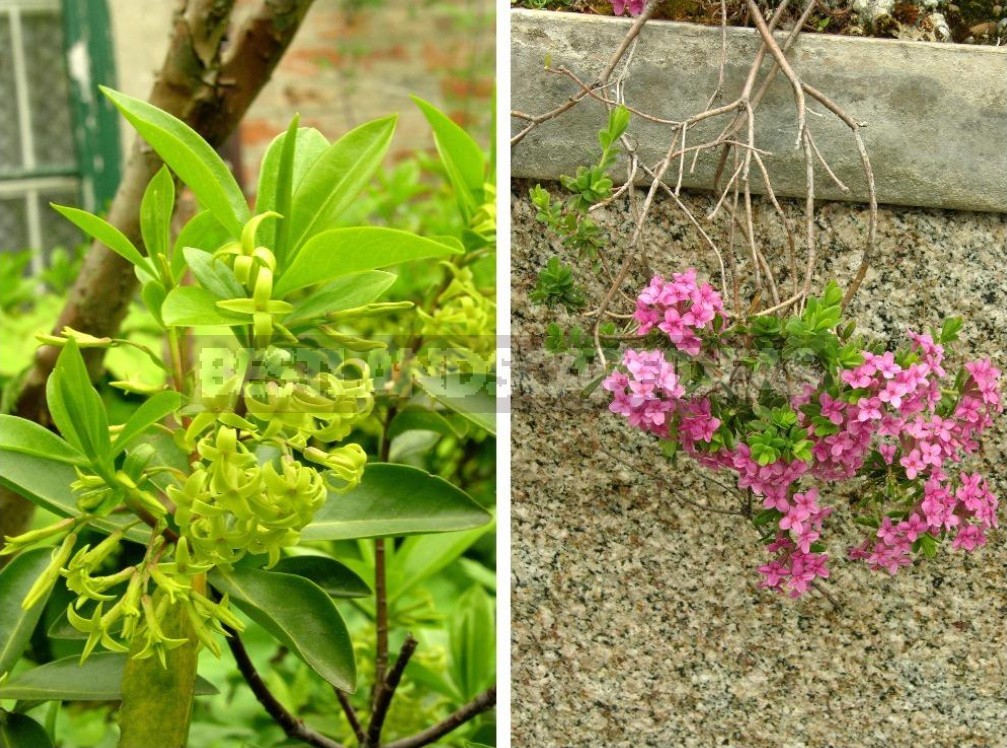 There was also quite exotic. Trochodendron araloides from Taiwan and Japan with green flowers consisting entirely of stamens. Neviusia alabamensis from the Rosaceae of the southeastern United States is a small deciduous shrub from the Rosaceae, too, as if on purpose, decorated with bundles of stamens to match its more famous compatriot Fotergilla major.
And finally something else: a huge evergreen Liana with a stupefying smell of nondescript wax flowers Holboellia coriacca.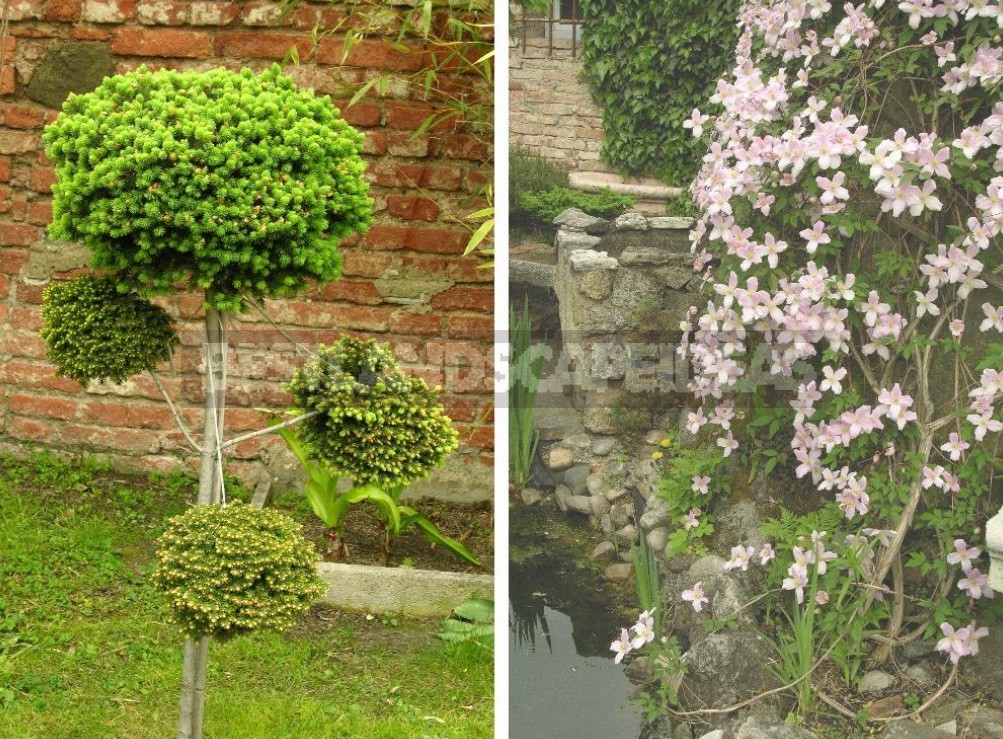 A special section, the gate to which was guarded by the same shrubby peonies and elegant Deutzia gracilis, is a Japanese garden with bonsai chained to tables. Perhaps the most unusual thing in it was a stem with a collection of microscopic Christmas trees — grafts under the comic name Picea abies Rosengarten, and even a common Prince in gardening (Clematis montana 'Pink Perfection').
This is a picture that can be observed at the end of April. And how many of them will change during the season! How many amazing things promised a lot of small unobtrusive signs accompanying some unremarkable leaves. The collection is believed to contain about 4,000 plants. By the way, the label is worthy of special praise: you could find the name of almost any plant, and it corresponded to reality.