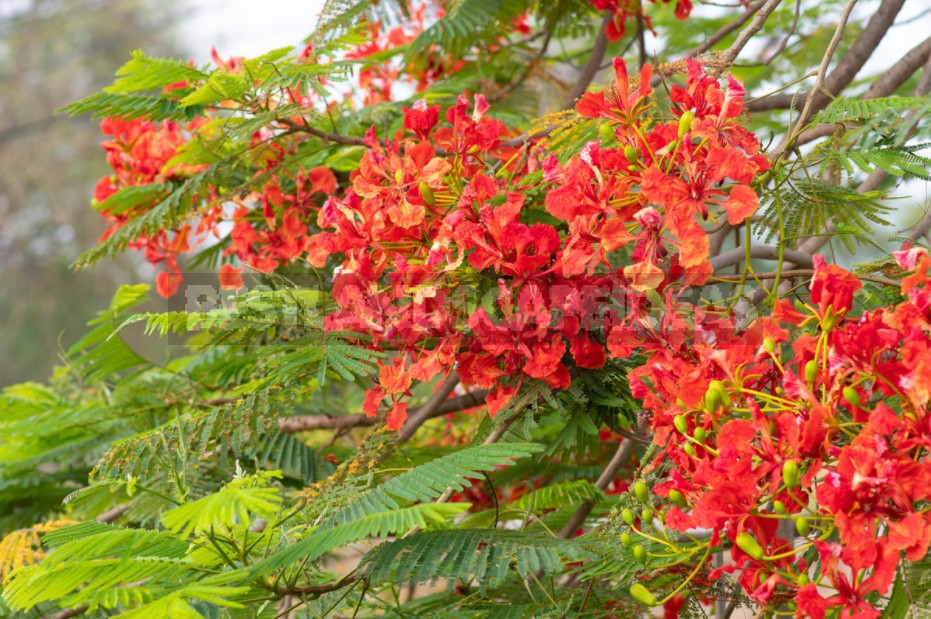 Many people think that exotic plants do not belong in gardens: they will freeze. But it's not! Among them, there are many quite hardy species that will easily endure the hardships of winter. We will devote a series of review articles to this most interesting topic — rare and sparsely distributed trees, shrubs, and perennial lianas. They will help you unmistakably choose a worthy candidate for decorating a dacha plot.
I was prompted to take up the preparation of the material by the genuine interest of the site's users in exotic plants. Many have expressed a desire to grow rare plants on their site, so I will specify the winter hardiness of each specific species according to USDA zones. What is it for? So that everyone can accurately determine whether the plant is suitable for open ground or it should be grown in a tub culture in a home winter garden.
We will check the Latin names according to the list of plants in The Plant List.
This material will help you become a kind of introducer of unusual woody plants, introducing them to the culture in your region. We can only talk about success when the species, form, and variety in the new conditions not only bloom, but also bear fruit, giving full-fledged seeds with good germination.
Cladrastis
Cladrastis lutea, syn. C. kentukea, also called yellow tree, American yellow acacia.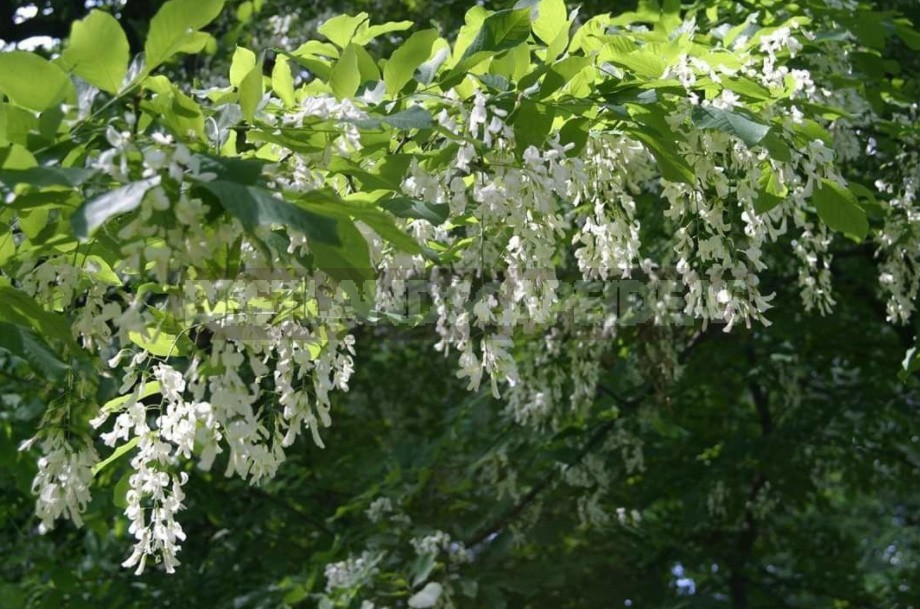 It is a sprawling fragrant deciduous tree 12 m high and 10 m wide. It is native to the southeastern United States. Bright green unpaired leaves, consisting of 7-9 oval leaflets, up to 30 cm long. They are especially beautiful in autumn, when they become bright yellow. The flowers are white, with yellowish spots, fragrant, up to 3 cm long, collected in drooping panicles; they bloom in late spring or early summer. Fruits-lanceolate beans of dirty brown color, flat, narrowed to the top and base, up to 6 cm long; ripen in August‑September.
Features of care and reproduction
It is quite hardy: USDA zones-4-8 (that is, it can withstand a drop in temperature to -34.4°C). It grows well in well-drained, fertile soils. Drought-resistant, but with summer watering, it grows as a luxurious tree. The Achilles heel of Cladrastis is vulnerable to winds, so it is advisable to plant it in a place protected from them. In addition, you need to immediately install stretch marks or tie the seedling to a strong stake. In late winter or early spring, when the tree is at rest, remove unnecessary and overlapping shoots, preserving the natural shape of the crown. Resistant to pests and diseases.
Propagate by scarified (or treated with concentrated sulfuric acid or by immersion in boiling water for 30-60 minutes) seeds. They can be stratified in sand (pure or mixed with peat) at a temperature of +5°C for 3 months.
Practical advice: for woody exotics in the open ground, the most vulnerable period is the first year after planting. Try to give them maximum attention at this time, and most importantly-to organize regular watering in the trunk circle.
Maakia
Maackia amurensis is also called the Amur acacia.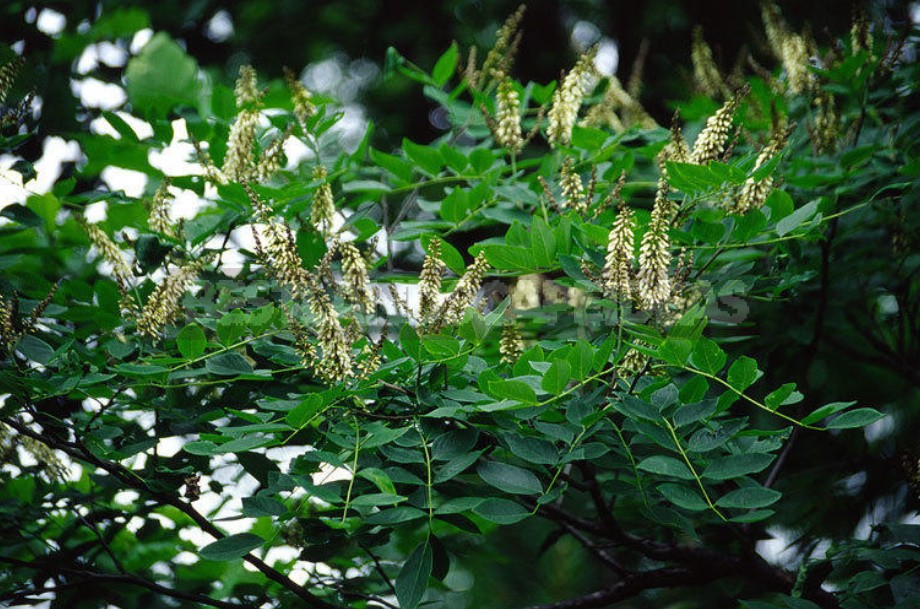 It is a deciduous tree up to 15 m high and up to 10 m wide. It is found in the Far East, north-east of China. The leaves are non-pinnate, consisting of 7-11 oval leaflets, 20-30 cm long. The flowers are white, 1 cm long, collected in vertically standing brushes 10-15 cm long; they bloom from mid to late summer. Fruits-lanceolate brown beans, flat, up to 8 cm long; ripen in September.
Features of care and reproduction
Winter hardiness: USDA zones-3-7. Undemanding to soils-readily grows on moderately fertile, well-drained, neutral or slightly acidic. For planting, choose an open, sunny place. Pruning only supports its natural shape.
It is easily propagated by seeds (they are treated with steep boiling water and left for 1 day), vegetatively-root offspring.
Practical advice: in addition to Maackia amurensis, Maackia chinensis can also be grown in more southern regions. USDA hardiness zones-5-7. It is a deciduous tree with a rounded crown, 10 m high and 10 m wide.
Laburnocytisus
As a result of tissue transplantation of Chamaecytisus purpureus and Laburnum anagyroides, or Laburnum anagyroides, laburnocytisus 'Adamii' was obtained.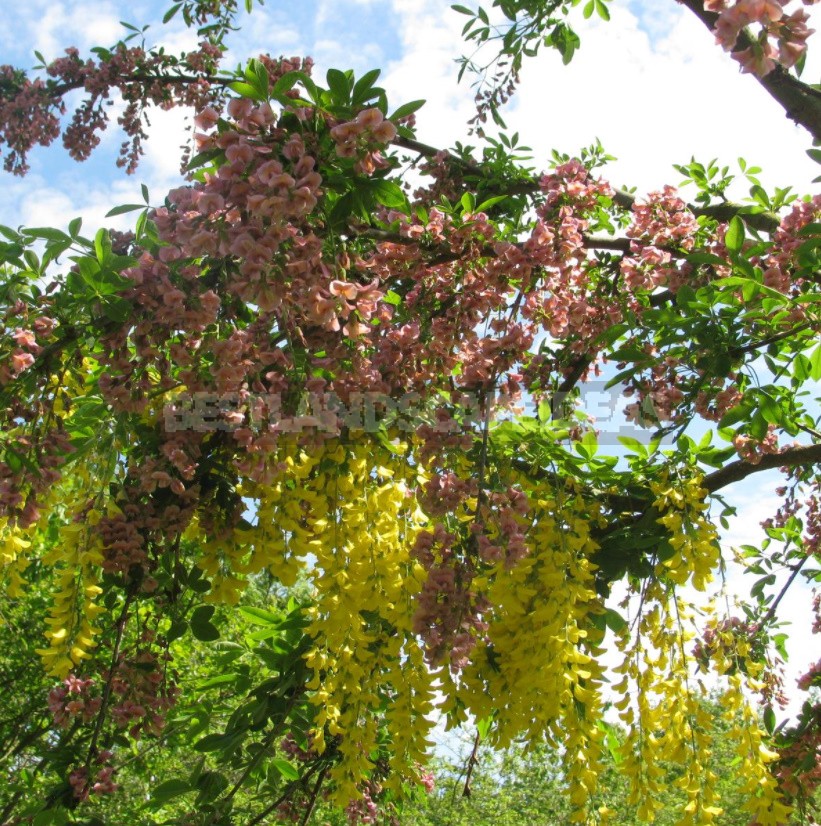 This striking deciduous tree or shrub is 8 m tall and up to 6 m wide. It looks similar to Laburnum, from which it is distinguished by the presence of inflorescences-brushes of three colors at once on one tree — yellow, purple and pink (when purple flowers bloom, they turn pink).
Features of care and reproduction
Relative to winter hardy: USDA zone 5. Requires sunny places, moderately fertile moist well-drained soil. Pruning consists in the timely removal of shoots typical of Laburnum. Resistant to pests.
Propagated by winter grafting on Laburnum.
Delonix
Thanks to the bright red flowers, in the homeland (on the island of Madagascar) Delonix regia, syn. Poinciana regia is called the "tree of fire" and is considered one of the most beautiful trees in the world.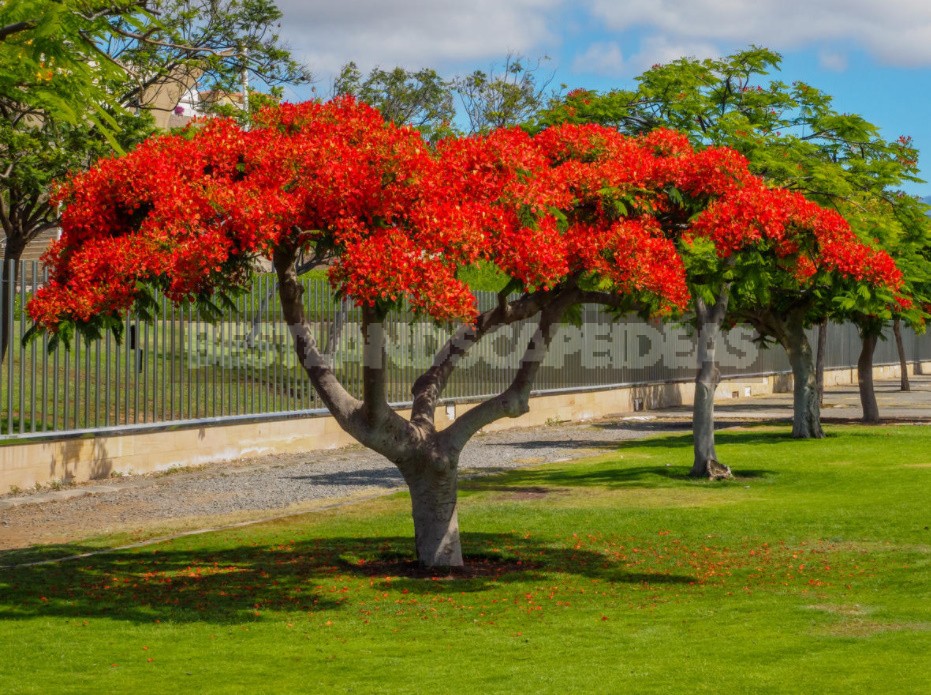 It is a semi-evergreen tree up to 10 m high and 5-10 m wide with a wide domed crown. The leaves are paired-pinnate, with 10-25 pairs of elliptical or oblong leaflets 30-50 cm long. The flowers are red, large, with a diameter of 10-13 cm; they bloom from spring to summer.
Features of care and reproduction
Thermophilic: USDA zones-10-12; some reference publications indicate its temperature minimum at + 7°C. That is, in the middle zone, it can be grown as a tub culture. When propagated by seeds, the seedlings will first bloom in 7-10 years!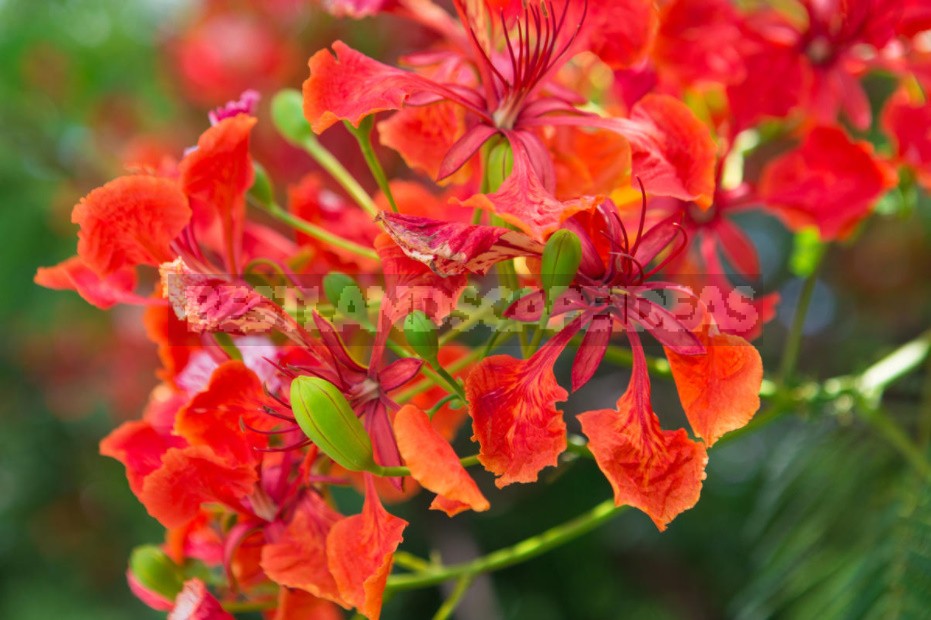 Pueraria
Pueraria montana var. lobata, syn. P. hirsuta, P. thunbergiana — is a powerful perennial deciduous liana with lignified shoots up to 20 m long, with large tubers; sometimes grown as an annual.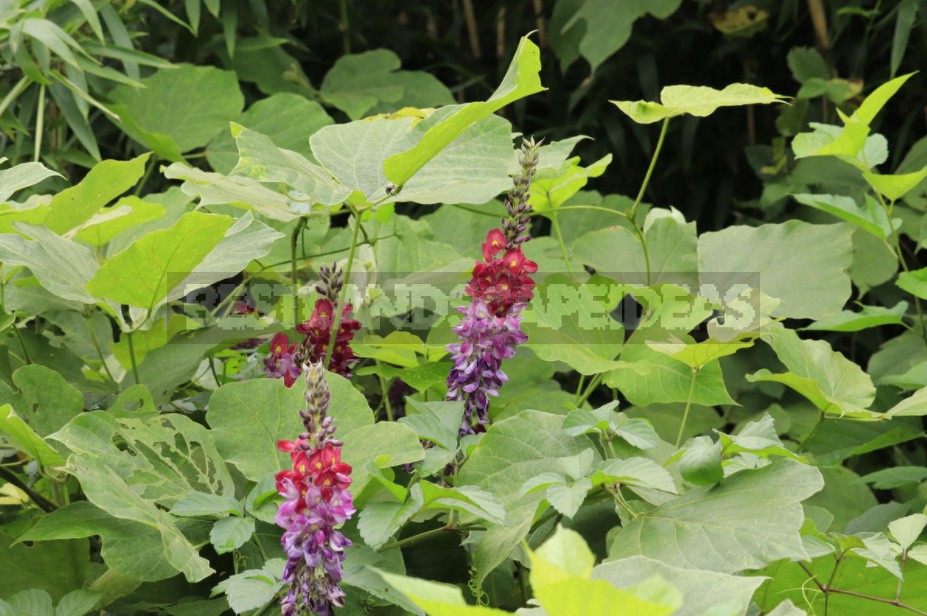 It is native to China, Japan, and the Pacific Islands. The leaves are trifoliate, up to 18 cm long, covered, like the whole plant, with red hairs. Moth-like purple-purple flowers up to 2 cm long, fragrant, collected in vertical brushes up to 25 cm long; bloom in late summer or early autumn. Fruits-linear brownish beans up to 5 cm long; ripen in October-November.
Features of care and reproduction
Not hardy enough: USDA zones-5-10. It requires fertile moist soil in full sun or partial shade, high strong supports (stems, like wisteria, curly). Pruning (including anti-aging, if necessary) – after flowering or in early spring to the desired length.
It is interesting
The Fabaceae family gave us some more amazing woody plants, such as Albizia saman, syn. Samanea saman, – USDA zone 10-11, Ceratonia siliqua.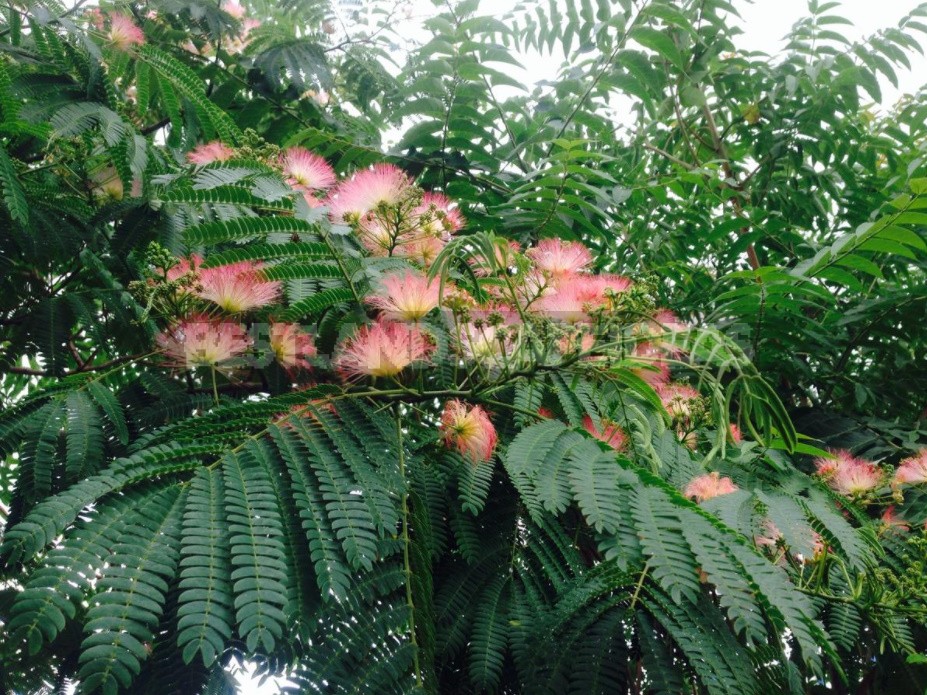 Ceratonia siliqua is also thermophilic: USDA zones-9-11. Its beans are a substitute for coffee. Fans of such exotics can be recommended to take up its cultivation:
only in the presence of a winter garden or a high heated greenhouse,
drawing up an optimal soil substrate,
planting in large tubs,
the ability to take out a tub plant for the summer in the open air (the presence of stands on rollers will significantly facilitate the task).