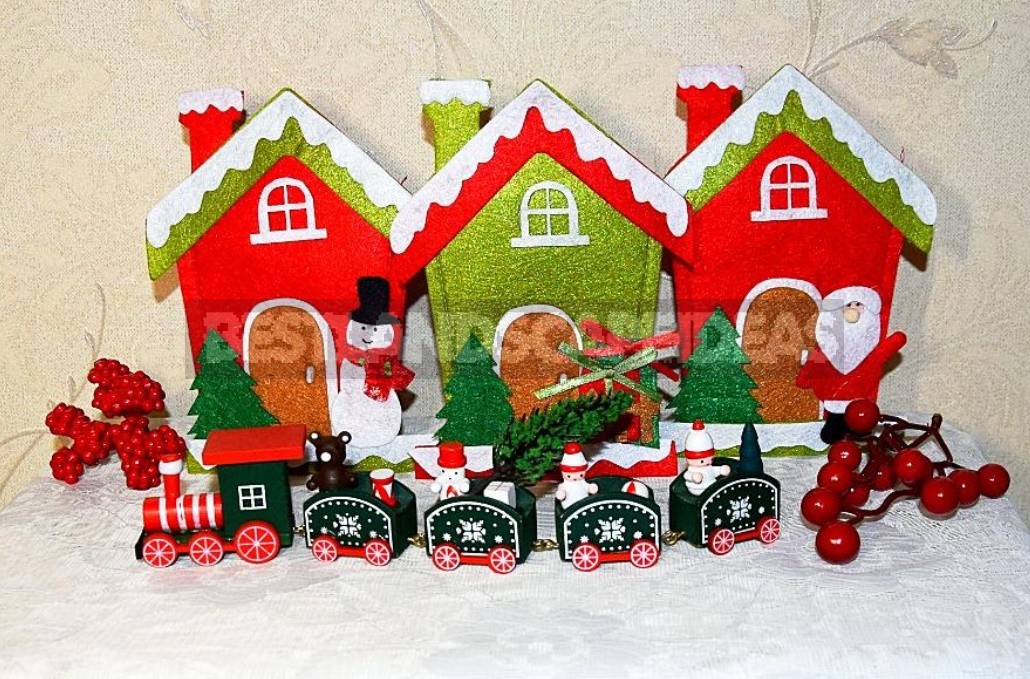 I must say that this is not an advertisement for the store, it has not needed it for a long time, but my sincere impressions of the holiday purchases. Until recently, I did not want to hear about purchases on Aliexpress. Finding a suitable online store with reasonable prices and courier delivery, I was happy and did not want to change anything. I knew, of course, that the prices for Ali are many times lower than in stores, but I never had to compare them specifically. As it turned out, in vain.
For the holiday, I wanted to please myself and my sister with cute miniature garlands. Just my favorite store, where I have already formed a decent discount for a regular customer, pleased me with a personal offer — a solid discount on all products. In General, I bought two garlands and was very happy to buy, until the ad showed me how much the same garland on Aliexpress costs. I understand everything: the store seeks to return the cost of buying and delivering the product, plus make a profit. I understand that this same thing will cost more than the manufacturer. But not 10 times! For this price, you can go on foot to get a garland in any of the provinces of China. I was so offended by the store that I vowed not to buy anything there anymore, let them shower me with their tempting offers…
There is no silver lining
Out of anger, I very quickly went through all the registration activities on Aliexpress, I did not even have time to notice. And immediately made an order for the new year's holiday. Having set up for a long wait (at least a month), I was unspeakably surprised to find a notification for the first parcel within a week! However, the others were not long in coming, either.
The second time a feeling of pleasant surprise visited me at the stage of unpacking the parcel: I barely got to the contents, having barely overcome the numerous layers of packaging. We must pay tribute to the seller — he did his best, and the fragile contents of the parcel remained intact.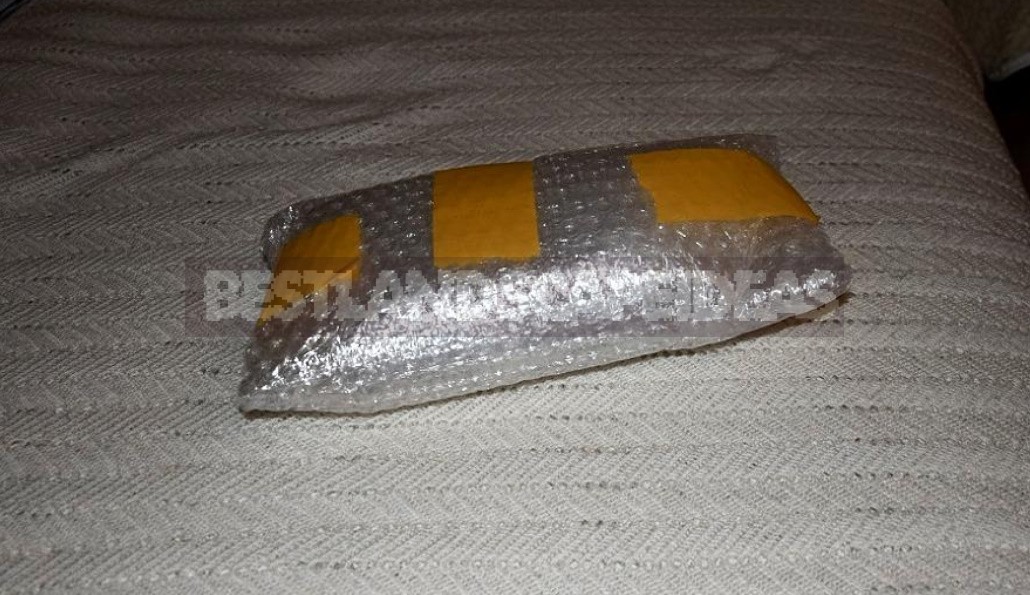 1. Dessert set
The first product I received from Aliexpress. It's nice that the acquaintance didn't start with disappointment. A stand made of glued wooden bars (like cutting boards) looks expensive. Polished perfectly (I checked almost under a microscope and stroked with my hands), with a light pleasant aroma of natural wood, not disfigured by varnishes or paints. Saucers made of porcelain. Under each in the stand made a recess so as not to slip — very practical, I liked it!
The children did not wait for the holiday: not having time to catch their breath from the road, the dessert set immediately took a shower and started working.

2. Garland
How happy I am that my fears were in vain! Even at the stage of selection, looking at the fluffy balls of unknown material, I was almost sure that in addition to the unprecedented beauty, a heavy chemical smell was attached,but it was not. It is a pity, but there were no batteries included, so the light show had to be postponed for some time.
The color was rich, I would even say acidic. I did not like it very much, but the children were delighted and immediately dragged the garland to their home.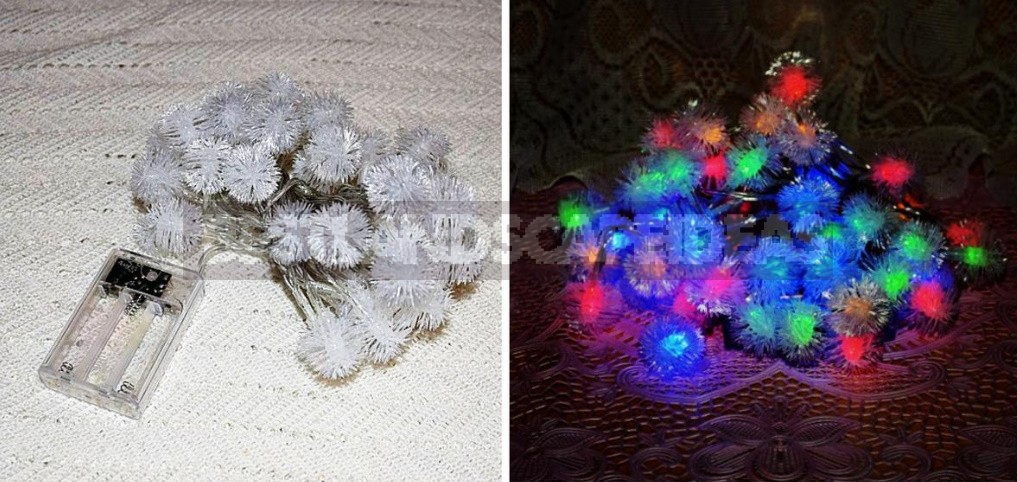 3. Artificial snow
His younger sister, a young chemist, was waiting for him. We have already grown crystals, made active volcanoes, spent a year's supply of starch on Newtonian liquid, and used everything we could to make lizards. And just wanted to be sad in inaction, as happiness came to a halt where they did not expect-they received artificial snow!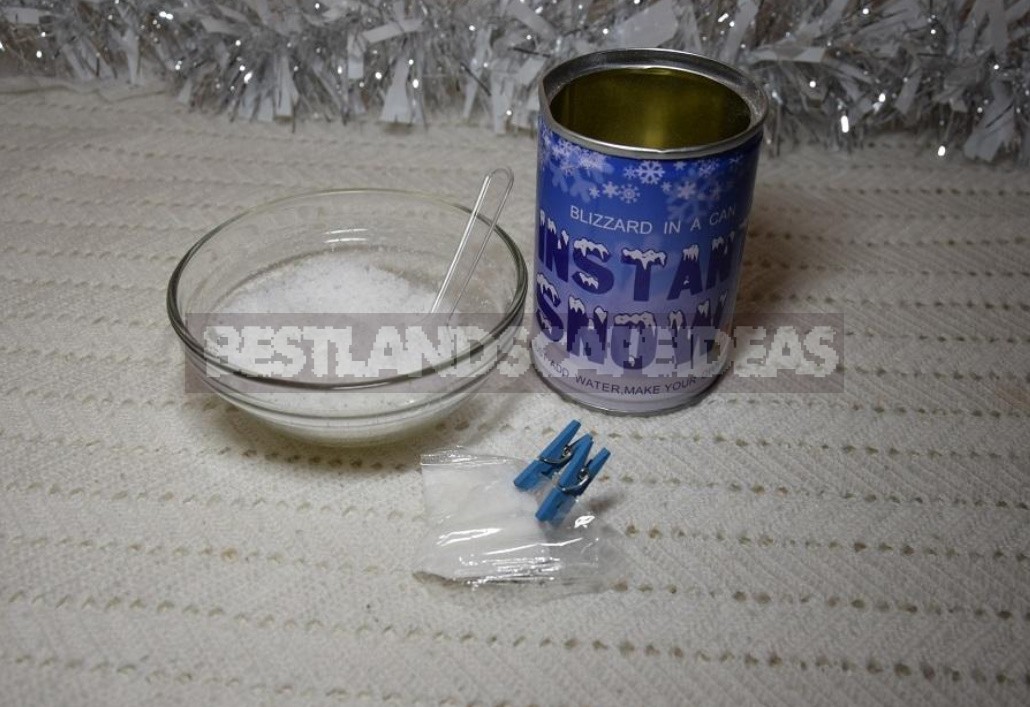 Minus: the manufacturer did not bother with clear instructions for making snow. The jar contained a small bag of white crystalline powder and a tiny plastic spoon. That's all. The Bank shows the process (pour powder into a glass, pour water, get snow). But in what units to measure the ingredients — grams, liters or by eye — not a word. I had to look for tips on the Internet.
Pluses. Ready snow is obtained immediately, looks great: small, fluffy, very similar to the real one. It does not dry out, it keeps friability for three days. Absolutely no smell, no smell. From the entire powder, you will get about 0.5 or 0.7 liters of ready-made snow.
4. Wooden train with wagons
I just don't have words for admiration, it's so good! Miniature parts are cut and polished flawlessly, there are no chips or burrs. Details are painted and drawn carefully: the eyes are in place, the ornament on the wagons and wheels is located symmetrically, there is no smeared paint anywhere. The train also passed a test for the presence of an undesirable smell, during which I immediately remembered kindergarten wooden blocks.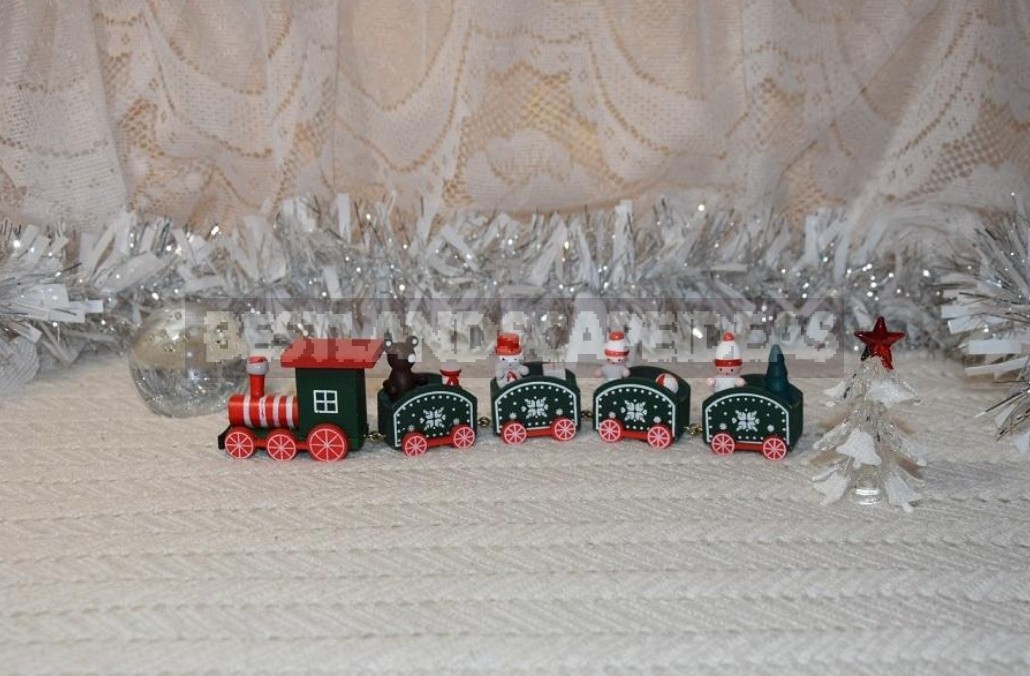 5. Gift boxes
Very, very, very pretty! Bright, colorful, such new year's drawings-the charm! Cardboard of medium thickness and density, spread out with a light movement of the hand. Surprisingly, the lids are the same size as the boxes.

Each comes with a pair of ties — red satin ribbons, one end of which is made like a lace-it is convenient to pass through a small hole in the wall of the box.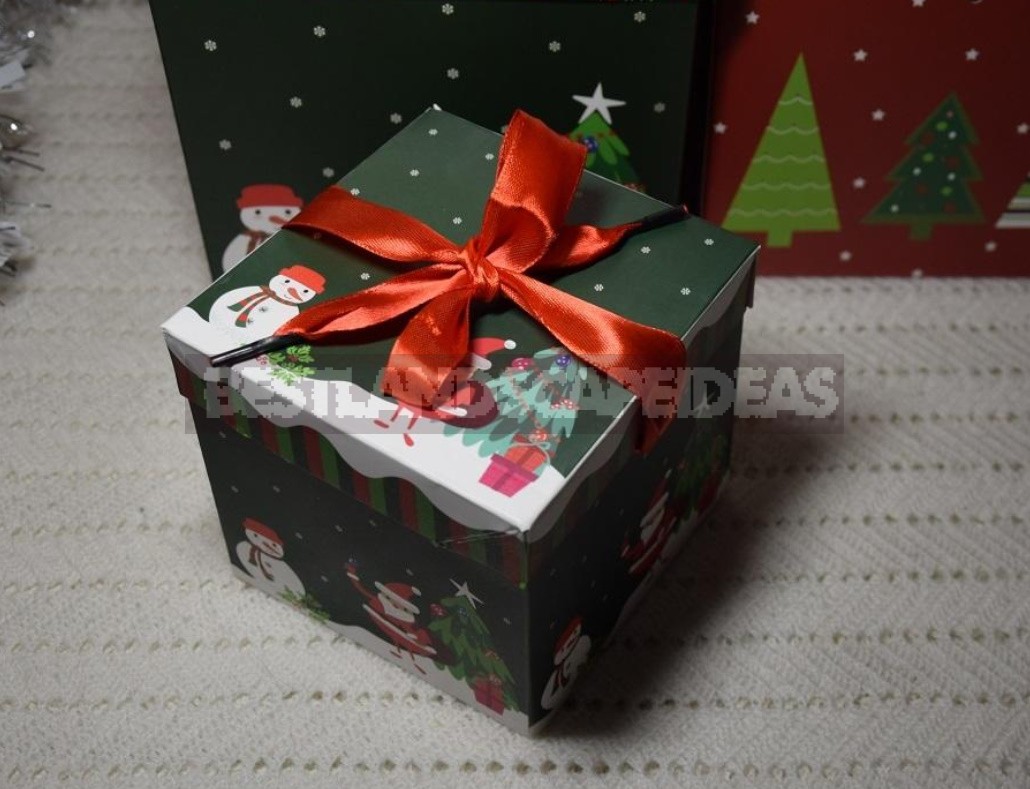 The ribbons look as if they were ironed a couple of minutes ago: no creases, no wrinkles, on the crease-perfectly smooth.
6. Towel in the form of Christmas trees
A charming souvenir. Cute round box (stable, bottom made like a paper Cup of ice cream), neat cellophane packaging, Flirty bow-tie. The towel, of course, is small (30×30 cm), but the quality is good (it will absorb moisture perfectly), you will not have to blush for a gift. I tested the strength of the staining with a cotton pad: it does not fade. You can also not worry about the unpleasant smell — there is no such thing, it will go to holiday Souvenirs for friends.

7. Pockets for Cutlery
I liked them very much. Made neatly, however, in several places noticed the remnants of molten glue. I just removed them — they didn't leave any traces on the felt.

The only one who was offended by the manufacturer is Santa: the nose has slid sideways. If the cap-wherever it went, but part of the face… and the smiles of snowmen also let down: the seam is sloppy, clearly visible thread loops. Change? Yes, but unpleasant.

8. Charms for wine glasses
Very elegant things. The pendants are made and painted flawlessly: I didn't find any streaks or smeared paints. They're easy to unbutton, and they look great on glasses, don't they? Such a cute new year's decor: both unobtrusive and pleasing to the eye. Now guests will not confuse their glasses.

9. Christmas toy
I have not experienced such emotion from Christmas decorations for a long time! Cookies are so similar to the real ones that you just want to take a bite! The details are drawn so subtly and flawlessly that it is hard to believe that it is handmade (as the seller says). However, I don't care who painted them, the main thing is beautiful!
Made of some kind of soft polymer. The smell of chemistry is present, I had to send it to the barn for a few days. However, now it is almost not heard, but the toys are still in exile. I hope that by the holiday the unwanted aroma will disappear.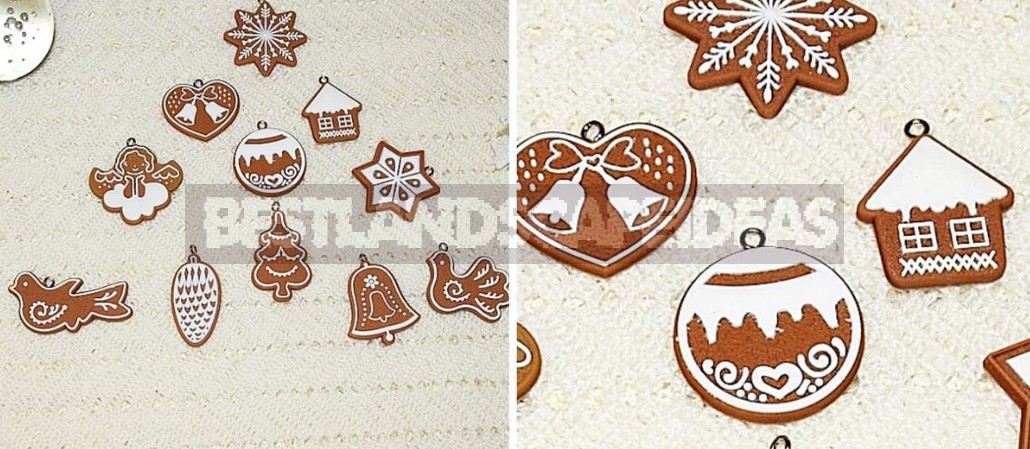 There was a second package with Christmas tree toys, or so I thought. It was only after the "autopsy" that I realized the true meaning of the mysterious combination of words "Christmas tree, pendant ornaments" specified in the product name. In it indeed lay "pendants", and more precisely miniature gingerbread pendants for keychain. They can decorate a bunch of keys, a backpack, a zipper slider, at least. Or a mini Christmas tree, if you have one. What can I say, you need to be more careful when buying in online stores. But this set, unlike the previous one, was completely odorless! And the quality did not disappoint, the pendants are really very beautiful.

10. Stand for bottle
I was not impressed: in the seller's photo, it clearly looked better… However, there are no complaints about the quality of the product: the plywood is glued well, polished, the puzzle is assembled easily and stands on its feet firmly, without staggering.

Oh, too late I decided to turn my eyes towards Aliexpress! Some products will arrive after the holiday. It is a pity, of course, but this is not a reason for sadness — next year everything will repeat itself. The main thing is that now I will buy directly from manufacturers, without giving store owners generous bonuses in a tenfold amount.