With the onset of warm spring days, not only garden flower beds, but also forest clearings are blooming with bright colors. And many forest primroses successfully move into gardens and even attract the attention of breeders who create cultivated varieties of wild flowers.
Let's get acquainted with some widespread plants blooming in early spring.
Adonis
Adonis is a member of the Ranunculaceae family. These are single- and perennial herbaceous, short-rooted plants of the forest-steppe zone.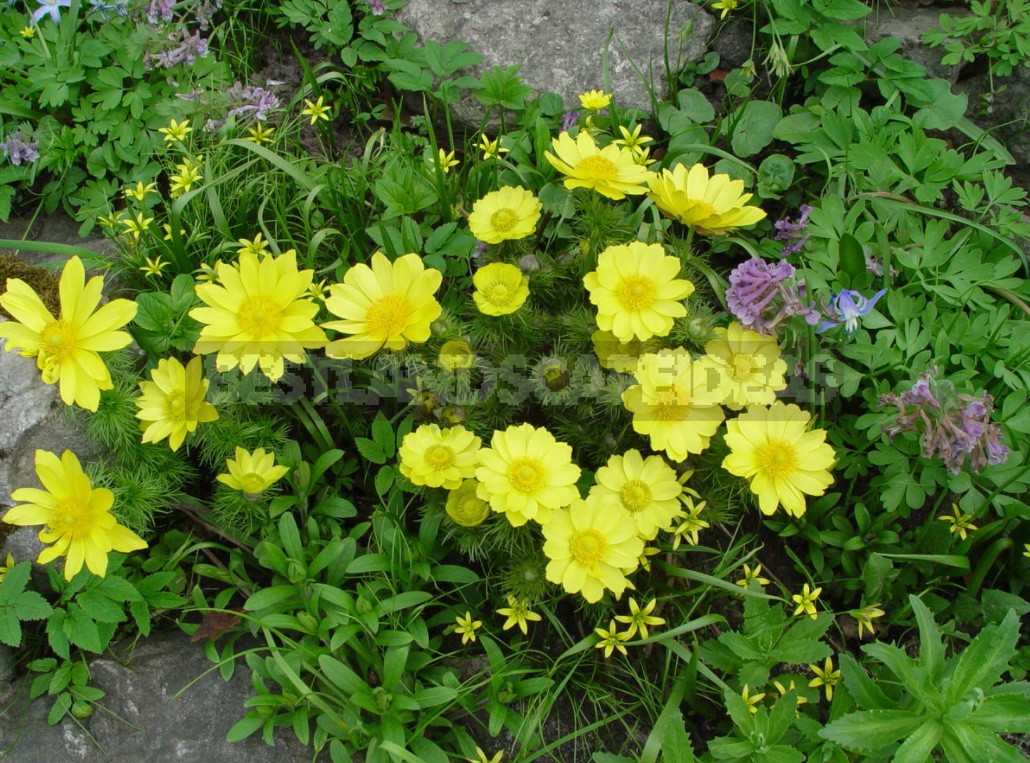 The stems are simple, sparsely branched, 5-40 cm tall. The leaves are simple, regular, rounded in outline, finger-dissected into five segments, which, in turn, are twice or thrice pinnately dissected into narrow lobes. The flowers are solitary on the tops of the shoots, free-growing, shades of yellow (annual species have a bright red color of the corolla). The fruit is an oval single-nut, consisting of numerous oval nuts with short, hook-like curved columns, collected in a head. Plants are poisonous!
Propagated by seeds (preferably) and bush division (before flowering or after seed ripening). Seeds of species of this genus have an underdeveloped embryo and require a long two-three-stage stratification. Seeds are collected as soon as they begin to fall off, immediately after harvesting they are mixed with wet river sand and stored in a cool place until sowing for winter (in late August or November in the ground) or until spring sowing (in March in a cold greenhouse or in April in the ground).
Adonis are light-loving, drought- and winter-hardy. They are baked at close groundwater, so it is not recommended to plant them near reservoirs and in places with high-standing groundwater.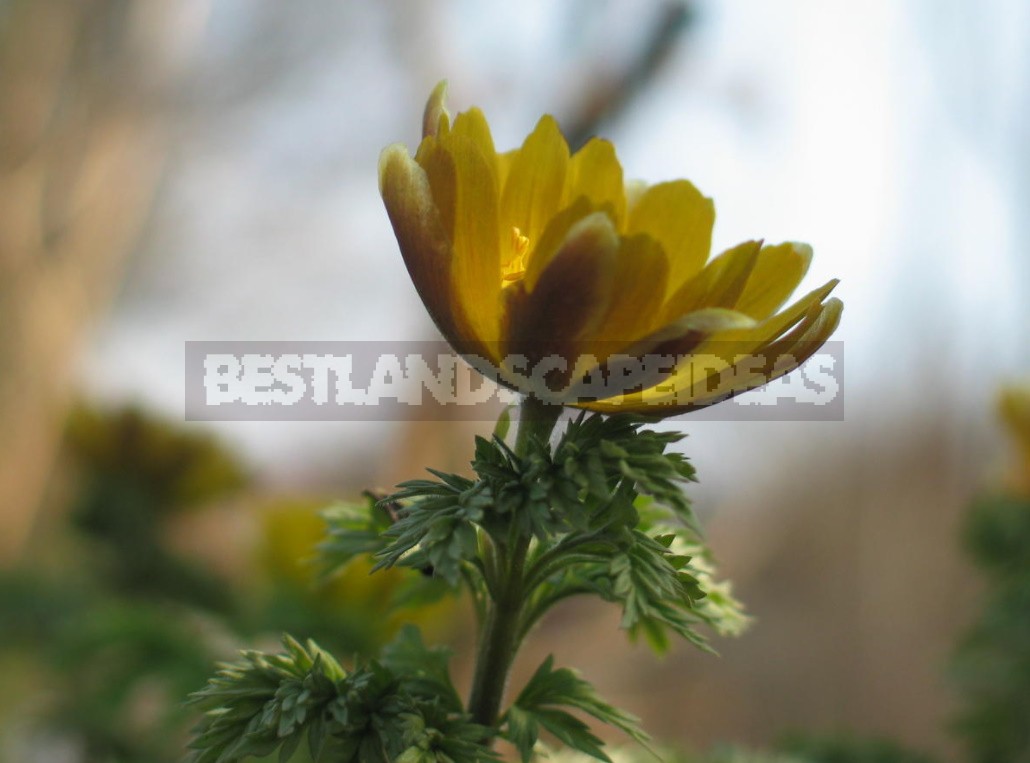 Fertilizers (complex with trace elements) are applied before the start of regrowth (in the snow) or after flowering. Spraying on the sheet is possible. Before the seeds ripen, especially on hot days, watering is carried out.
These are irreplaceable plants for alpine slides, rockeries, spring mixborders. Solitary planting with spots on the lawn is possible.
Common types
A. vernalis L. Blooms in April-May, 10-15 days after the snow cover melts. The flower is bright yellow, up to 7-8 cm in diameter.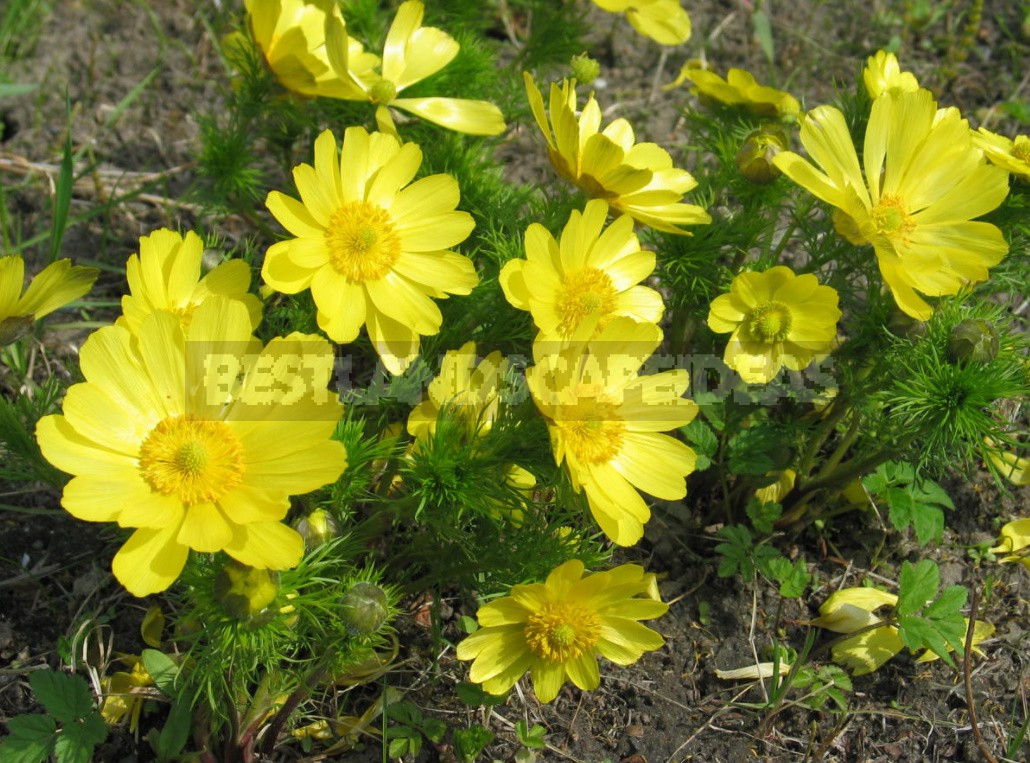 A. amurensis. Up to 30-40 cm high. It grows in shrubs, along the edges, on moist, rich humus soil. Blooms in April, 5-7 days after the snowfall. The flower is yellow, up to 3-5 cm in diameter.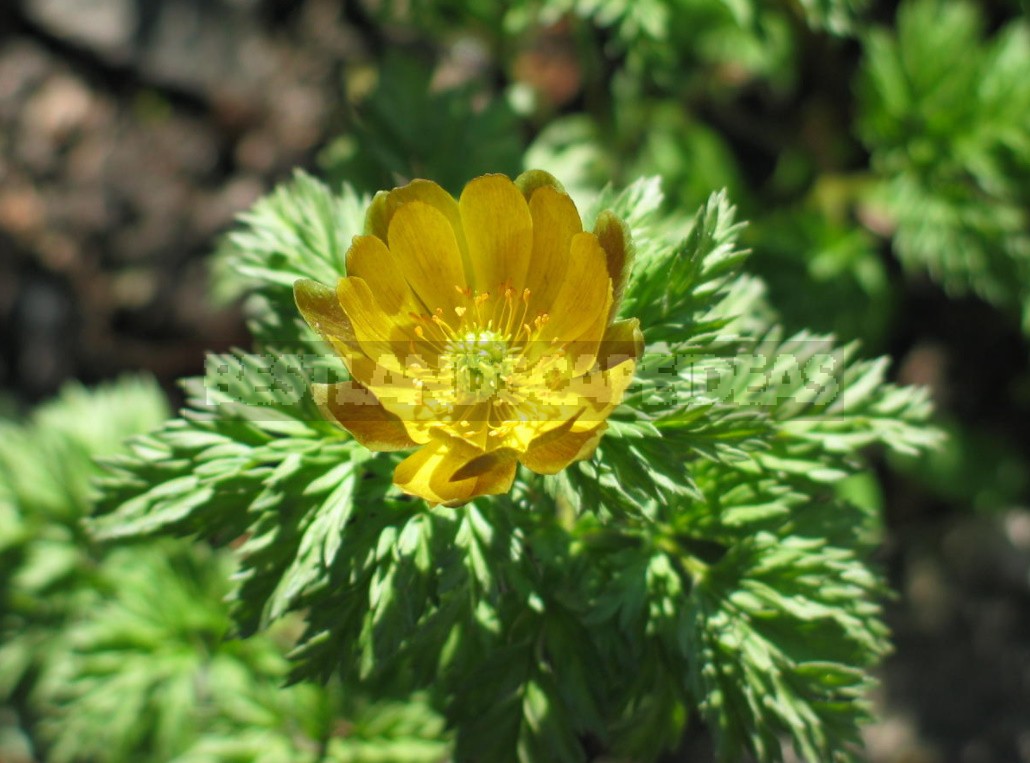 A. wolgensis is up to 15-30 cm tall. It grows in the steppes, on the slopes, less often on the edges in Central Asia. Blooms in April-May, 15-20 days after the snowfall. The flower is yellow, up to 3 cm in diameter. It often warms up during the winter-spring thaws.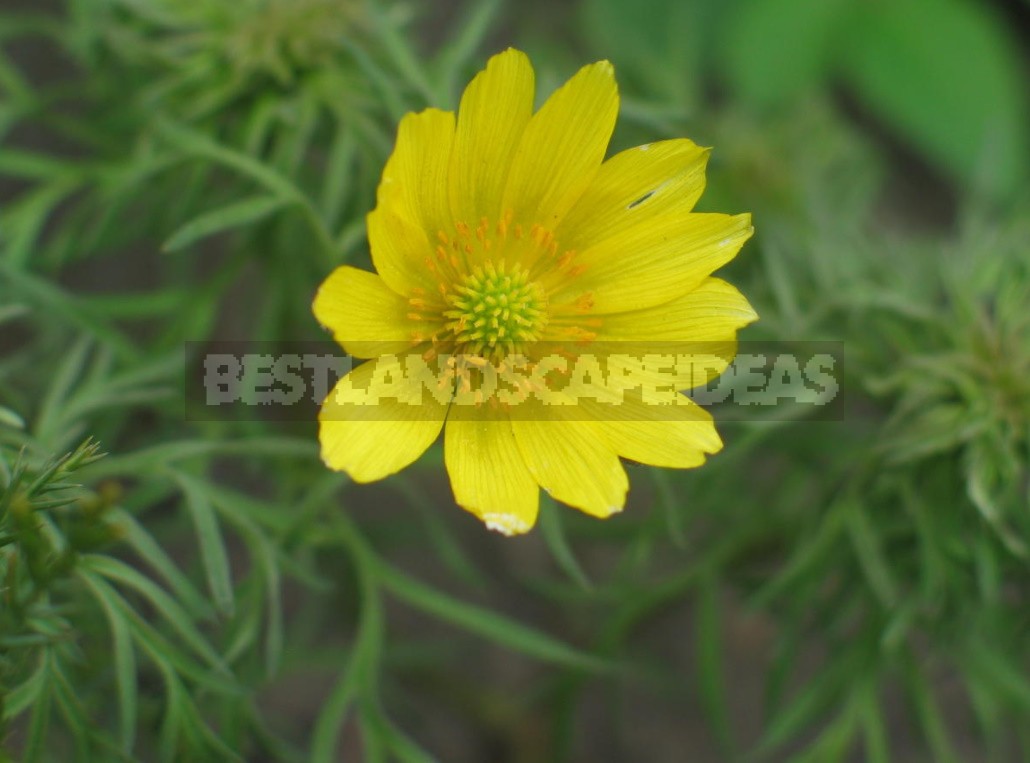 A. sibiricus = A. appenina L. A plant of the steppe regions of Western Siberia and Central Asia.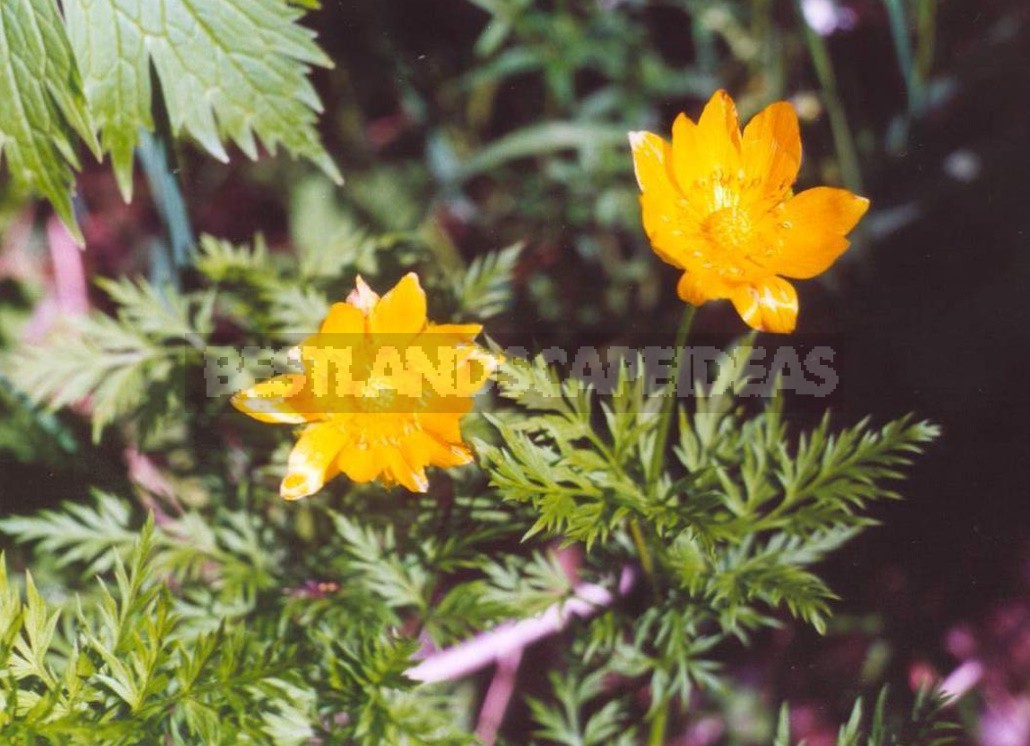 A. chrysocyathus is an inhabitant of the mountains of Central Asia (Pamir-Alai, Tien Shan). A. turkestanica is endemic to Pamir-Alai.
Caltha
Caltha belongs to the Ranunculaceae family. It is a perennial wetland plant of the temperate zone of Eurasia and North America, with a small main root, a developed root system and numerous branching stems rising up.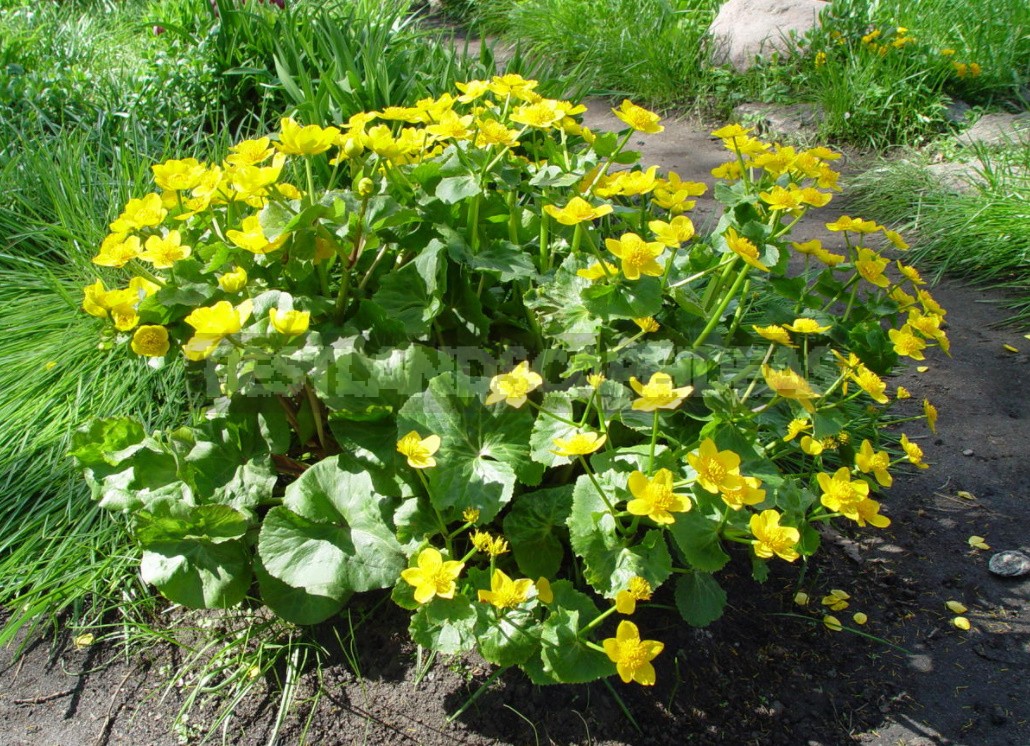 The leaves are large, leathery, bright or bluish-green, irregularly rounded, urban; basal – heart-shaped, on petioles; stem – kidney-shaped, sessile. The flowers are bright golden, with many bright yellow stamens. Blooms profusely and for a relatively long time (up to 3-4 weeks), in early spring flowering begins at the end of April or in the first days of May, in late spring – from mid-May. Fruits are arched bent leaflets.
Propagated by seeds or cuttings, by dividing bushes during the transplant period. Cuttings are planted in spring or late summer in silty-sandy soil. The seeds are sown in moist soil at the end of September or after storage in moist, cool conditions – in spring. During the growth period, they are watered abundantly and often, even temporary drying of the bowls is not allowed.
In culture, plants are unpretentious, frost-resistant and are not afraid of spring frosts; they grow well both in illuminated places and in shading. It is worth growing on organic-rich soils. The plant is responsive to fertilizing with mineral and organic fertilizers with the addition of trace elements.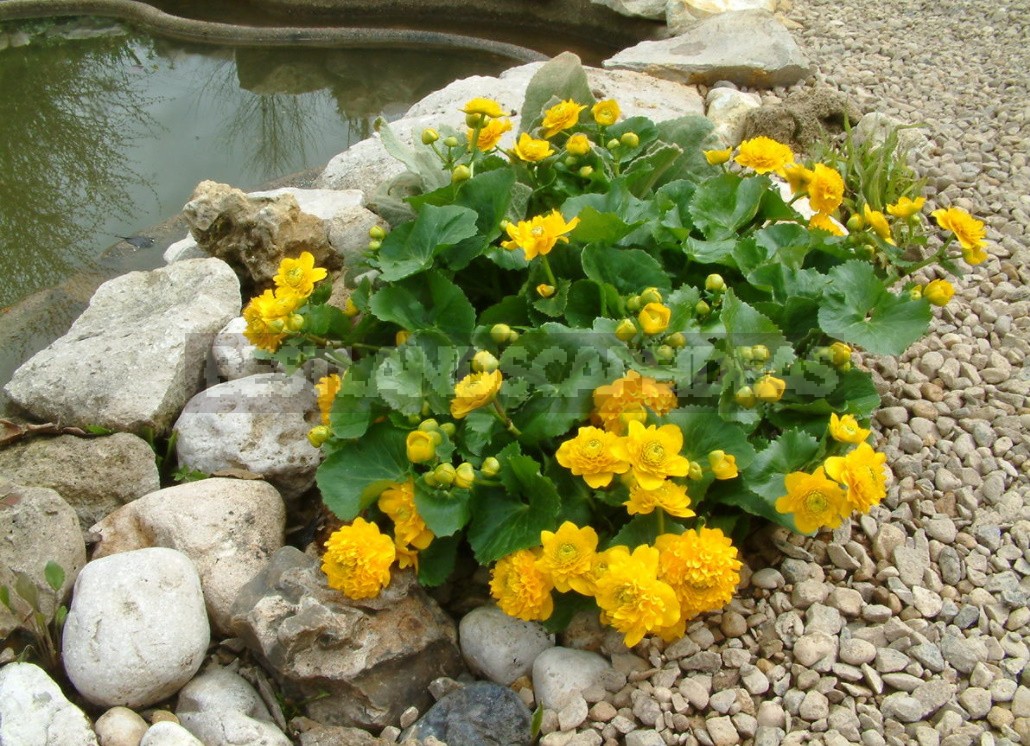 They are used for compositions around reservoirs, planted in waterlogged areas, in grooves, in places with long standing spring waters.
Types and varieties
C. palustris L. Flowers are medium-sized (up to 3 cm in diameter), bright yellow, shiny. The height during the flowering period is 20-40 cm . Blooms from the middle (end) of May for 2-3 weeks.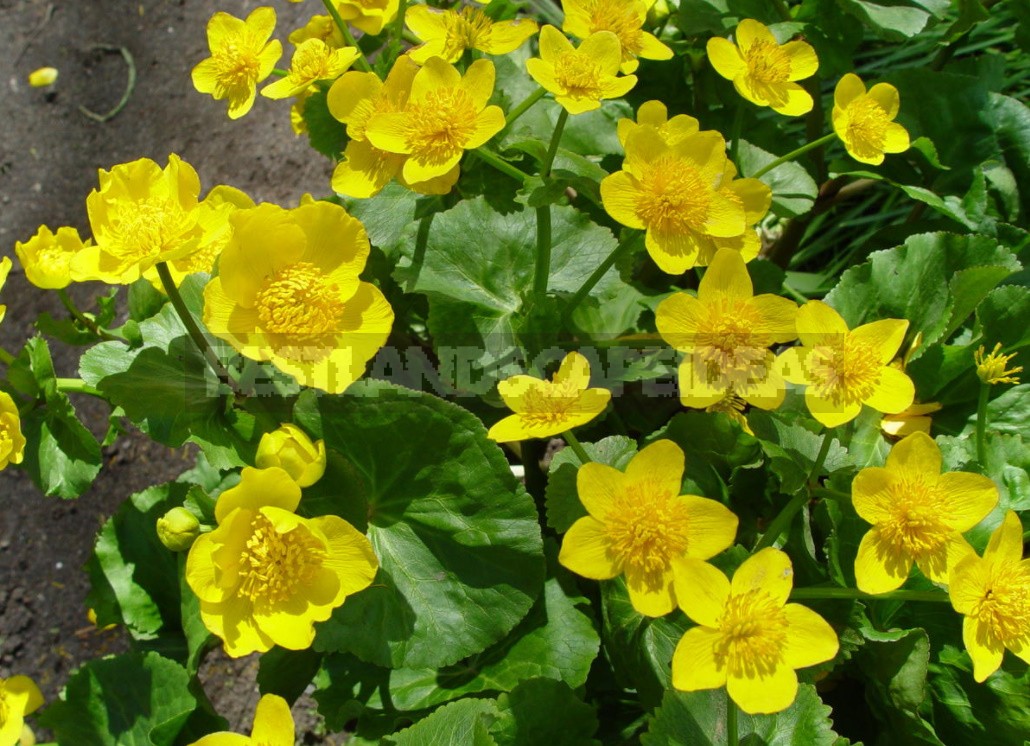 C. palustris var. alba = 'Alba' – with white flowers.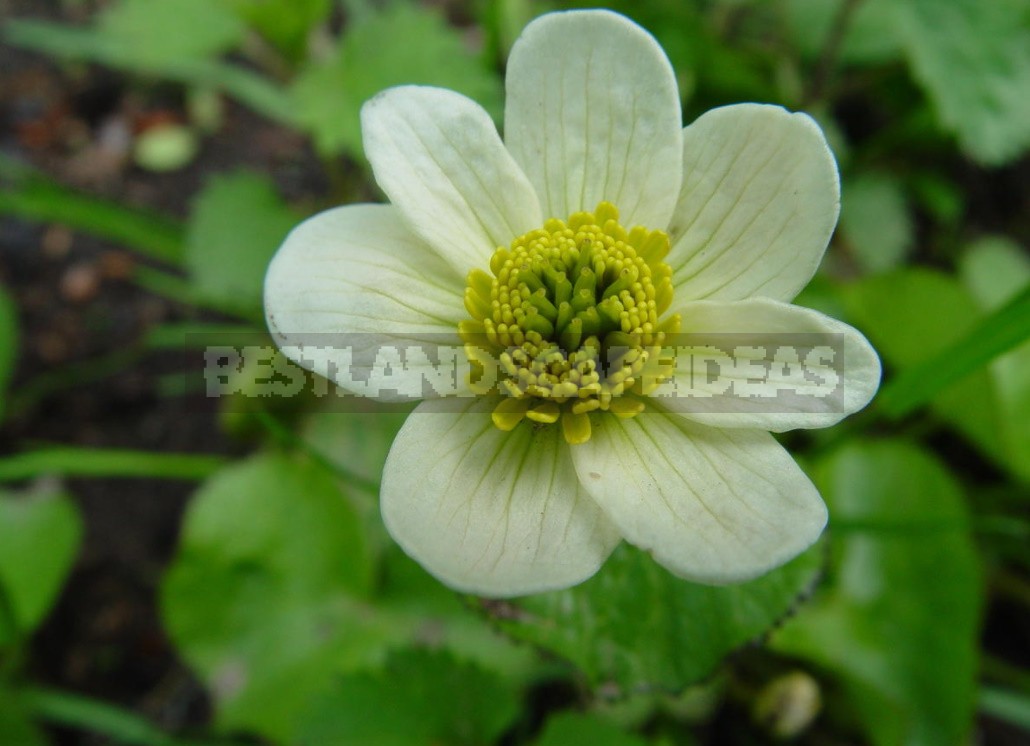 C. palustris 'Flore Pleno' (= 'Multiplex') – double flowers, blooms for a long time, 3-4 weeks.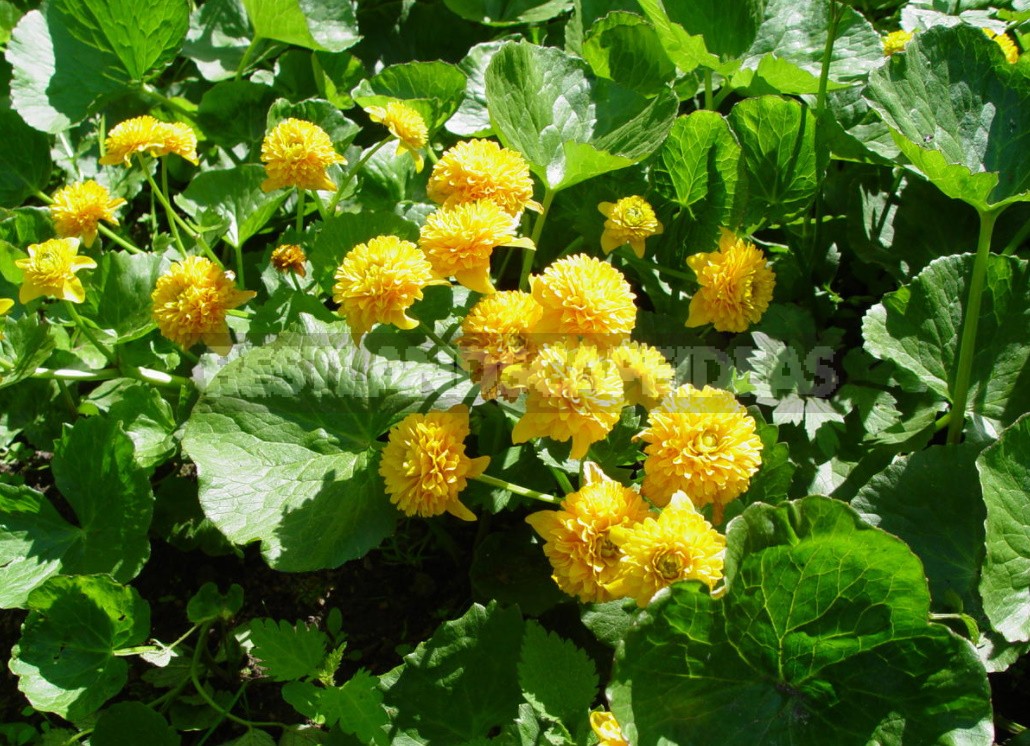 C. fistulosa is a low (25-35 cm tall) plant with light yellow bright numerous flowers collected in an umbrella-shaped inflorescence. Blooms for two weeks.
C. cornuta — with non-rooting shoots, flowers from light yellow to orange-yellow. C. leptosepala is a low (up to 20 cm tall) plant from North America. The leaves are up to 6 cm in diameter, the flowers are silvery-white, 2-3 cm in diameter. Blooms in May.
C. polypetala is a plant of the Caucasus, grows rapidly in culture, reaches 30-50 cm in height. The leaves are dark green, the flowers are golden yellow, 6-8 cm in diameter.
C. radicans syn. palustris subsp. radicans forms long rooting shoots (or floating on water and rooting in nodes). The flowers are yellow, 2-3 cm in diameter. Blooms in May-June.
Pulmonaria
Pulmonaria from the Boraginaceae family are perennial herbaceous rhizomatous plants from 20 to 40 cm tall. The genus has 14 species growing in broad-leaved and coniferous-broad-leaved forests of Europe and Asia.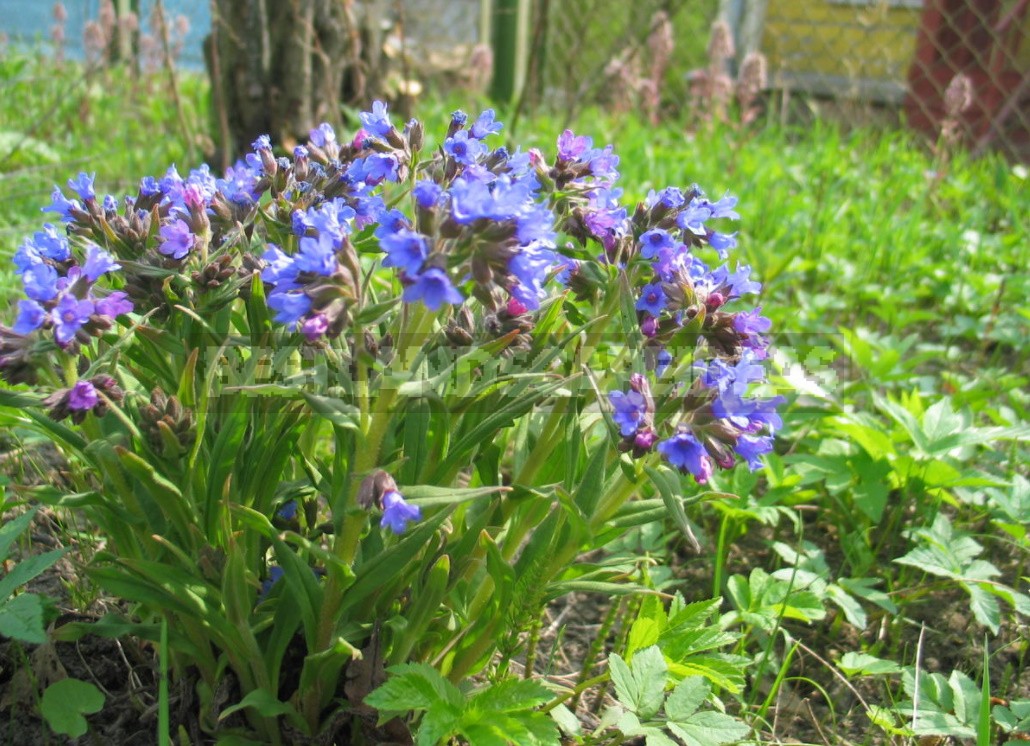 The leaves are simple, often oval, ovate or lanceolate, dense, often rosette wintering. The flowers are blue, or red, or changing color during the flowering period from blue or blue at the beginning of flowering to red at the end. The inflorescence is a curl, the fruit is a nut.
Propagated mainly vegetatively (by segments of rhizomes) in spring (at the beginning of regrowth) or at the end of summer. Propagation by seeds is somewhat difficult, winter sowing in pots for stratification is mandatory.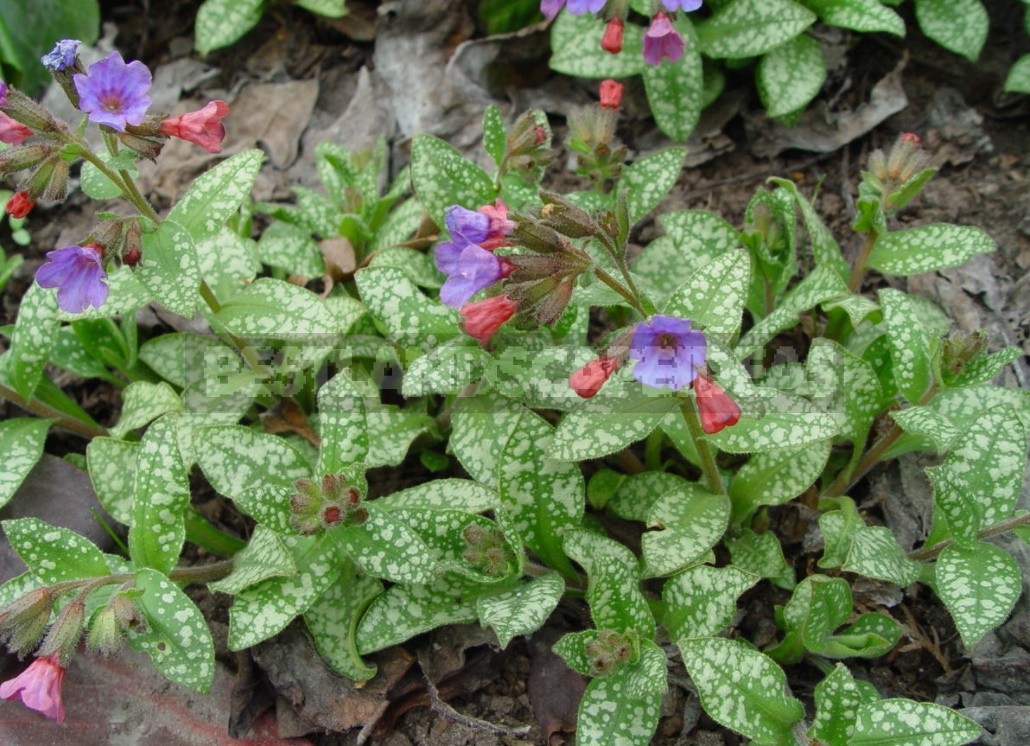 Plants are shade-tolerant, good for shady Moorish lawns, planting in groups along paths, on rocky slides in shady places, in mixborders with dim lighting.
Common types and varieties
P. mollissima is 30-40 cm tall, grows in a dense bush, the flowers are bluish, collected in a brush. Blooms from the beginning of May for 3-4 weeks (up to 5). Propagated well by seeds. It is affected by fungal diseases.
P. rubra is up to 30 cm tall, the flowers are numerous, bright red, collected in a brush. Blooms in May, the duration of flowering is up to a month. Seeds are formed rarely, mainly vegetative reproduction. It can form dense thickets. It is affected by fungal diseases.
P. officinalis L. – up to 30 cm tall, blooms in May for 3-4 weeks. The leaves are oval, indistinctly spotted, the flowers are purple-blue.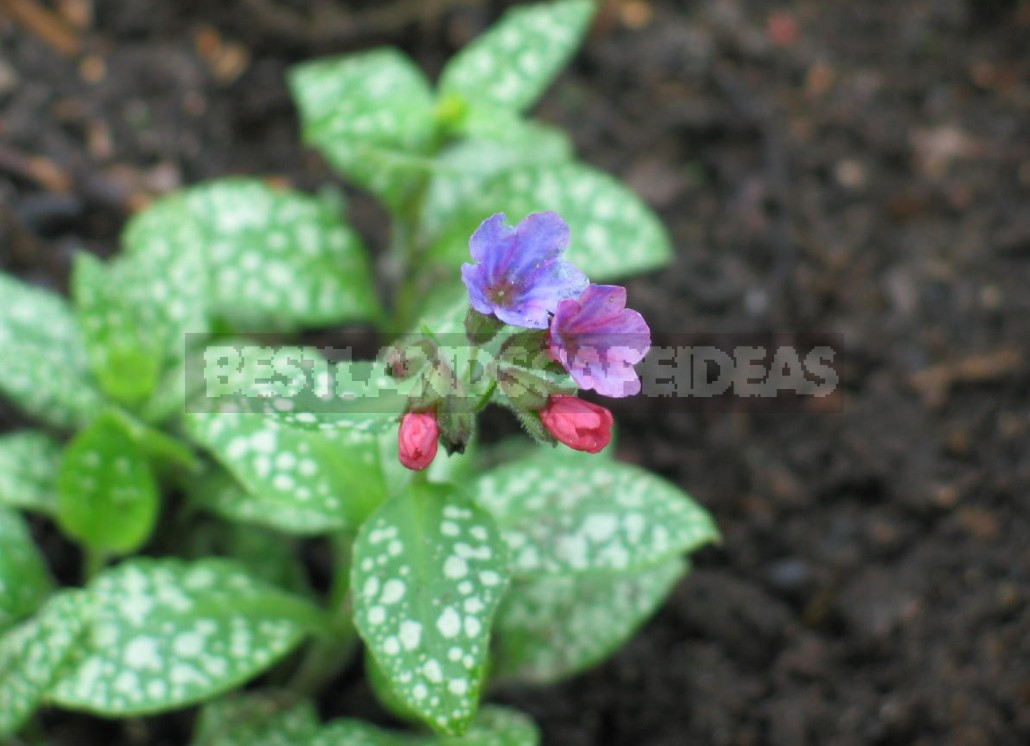 P. saccharata is up to 40 cm tall, with large dark green leaves with white spots; the flowers are blue, small, inconspicuous. Blooms from the end of May or the beginning of June for 2-3 weeks. In wet years, it is strongly affected by powdery mildew.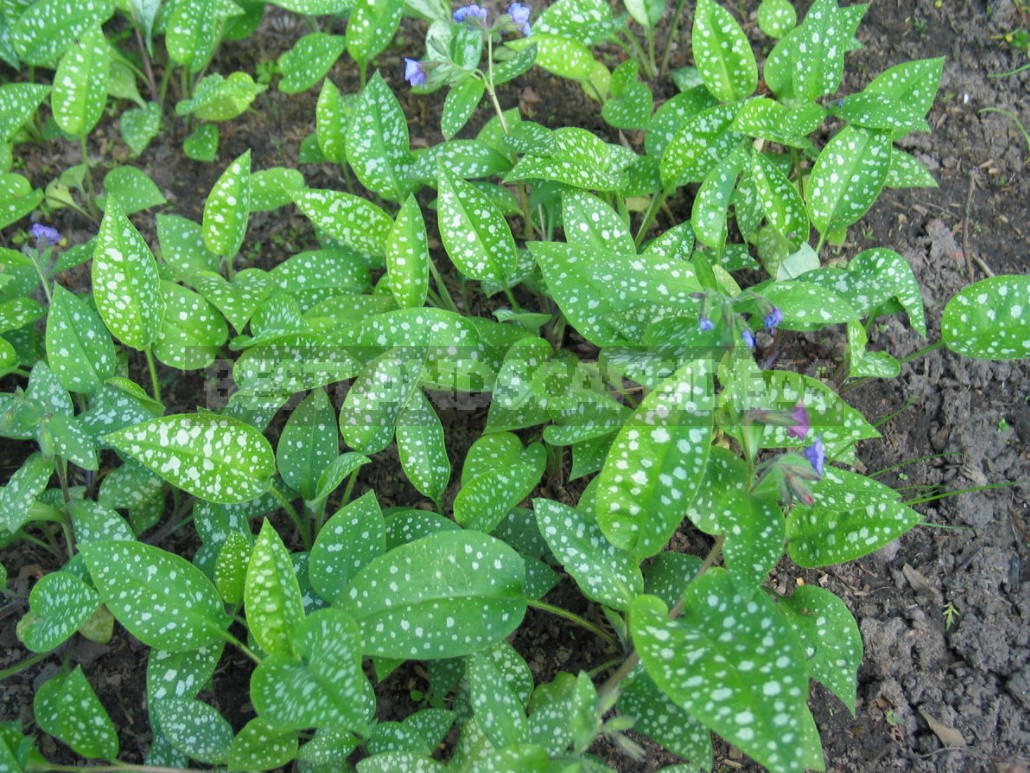 Varieties of this Pulmonaria are common in the culture:
'Mrs. Moon' – silvery leaves, light pink flowers;
'Pink Dawn' – the flowers are intensely pink.
P. obscura is up to 30 cm tall, the leaves are wintering, the flowers are purple-blue. Blooms in May, the duration of flowering is up to a month. It grows as a groundcover plant.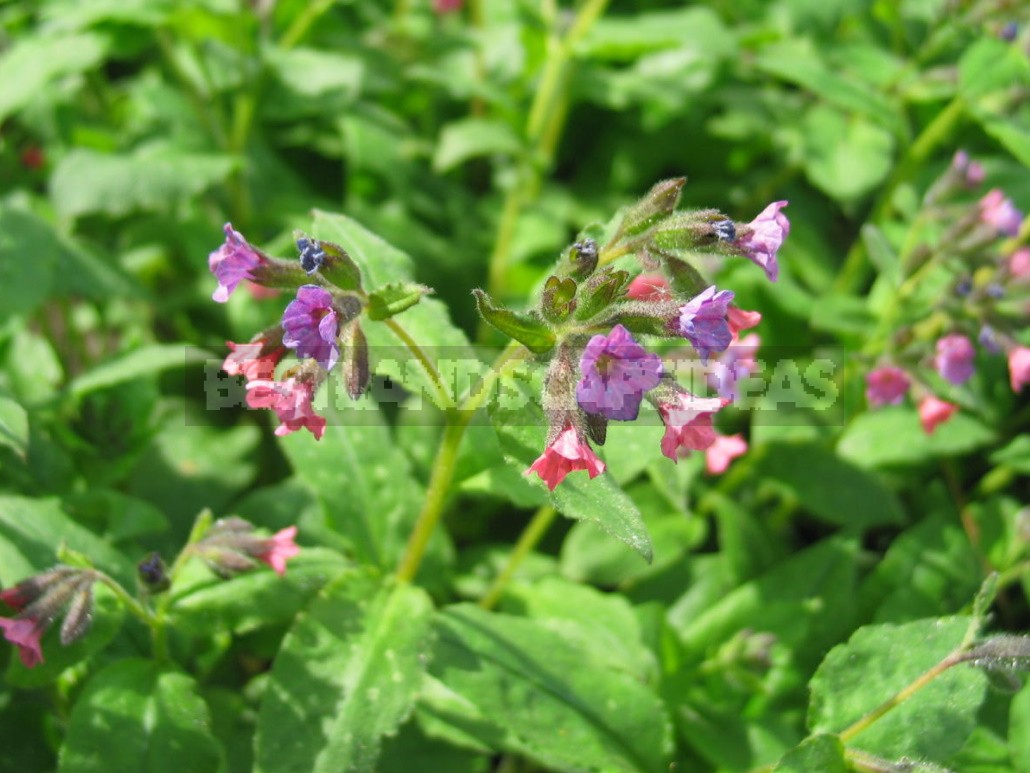 P. angustifolia L. – up to 30 cm high. The flowers are blue (dark blue), blooms in May, up to 3 weeks. It is unstable in culture. It is recommended to land on sandy soils.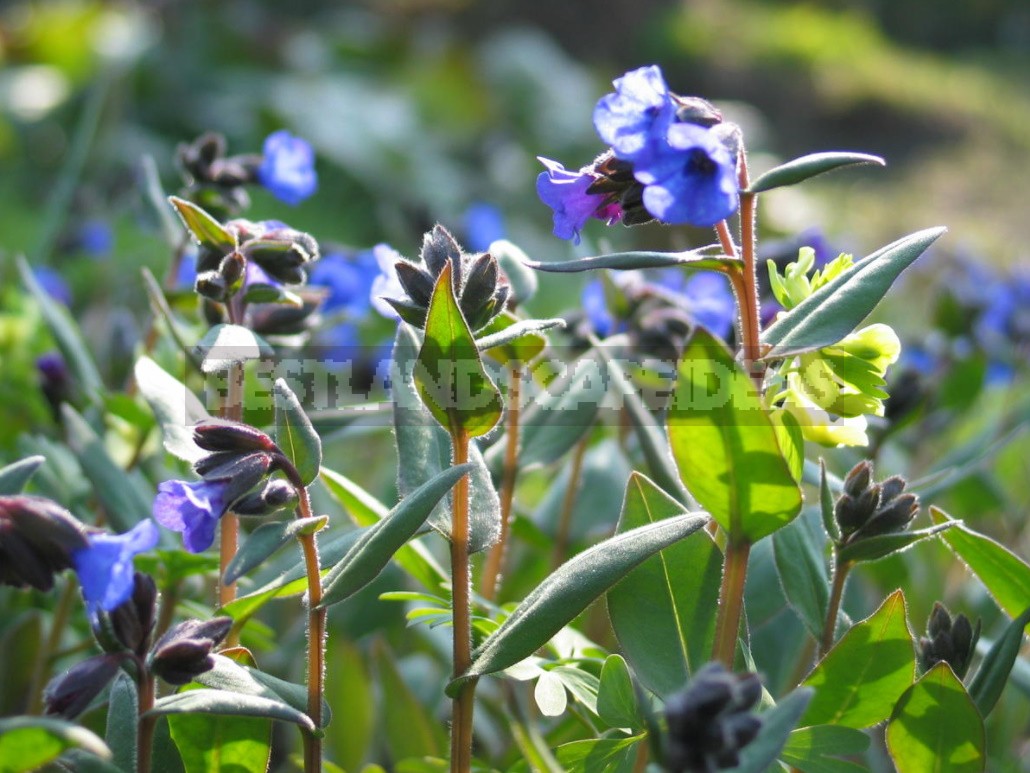 A variety common in culture is 'Azurea', its flowers open above the growing pure green leaves.
P. filarszkyana – up to 40 cm tall, the flowers are bright red, collected in a brush. Blooms profusely, the duration of flowering is about a month.