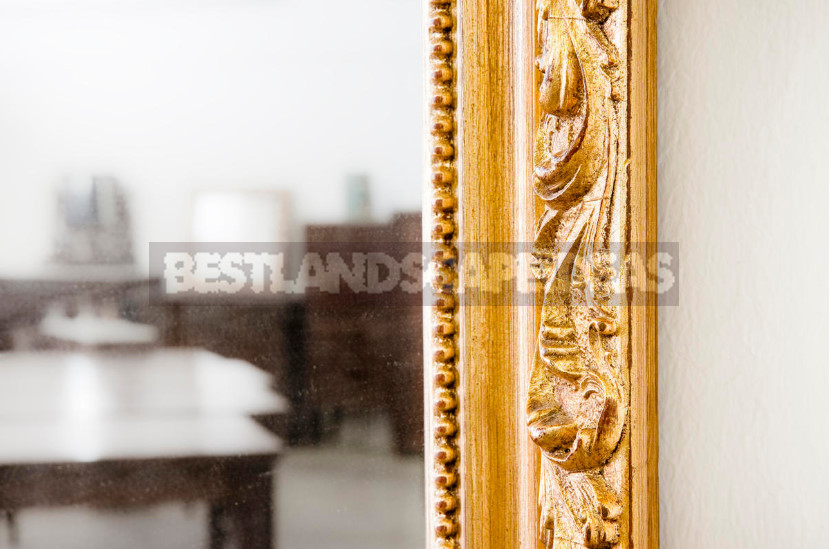 In the modern world of mass production of particular value acquire things with a unique design, especially handmade. Decorators have in their Arsenal many ways to decorate or completely transform any object.
One of them is gilding. Having considered in General terms the materials, tools and techniques for applying gilding, it is time to move on to specific examples. Perhaps we should start with the General-with styles in art, for which the Shine of gold-an integral part.
The glitter of gold for Baroque extravagance
The style of European culture at the turn of XVII — XVIII centuries, characterized by demonstrative luxury and pomposity-Baroque. It seems to be created for gilded objects and details.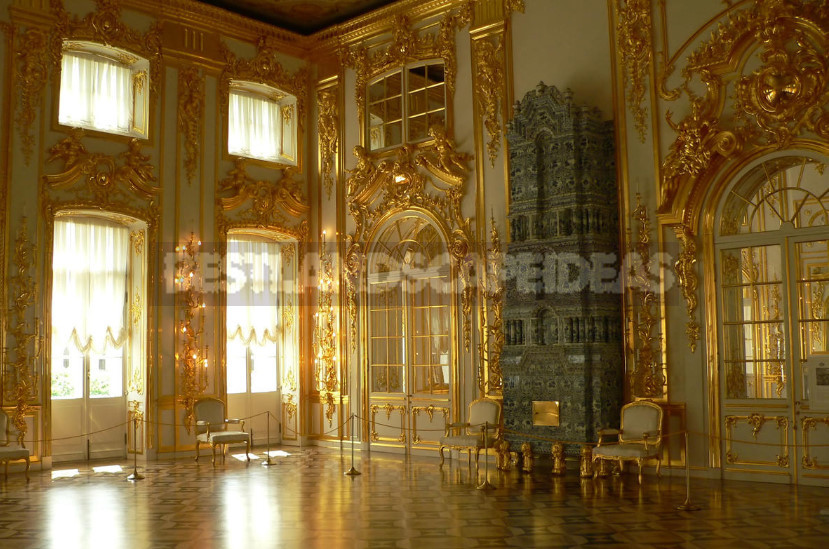 Furniture, architectural elements, paintings, fabrics — there is no area of Baroque art, where gold in the decoration would be inappropriate. And not just gold, but a lot of gold.
Of course, not everyone can afford a Grand Palace style in a country house. It assumes, first of all, space and large areas. But for those who are delighted with the expression, grandeur and splendor inherent in the Baroque, it is possible to find a compromise — to use only some Baroque elements. For example, to decorate with gold leaf relief carved headboard.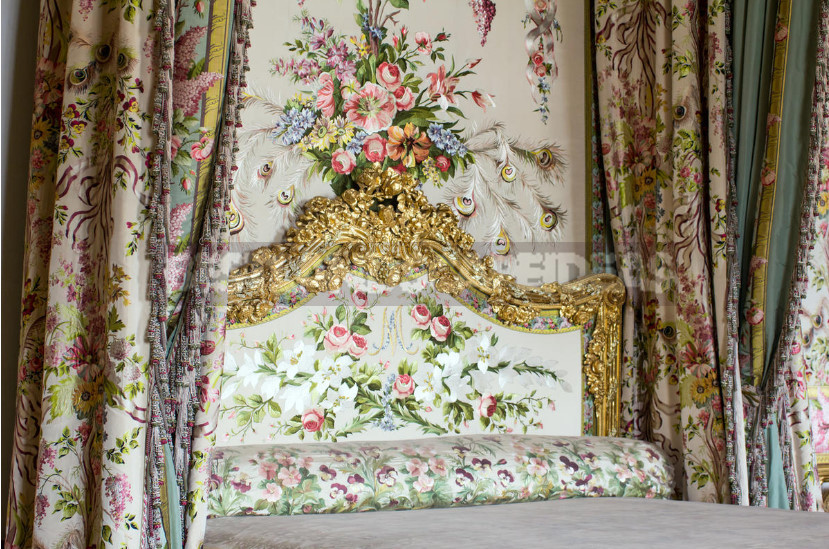 And by the way, note: it is not necessary to spend a fortune on the purchase of such a bed. Fortunately, today you can buy stucco elements made of polyurethane. We go to the store, select the appropriate motives, good glue and a little putty. And a sheet of plywood turns into a carved headboard.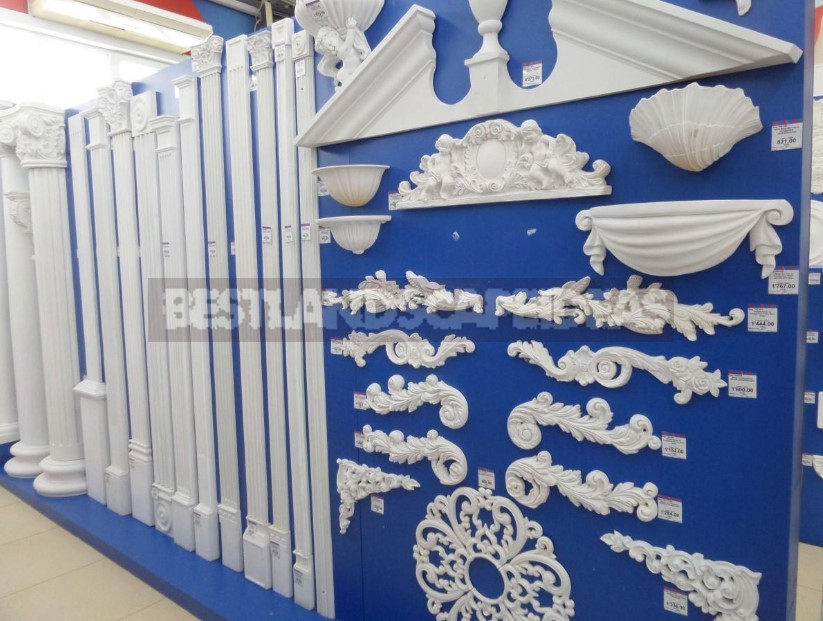 A gold foil make a homemade headboard is a luxurious thing, it is quite appropriate to the Baroque style. You can add fabric upholstery, as in the photo above, or just paint — choose which option is closer to your mood.
Golden twenties: elegance and luxury of art Deco
For those who love luxury and gold, but aesthetically does not accept plump putti, abundant cartouches, rocaille and garlands of Baroque flowers, there is no less successful alternative — art Deco style. Sophistication and elegance, coupled with chic materials, geometric patterns and glamour. This is the style of the" Great Gatsby", emancipated girls, jazz, bootleggers, all that is associated with the" roaring twenties " — a shaky pause between the two world wars.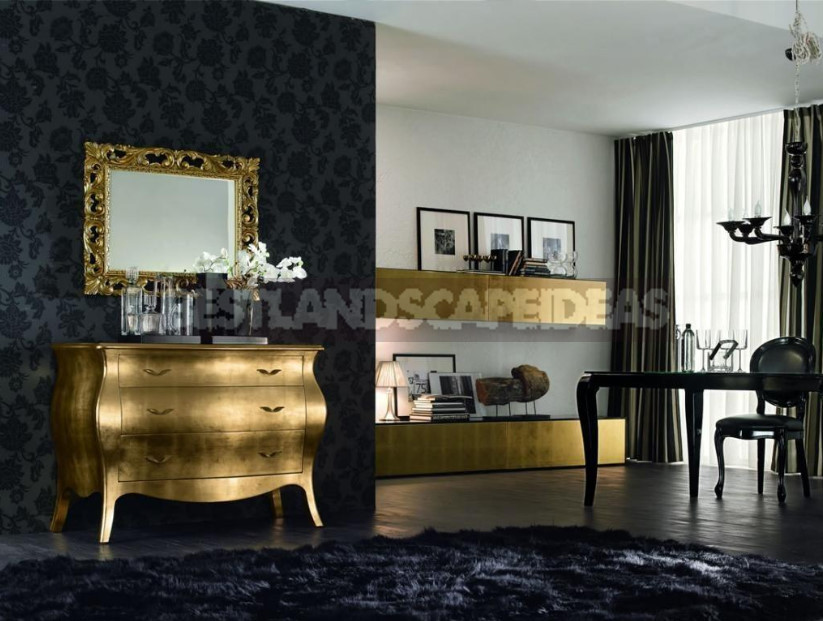 In the concept of art Deco style the main thesis is as follows: luxury and elegance can not be much. So why not cover the whole chest of drawers or Cabinet with gold?
If you think that a fully gilded piece of furniture-it's too much, it can only be brilliant finish. Like this green art Deco dresser, for example. Recreate yourself such a piece of furniture will not be difficult.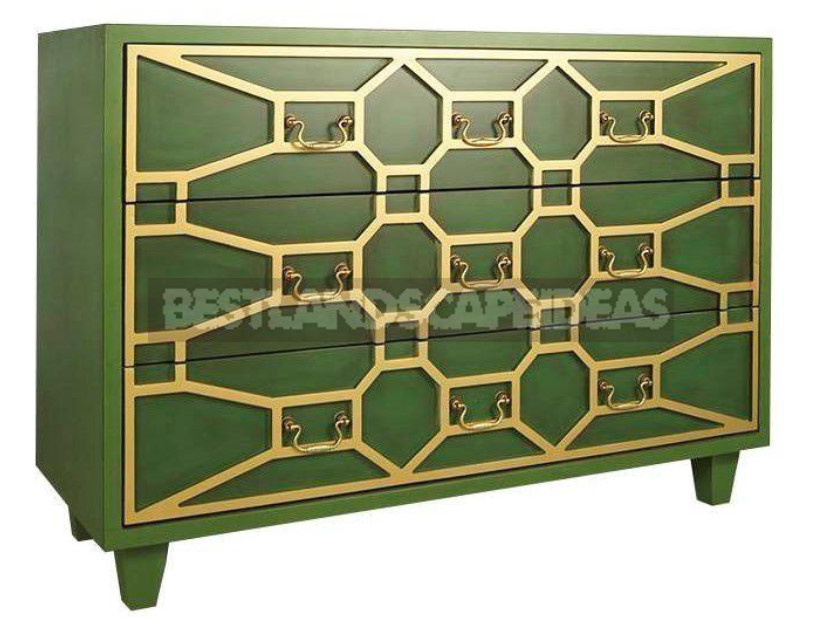 You will need a simple form of chest of drawers, for example, the popular model "Hemnes" from IKEA or old Soviet chest of drawers and wooden layouts (suitable plywood, sawn on strips). Additionally, good glue, putty for wood and abrasive sandpaper. You need an ornament designed with respect to the size of the object, the paint, the color of which you can choose any, suitable for the interior, a little gold sweat and selected for the style of accessories. A little work — and here you are the owner of an exclusive piece of furniture that does not resemble a standard model taken as a basis.
Having dealt with the traditional styles in which the gold finish is given a lot of attention, turn to the modern styles. They do not participate in art gradation, but are actively used to describe modern interior trends.
Modern interpretation of luxury
Modern understanding of the luxurious interiors from the emotional pathos of the Baroque and "splendor on display" art Deco: luxury was understated.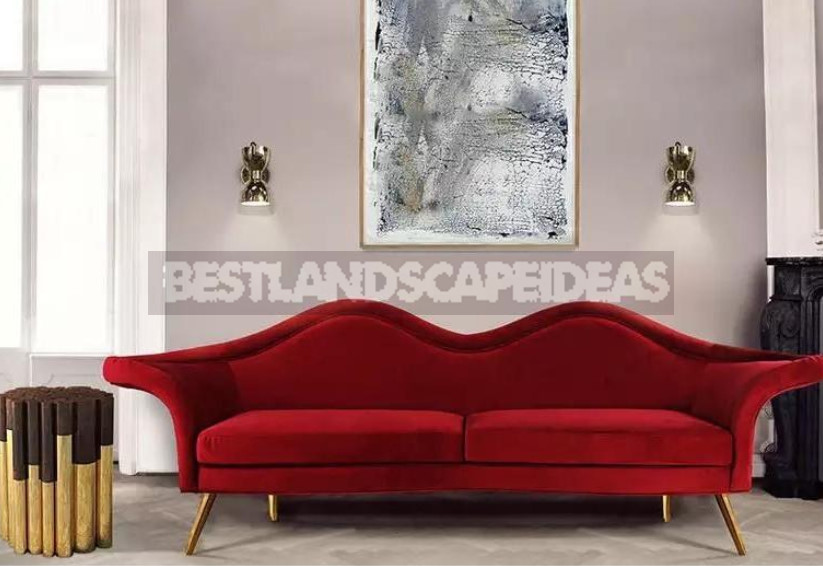 In the luxury interior it is assumed that any element indicates wealth. Therefore, in the collection of expensive materials such as natural marble, precious wood, silk and velvet for gilding there is little space. For example, only on the legs of the sofa.
East and gold in the interior
Without the gold unthinkable some ethnic styles of interior. For example, Eastern-Arabic or Chinese.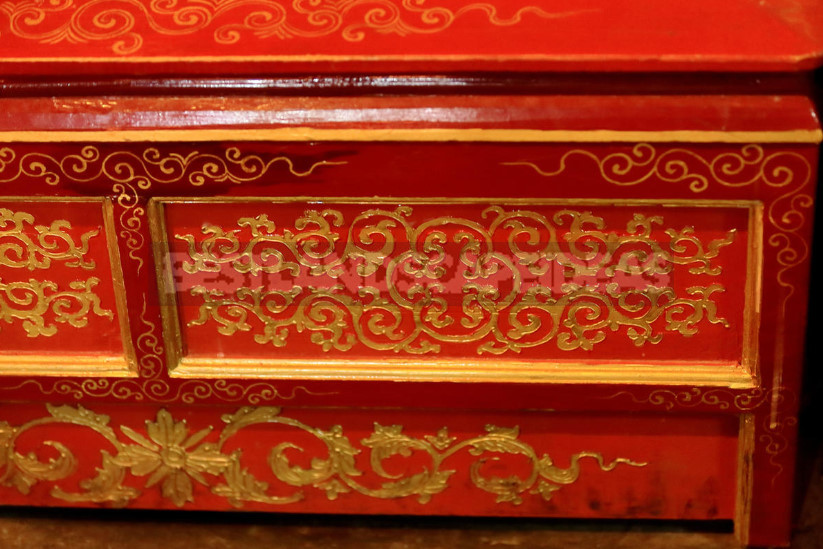 In order to make an imitation of gold-plated inlay with your own hands, you need to apply a special glue to the furniture facade with a stencil. And after gilding, cover the object with several layers of varnish: the more layers you apply, the more spectacular the thing will turn out. Gold ornamental motifs can be made not only on a stencil, but also freely drawing with glue for gilding.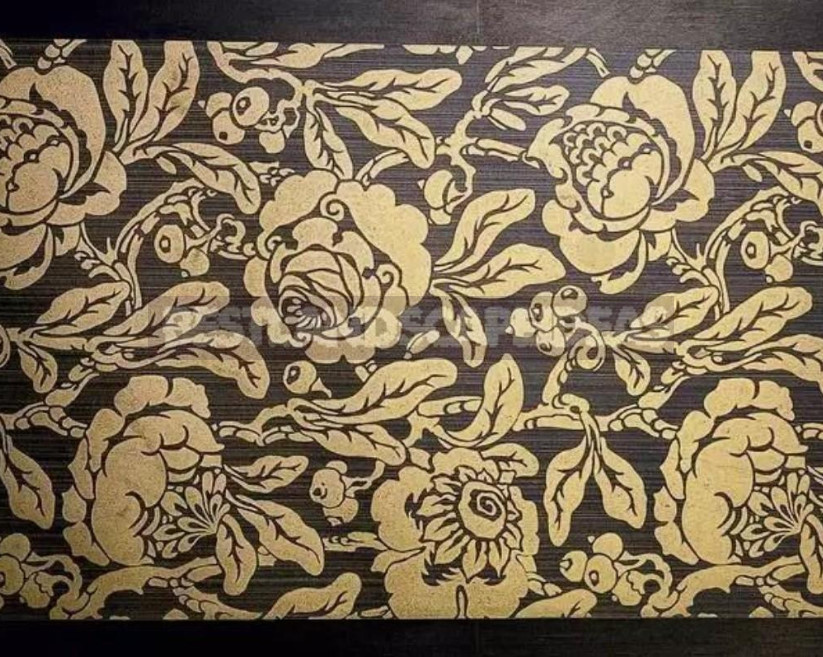 Tip: if you have an old, but well-preserved lacquered Cabinet and bedside table from the furniture wall of the 70s, in this way they can be turned into lacquer furniture in the Chinese style. Apply gilding in the form of a pattern directly on the old varnish. And then an additional coat of fresh paint in several layers on top.
Shabby chic: shabby luxury
The philosophy of postmodernism (modern era) would be a strange mixture for a man of the past. Today, not only luxury is popular, but also traces of former luxury.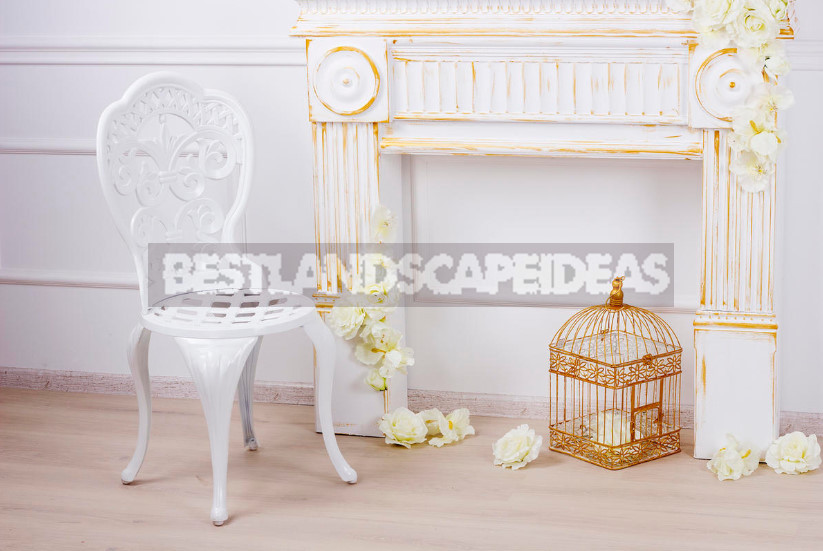 So, in clothes it is shown in hipster holes on new and expensive sweaters, and in interior design — in the style of shabby chic. Cover with gold some object, and then artificially age it so that the gold looked through the paint layer.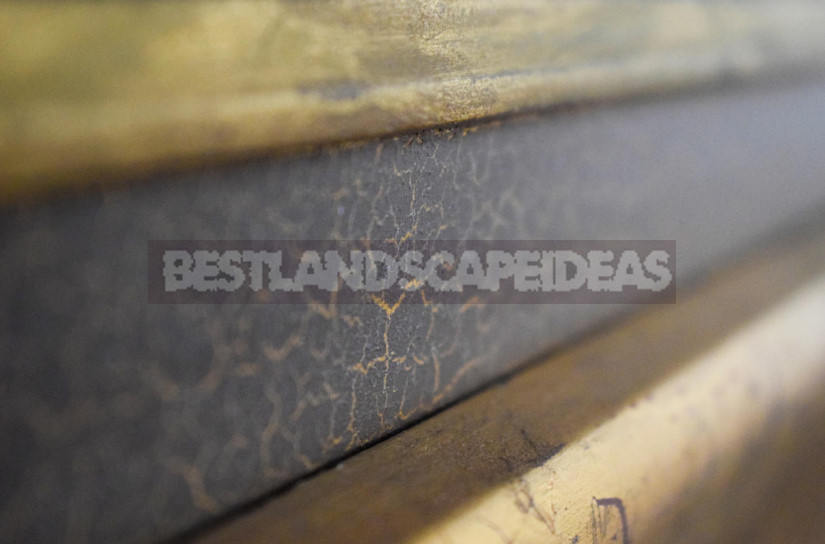 To create an item in the style of shabby luxury, you can use the techniques of artificial aging with the help of painting or craquel.
Not only furniture
Having got the hand on the gilding of separate subjects, "and if we do not wipe on William, you know, our Shakespeare"? After all, gold-plated furniture and requires an appropriate interior.
Wall decoration with gold foil involves the same techniques and techniques. You can gilt stucco or a pier, make a picture on the wall in gold — on their own or on a stencil. Or stick on the wall small flakes of glitter, and then cover the top with a wax composition for Venetian plaster.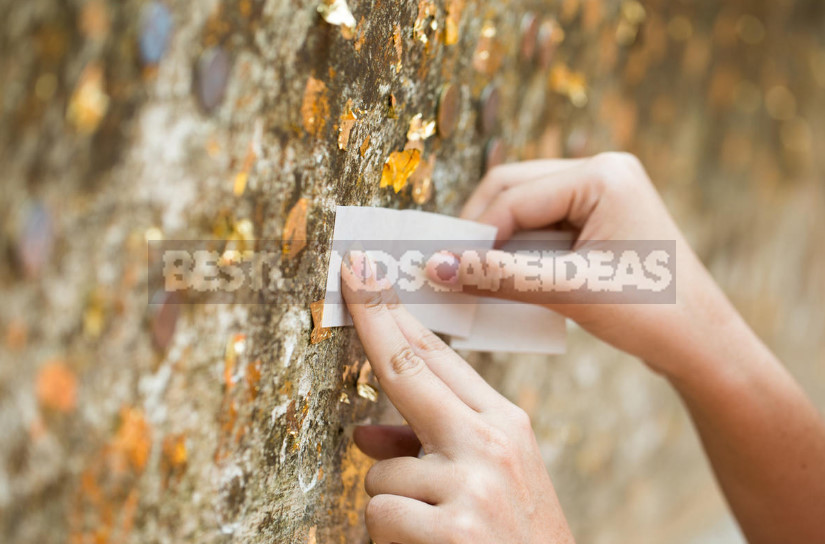 Gold for gourmets
Gold is a precious metal. It is not subject to corrosion or oxidation. Due to biological inertness, this metal is used, for example, in medicine for the manufacture of prostheses. Gold is very plastic, gold flakes do not form sharp edges.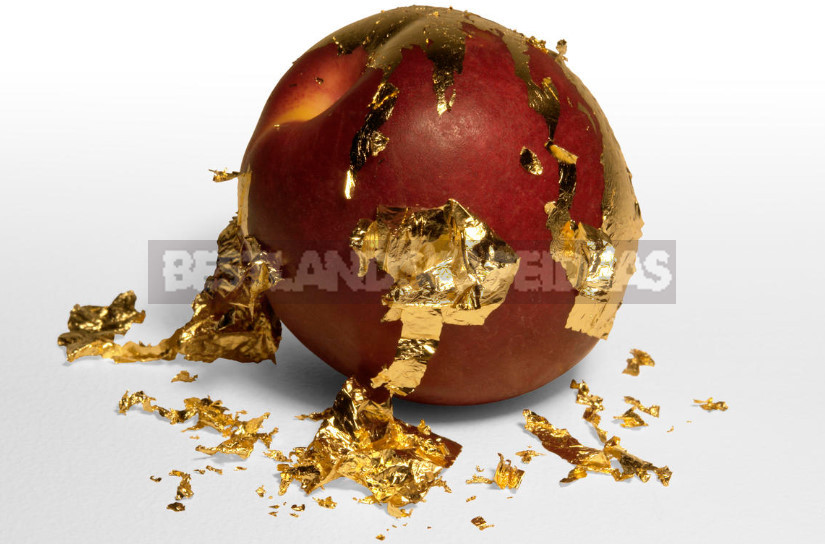 These properties are not slow to take advantage of not only designers but also cooks. Today, gold is a permitted food additive E-175. Gold leaf can be decorated with cakes and snacks, to wrap candies (like candy you need to eat right from the foil), garnish alcoholic beverages (e.g., Swiss schnapps "Goldshlager", German-Polish vodka", Goldwater"). Food gold leaf can be bought in the same shops for artists, which sell gilding for interior decoration.
Try to transform your interior with gold. The beauty of this metal will never be out of date.