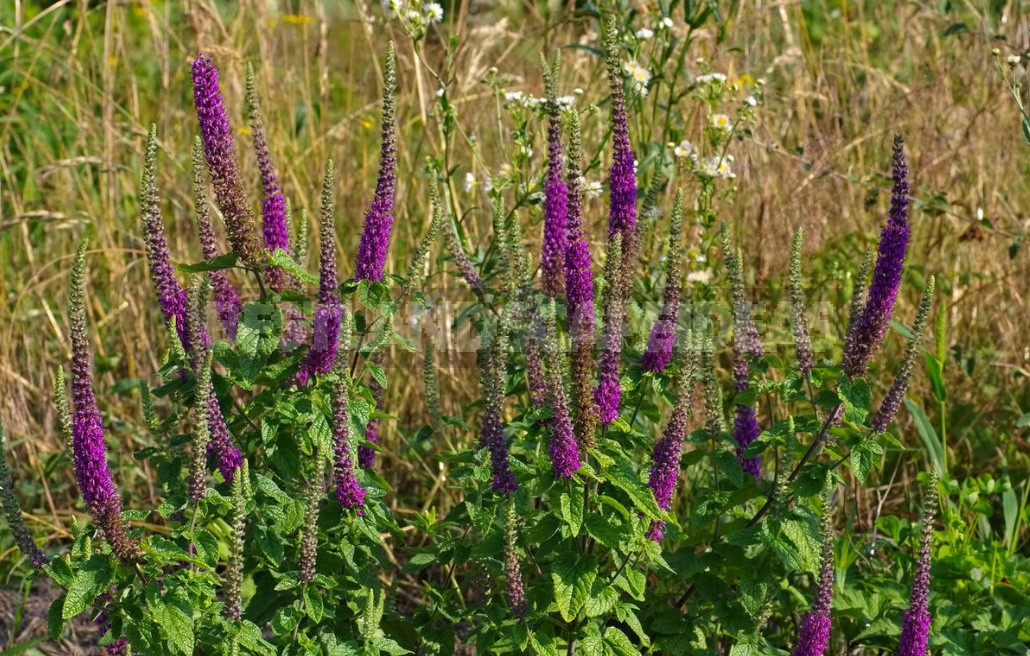 It is not for nothing that they say that everything new is well-forgotten old. Many garden plants that are now rapidly rising to the peak of popularity, in fact, have long been in the culture in the status of garden species and forms.
Some of them quickly burst into our gardens as bright solo stars, flashed brilliantly and quickly went out. Others timidly entered as extras, background plants, but also did not take root in the flower beds, and they were gradually forgotten.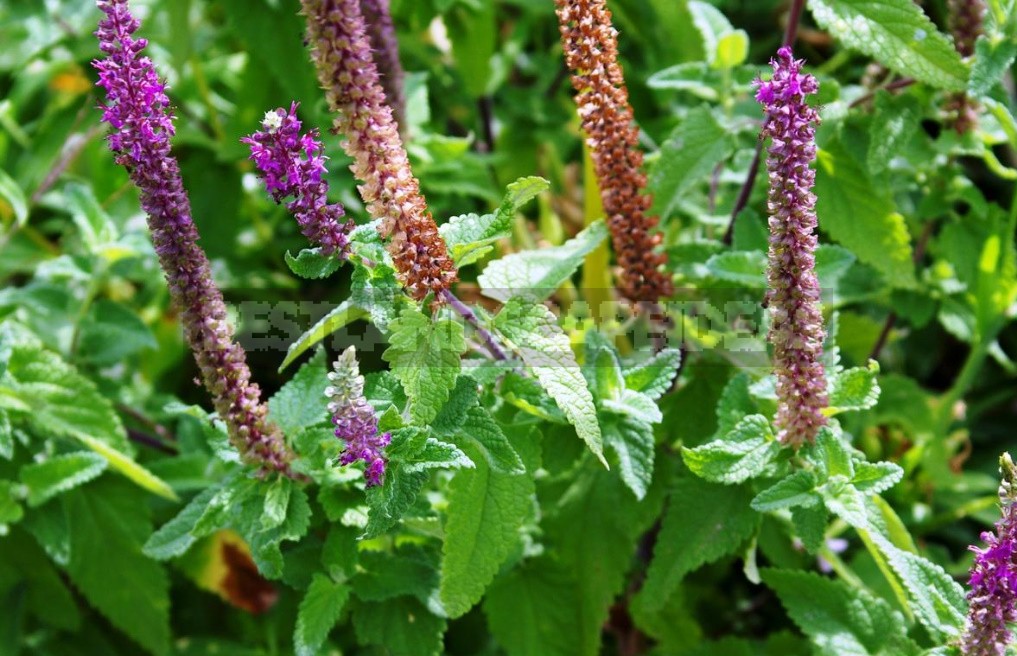 From time to time, the fashion for vintage plants returns, and then there is a demand for fruit and decorative vintage crops. Today, they are reborn in a new form of surprisingly beautiful varieties, they have close relatives-spectacular species of the same genus.
The first ancient plants that I want to tell you about are Teucrium-charming representatives of the Lamiaceae family.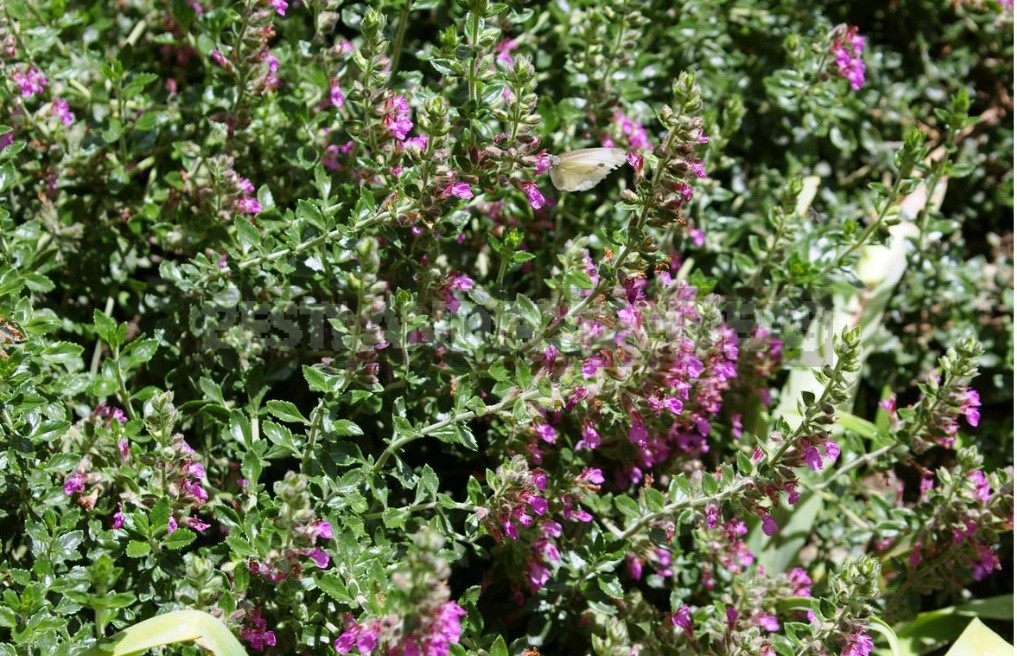 These are shrubs and herbaceous perennials with a peculiar pungent smell, especially bright when the leaves are rubbed. They are similar to Mentha, Salvia, and Thymus, and differ from them in their summer flowers and small attractive leaves (silvery in some species). Teucrium is found all over the world, but most often in the Mediterranean.
They are equally easy and harmoniously fit into both regular and landscape styles of the cottage. Grow on almost any soil in a dry and Sunny place. Most Teucrium are ideal for creating low hedges and borders: they have a compact shape, thick, sometimes crossed branches, they can tolerate pruning and cutting without loss of decorativeness. They can be successfully grown in garden wide vases, containers. So, we welcome the return of forgotten stars, at the same time looking for applicants in your garden!
Teucrium hyrcanicum
Teucrium hyrcanicum can be called one of the most spectacular species.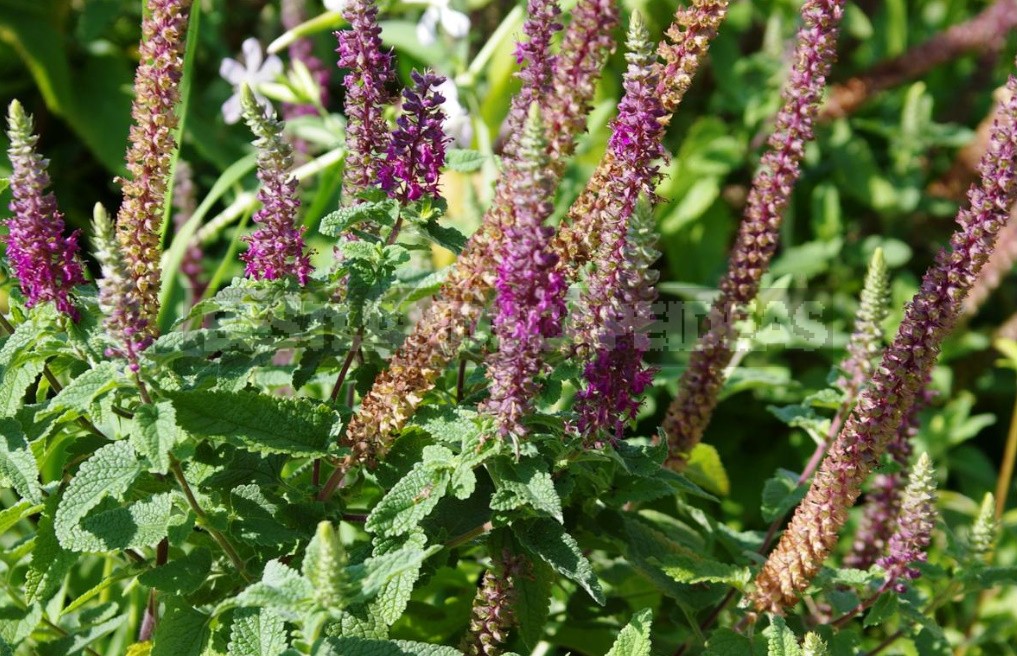 A spectacular perennial with a height of 40-60 cm. Leaves with a peculiar tart smell, 5-7 cm long, whole, serrated along the edge, similar to the leaves of Mentha, Salvia. The flowers are small, purple-pink, collected in spike-like dense racemes; bloom from June to September. Quickly grows, gives self-seeding.
Features of cultivation
It grows well and blooms both in the sun and in partial shade. It is not selective in soils: it is effective on fertile soil, it puts up with poor soil. Drought-resistant. Does not tolerate stagnant waterlogging.
Sowing is best done in the winter, dividing the bushes-in early spring, at the beginning of the growth of new shoots. For the winter, it is better to cover the first years with some organic substrate, such as dry leaves. In the spring, it is good to prune 1/3 of the shoots for more bushiness. To obtain a very dense structure of the Bush, rejuvenation is performed by pruning to the soil level. And one more nuance: Teucrium hyrcanicum is not in a hurry to show you all its beauty right away. First, it should get stronger, increase the rhizome. The impatient cottager will clearly not like his fading, but there are no options — he is like this, and this will have to be accepted. How? Just be patient: you should not rush Teucrium, stuff it with growth stimulants and top dressing, you just need to wait.
Accommodation in the country
Teucrium hyrcanicum is sure to find its place in the solar mixborder along with drought-tolerant grasses like it. In the composition with it, Echinacea, Saponaria officinalis, Lavandula, Nepeta, Agastache foeniculum and so on will look harmoniously. You can make a flower border from it: it will need a haircut at least 2 times per season: in June and September.
Teucrium fruticans
It is unlikely that anyone will refuse this silvery evergreen plant in their garden.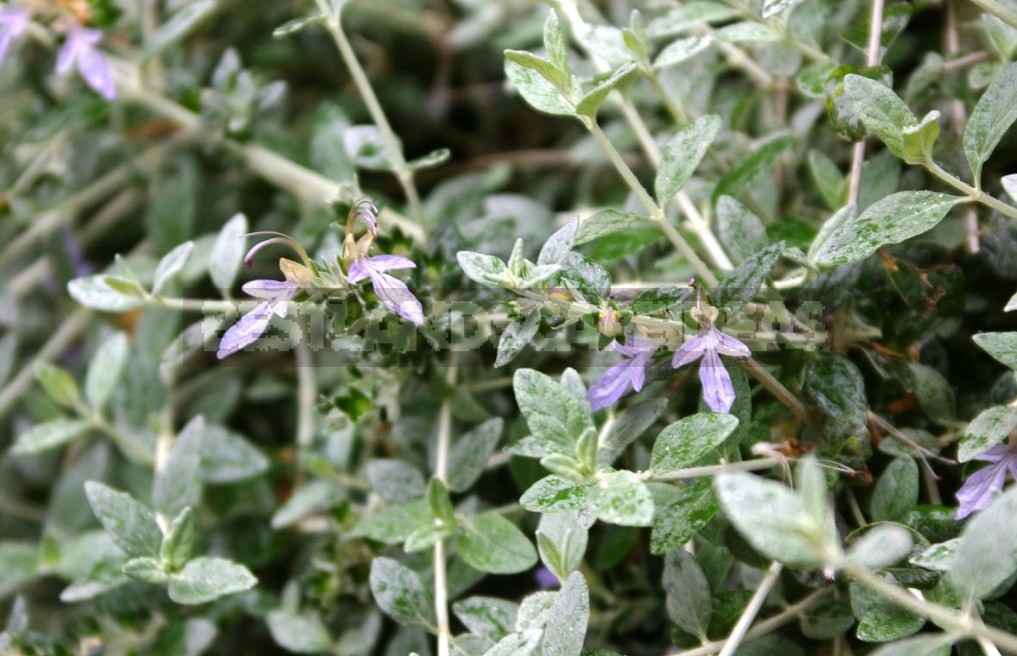 Teucrium fruticans is extremely interesting with silvery foliage and blue flowers of an amazing shape.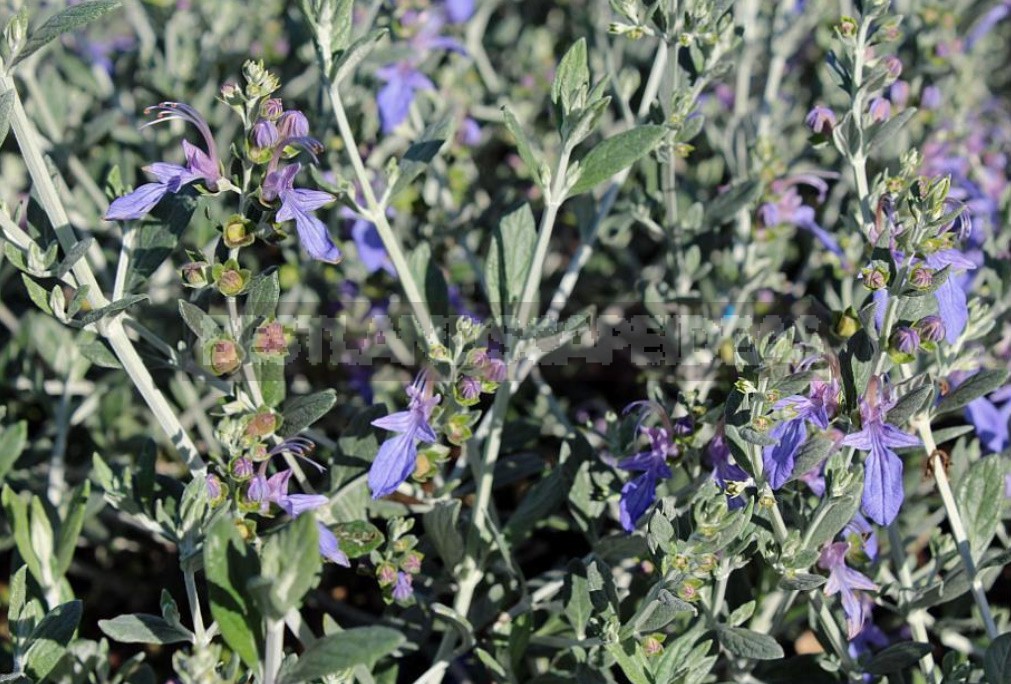 This Teucrium is really good: it will become a worthy decoration not only for a modest cottage, but also for respectable country lands.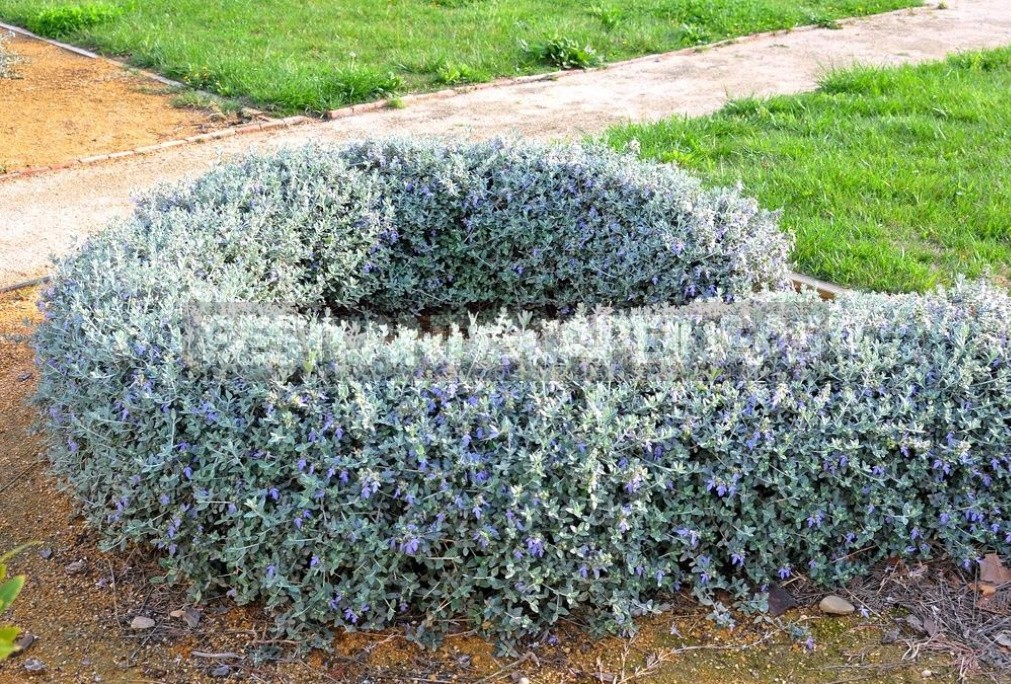 Accommodation in the southern dacha
It can be used as a tub plant, formed in the form of a stamp.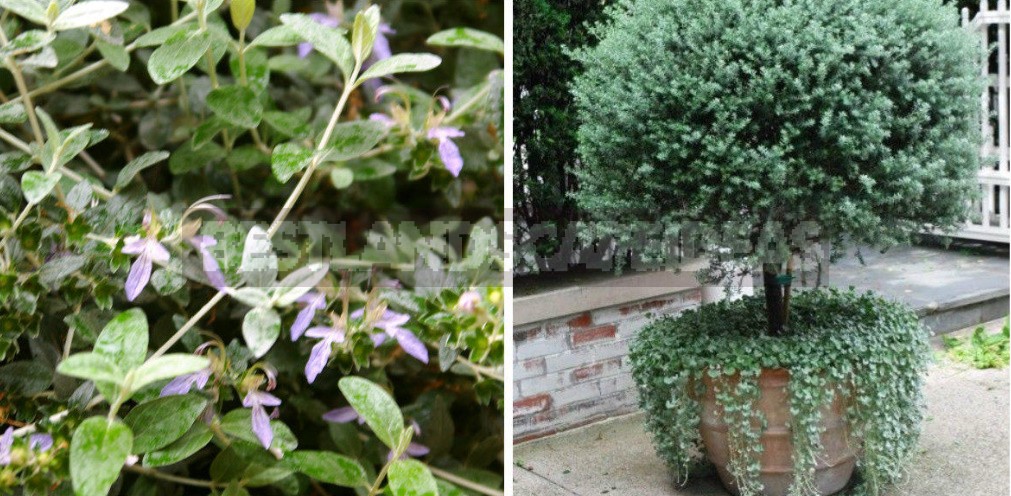 You can make a silver hedge out of it. Cut as Buxus: in early June, if necessary — again (at the end of August or the first decade of September).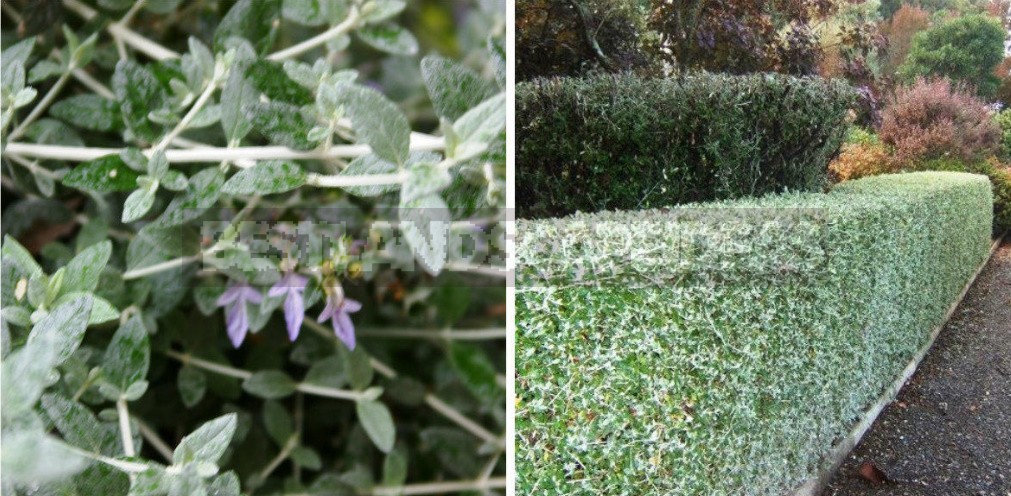 One Bush, trimmed in the form of a hemisphere, will take a worthy place in the regular parterre part of the dacha.
In whatever form you form Teucrium fruticans, success is still guaranteed.
Teucrium polium
Teucrium polium is a semi-shrub with a height of 10 to 40 cm.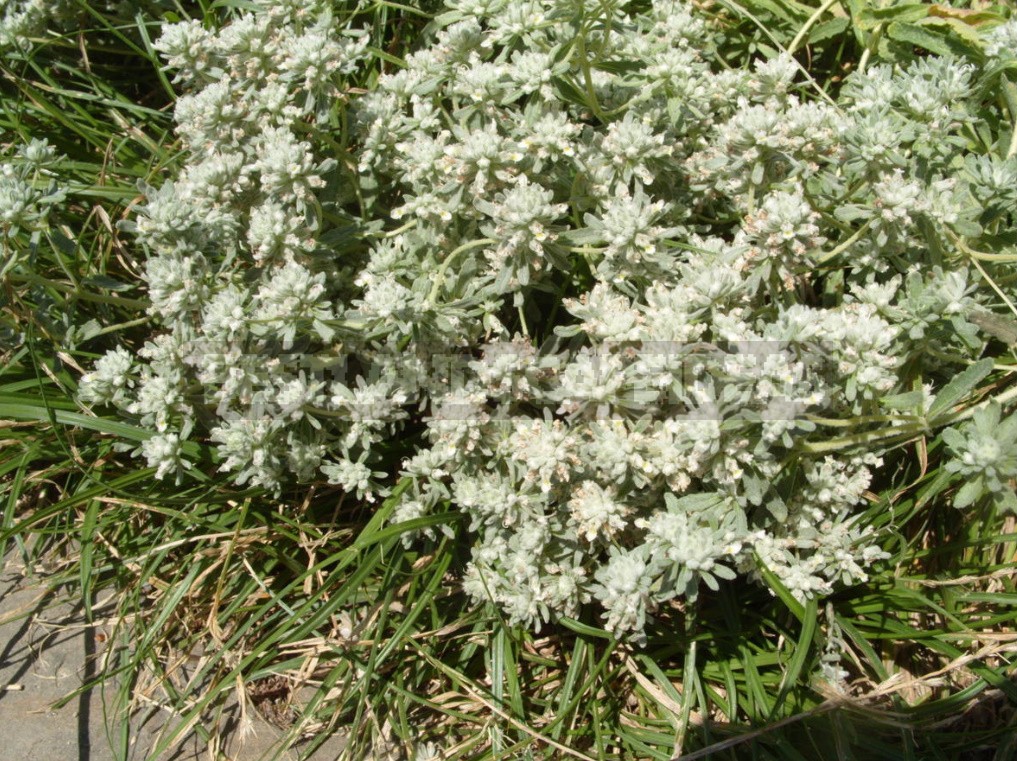 It has varieties with pink and yellow flowers.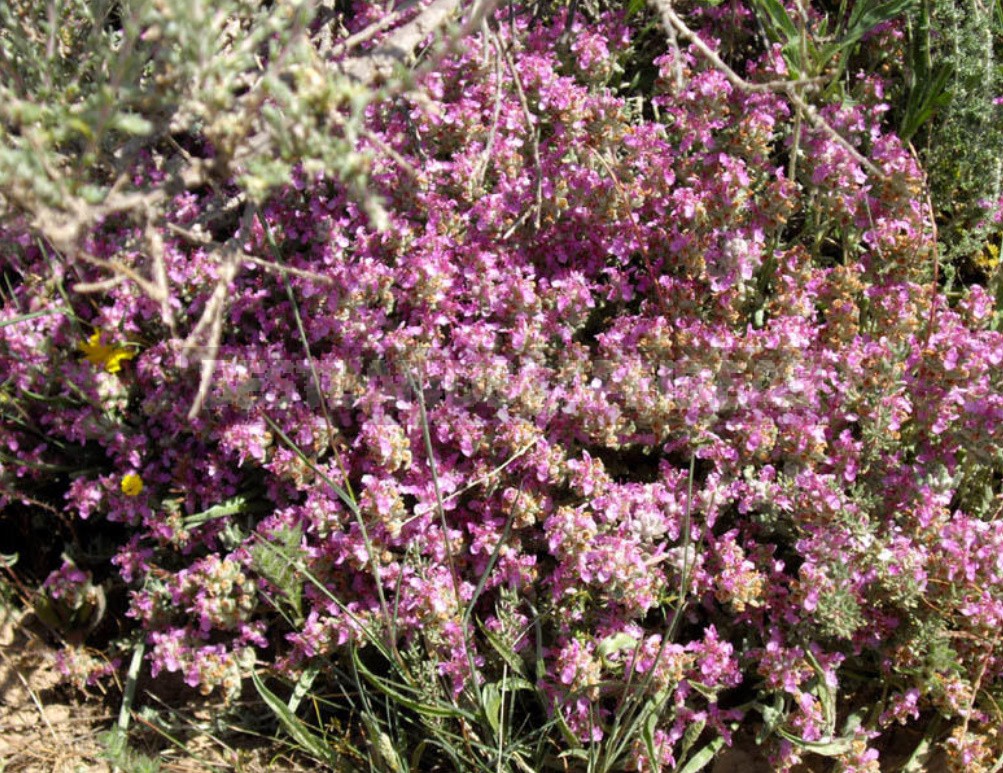 You may have even seen it more than once, but you didn't pay attention.
Features of cultivation
Extremely unpretentious and drought-resistant Teucrium. In the reference literature, its winter minimum temperature is given at -15°C.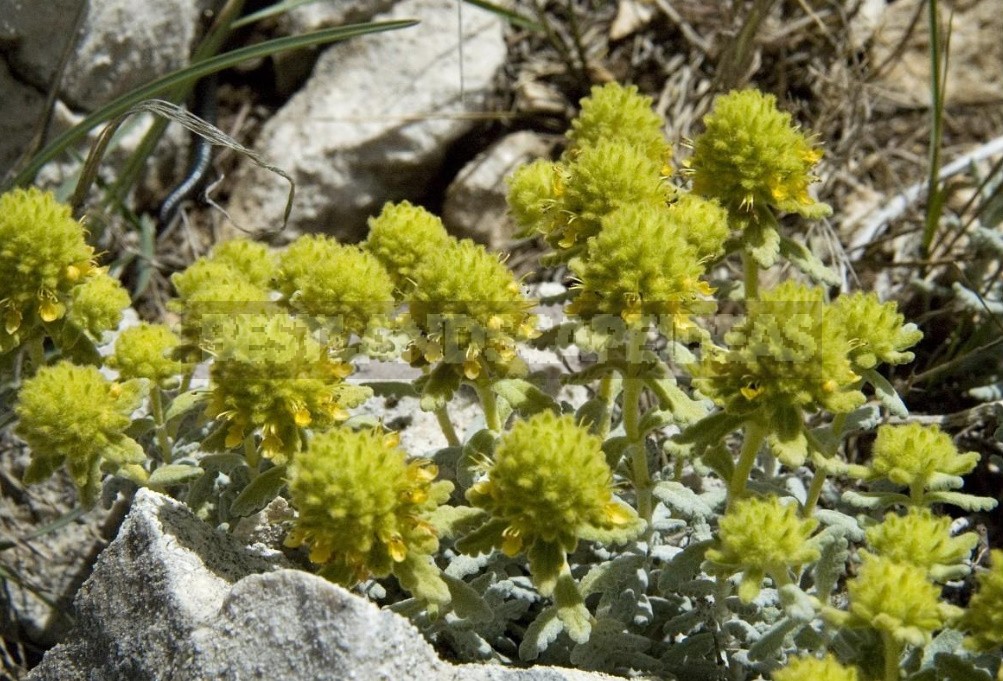 Accommodation in the country
Refined in its simplicity, Teucrium will look great in the rockery, next to the stones, and even right in them (where there is a recess and a minimum of soil).
This species is a medicinal plant. Grass collected during the flowering period is used in folk medicine as an astringent, antimicrobial agent. It is used for hemorrhoids, diarrhea, pain in the stomach, intestines, loss of appetite, eye diseases.
Teucrium chamaedrys
Teucrium chamaedrys is common in the forest-steppe and steppe mesas.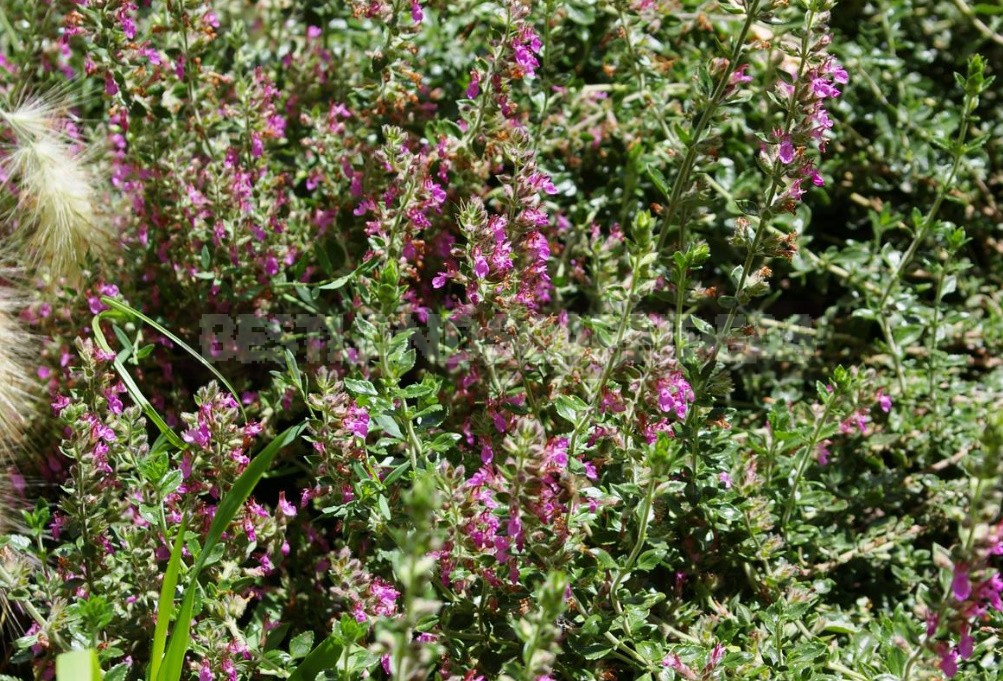 This is a perennial semi-shrub with a height of 10-30 cm. The leaves are oblong, toothed. The flowers are small, purple, collected in a racemose inflorescence with green or purple bracts; they bloom in may and August.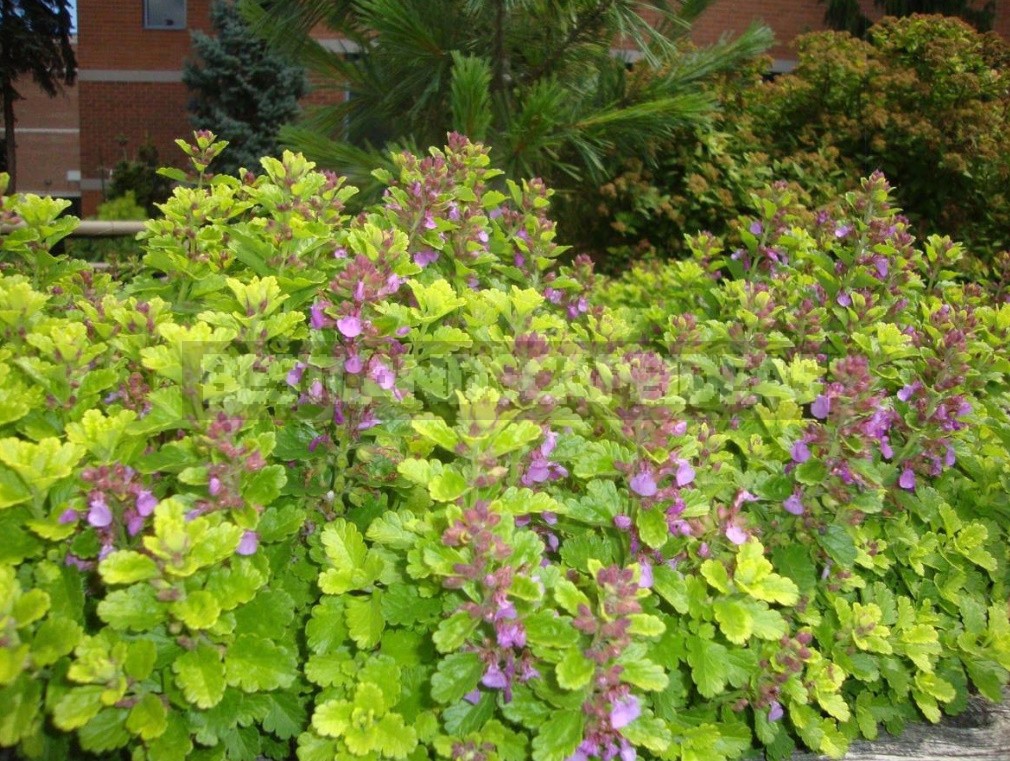 Features of cultivation
In Sunny places, the Golden color of the leaves becomes brighter. Drought-resistant.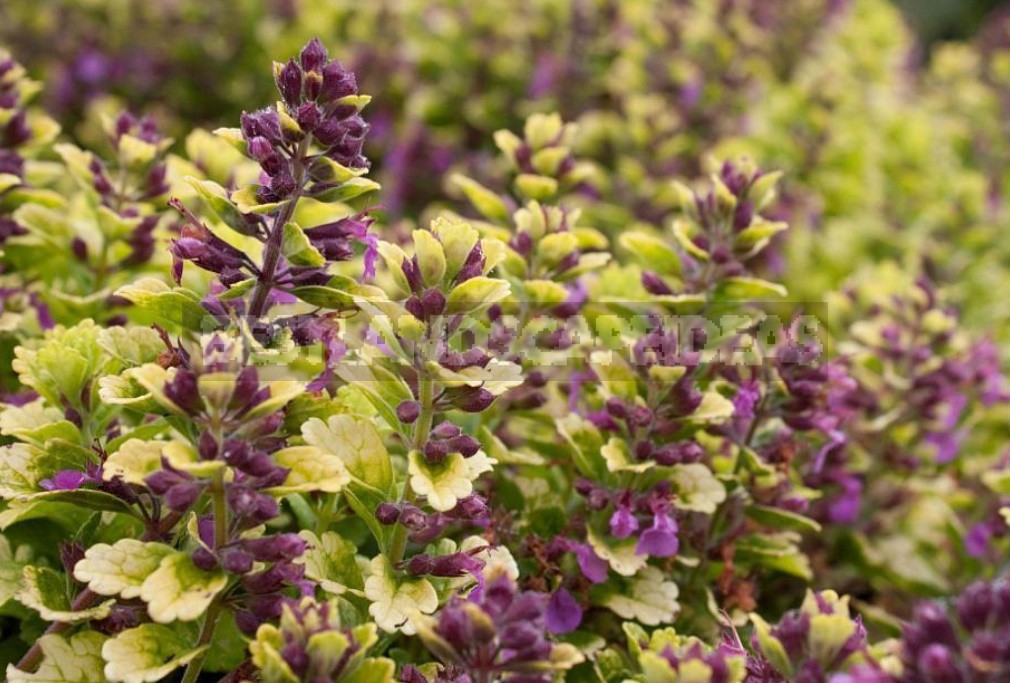 In contrast to the yellow leaves, almost purple flowers look very impressive.
Accommodation in the country
This Teucrium will look good in the foreground of the mixborder.
All its aboveground flowering part is medicinal raw materials (diuretic, laxative, tonic, choleretic, diuretic, wound healing, anti-inflammatory and hemostatic).
Teucrium x lucidrys
Evergreen fragrant dense semi-shrub of hybrid origin. His parents are Teucrium chamaedrys and Teucrium lucidum. Teucrium x lucidrys up to 30 cm high and up to 60 cm wide. The leaves are dark green, small, toothed. The flowers are pink and purple; they bloom from June to October. It grows slowly at first.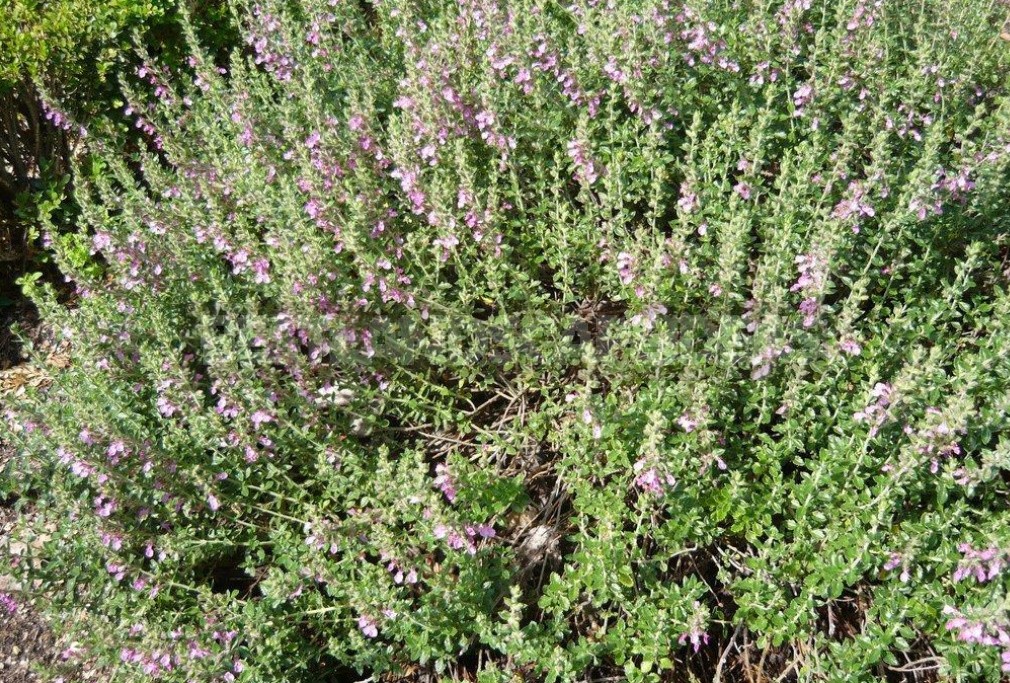 The 'Lucky Gold' variety is interesting (the leaves are almost completely yellow).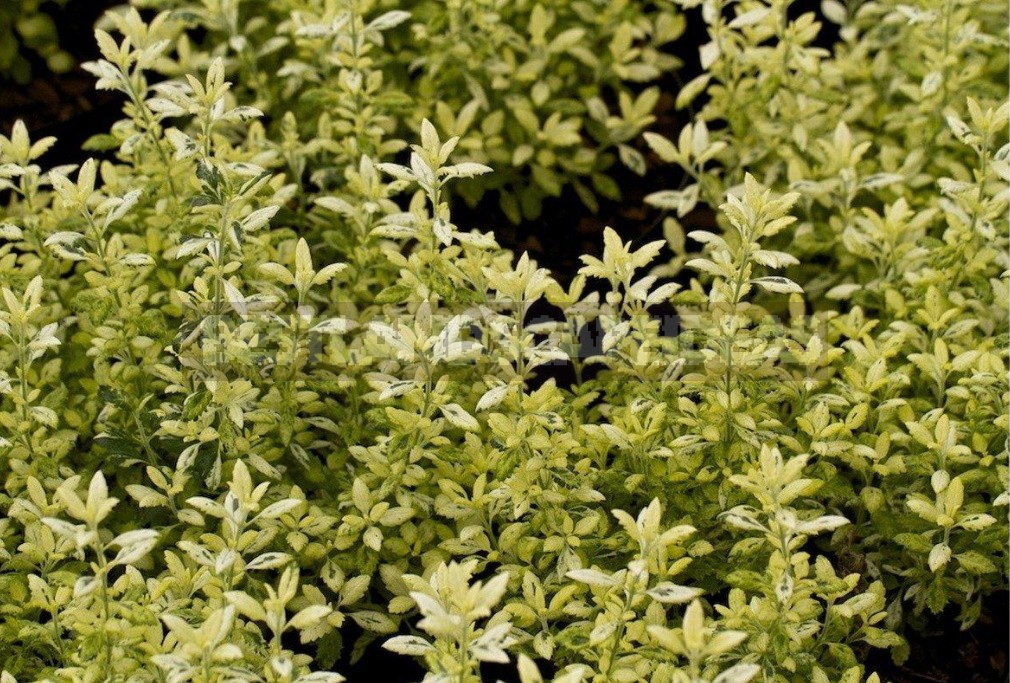 Features of cultivation
It is frost-resistant: the critical winter minimum is -22°C. it is Undemanding to soils, but does not tolerate acidic ones, and develops well on neutral and slightly alkaline ones. Extremely drought-resistant. Decorative both in full sun and in partial shade. It grows well in one place for 2-5 years. At 1 m? you will need 3 instances.
Accommodation in the country
Teucrium x lucidrys will take its rightful place in a spicy mixborder, border, will not get lost in a country-style flower garden, will be surprisingly good in a wide pot, container, in a gravel garden.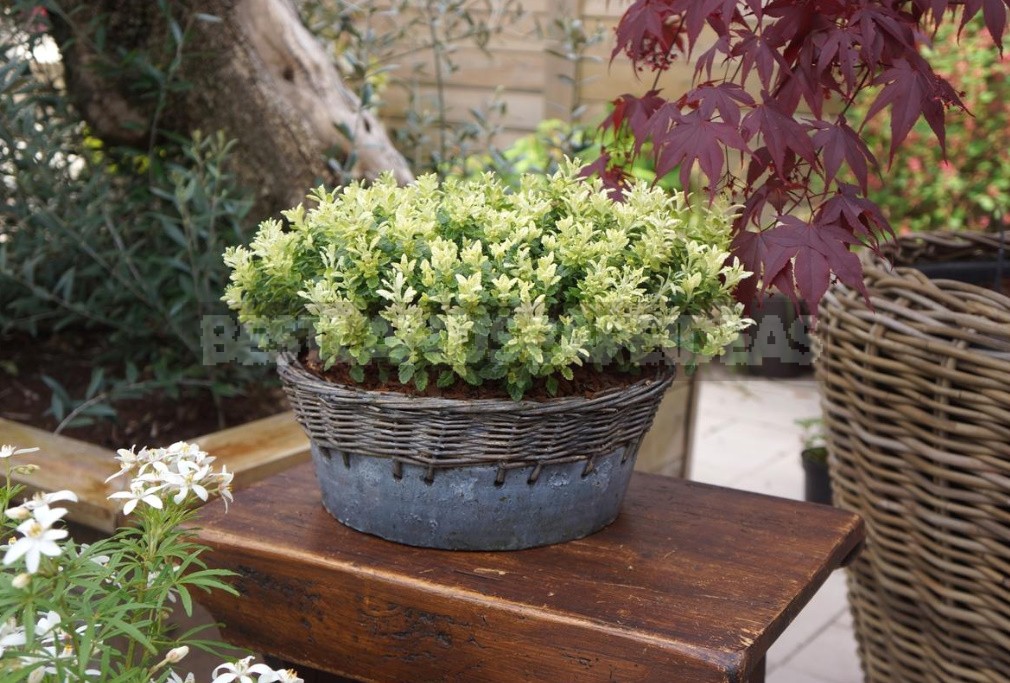 It will look very nice with Centranthus ruber, Salvia, Origanum. It can also be used as a ground cover plant.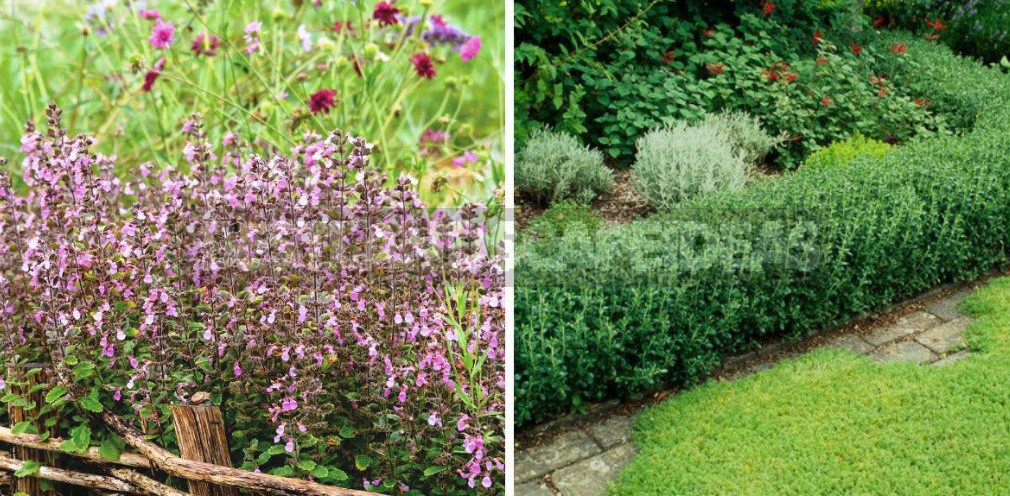 At the end of the article, as always, there are traditional questions: were you already familiar with Teucrium or discovered them with this publication? Which of them would you invite to your dacha?