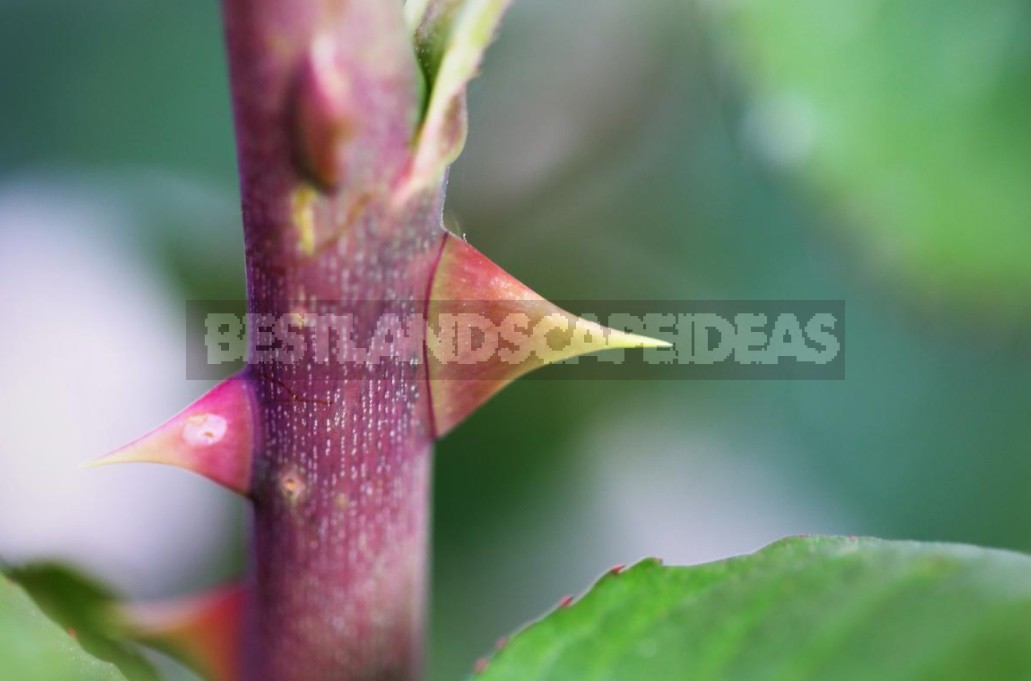 So many roses are blooming, but who can pluck them,
Without experiencing the thorns of a dangerous feud?
Hafiz
Why is a rose equipped with thorns? Scientists do not give a definite answer to this question. They believe that thorns perform a protective function: a bouquet of roses in a hurry can not be broken, like, for example, Prunus or lilac.
Botanists say that spines are growths of the epidermis (plant tissue of the upper layer of the bark).
Individual roses in the history of rose growing became famous only because of the thorns, which is reflected even in their names. Thorns belong to the varietal characteristics of roses and distinguish them by shape and size. Experts distinguish spines straight, arched, hook-shaped, triangular, bristly, awl-shaped, etc.
Look closely at your roses and you will notice a wide variety of thorns, you can even distinguish among them rare in shape, size or generosity with which they cover the stems. This is interesting, and some aesthetes even find beauty and charm in thorns, although most rose lovers dream of thornless cultivars.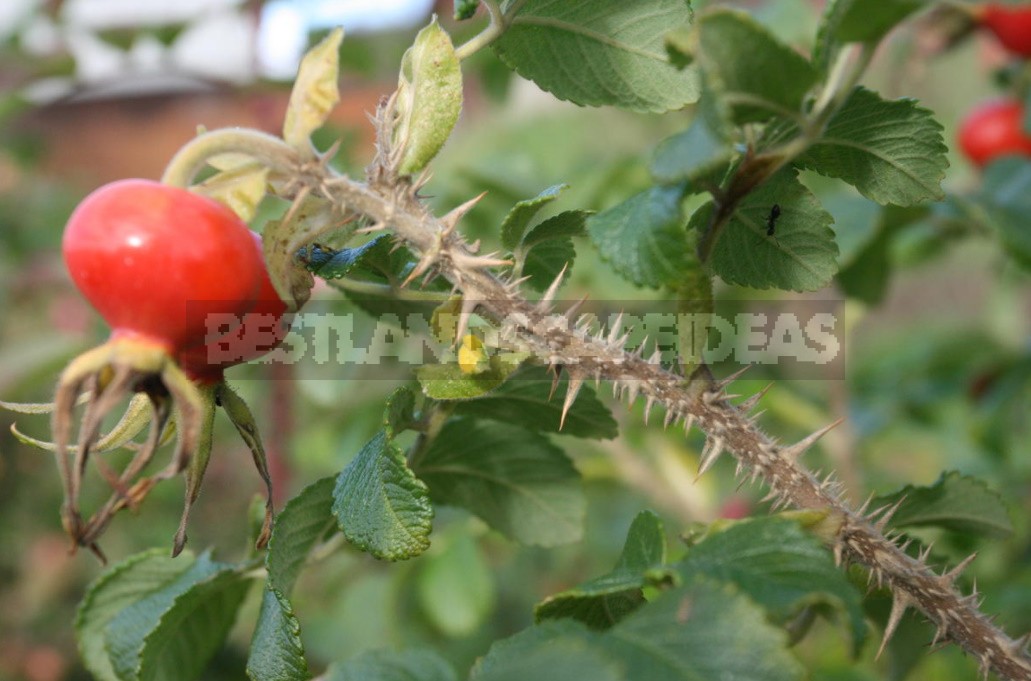 Is there any use of thorns for those rose lovers who do not yet see beauty in them, but remember only splinters? For those who are engaged in or are going to engage in budding, spikes are important for assessing the ripeness of wood. If the thorn breaks out with a slight swinging to the sides without damaging the bark, then the wood is ripe. However, there are varieties to which this test is not applicable.
In recent years, the appearance of roses without thorns in cut products is not so rare, but among garden roses of these varieties are few. In addition, sometimes you can notice individual spikes on the shoots and thornless varieties — think of this as atavisms, because the ancestors of the variety could be strewn with thorns. For those lovers who dream of a small collection of rarities, studless cultivars are the most suitable topic.
Thornless varieties of roses
Here are a few varieties to start the collection. Do not repeat my mistake, do not try to add greenhouse varieties to this small collection, some of them can grow in the garden and even winter on a frost-resistant rootstock, but you will not experience joy from this.
'Patte de Velours' (Meilland, 2000)
Please not only the lack of spikes, but also decorative. Medium-sized (5-6 cm) cream flowers are edged with a delicate red edge, which expands and becomes more intense in Sunny weather.
If there is no need to strictly control the contour of plantings, then you can apply light pruning annually, although periodic pruning is sufficient in arrays (1 time in 3-4 years). In the latter version, the old shoots are cut to the base, and the young ones are cut at a height of about 25 cm from the soil level.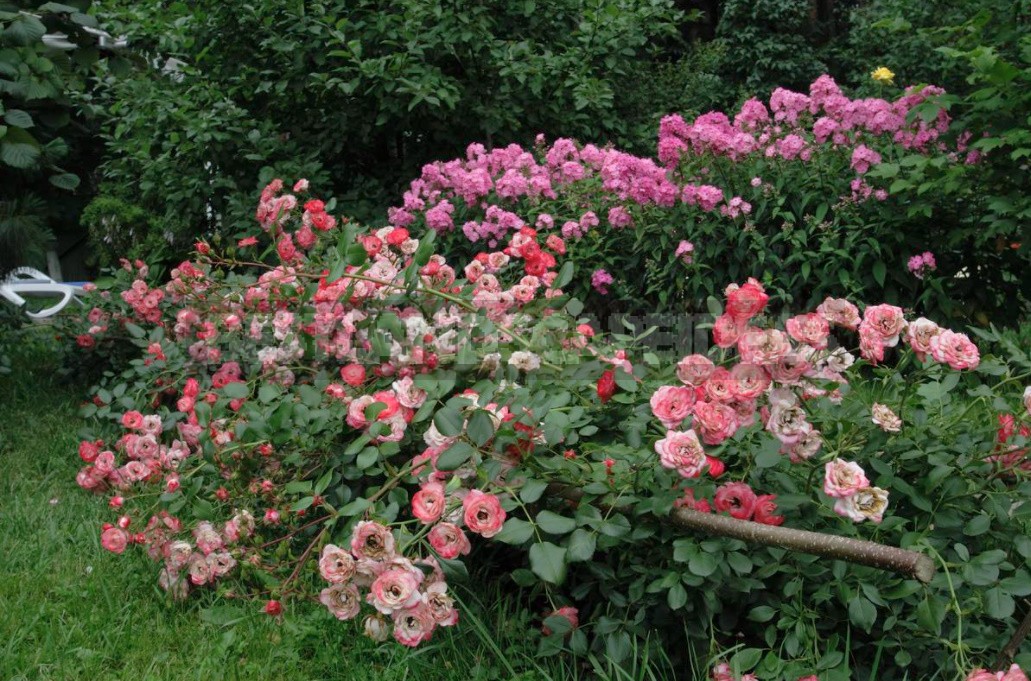 If you want to get away from the groundcover appearance, spend an annual pruning on the type of floribund roses.
'Tocade' (Meilland, 1999)
It has a multicolored color, where there are yellow, pink and red shades, and the Bud looks striped.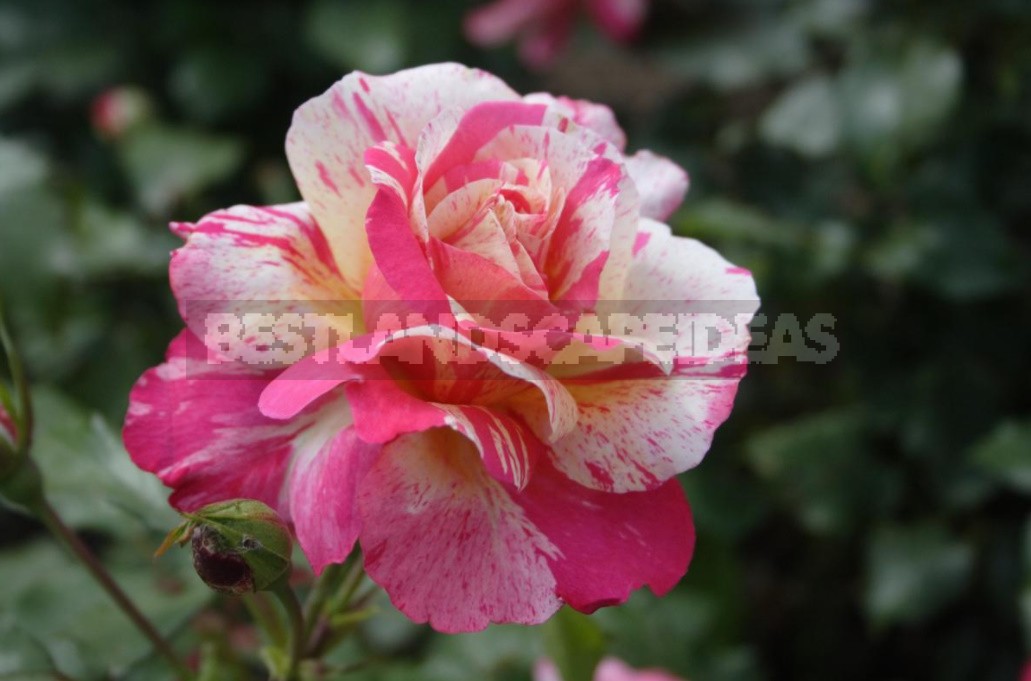 This modern cultivar breeders refer to roses floribunda, but the growth (up to 1.1 m) and appearance can be used as a scrub. A spectacular and reliable rose, although the flowering may seem stingy.
'Tequila' (Meilland, 2004)
It has many advantages. In addition to the lack of thorns and beautiful flowers, the variety is so luxuriously and decoratively leafy that it is dangerous for other shrubs to compete with this cultivar. I think this is one of the best roses for a hedge.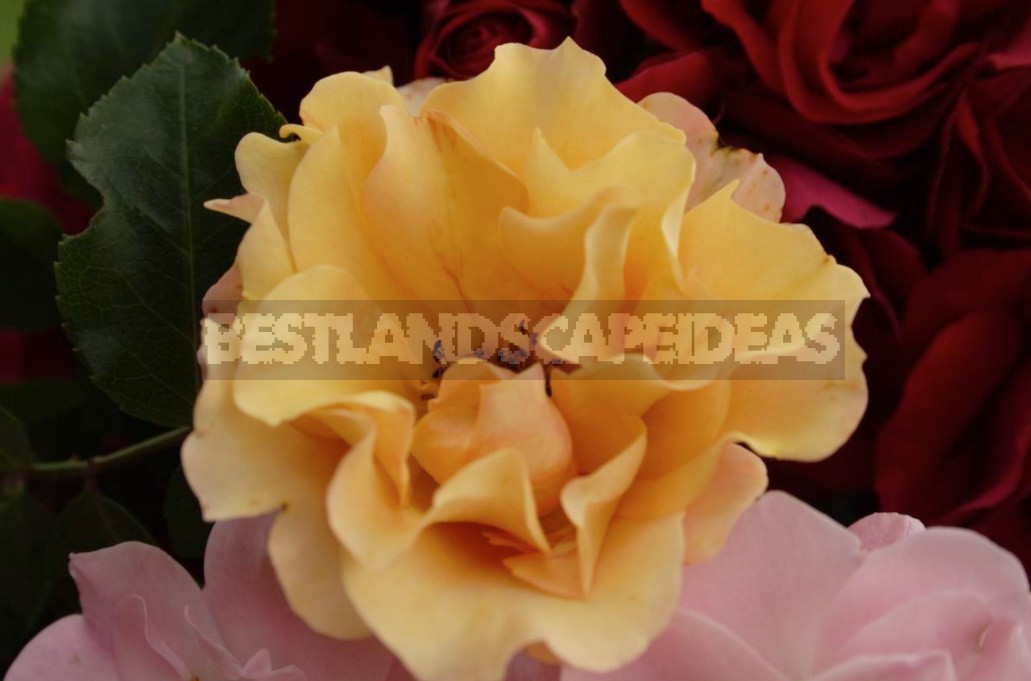 The advantages of the variety have been repeatedly noted by experts at international competitions. It is possible that someone already has this rose in their collection without knowing it. Previously, it was sold under the name 'Orange la Sevillana', although it is difficult to find similarities with the famous scarlet rose 'La Sevillana'.
'Sorbet Fromboise' (Delbard, 1994)
A very modern rose, created by the originators "on the samples of nature". White semi-double flowers are softly and fantastically decorated with strokes, stripes and spots of pink. Over time and in its rhythm, the pink color fades, leaving a barely perceptible trace on the petals. It's fun to watch the color transitions on each flower. If you are not ready for such flowers yet, give this joy to children.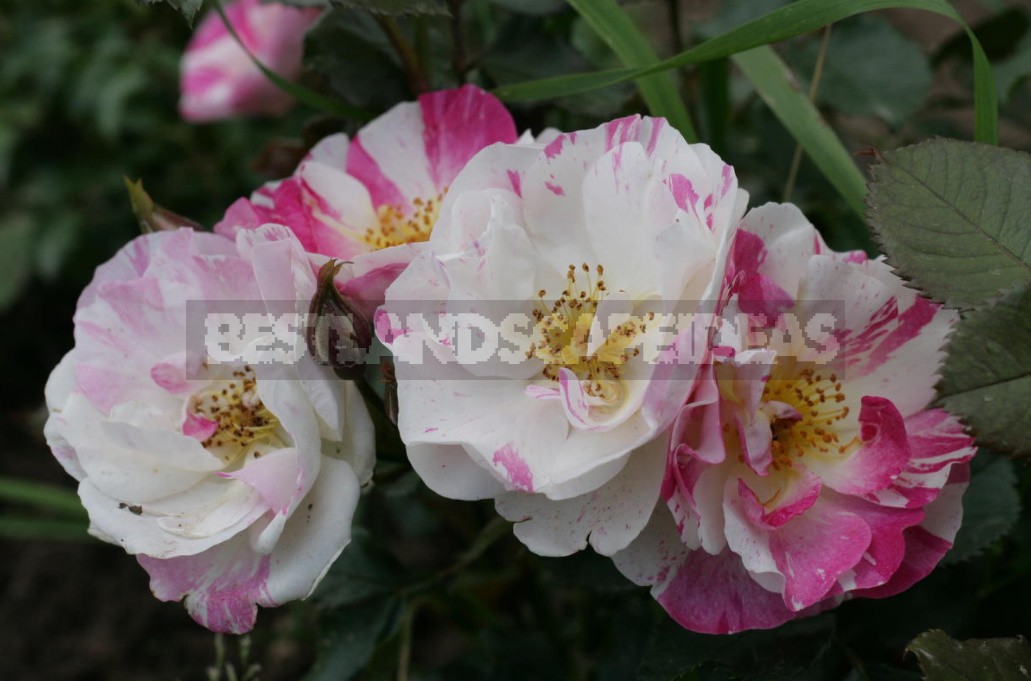 I note the good resistance of the rose to black spotting and immunity to rust, which in recent years in the conditions of the middle zone has become, perhaps, the main advantage of the variety.
'Anita Pereire' (Orard, 1996)
White scars with high decorative qualities and good health are a big problem for landscape designers. There are additional shades, and a collapsing habit, and a natural tendency to black spotting. I hope that this rose will be in demand. Such a Bush will not fall apart, and in the tiered inflorescences I counted 90 flowers! The flowers are simple, rather large (about 6 cm), dazzling white, with a magnificent decoration of a bunch of bright yellow stamens. Originators claim vigorous growth and the height of the Bush up to 1.1 m, but so far the Bush has not grown. This is a novelty in my collection, I'm sorry that it wasn't photographed.
'Lavender Dream' (Interplant, 1985)
A variety that brings a bluish-purple color to the rose gardens. I love this rose so much that I forgive it some susceptibility to black spotting. The flowers are small, lavender-blue, fragrant.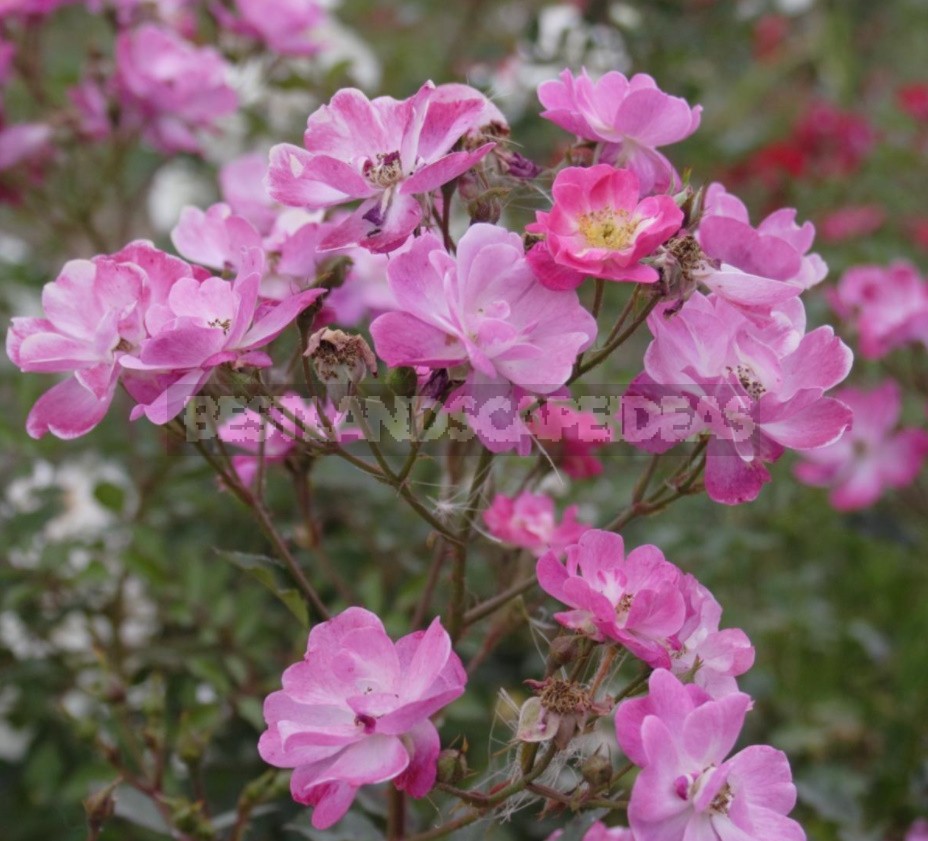 I often wonder what the attractive power of this, in General, rustic rose is. After all, not only in a color that resembles lilac. I think that the shape of the inflorescences adds charm to this rose. They are hard, but they look openwork, the flowers are distributed quite freely, and each of them has a place for a profitable demonstration of its advantages. Dense inflorescences of roses in the landscape always lose.
I hope that this small collection will please you not only with its lack of spikes, but also with its decorative effect.